Watkins Regional Park is a large park located east of Washington D.C. in Prince George's County. This park features a lot of family-friendly attractions, however its crown jewel is the Wizard of Oz playground.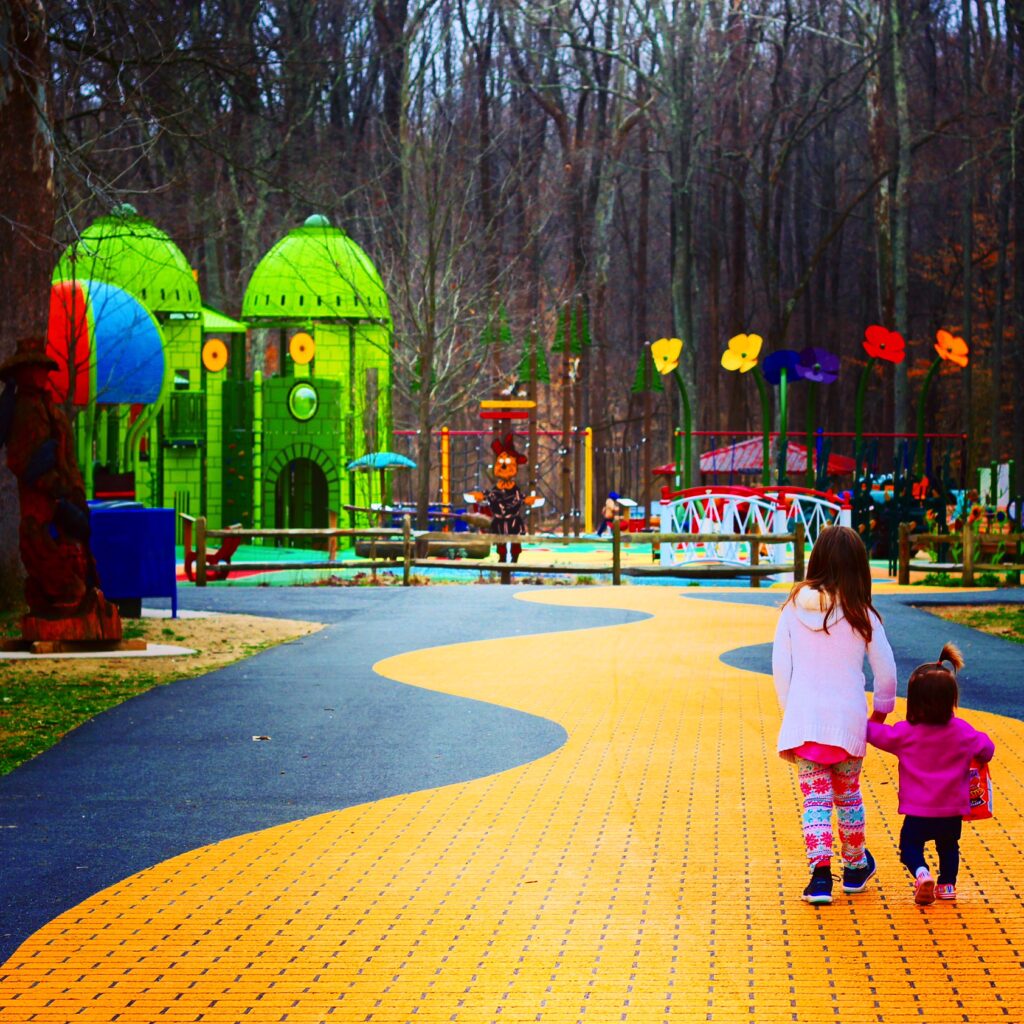 We visited on a weekend morning.  We used it as a stop to stretch our legs on the way to the D.C. metro.  When we arrived, we easily found the playground by following the signs through a couple of roundabouts.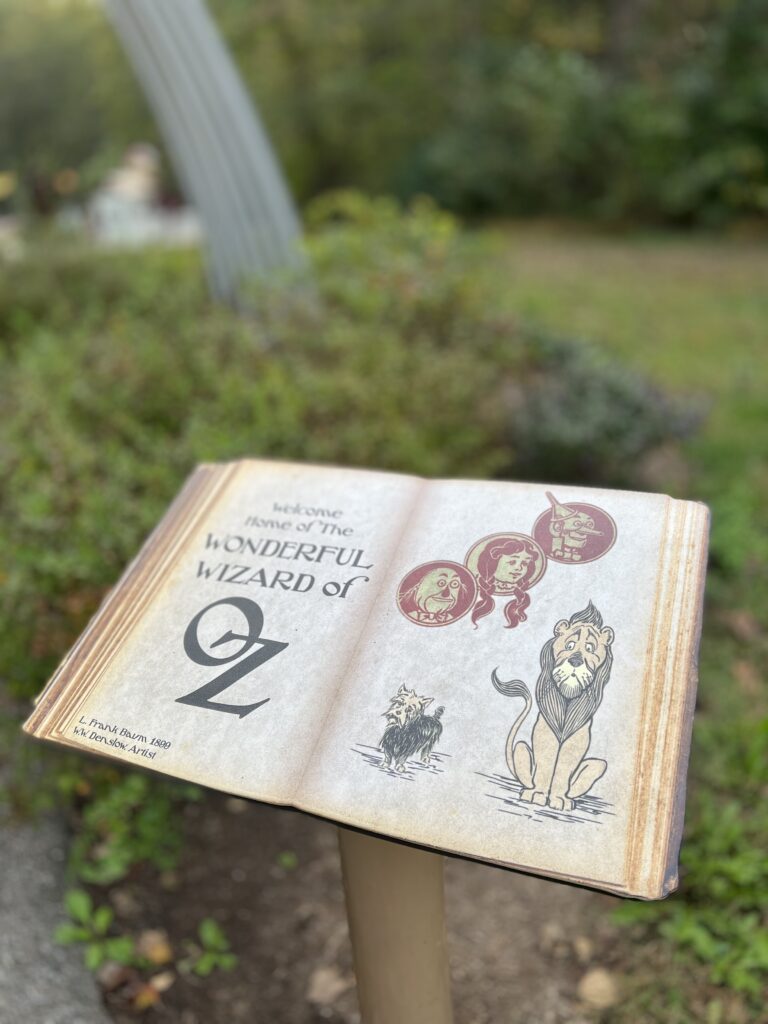 As we pulled into the parking lot. The kids were immediately excited about the colorful and creative playground. It's a short walk from the parking lot to the playground. You get to follow the yellow brick road.
Wizard of Oz Playground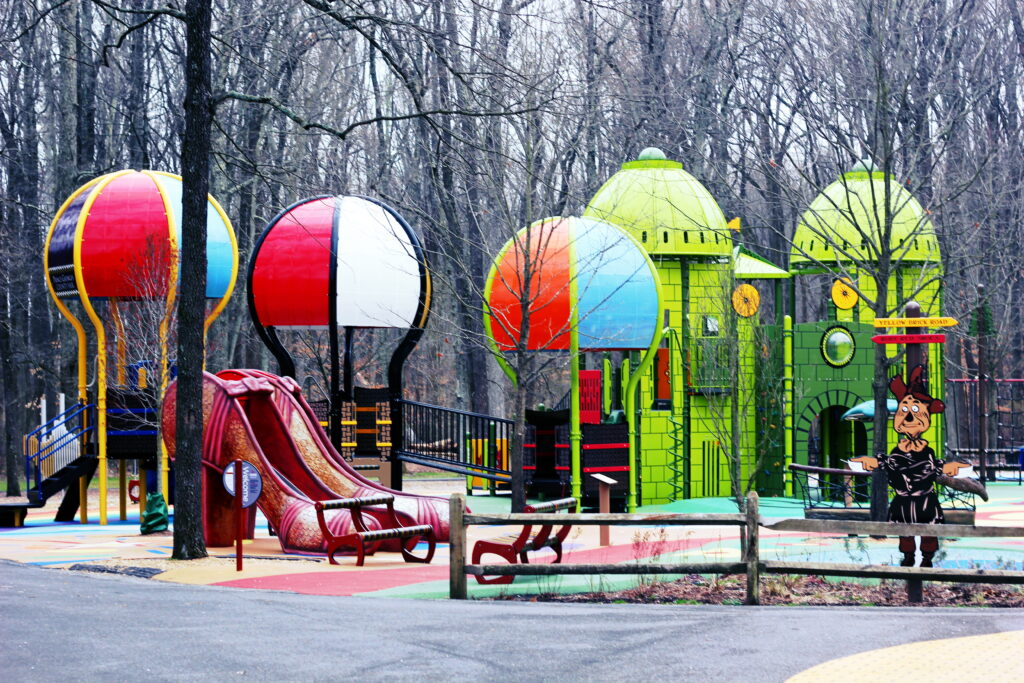 As they followed the yellow brick road with a rainbow arching high above them and quickly came upon a barn, Emerald City, Aunt Em's house, several hot air balloons, and the best of all, ruby slipper slides. The large play structures at the Wizard of Oz playground had rock walls and ladders to access them.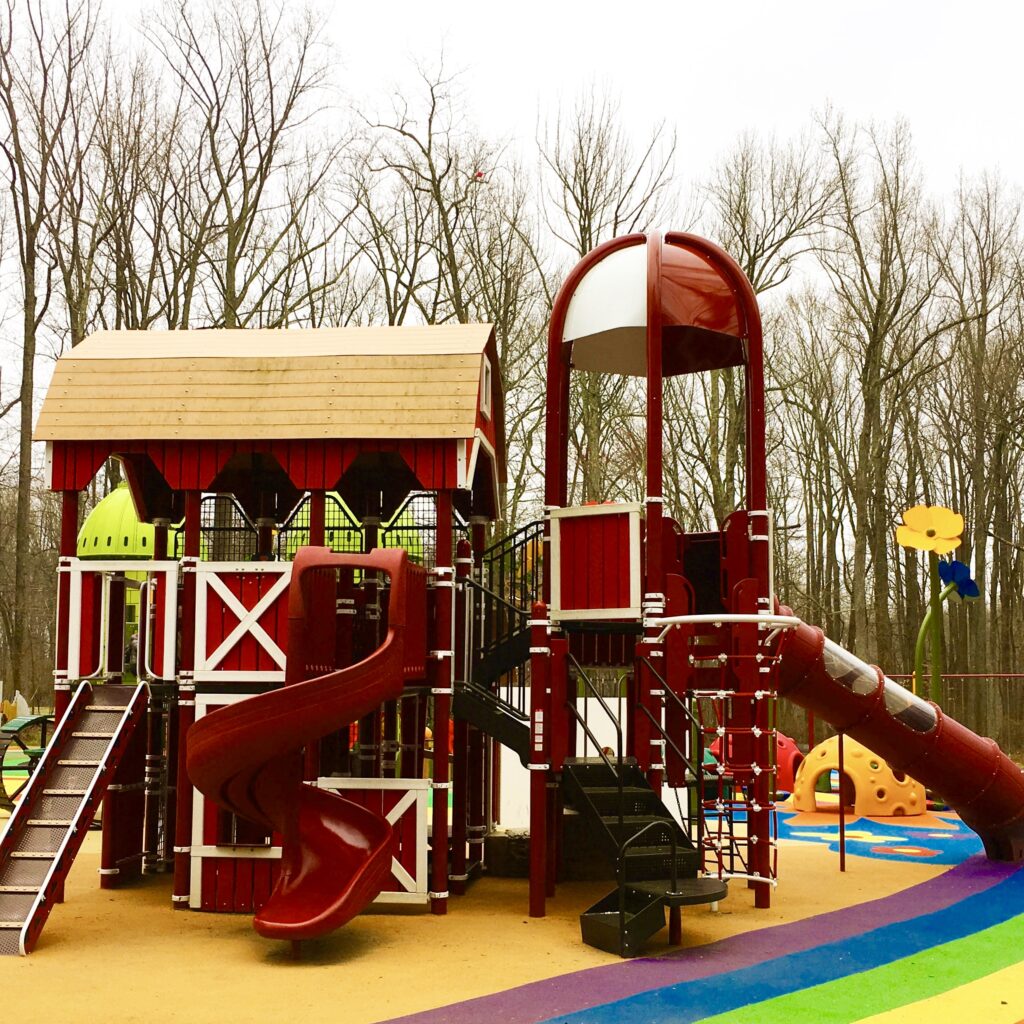 There were slides and a rope course to exit the barn. We loved the detailed features of every area of the playground, including a chicken coupe in the barn and a water bowl outside of Toto's dog house.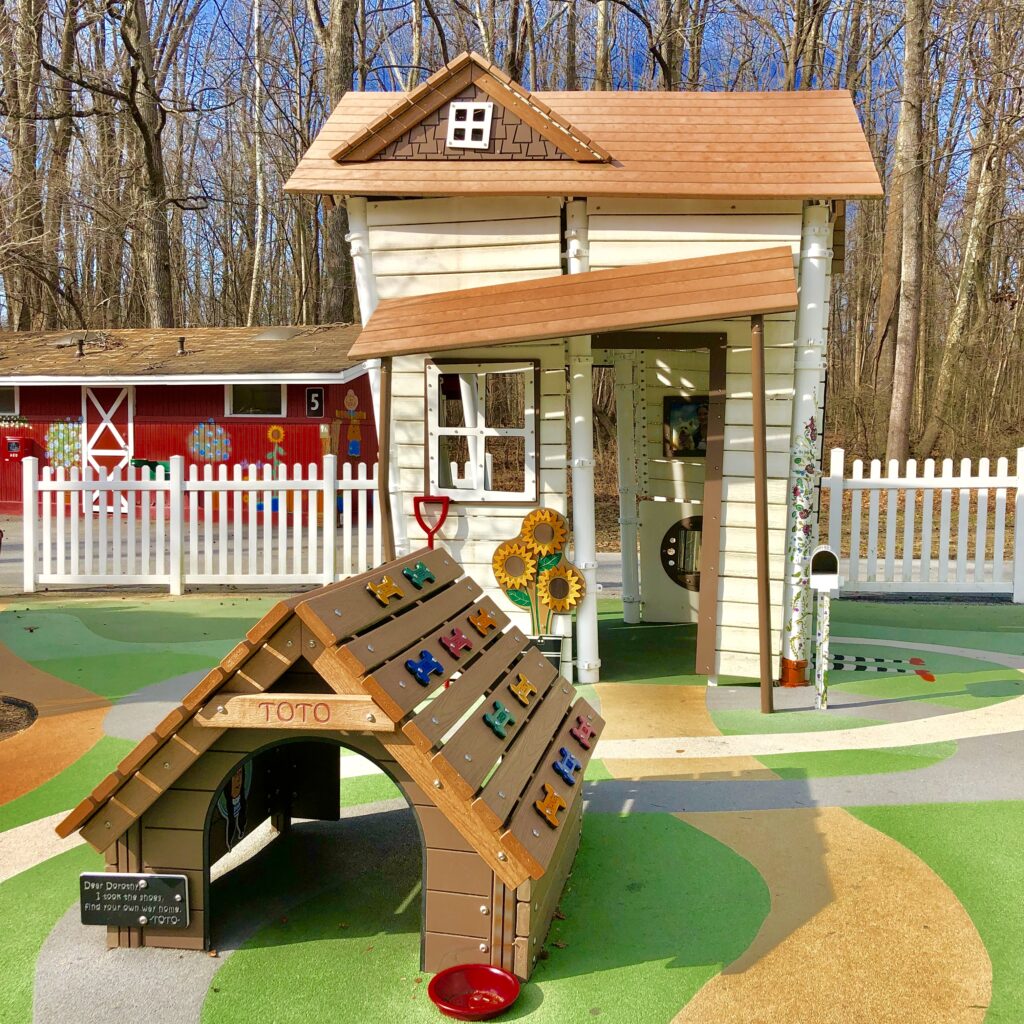 The playground surface is the soft rubber surface.  Luckily, we weren't dealing with the usual mulch in our shoes. The rubber surface really allowed them to be more creative with the colors and images that were designed into the surface.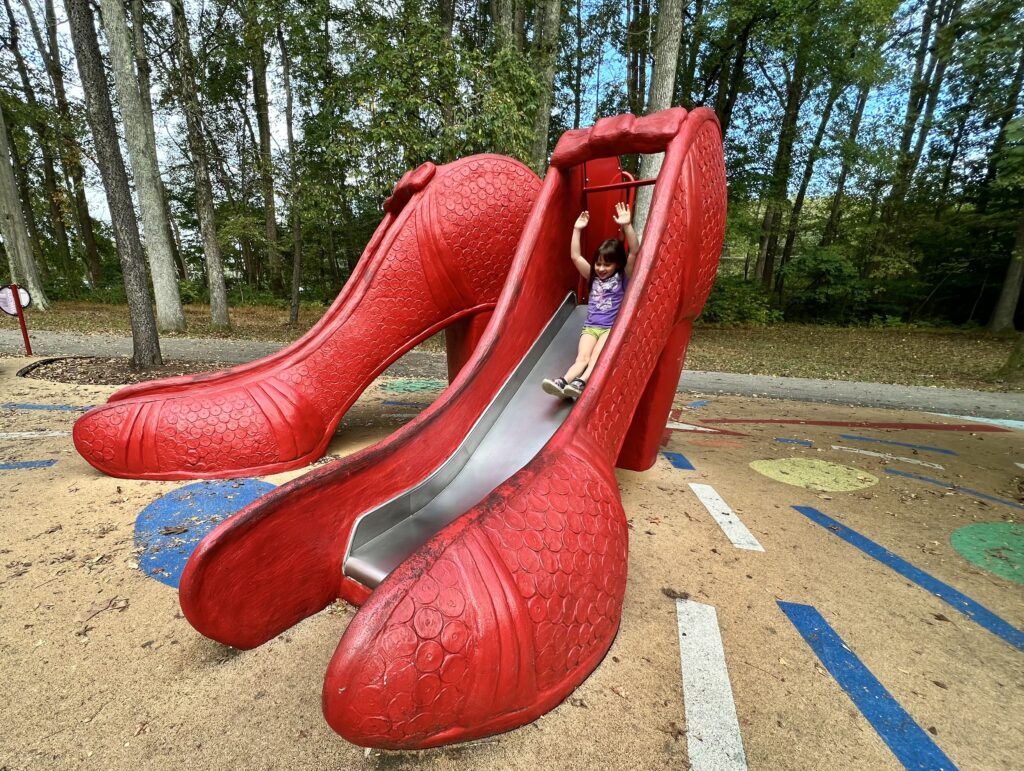 The kids had fun finding the witch mural on the ground under the house and following the swirl rainbow.  Some parts of the surface were even extra padded taller climbing structures.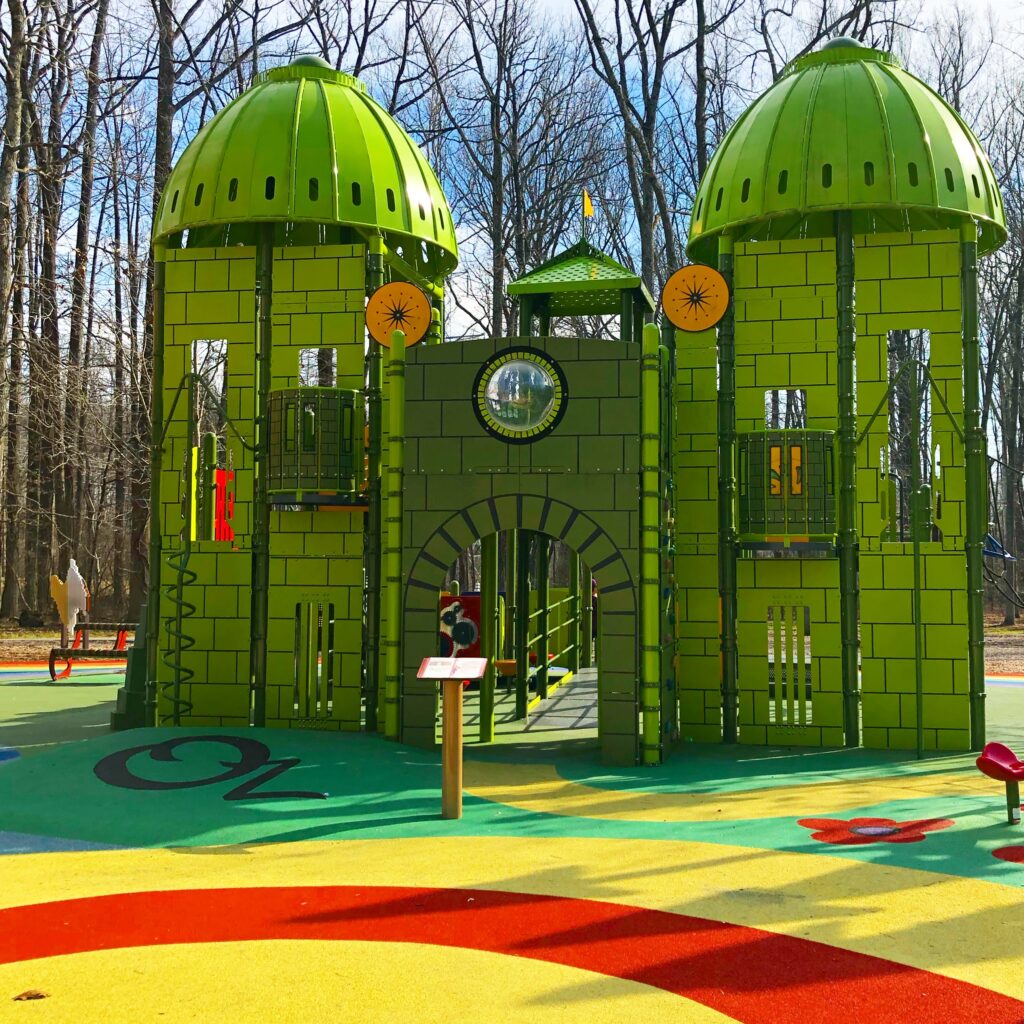 Several restrooms facilities and water fountains were nearby. There is a large restroom across from parking lot, however there's also two more restroom buildings closer to the playground. One really unique feature of the park was a bench that had a solar panel built into it with places to plug in your USB cable to charge your phone.
Another imagination playground you may enjoy is: Walker Mill Regional Park
Tips for Visiting
The park is close to the end of the line for the Washington D.C. metro. It pairs nicely with a trip into the city.
There are several new shopping centers in the area, so there are lots of places to grab a bite to eat.
Enjoy finding the details that are hidden throughout the park. Toto's water bowl, the chickens in the barn, etc.