A Christmas Story seems like a movie that people either love or they hate it.  Whichever side you're on, it's hard to escape the from seeing at least snippets of A Christmas Story every holiday season, as it plays on TV in a seemingly continuous loop.  I always love it when you can visit places that you see in movies, and this classic house in the Tremont neighborhood of Cleveland, Ohio is no exception.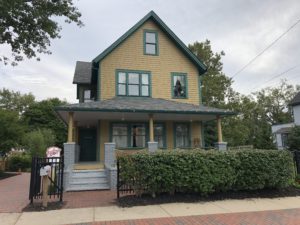 A Christmas Story Neighborhood
The drive to A Christmas Story house takes you through a typical old neighborhood in Cleveland.  While there is a small parking lot for visitors, there is also some street parking available.  The tour starts by purchasing tickets at the gift shop across the street.  The tour tickets are timed and leave about every hour from the front door of the gift shop.  The tour guide takes the group across the street and immediately into the house, which has been completely restored as it looked on the outside in A Christmas Story.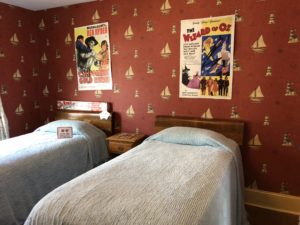 A Christmas Story Tour
While the majority of the scenes at the house were shot on a sound stage, the house was renovated to look as close to the movie set as possible.  Shots where Ralphie or Randy were looking out a window were filmed at the house, as well as outside shots and ones involving an outside door.  The tour guide gives some facts and recounts of the making of the movie.  There are interesting stories to hear, but brief enough that children will get to antsy.  We had two kids, ages 2 and 6 with us.  They enjoyed the tour, but probably didn't understand the reason for being there.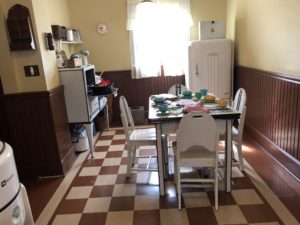 After the tour guide talks, they give plenty of time (around 10-15 minutes) to explore the house and take photos.  Many photos were taken around the Christmas tree, and with the leg lamp in the front window.  The upstairs has the boys bedroom, bathroom, and even a hallway phone where you can hear Mrs. Schwartz yelling on the phone.  Bunny suits are available for purchase or rent at the museum gift shop, so if you'd like to recreate the scene with Ralphie coming downstairs in a bunny suit, you can!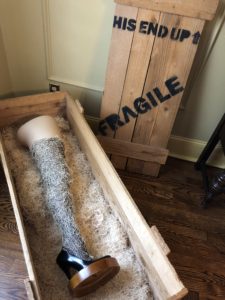 A Christmas Story Museum
Next, there is time to look around in the backyard, as well as the museum.  They have the chalkboard where the teacher wrote A++++++ in Ralphie's dream, many pieces of print memorabilia, and original outfits that were worn for the movie.  There is also time to look around the backyard, peer at the Bumpus' house next door.
Tips for Visiting A Christmas Story House
The tours are very popular during the holiday season, so plan accordingly.
Be sure to check out the antique vehicles parked beside the gift shop.
Restrooms are located in the gift shop; convenient to visit before the tour departs.