Casino Pier and Breakwater Beach hosted us. All opinions are my own.
Casino Pier and Breakwater Beach is a pier amusement park and water park located in the beach town of Seaside Heights, NJ. Devastated by hurricane Sandy in 2012, this pier has made an amazing comeback. After reconstruction, there are many activities to offer families during their beach vacations.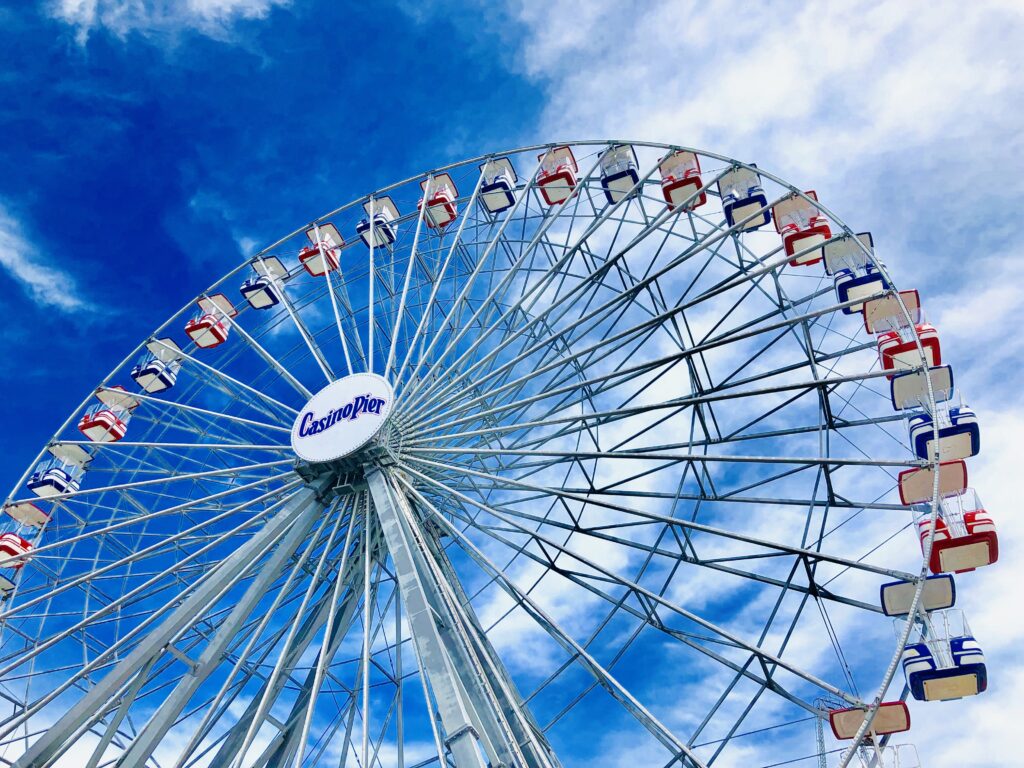 Casino Pier
Casino Pier is filled with kiddie, family, and thrill rides. Ride-all-day wristbands are available. You can also pay per ride by purchasing credits.
Kiddie Rides
The center of the park features kiddie rides including boats, cars, motorcycles, dizzy dragons, pony carts, and a small roller coaster. Tucked in a corner by the Hydrus roller coaster are a couple other kiddie rides, including a race car whip. Casino Pier is adding even more kiddie rides in 2019, including a cute boat ride called Mermaid Parade and an elephant ride.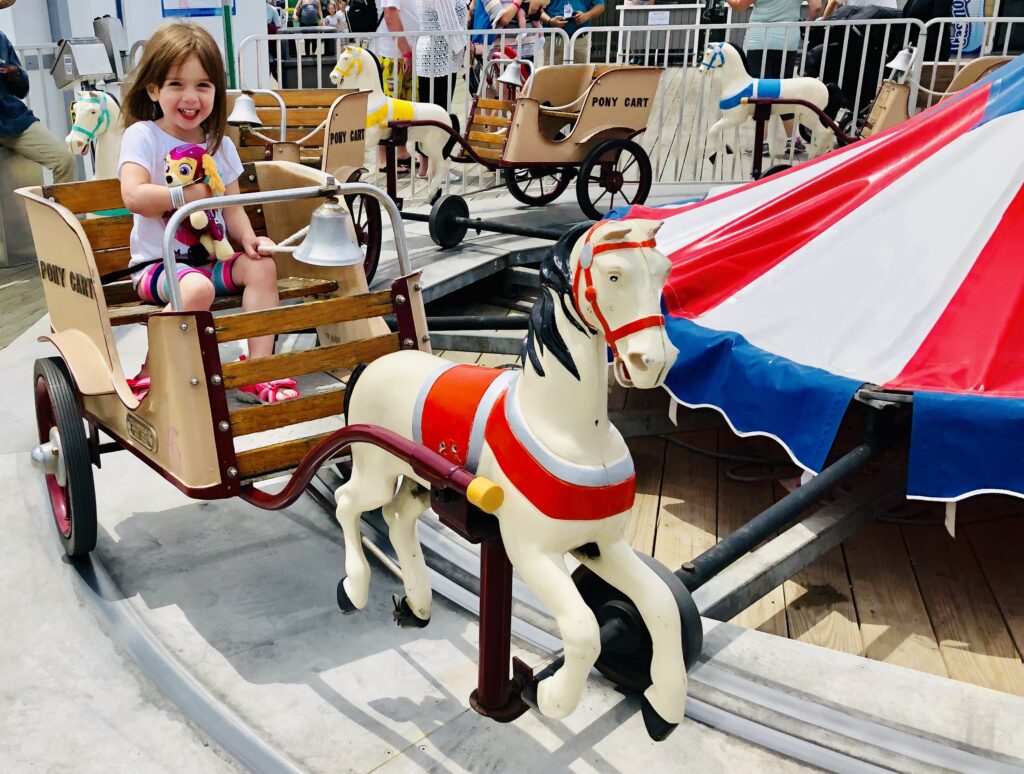 In addition to the kiddie rides, there are two fun houses. One fun house has a lower height requirement, and if the child is too short they can be accompanied by an adult. The other fun house has many more tricky elements to it, so it has a 42″ height requirement. My kids love these fun houses and went into them several times since we had the unlimited ride wristband.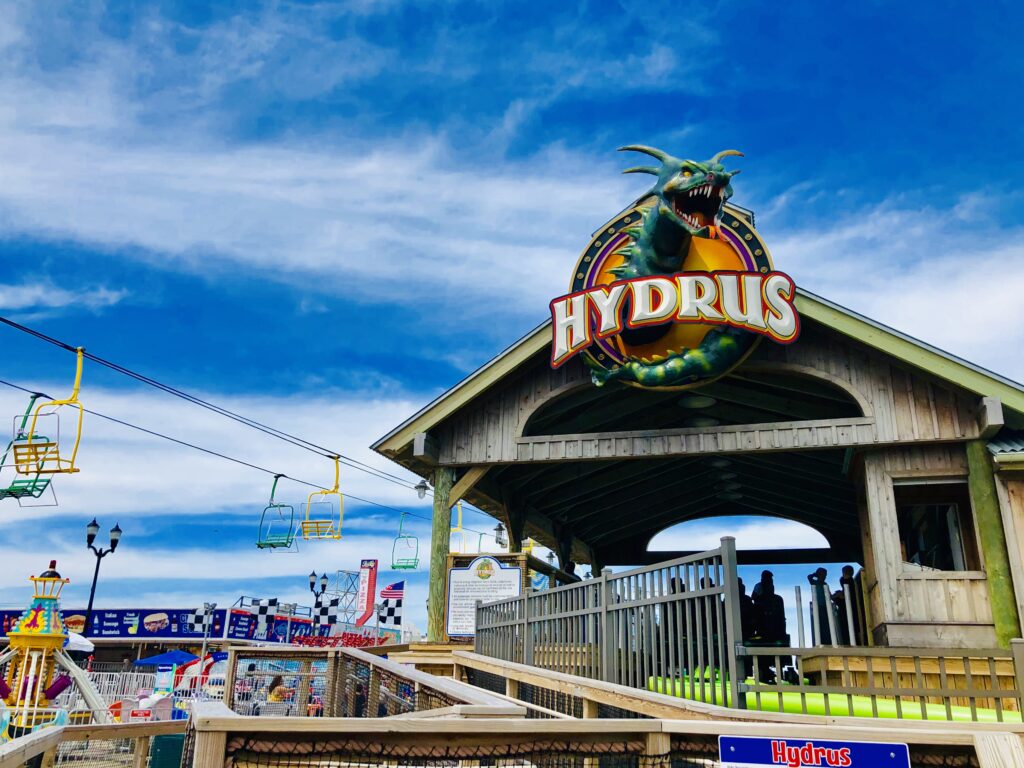 The crown jewel of Casino Pier is Hydrus, a roller coaster that was built in 2017. The ride begins with a vertical climb and an immediate steeper-than-vertical drop. The coaster also includes a loop, roll, and cutback, which allows you to see the ocean upside down!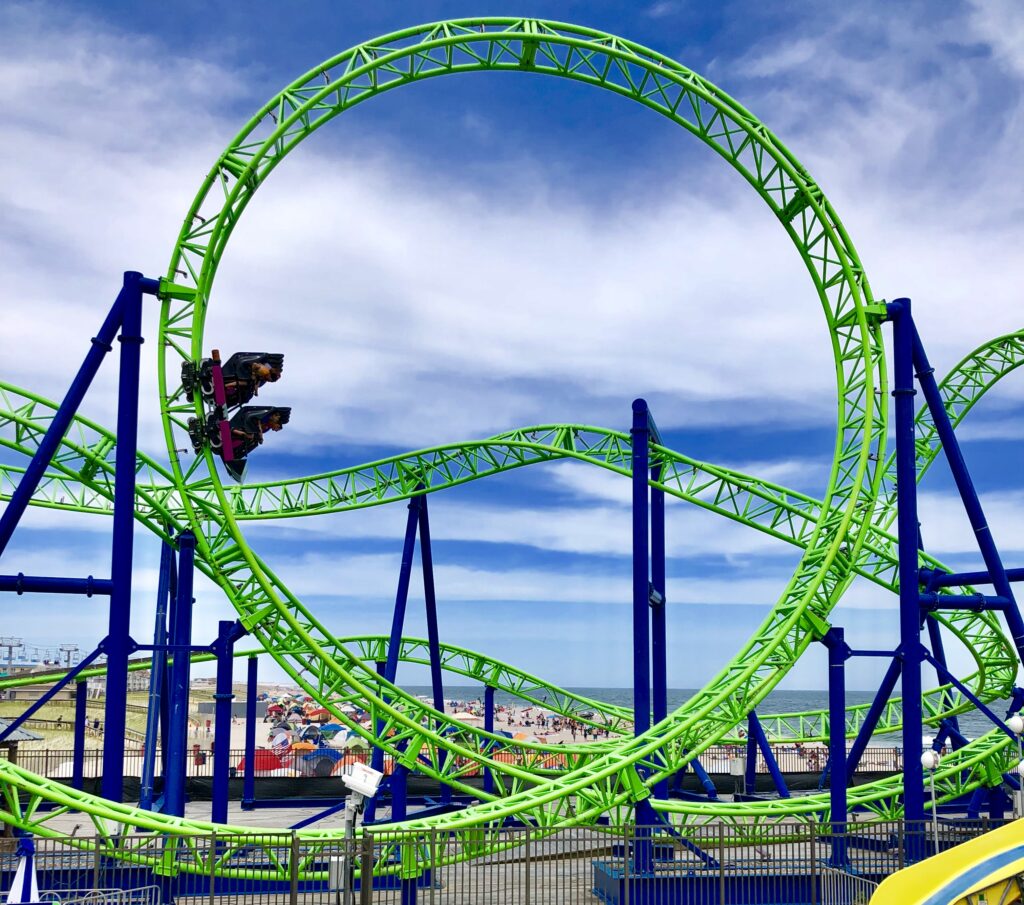 High thrill rides on Casino Pier include Air Race, the Shore Shot drop tower, the SkyCoaster, and the Skyscraper. The Skyscraper takes you 170 feet in the air at speeds of up to 70 mph! While I was not brave enough to do it, I'm sure you get amazing views of the ocean and the town from that height. There is a separate charge for riding Skycraper and the SkyCoaster, as you can't use regular credits for it.
For those seeking some mild thrills, there's the staples of pier amusement parks including a Ferris wheel, bumper cars, swings, and Musik Express. A newer ride that opened during the 2019 season is a throwback to a previous ride that was on the pier. It's called Centrifuge and is an indoor scrambler with the added effects of music, strobe lights, smoke, and multi-color lights.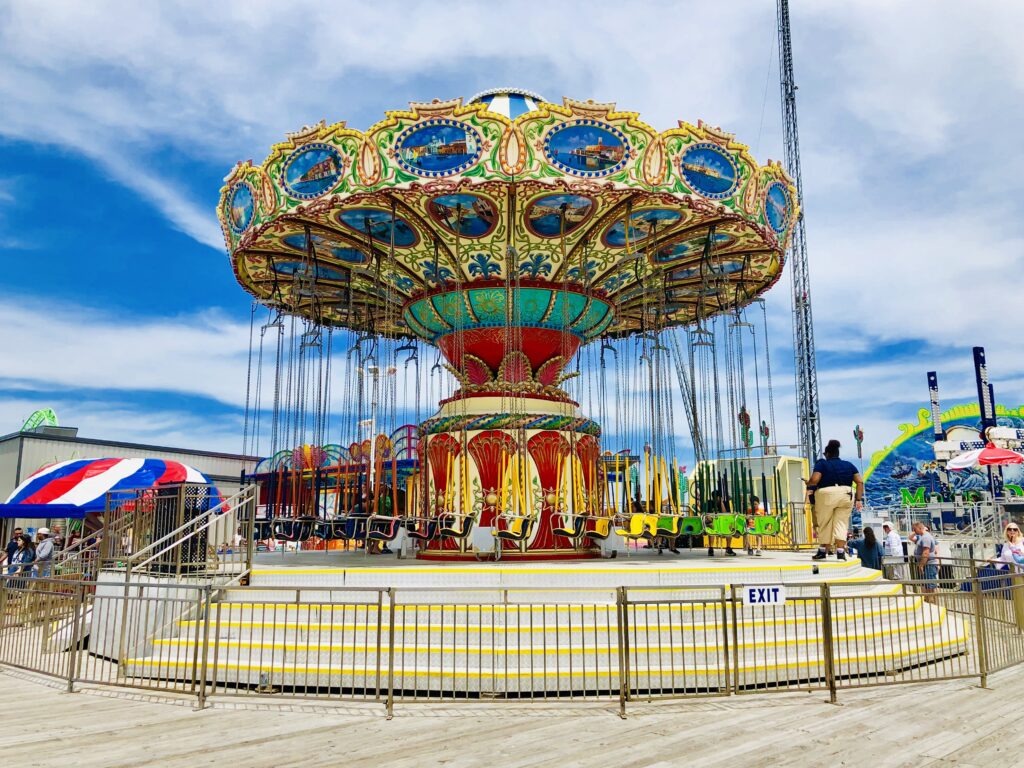 Breakwater Beach
Breakwater beach is Casino Pier's water park which is located across the street from the pier. It's a short walk between the two. We parked our car conveniently in a pay-per-hour lot close to both the pier and water park. Admission to the water park is separate than the ride wristband for the pier. However, you can purchase a discounted Ride/Slide admission that gives you an unlimited ride wristband and water park admission for one price. Both Early Bird Specials and Twilight admission is available for discounts. Check out Breakwater Beach's website for details.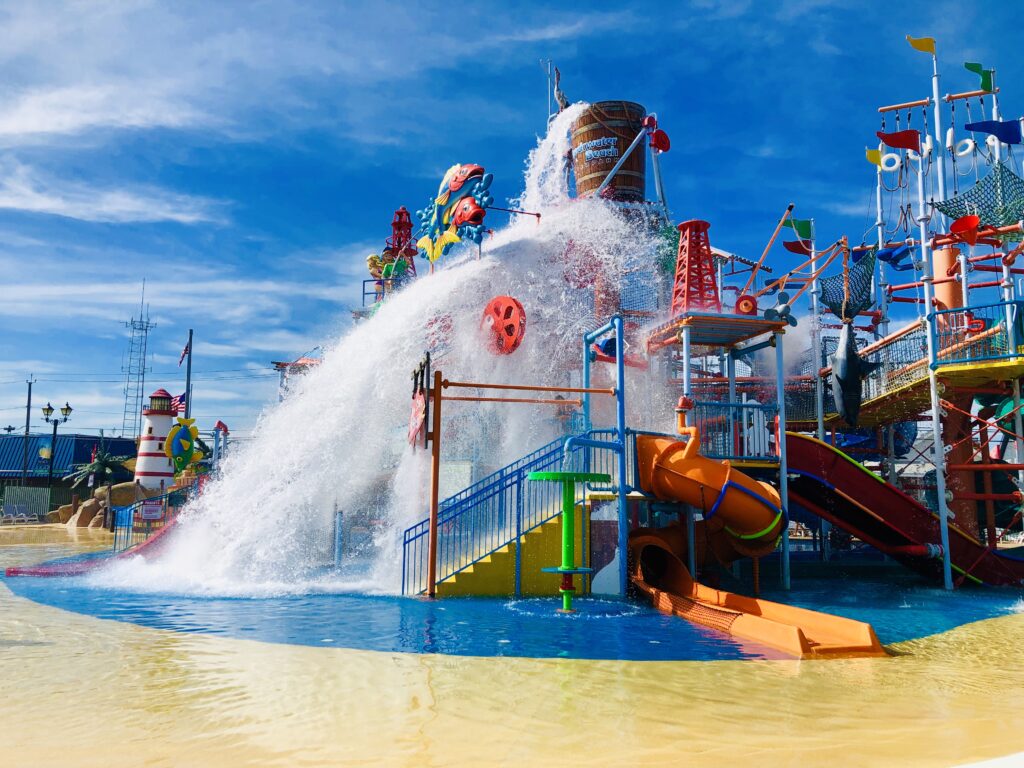 Upon entering the water park, you'll notice plenty of seating options. We immediately went to the center of the water park where the changing rooms and restrooms are located to change into our swim suits. First, we started with the slides.
Water Slides
The mat racer slides, as well as a body slide and an all-new drop slide (the floor drops out from under you to start the slide) are located on one side of the water park. There is a unique viewpoint of the mat racer slide, as there is a bridge that goes above it. This was a great place to take photos.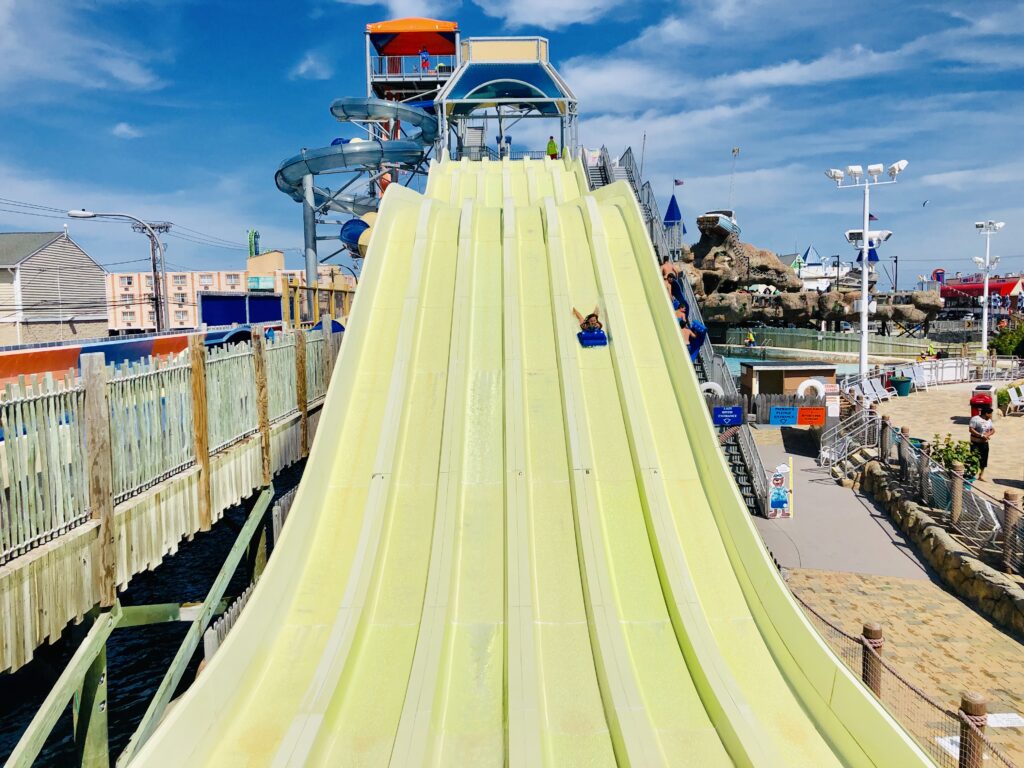 The other side of the water park has several tube slides. I found all of these to be pretty unique. The first one we went down, Freedom Flume, had a couple small funnels during the slide that had us banking from side to side and eventually turning backward! It was crazy; I've never been on a slide like that!
Another favorite of the tube slides was the Minuteman Express. I recommend slide B, but they are both a lot of fun! There are some surprise water elements that make it better than a typical tube water slide.
Kiddie Areas
For those not ready for large water slide thrills, there is Lighthouse Cove for those under 6 years old. There are tiny slides and lots of fun spray water elements. There isn't a ton of water flying everywhere, so it's nice for toddlers to slowly get familiar with the water.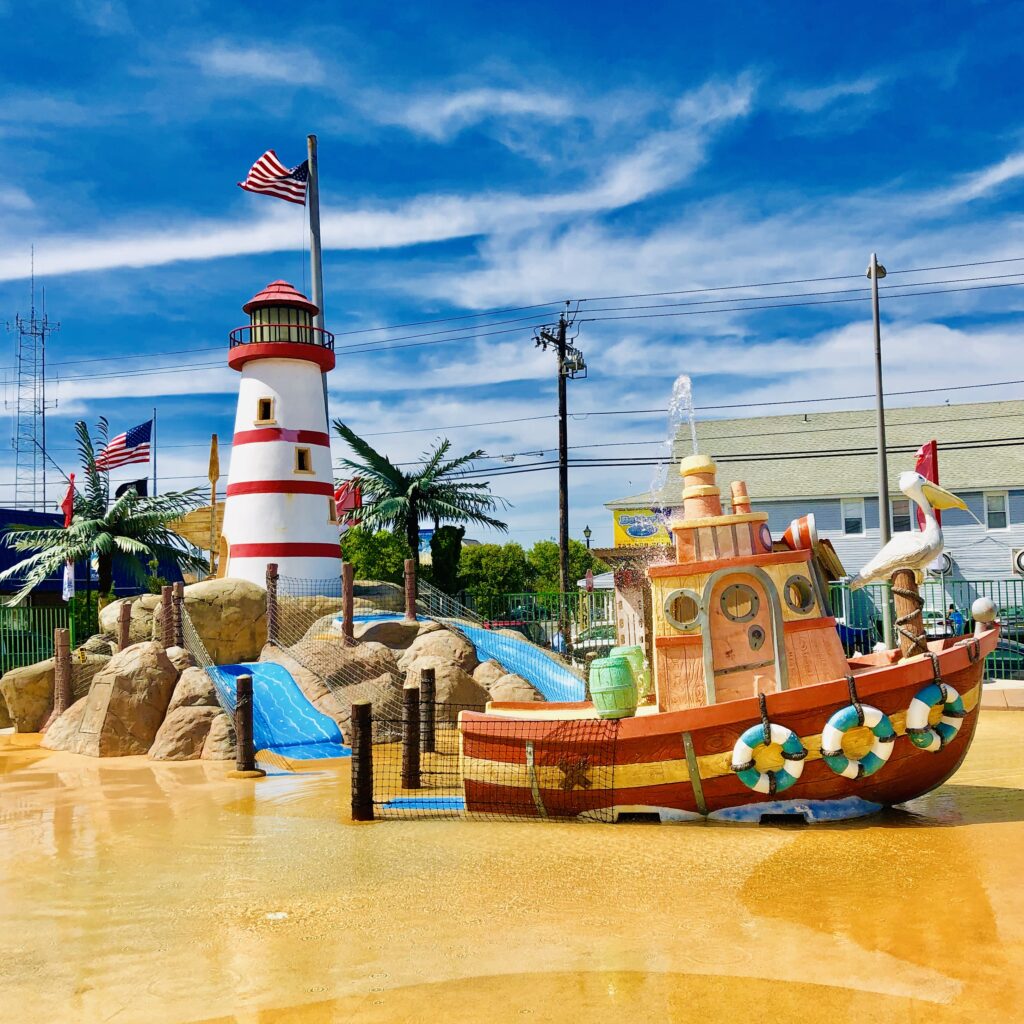 Beside Lighthouse Cove is the interactive, multi-level slide complex called The Perfect Storm. Water is flying everywhere, plus there is a drenching bucket and slides. The water around this area is fairly shallow, so the little ones can play around it as the older children explore the levels and slides in this structure.
Relaxing Areas
Finally, there's the more relaxing areas of Breakwater Beach. There's a wave pool, lazy river, and hot springs hot tubs. We enjoyed relaxing in each of these after a fun day of riding the slides.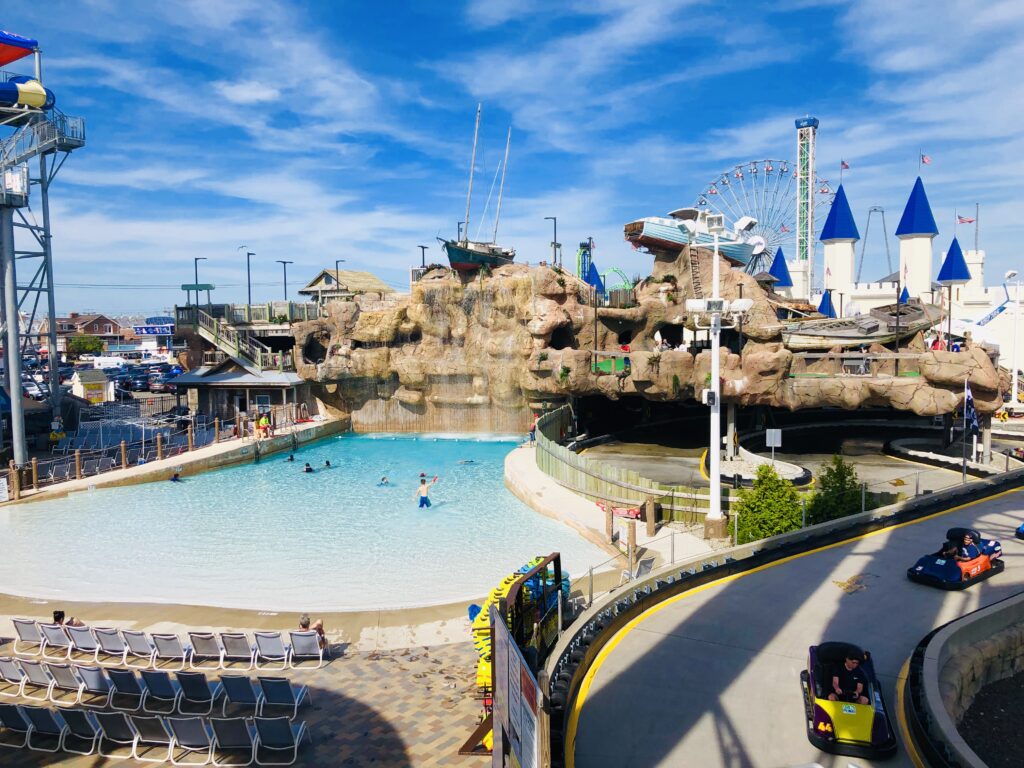 Bonus Fun
Casino Pier also is home to a multi level 36 hole adventure golf course, go-karts, arcade, food stands and game stands.
Casino Pier and Breakwater Beach hosted us. All opinions are my own.