Please note: Chambersburg Aquatic Center limits their capacity. If the center is open, you can check their current occupancy here. There may be a wait to enter on weekends or other busy times.
Chambersburg Aquatic Center is located in Chambersburg Memorial Park near Route 30 and Route 316. The Aquatic Center recently completed a $7.5 million dollar renovation to their facilities. The new facilities include a lazy river, activities pool, tot pool, and spray ground. With your admission to Chambersburg Aquatic Center, a 9-hole mini golf course, beach volleyball courts, and basketball courts are also available.
The pool starts operation on Memorial Day weekend and remains open once the local school is closed for the summer. Check their website for details.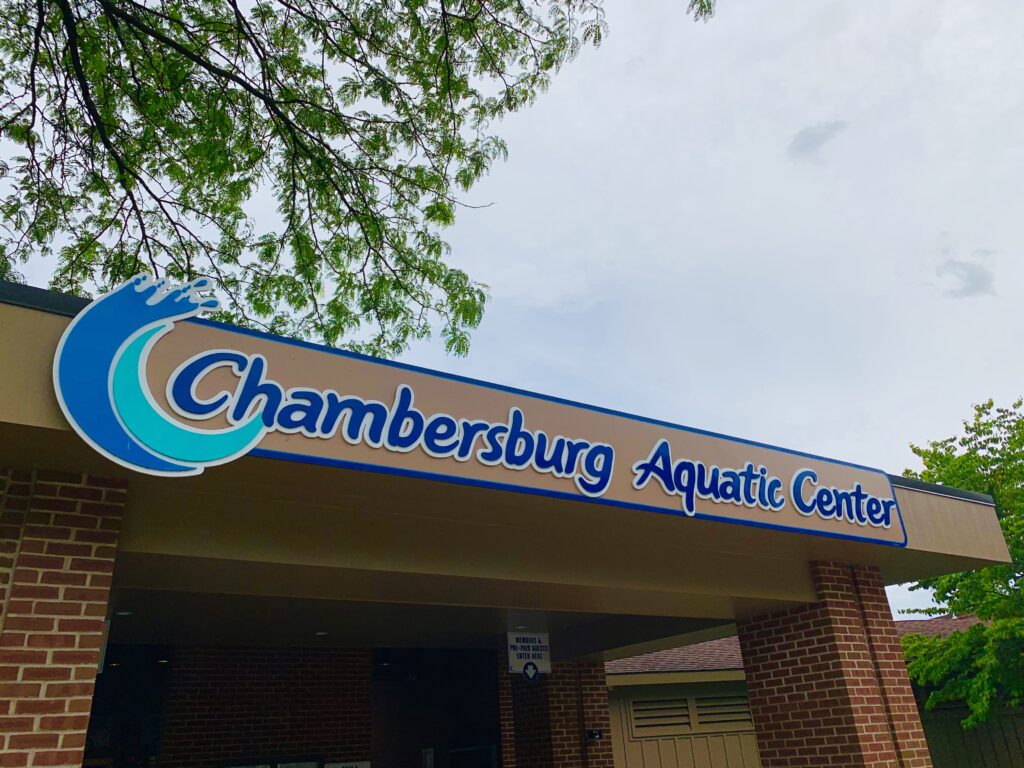 Chambersburg Aquatic Center Admission
Daily admission as well as season pass rates are available for Chambersburg Borough residents as well as non-residents. If you're planning to visit a few times during the season, there's an option for a punch card that can result in one free daily admission after you've accumulated 10 punches. These cards expire at the end of the season. Note that season passholders get to early access to the pool each day.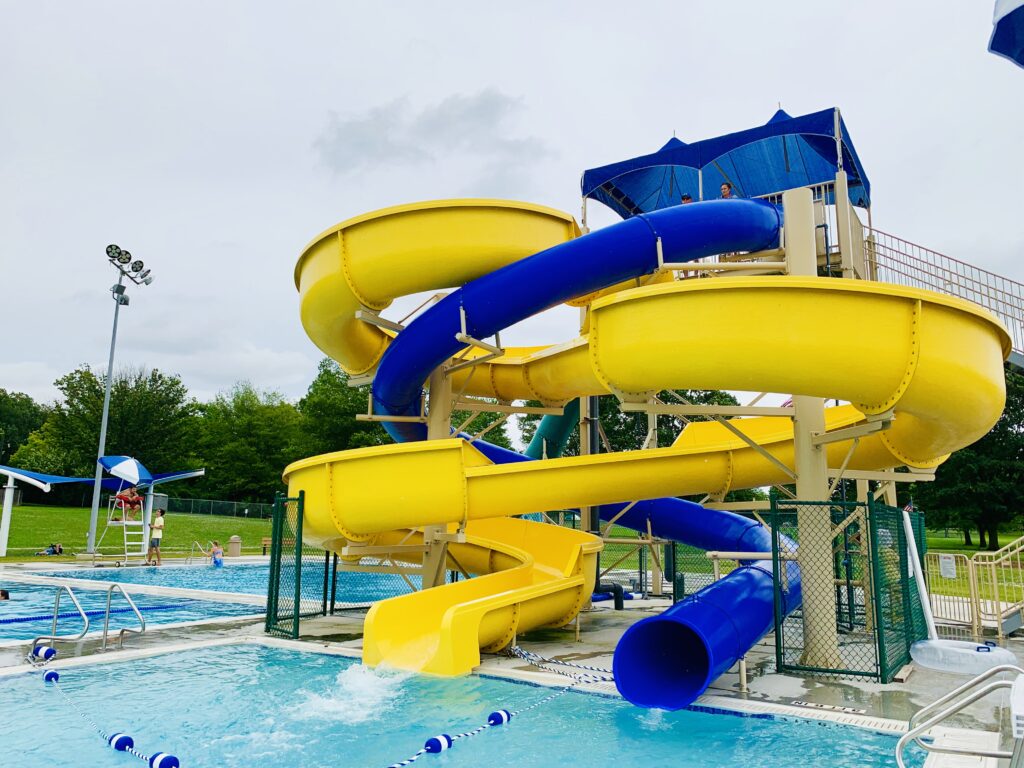 Activities Pool
The main attraction at Chambersburg Aquatic Center are the slides and activities in the main pool. This includes a lily pad walk, three slides, an in-pool rock wall, diving board, and drenching bucket. The drenching bucket area includes a splash structure with small slide. The water in this area is very shallow, with zero-depth entry.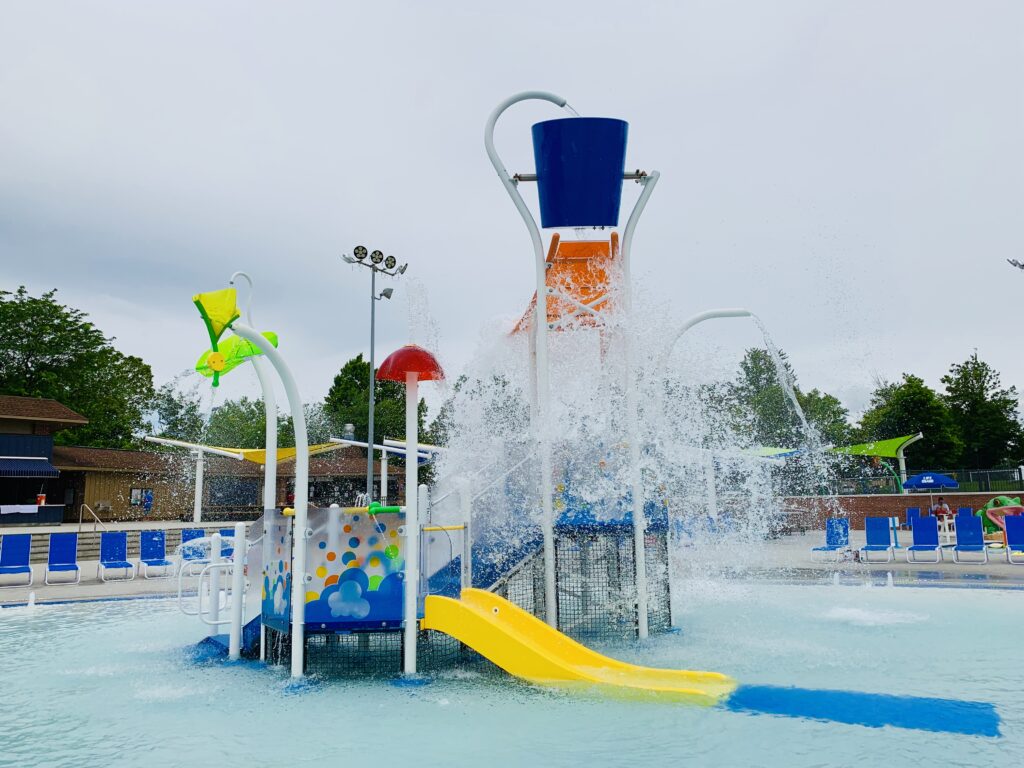 Behind the drenching bucket structure is a deeper pool with slide splash downs and the lily pad walk. Right next to this is a pool area for general water play, as well as a deep area for the drop slide exit, diving board, and rock wall. There's also a roped-off lane for lap swimming.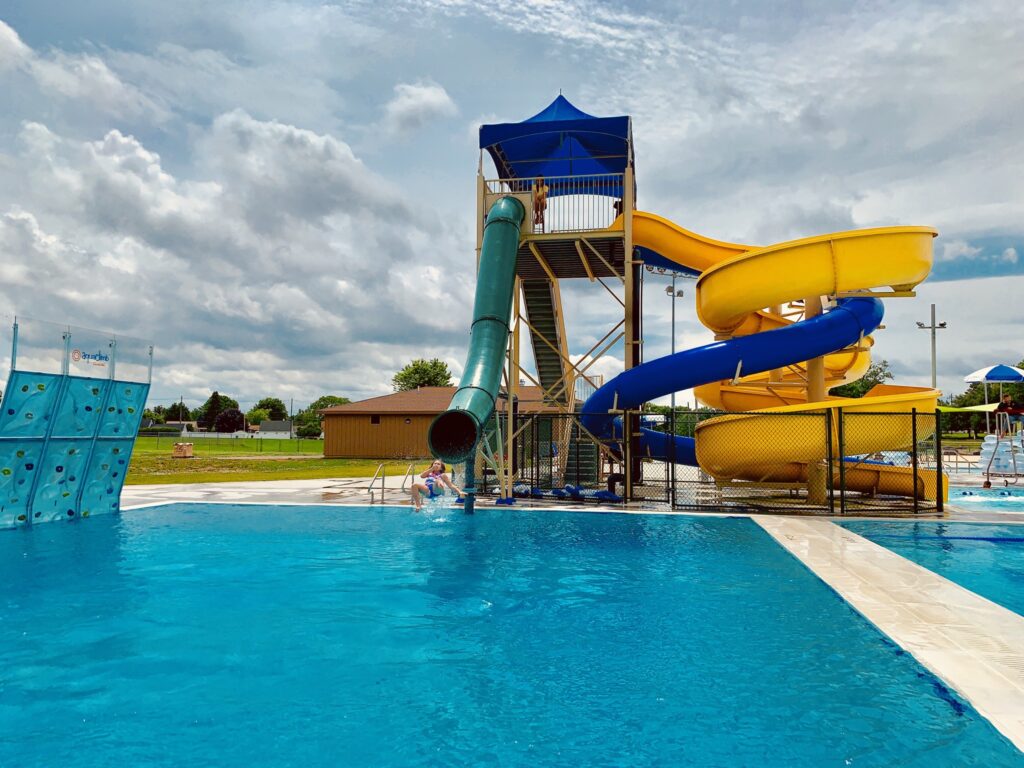 Tot Pool
Close by the main pools is the tot pool. There is a small frog slide that splashes down into the pool. Floating creatures are fun for the kids to play with, as well as a small water play element. There's also a zero-depth entrance to this pool, though the pool depth is very shallow even at its deepest point.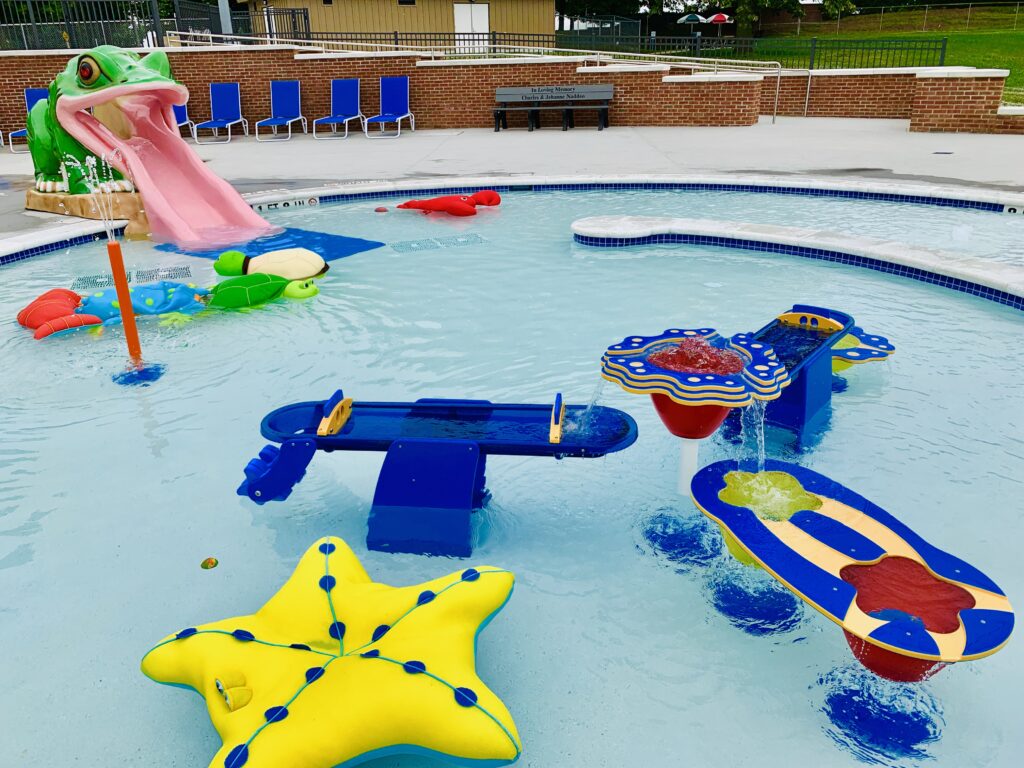 Lazy River
You can float around the lazy river or swim around in the whirlpool. If you've never experienced a whirl pool like this, it will be a treat!
There's a circular area inside the lazy river, and the circulation of the water pushes you around the circle. It's so much fun; we spent a lot of time in this area.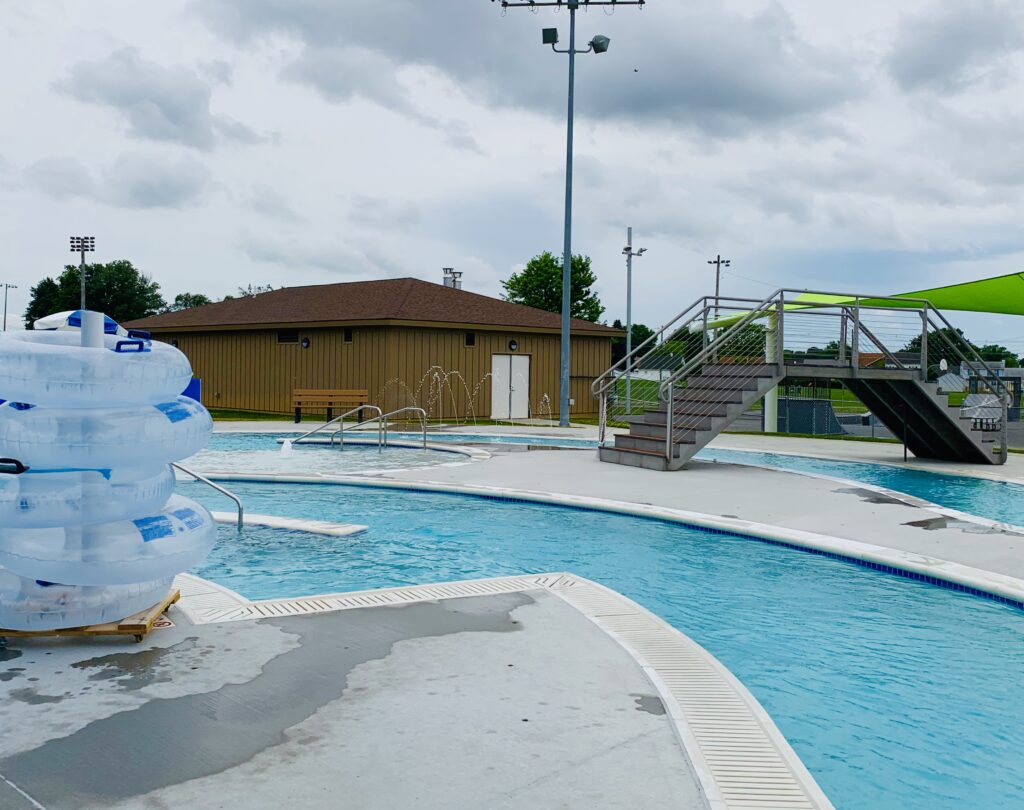 Splash Pad
The splash pad is located in an upper area of Chambersburg Aquatic Center. There are water spray elements all around.
While there is a lot of water, it doesn't seem to be overwhelming to little kids. There's also shaded seating if you'd like to sit and watch the fun.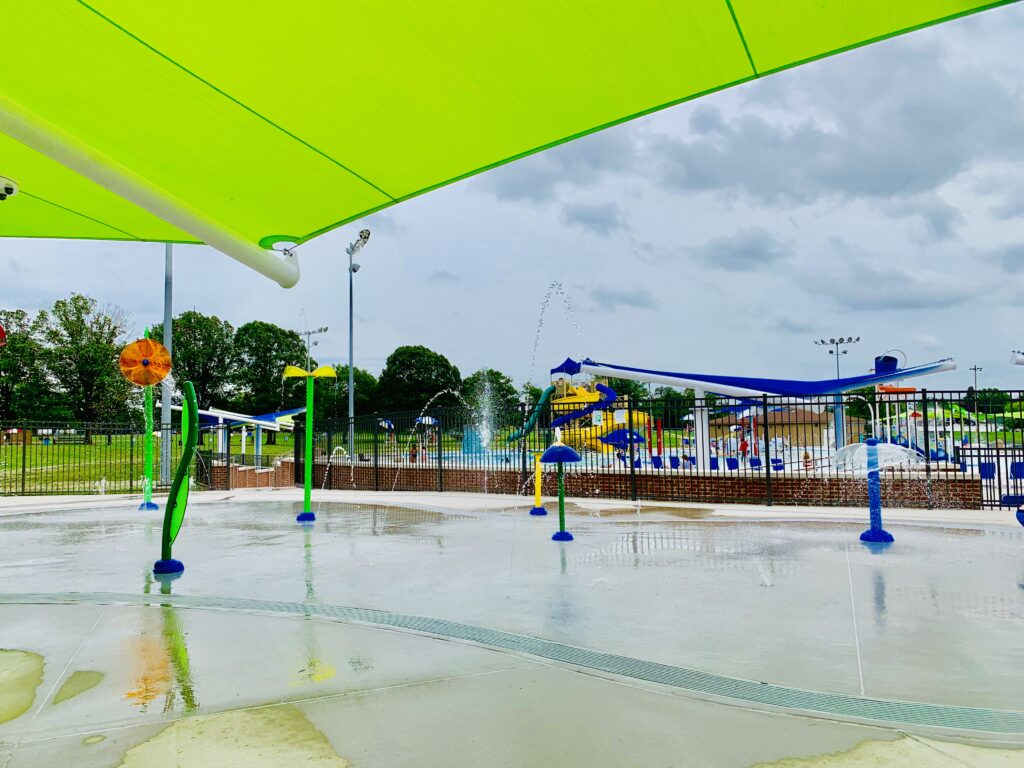 Mini Golf and Other Activities
A unique feature of this aquatic center is that mini golf is included with your admission. It's a 9-hole course, which is the perfect length for young children first learning to play.
There are buckets of putters and balls at the entrance of the course. You just pick up and play. Beside the mini golf is two beach volleyball courts, a large pavilion, and small playground.
Beyond the course is a skate park and basketball courts. Basketballs and volleyballs are available at the mini golf shed.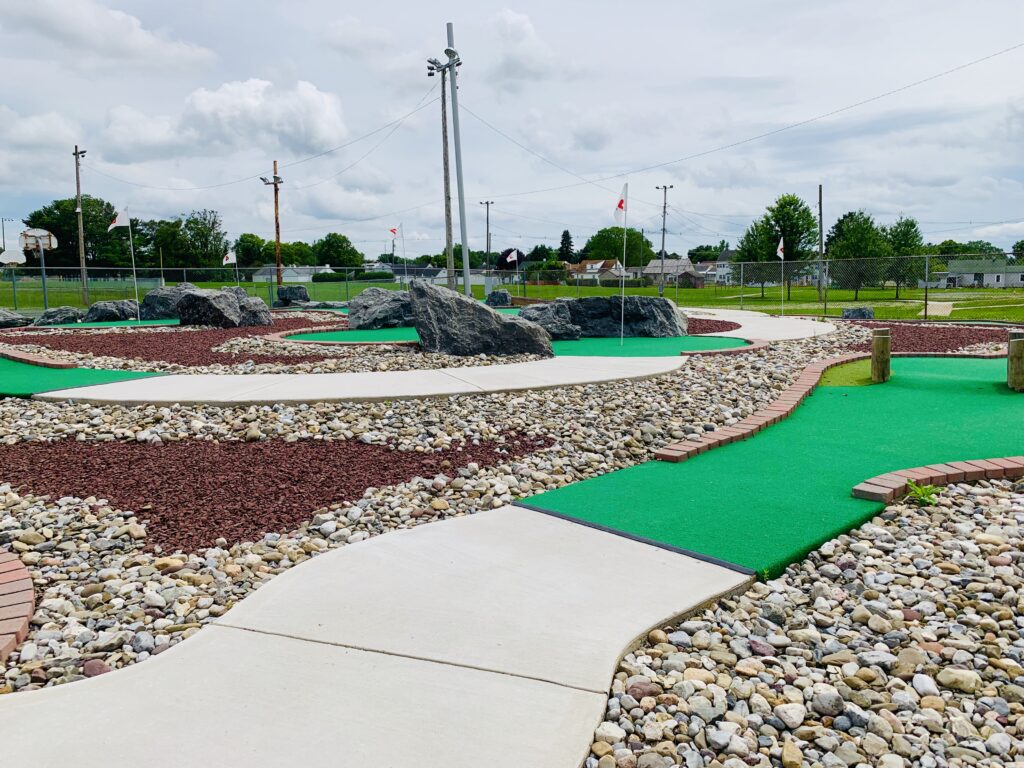 Locker Rooms, Snack Bar, and Other Amenities
Locker rooms include changing areas, restrooms, and showers. There are lockers available for a small cost. The snack bar has a wide variety of hot foods, drinks, and ice cream! They take credit cards.
Plenty of tables are available at the snack bar, as well as some additional tables on the lower section near the pools. Lounge chairs are available throughout the facility, and there are also shaded grassy areas for laying on towels.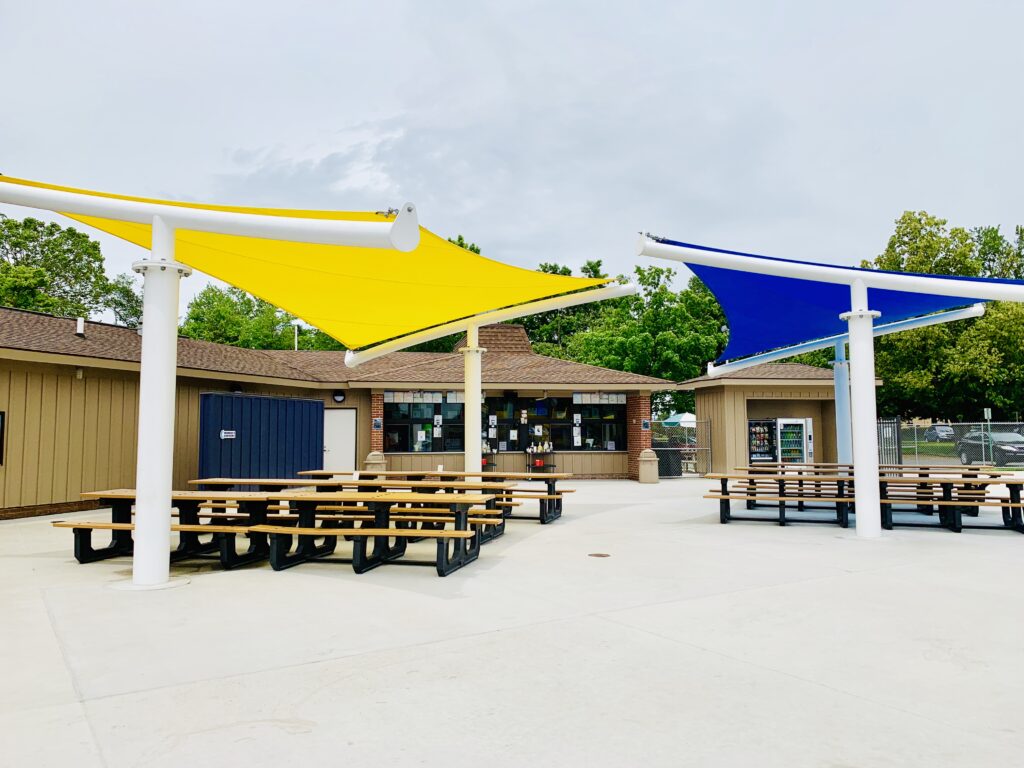 Tips for Visiting
Coolers and outside food is permitted. However, glass containers are not permitted. Bring a picnic lunch or buy hot food from the snack bar and supplement it with your own sides and snacks.
Season pass holders get early access to the aquatic center each day. Active Military Personnel with proper ID get 10% off daily rates.
Bring quarters if you'd like to use a locker in the locker rooms. They are reasonably priced, so less than a dollar should do.
The aquatic center is in Memorial Park, which is also home to an adorable playground. Go here for more info about the playground.
Looking for more water fun?
Check out this list of water attractions in the region.