A suspension bridge, beautiful waterfall, ice mine, and a huge rock balanced on a ledge are just some of the unique features of Trough Creek State Park.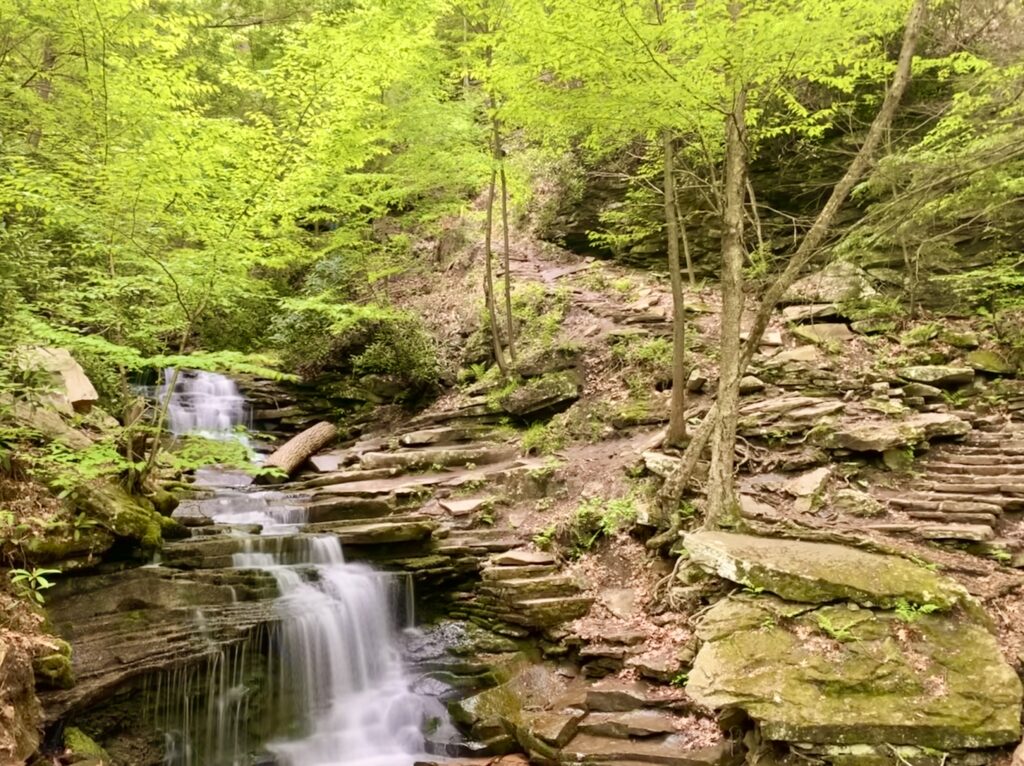 Trough Creek State Park is located in the Raystown Lake region in central Pennsylvania. Raystown Lake has tons recreation options including two sandy beaches, boat launches and rentals, as well as campsites. When visiting Raystown and the Huntingdon County area, Trough Creek State Park is a great place to spend a day.
Trough Creek State Park has many hiking trails, picnic areas, and campsites. If you're visiting for the day, it's possible to see many of these sites via a combination of hiking trails in the area. One of the easiest and shortest hikes will take you across the suspension bridge, below and above Rainbow Falls, and then to an overlook at Balanced Rock.
These sites can be accessed from a parking area along Trough Creek Drive. There are two somewhat small areas at the Balanced Rock trail head. See the park map for details. The Balanced Rock trail will lead down a hill from the parking lot. Almost immediately the trail comes to the suspension bridge.
Suspension Bridge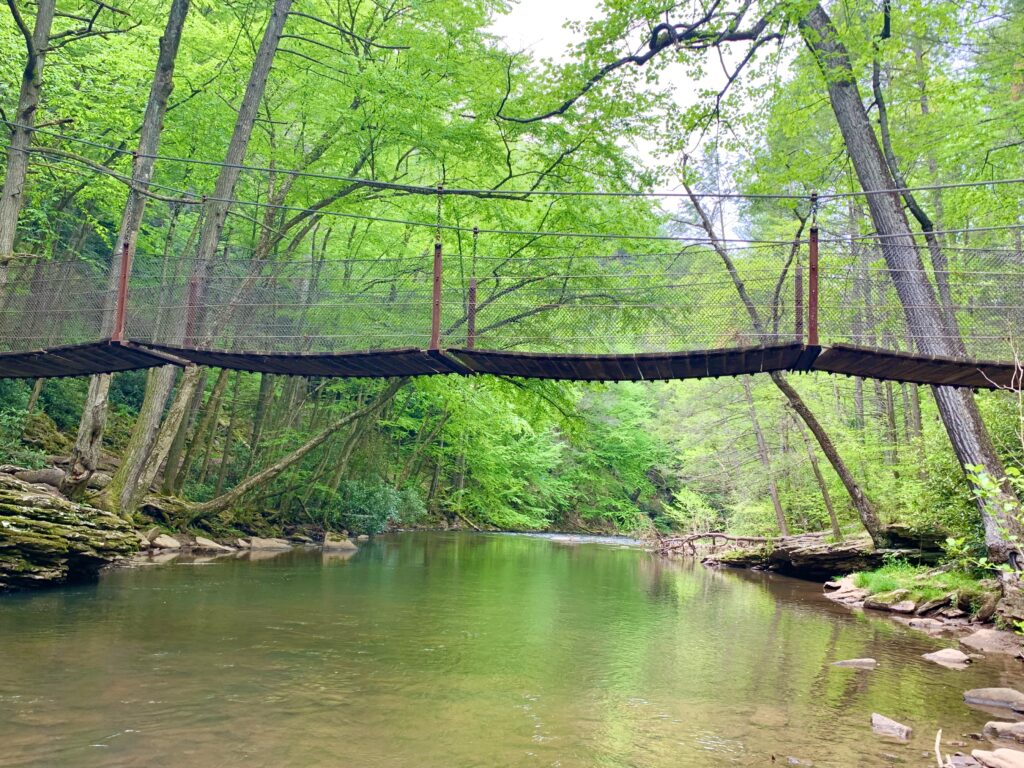 The suspension bridge moves quite a bit when walking across it, so be sure to help children. At the end of the bridge, there are arrows on the landing that direct to the appropriate trail. Heading right, the next site you'll see is Rainbow Falls.
Rainbow Falls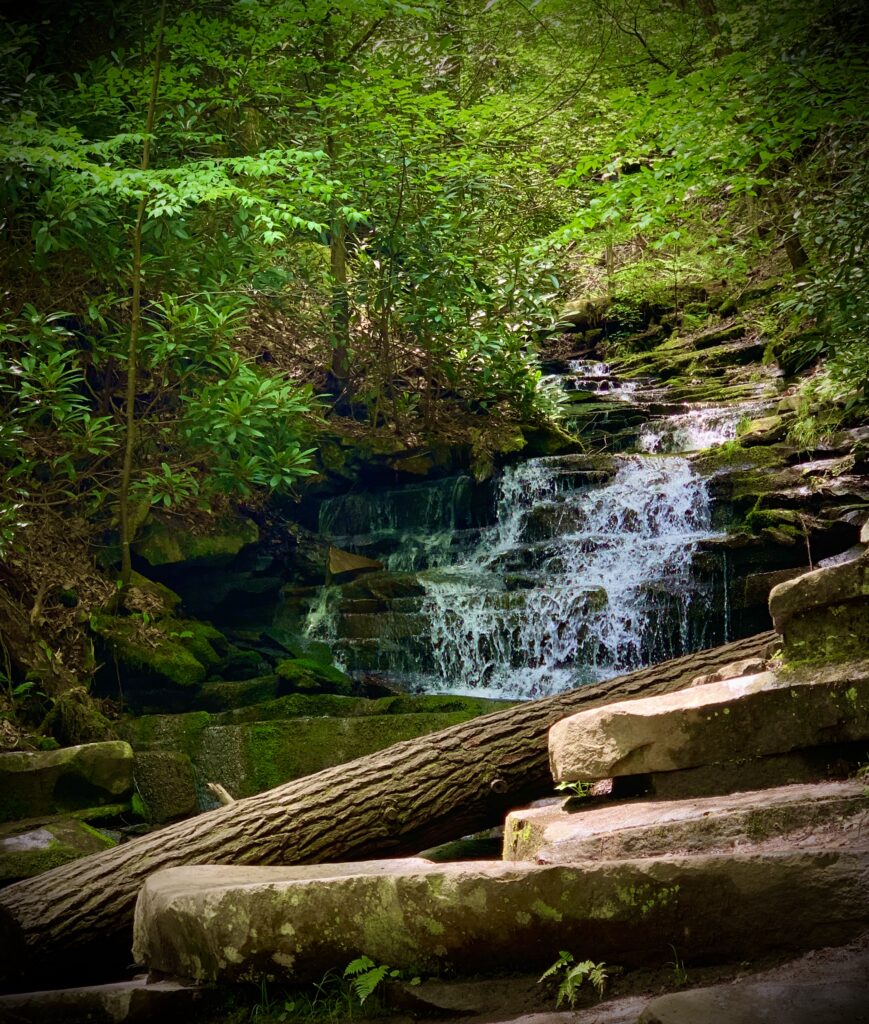 There's a bridge at the falls that is a great place for taking photos. Then, the trail heads up some rock steps beside the falls. At the top, it's possible to go straight or wind around to the right to head to Balanced Rock. We walked straight on the trail for a bit, as the creek above the falls is very scenic. Then, we headed back to the Balanced Rock trail.
Balanced Rock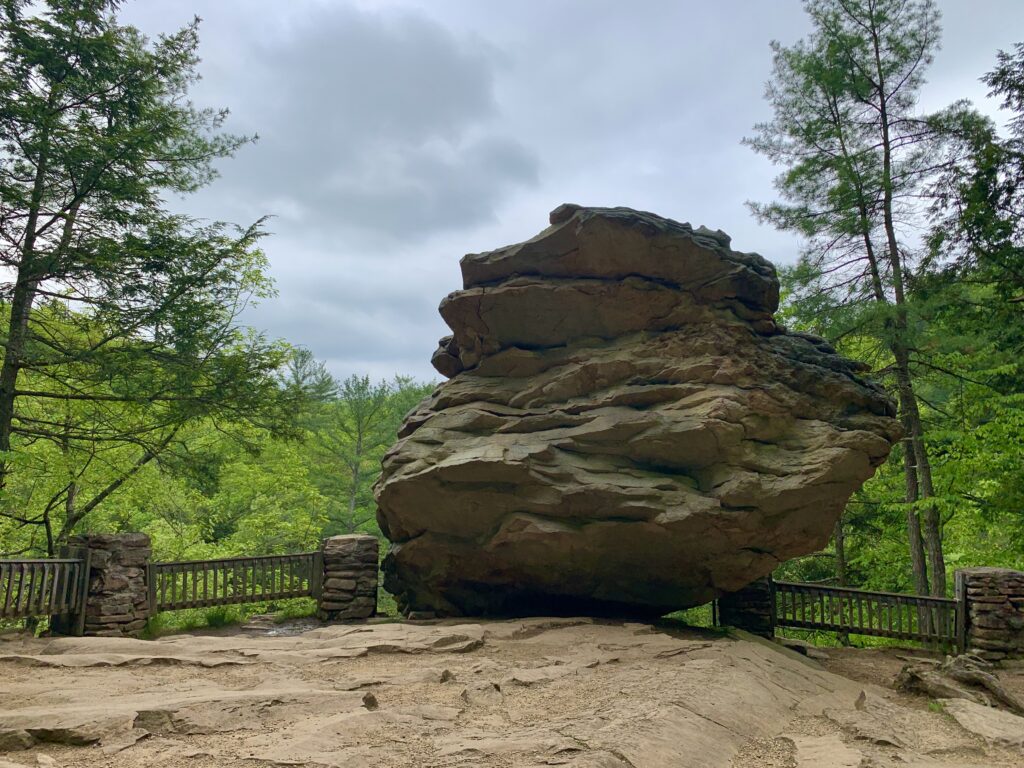 This is not only a cool site, but it also has a beautiful view and a nice place to get photos. From here, the shortest option is to double back to the parking lot. There are other trails throughout the area, though.
If you'd like to feel the cold of the ice mine, keep heading down Trough Creek drive until the end. There are steps down to the ice mine to feel the cool. It's the best during the heat of the summer!
Looking for more State Parks?
Check out – Swatara State Park, Ohiopyle State Park, Ricketts Glen State Park, and Rocks State Park