Due to the unpredictability of 2020 – 2021, please be sure to call ahead or confirm the snow tubing places near Pennsylvania are open before venturing out. Most places now require tickets to be purchased in advance. As with any outdoor activity, there are risks, especially in the current climate.
When the weather turns colder, it's now possible to take advantage of the outdoor activities that can only be experienced in the colder months! Snow tubing places near Pennsylvania are plentiful. While we haven't visited every one of these places, we've heard good things about them over the years.
Snow Tubing Places near Pennsylvania – Things to Consider
When choosing a snow tubing adventure near PA, you may want to consider the other amenities that are included on the grounds of the tubing hill. Some snow tubing places are also resorts which have overnight lodging. Others may have fire pits to warm yourself between trips down the hill. Others boast additional attractions like amazing skiing or even a huge indoor water park to enjoy during your visit.
Be sure to check requirements of each resort or attractions before you visit. For example, each snow tubing place may have different requirements for children's height and/or age to participate. Some places may require an overnight stay to use their hill. Also, consider the timing of your snow tubing session. Are you allowed to tube all day at your chosen tubing hill, or is there a certain time frame that you must adhere to.
It's difficult to determine the opening dates of snow tubing places, so watch the locations websites and Facebook pages for announcements. Most places try to open during the month of December and typically close in the month of March. The ability to make snow is dependent on constant cold temperatures. Rain can also dampen the fun and melt the snow. Keep in mind that colder temperatures are great for fast and fun snow tubing.
Take all these things into consideration when you choose your snow tubing destination. Here's 9 best snow tubing places near Pennsylvania, in no particular order.
Camelback Mountain Resort
Camelback Mountain Resort is a great example of a snow tubing place in PA that has a lot of extra amenities. There's a lodge on premises of this ski resort which often offers snow tubing or ski packages with your overnight stay. Watch for discounts on their website. You can also sign up for their mailing list to learn about their deals and winter packages.
The Camelback Mountain snow tubing hill is one of the largest in Pennsylvania. There's a large parking lot by the tubing hill, with a cool tunnel to lead you to the ticketing building. They offer two-hour tubing sessions on their 42 lane hill. There's a magic carpet that will move you up the hill, as you stand still and keep hold of your tube.
Reservations to snow tube at Camelback Mountain are strongly recommended. If you arrive early, you can warm yourself by the fire pits until your session time is called to start tubing. There's a small snack bar by the snow tubing hill. Most importantly, they offer hot chocolate to warm your belly after your tubing session.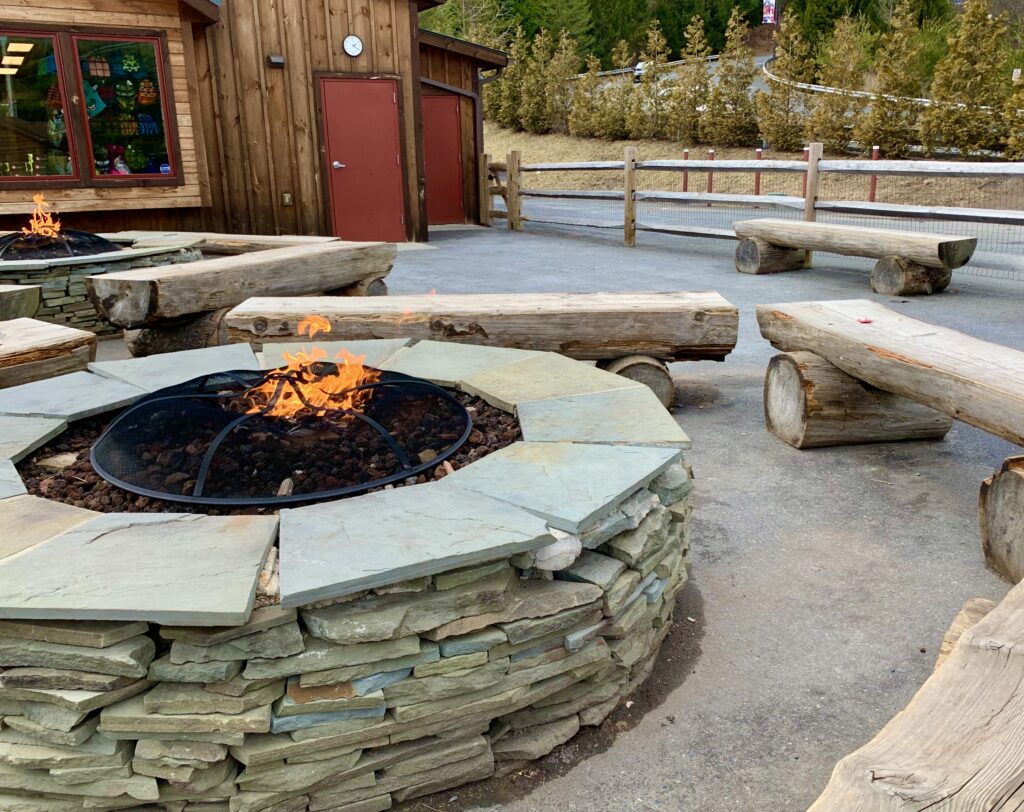 Galactic Snow Tubing at Camelback
In the evenings, they offer a special session called galactic tubing. Check the Camelback website for details about this night time session.
The requirement for kids to participate in tubing at Camelback Mountain is a height requirement. Check their website for their current height requirement. Since my daughter did not meet the requirement to ride alone, we rode in a double tube together.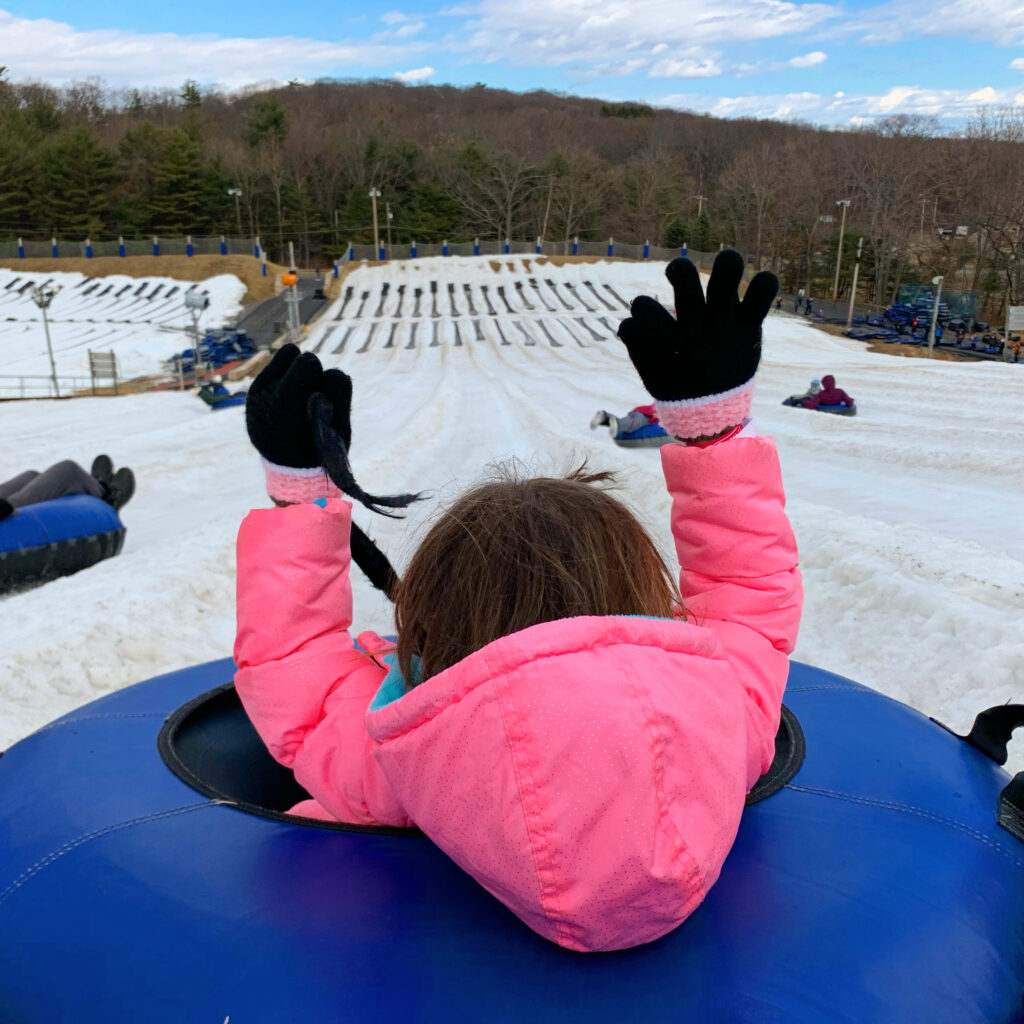 Camelback Mountain includes an indoor water park called Aquatopia, as well as skiing and onsite restaurants.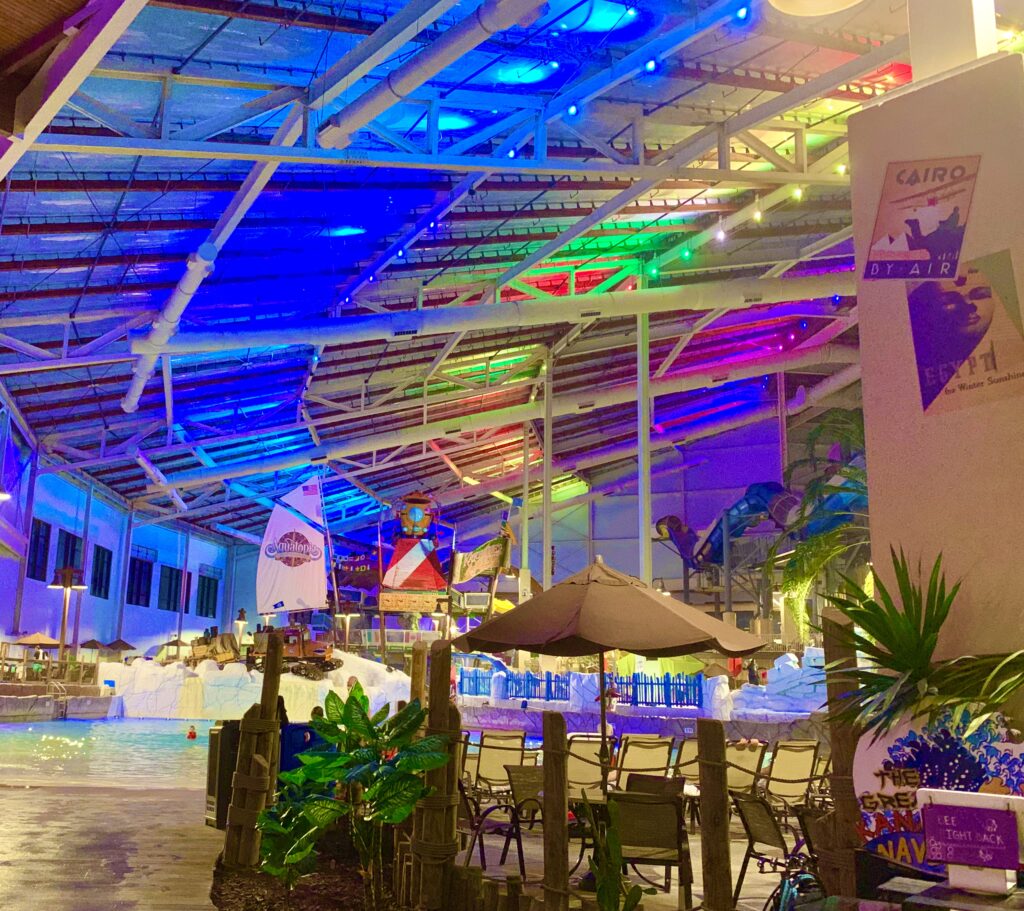 Learn more about Camelback Mountain Resort in this detailed post about their water park and snow tubing.
Roundtop Mountain Resort
Roundtop Mountain Resort in Lewisberry, Pennsylvania was closed for the summer season in 2020, but the Resort plans to open in December 2020. Watch their website for details about the advertised opening.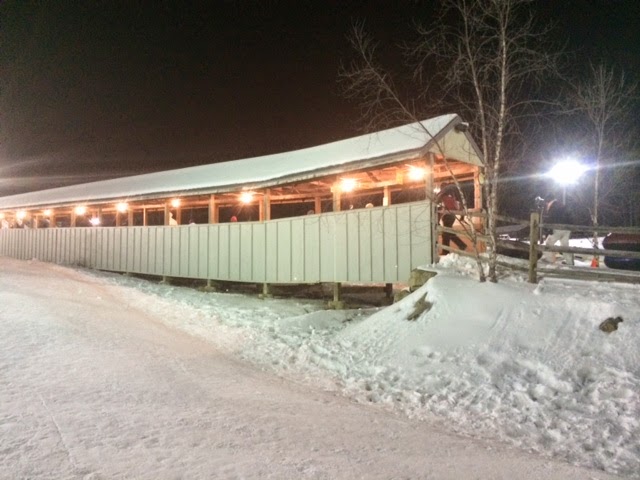 Roundtop Mountain Resort is one of the few snow tubing places that has a separate hill, and tiny tubes, for younger children. This children's hill is for those 4 years and younger. It's a great introduction to snow tubing with a slower and gentler slope. Call Roundtop Mountain or visit their website for details about using their kiddie tubing hill.
AvalancheXpress
AvalancheXpress is part of Heritage Hill Resort. It's located in York, Pennsylvania. It's a short drive from the major interstate, I-83, to arrive at this resort which also features onsite restaurants and lodging.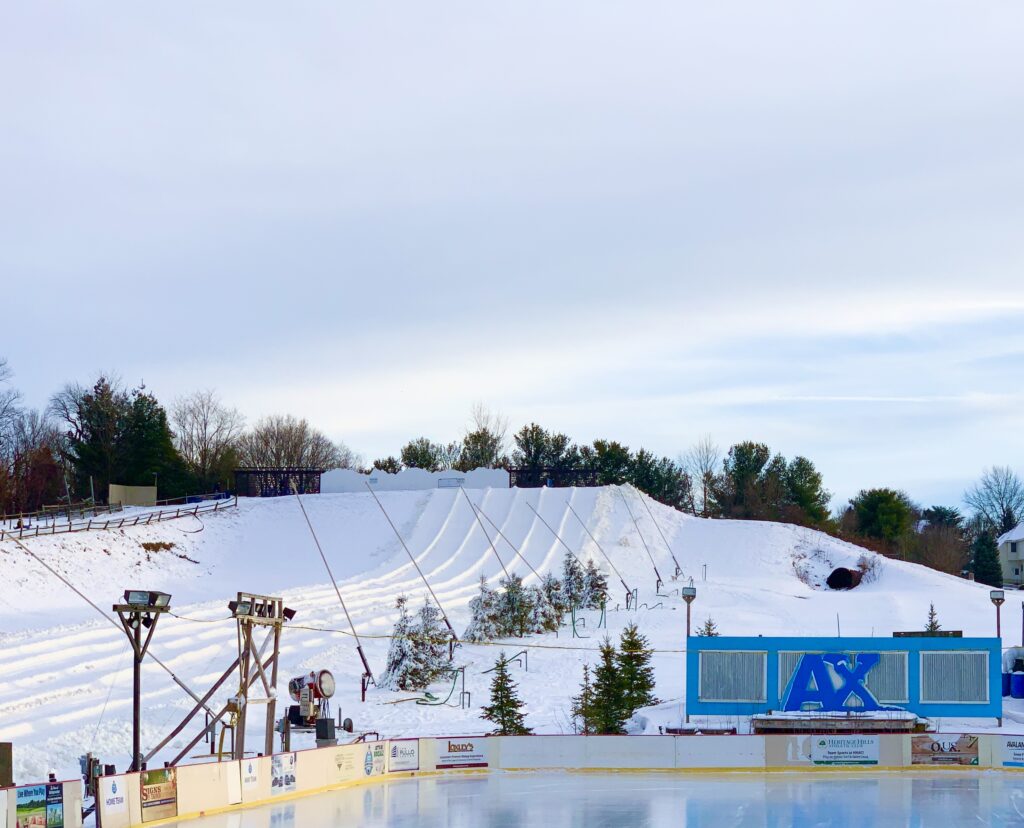 AvalancheXpress also has an ice skating rink to enjoy. There are packages available for both ice skating and snow tubing. After enjoying the winter activities, you can warm up by their fire pits or eat dinner in one of their onsite restaurants. Check out this detailed post about AvalancheXpress.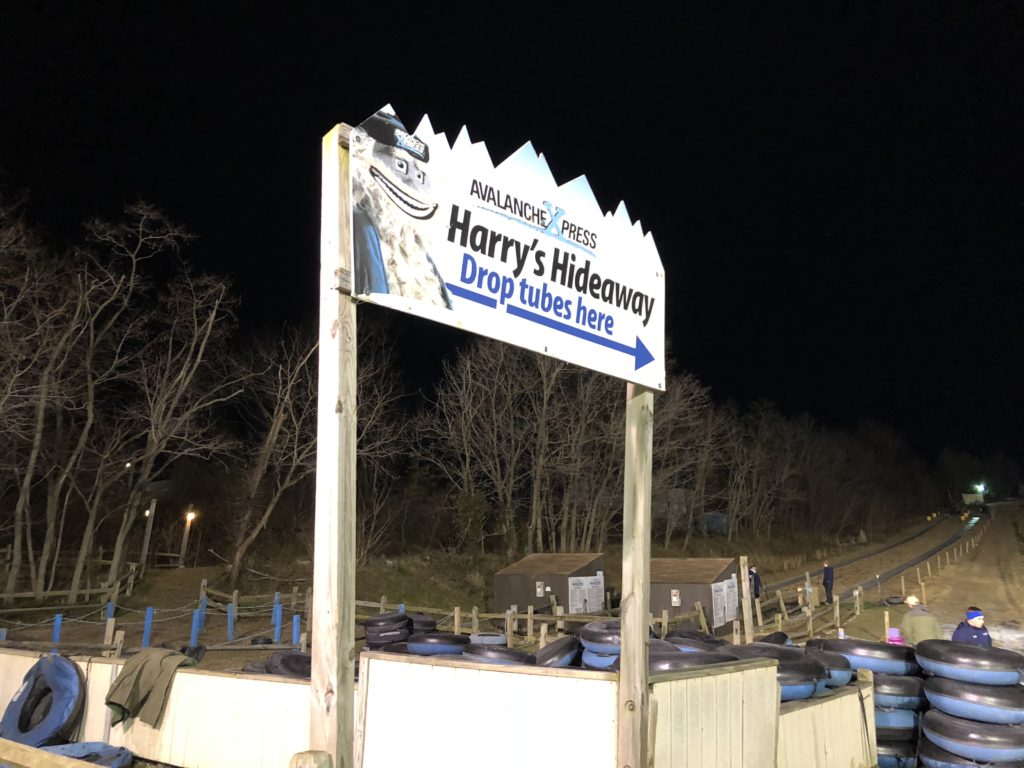 Iron Valley
While we haven't visited Iron Valley yet, we've been very tempted to go. They often have Groupon deals for their snow tubing hill. Since snow tubing can be an expensive activity, it's nice to receive a bit of a discount at Iron Valley.
Iron Valley is another one of the few snow tubing places that has a small hill for younger children who want to snow tube, but not use the large hill. The kiddie hill has four lanes. Adults are not allowed to ride on the kiddie hill.
Iron Valley does not have lodging available, but they do have a tubing shop and clubhouse with a snack bar, restaurant, and restrooms.
To reach the top of the hill at Iron Valley, there are two tow lifts to pull you and your tube to the top. In order to use the large hill, children must be 40″ tall. Please be sure to check the rules on Iron Valley's website before venturing to this tubing location.
Bear Creek Resort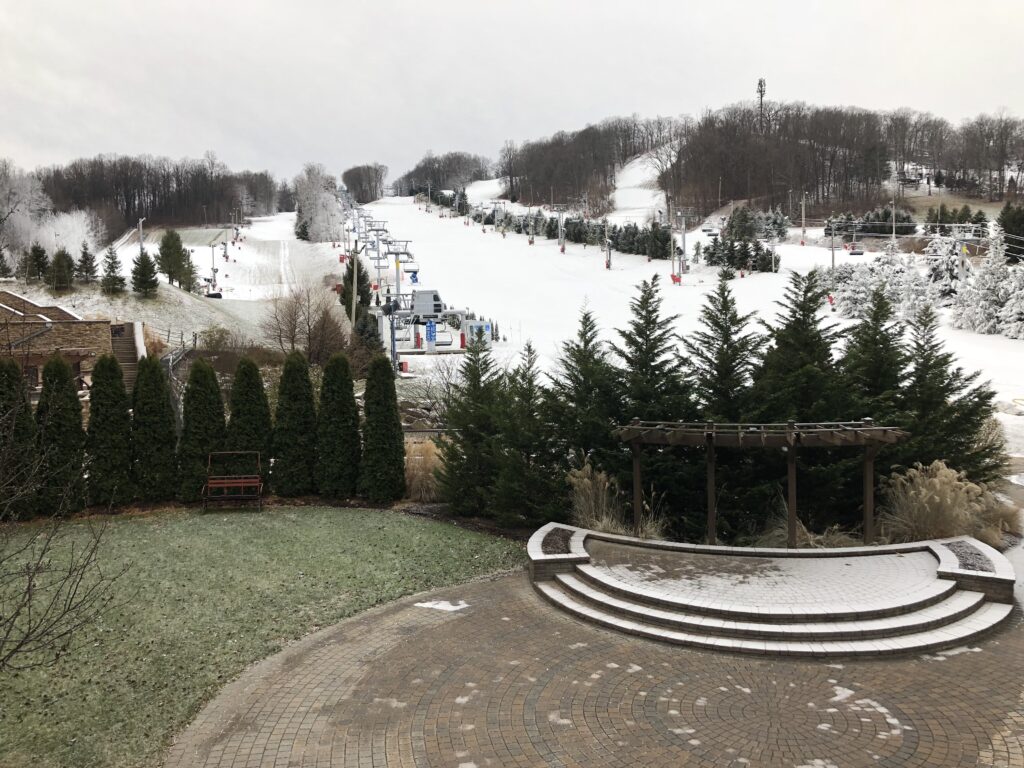 Bear Creek Resort is located in the Lehigh Valley of Pennsylvania. The resort is known for their ski slopes, however, they also have a snow tubing hill. This is a great place to stay for a weekend getaway during the winter, as there's also a spa and outdoor pool. Yes, the outdoor pool is heated, and you're able to swim in the winter. If you'd like an even warmer experience, try their outdoor hot tub.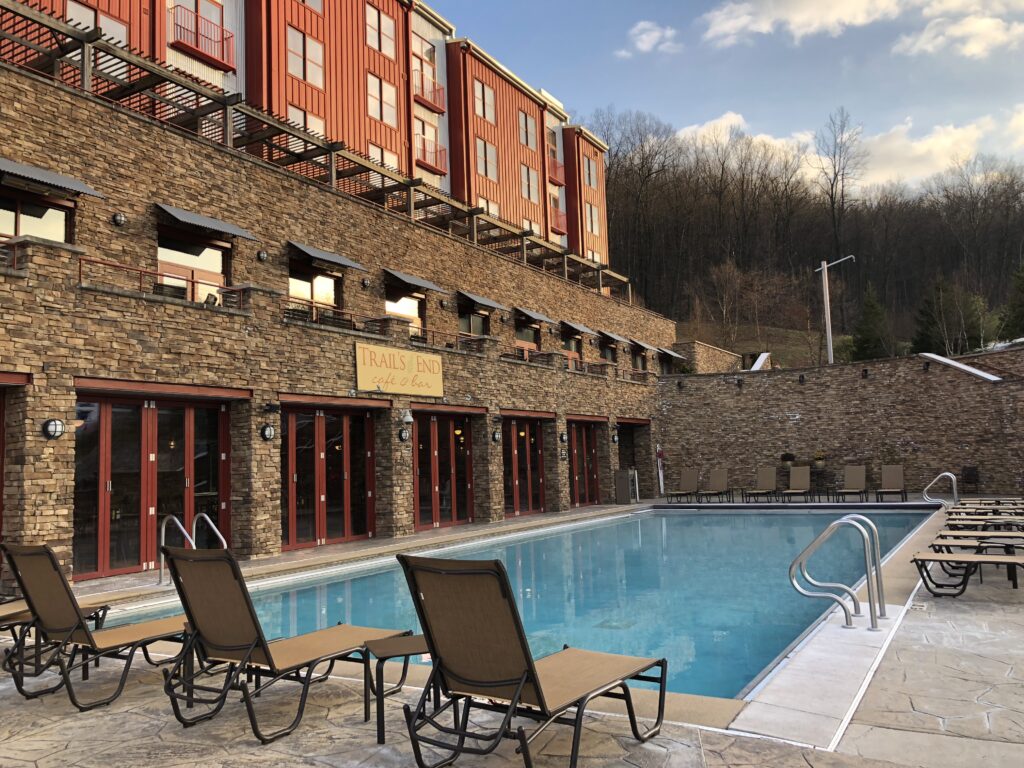 Liberty Mountain Resort
Ski Liberty is located in south central Pennsylvania, not far from the Maryland border. It's on the outskirts of Fairfield, Pennsylvania, and it's a destination for skiers. This snow tubing location also has a kiddie hill especially made for 2 to 4 year old children. Parents can help these small children with their tubes.
There are two time options for the large snow tubing hills at Liberty Mountain – two hour sessions and unlimited sessions. Unlimited sessions are not available during their peak times, which appear to be on the weekends and holiday periods. Check out the Liberty Mountain Resort website for additional information about tickets and hours.
Seven Springs Mountain Resort
Seven Springs Resort is located in the Pittsburgh area in the southwestern portion of Pennsylvania. It's a popular skiing resort, but they also offer snow tubing. The Seven Springs Resort website indicates that children must be at least 4 years old to tube. Each person must ride in their own tubes. For 2020, ticketing for snow tubing has been moved to online sales. Visit their website to purchase your tickets in advance.
Blue Mountain Resort
Blue Mountain Resort in Palmerton, PA claims to have the longest and fastest snow tubing lanes in PA. There are 34 lanes that are over 1,000 feet long. The snow tubing park also boasts 3 lifts, and single or double tubes are available. Their sessions are 3 hours long and have specific time frames.
Blue Mountain Resort has an FAQ for their snow tubing hill to help answer your snow tubing questions. They also have online ticket purchases available for their snow tubing time slots.
Wisp Resort
All of the above snow tubing locations are in Pennsylvania, so Wisp Resort is the only snow tubing place in Maryland that's included in this list. If you live near the Maryland border and frequent Deep Creek Lake, you may be familiar with Wisp Resort. Wisp has the added winter attraction of a mountain coaster to increase the fun.
Wisp's website indicates that for children to participate they must be at least 4 years old and 42″ tall. Check Wisp's website for their most recent requirements for snow tubing.
Visiting Snow Tubing Places in Pennsylvania in 2021
Overall, these are the 9 best snow tubing places near PA. Remember that in 2020 and 2021, you'll definitely want to check the locations website to ensure that they are operating on the day you want to go and learn about any restrictions they may have for these unpredictable times.