Sponsored Post – VisitErie hosted us at Splash Lagoon. All opinions are my own.
Splash Lagoon is an indoor water park located in Erie, Pennsylvania. Overnight accommodations are not required to visit the water park; day passes are available. However, there are several hotels attached to the water park, as well as nearby hotels that offer overnight packages.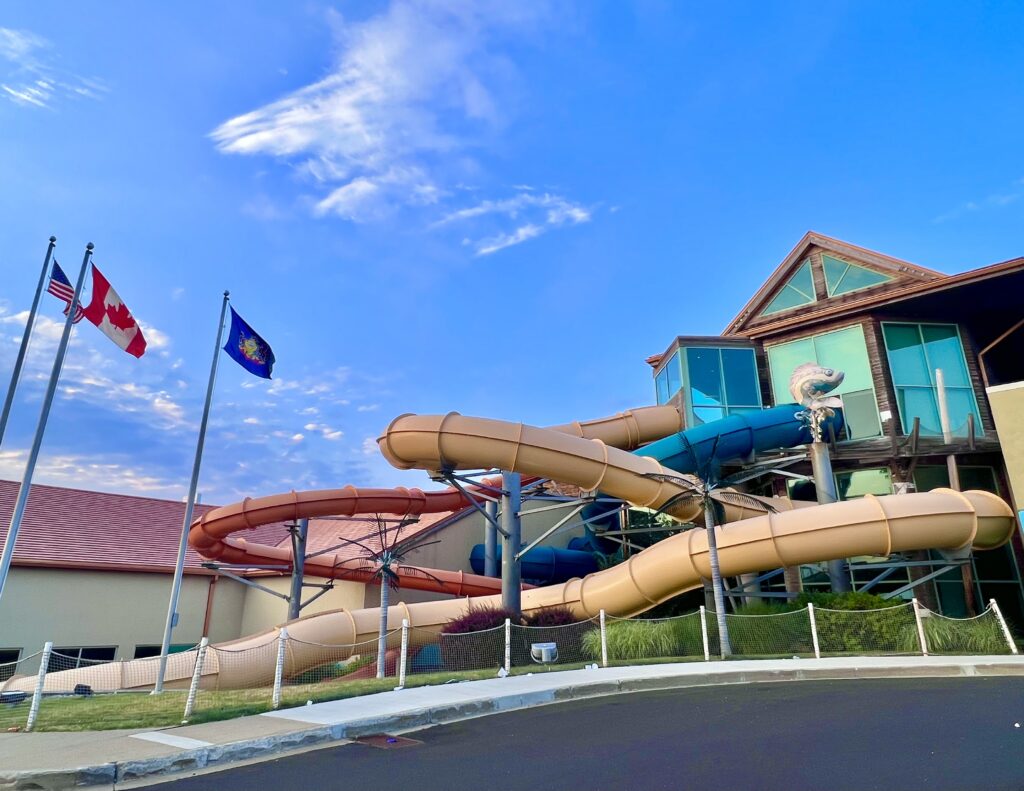 Splash Lagoon Tickets
Day passes for the water park can be purchased online. Since a limited number of day passes are available each day, Splash Lagoon recommends reserving your passes online in advance. Pricing depends on your child's height, so be sure to measure them barefoot before reserving tickets.
Arriving at Splash Lagoon
Upon entering Splash Lagoon, there's a front desk for check-in to receive your wristbands. There's also a surf shop at the entrance with souvenirs and swim wear.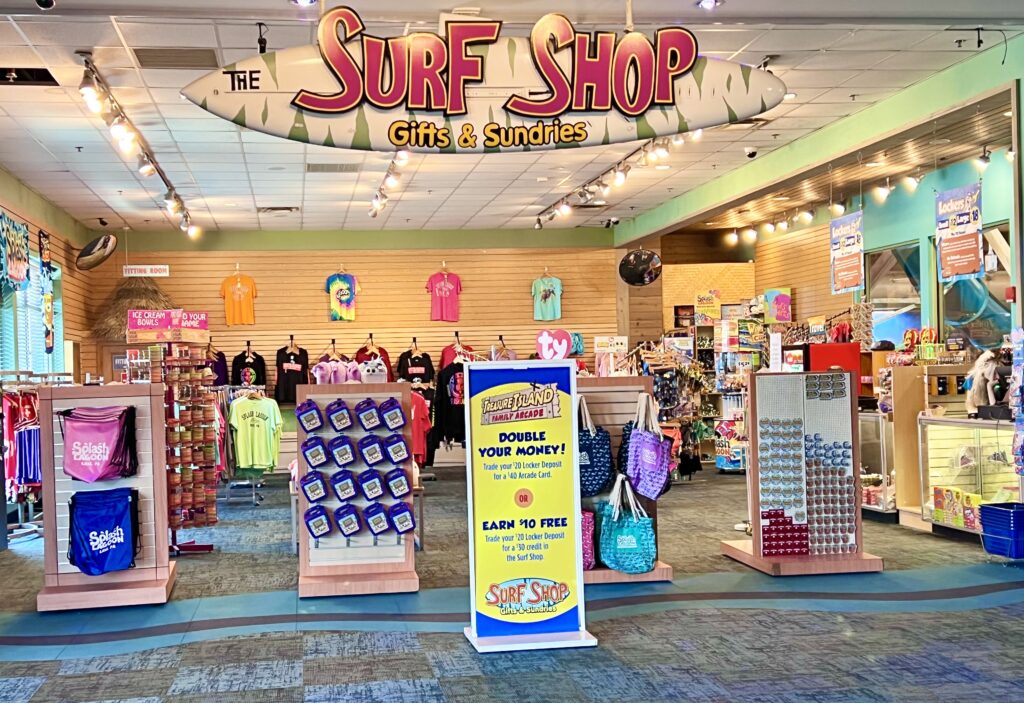 The main entrance is on the second floor. It includes a balcony overlooking the water park with tables and chairs. The arcade is also on the second level, as well as the ice cream parlor.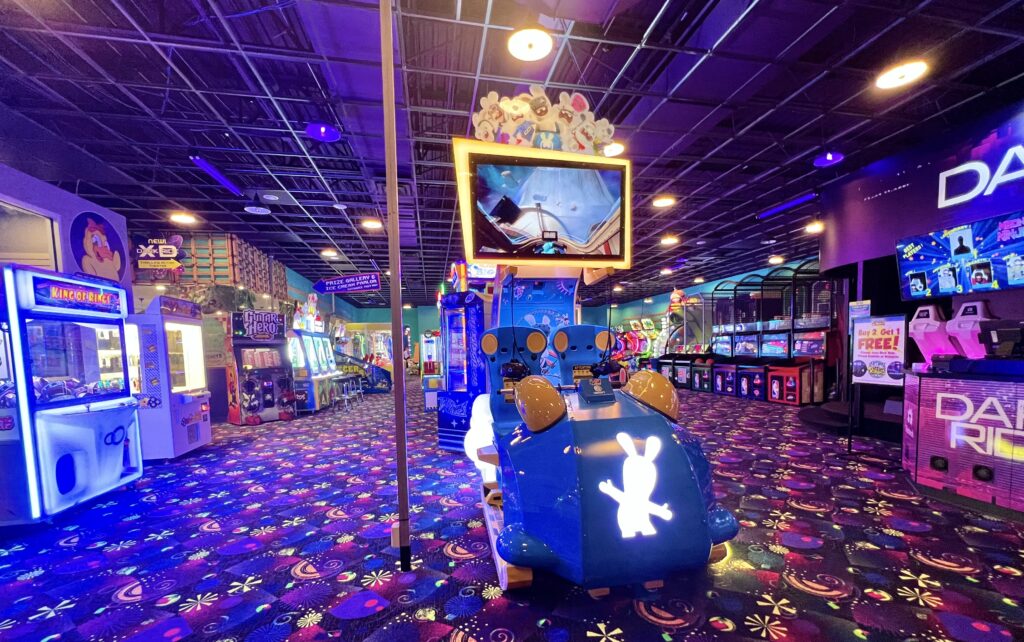 To access the changing rooms and water park, take the stairs or elevator to the first level. There are lockers available to store your belongings close to the changing rooms on the first floor.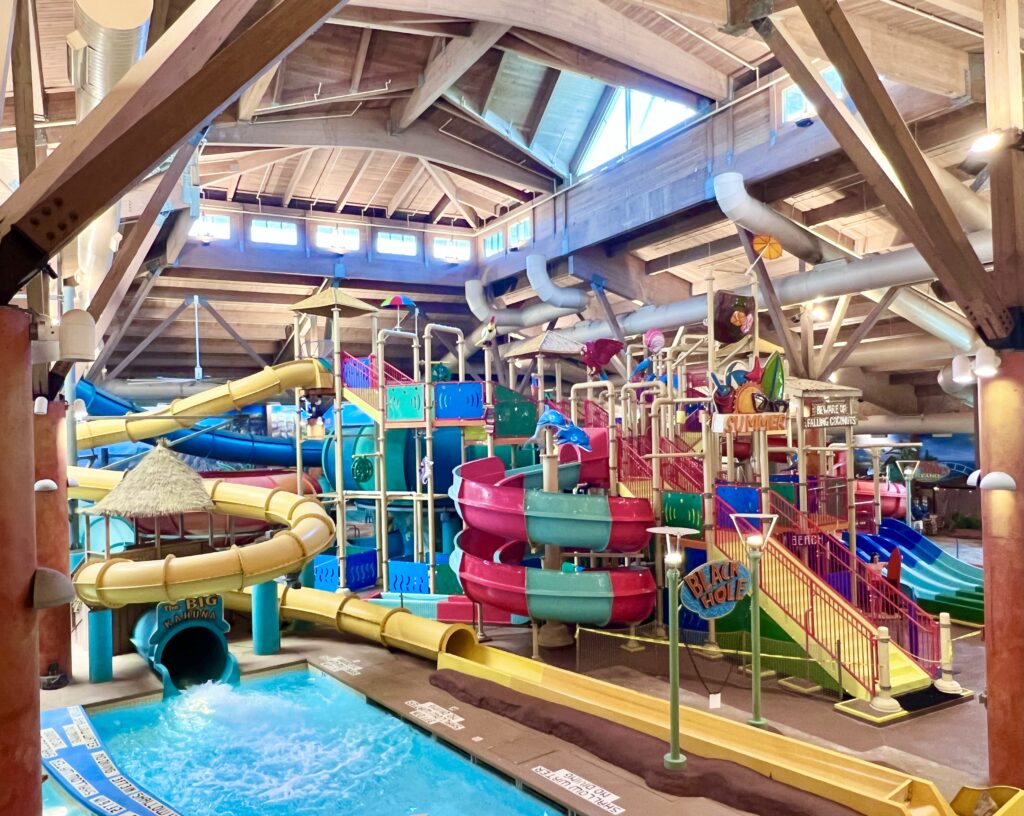 The main section of Splash Lagoon includes the lazy river, Tiki Tree House slide play structure, two hot tubs, a kid's play area, activity pool, and five large water slides.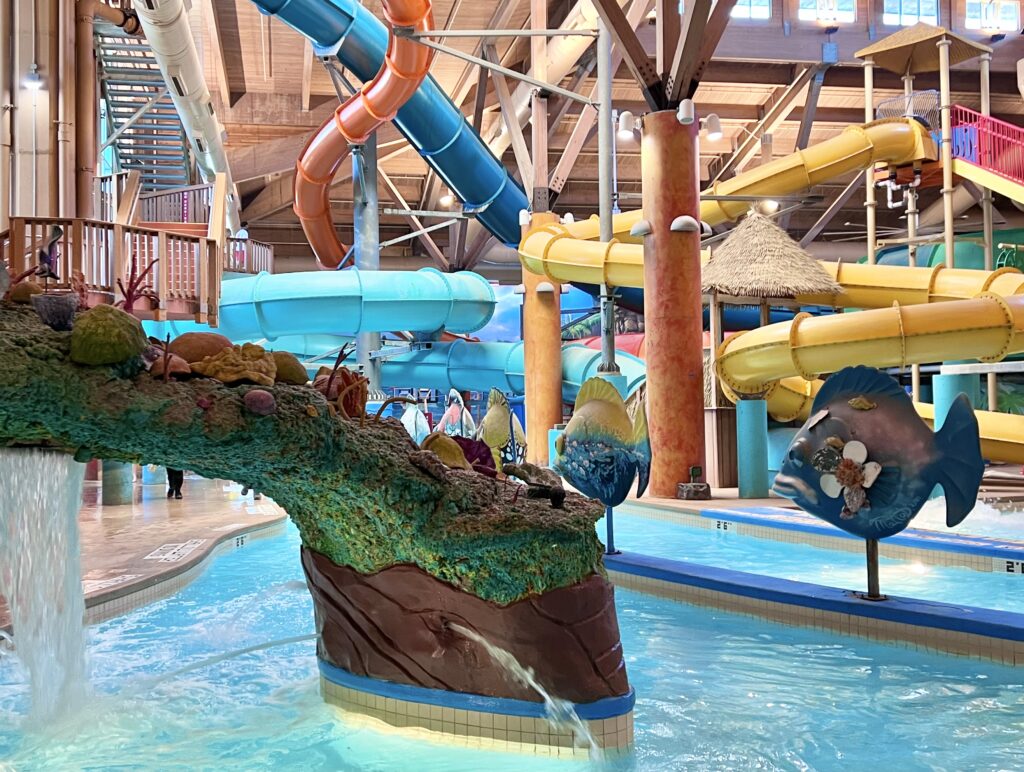 The activities pool features basketball hoops and balls, as well as a lily pad obstacle course.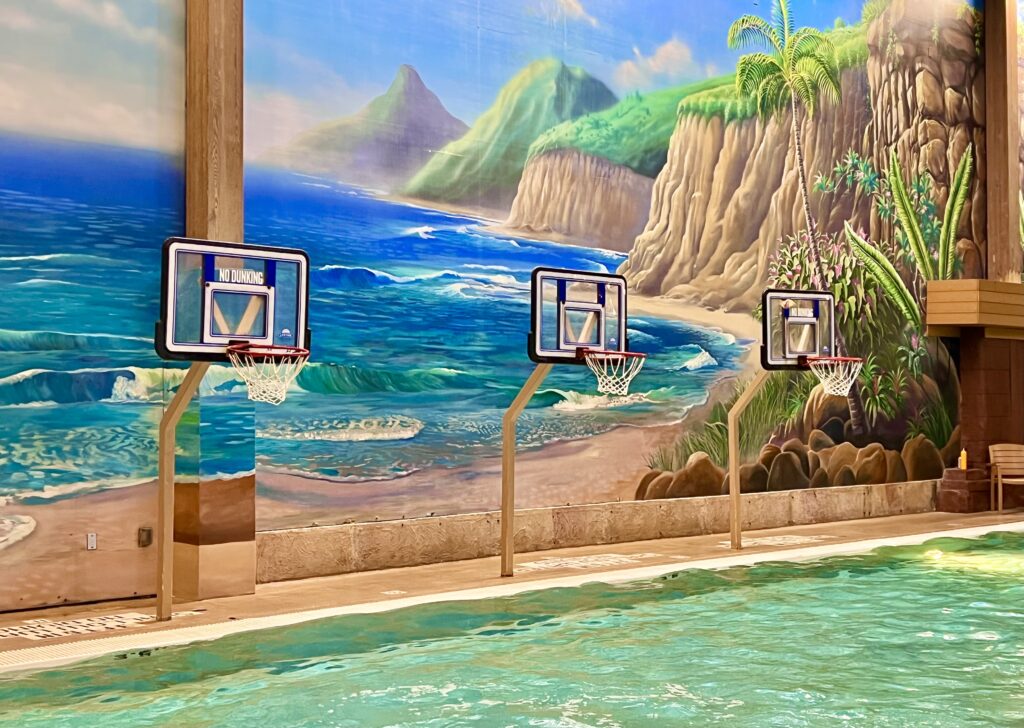 Three kid-size water slides and a small slide structure with dump bucket are also in the water park main area.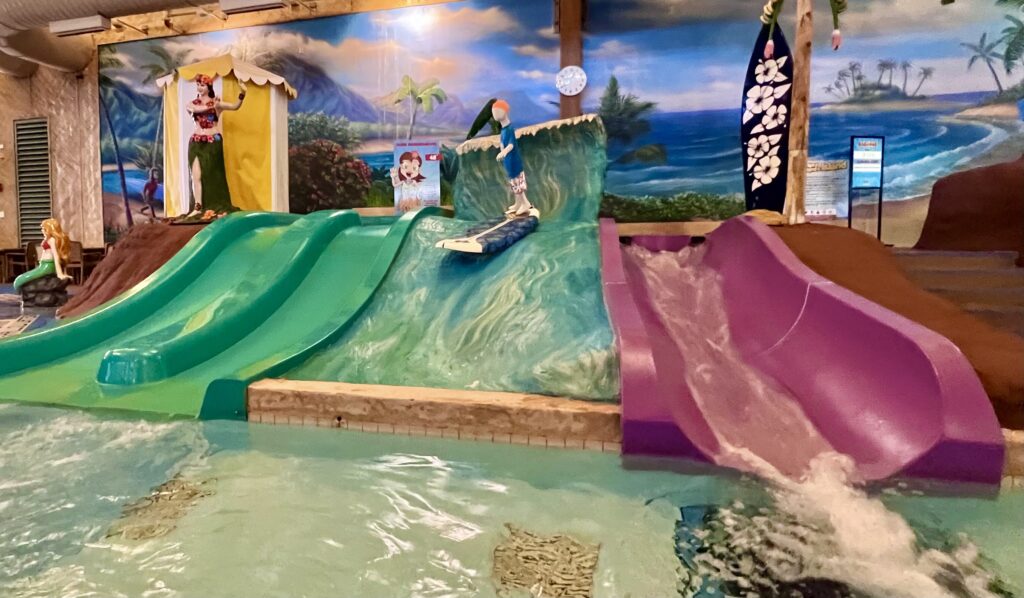 There are two sections in addition to the main area of the water park. One side section is an exit to two of the big slides, a splash pad for kids, and a ropes course.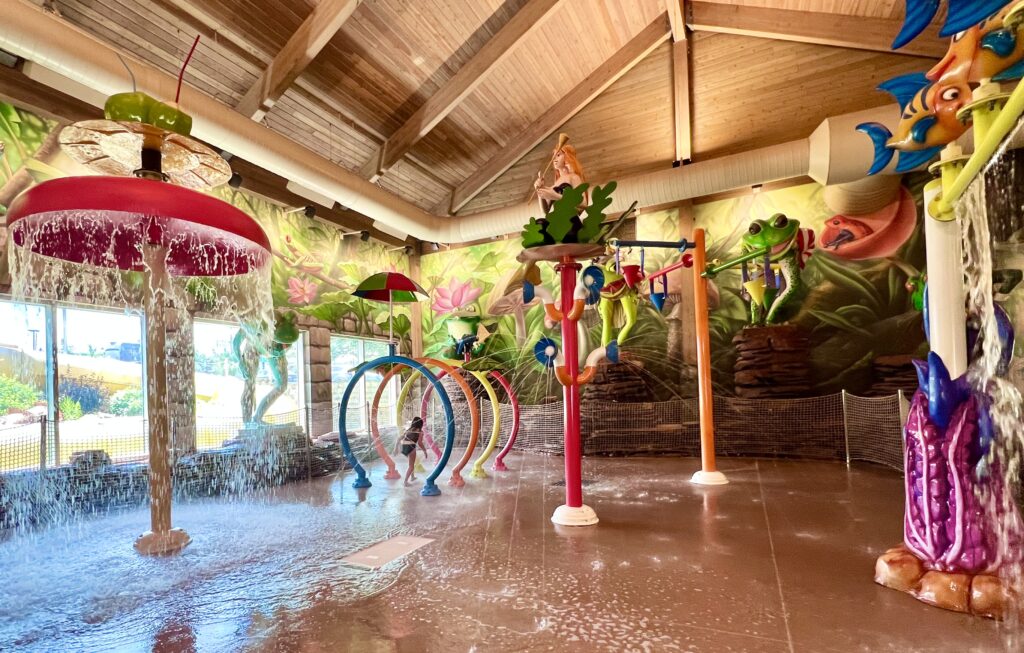 The splash pad has several water play elements. There's also tables nearby for parents to sit and watch their children play.
Above the splash pad and water slide splash down area is a ropes course. This is quite unique for an indoor water park. The ropes course is an additional charge above the water park admission price.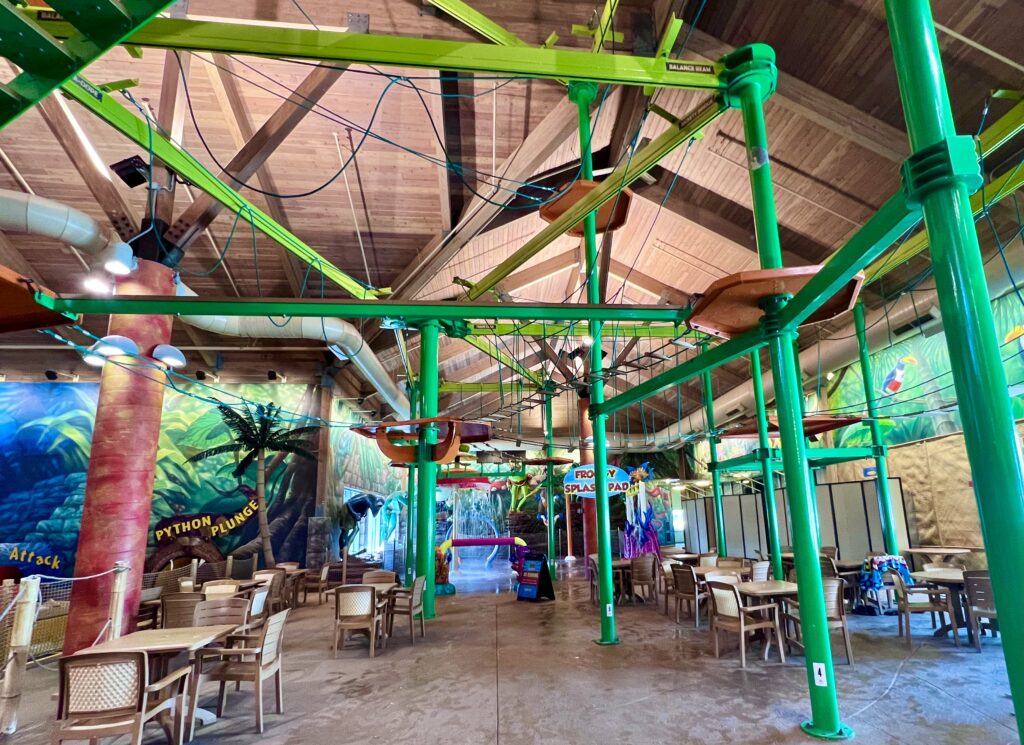 Another side area of the water park has the wave pool and Flowrider. This area also features a bar. This is a great place to relax and watch your child in the wave pool or learning to master the wave-riding abilities on the Flowrider.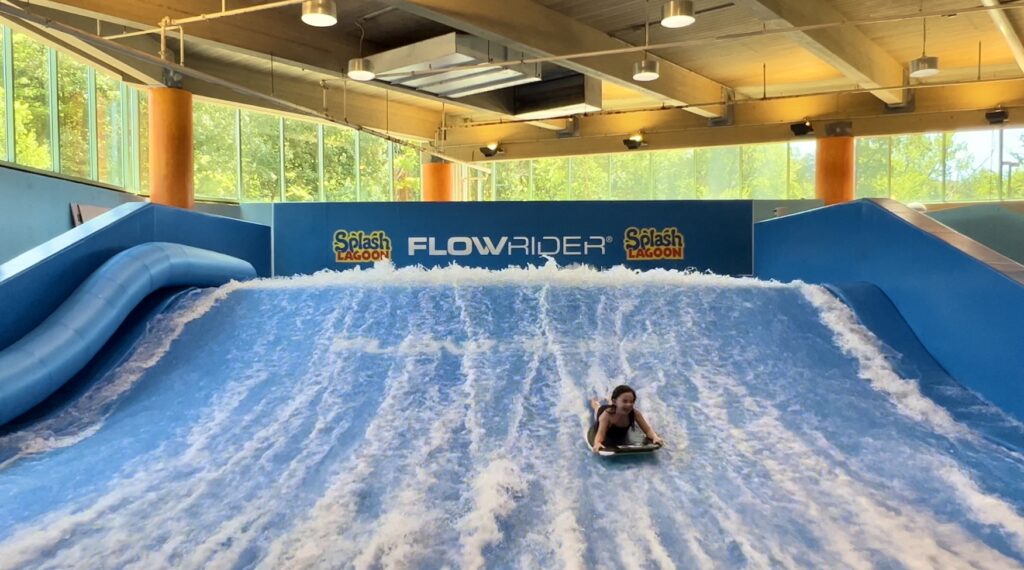 Splash Lagoon Water Slides
This indoor water park features a wide-variety of large slides. Some of the slides exit the building and re-enter for the splash down. There's several tube slides, where you can ride in a double tube with your child. There's also a fast body slide, a body bowl slide and a tube bowl slide.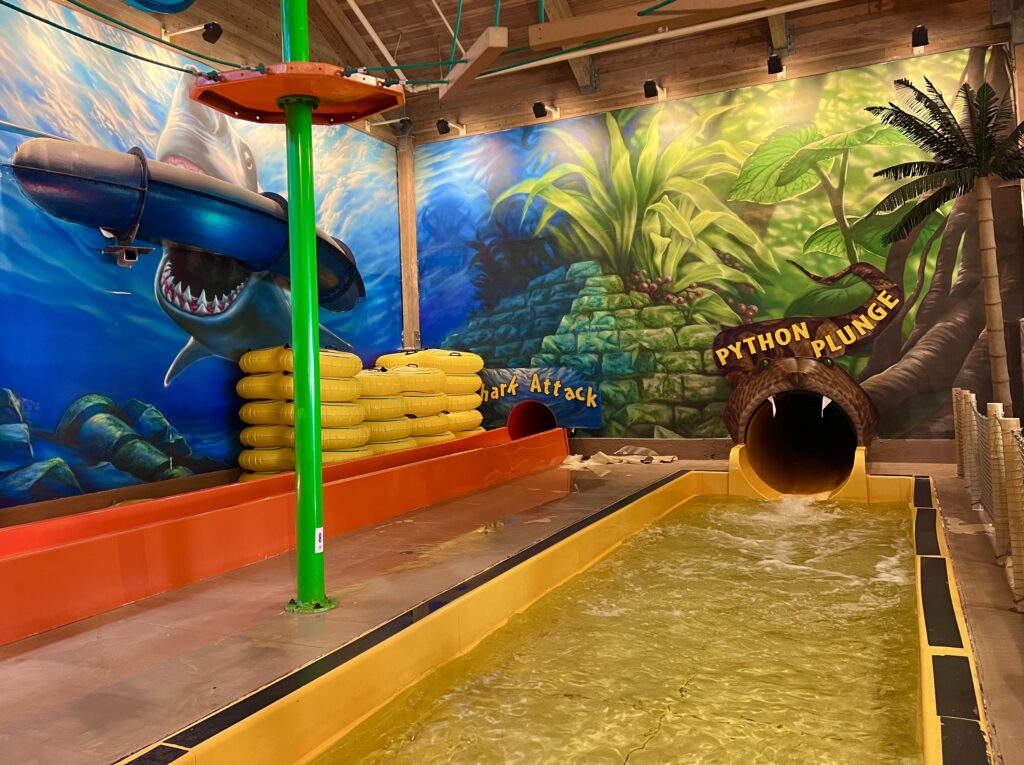 Splash Lagoon Tiki Tree House
The Splash Lagoon Tiki Tree House is in the middle of the water park. This brand new water play and slide structure opened in July 2022. It includes many water-splash elements, including two twist body slides. There's also a set of four small, straight body slides.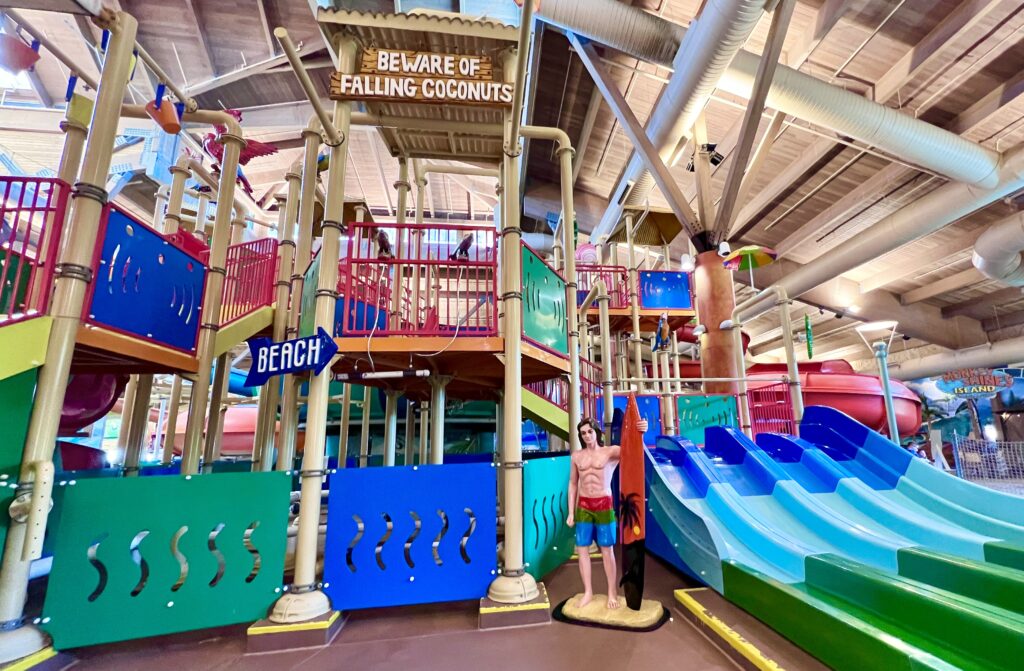 The Tree House includes a new coconut bucket that dumps water down the Tree House. It also added mini dumping buckets, water guns, and more.
Hot Tubs
Two hot tubs are available in Splash Lagoon. One hot tub is for kids and not quite as hot. There's a second hot tub for adults only, that's a bit more heated and tucked away in a corner of the water park.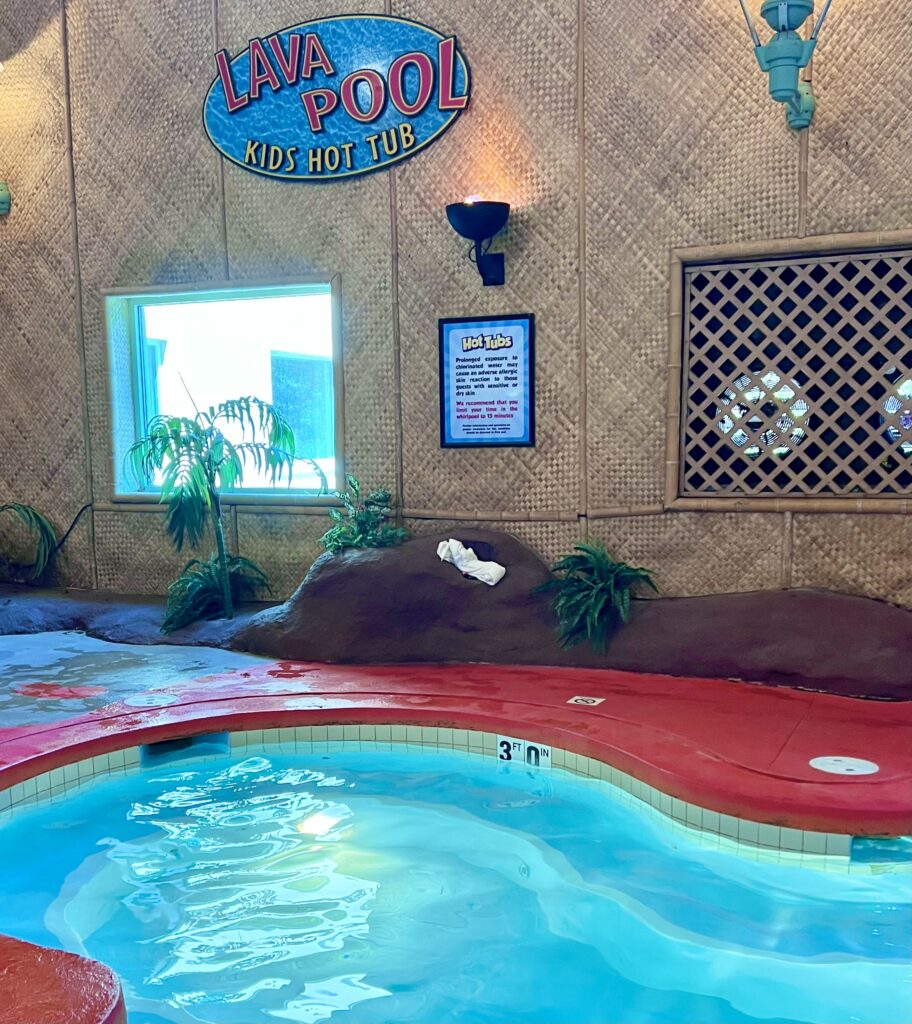 Holiday Inn Splash Lagoon
Splash Lagoon is connected to a Holiday Inn Express. The hotel features kid-friendly rooms, including a separate sleeping area with bunk beds and a TV.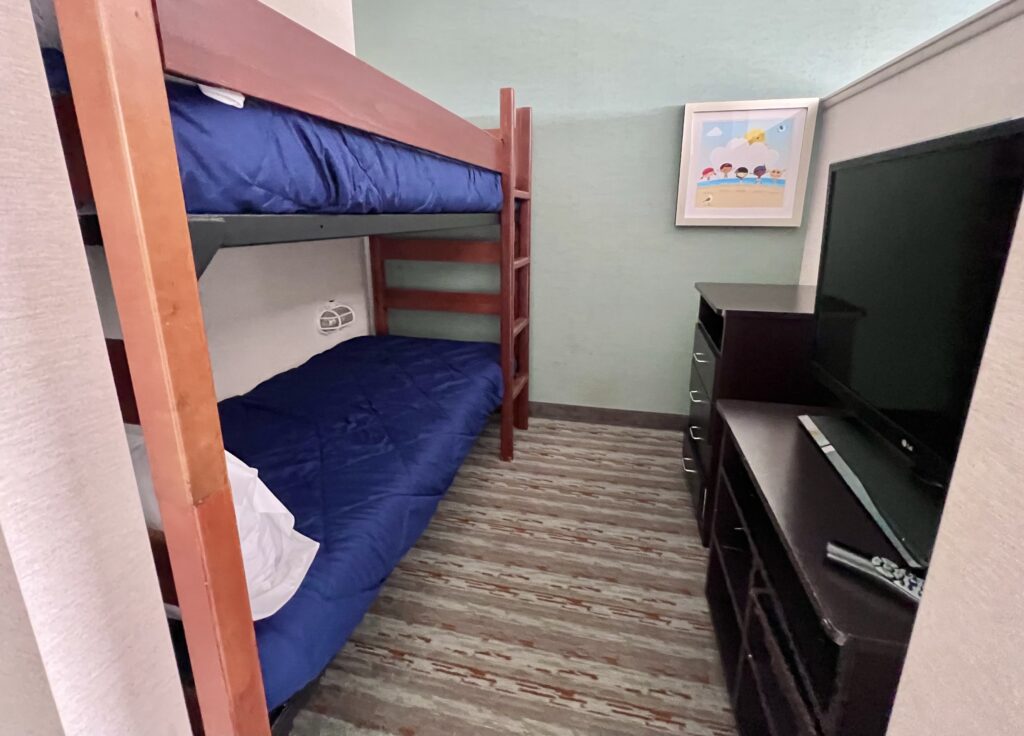 Splash Lagoon Food Options
Inside the water park, there's the Laguna Grill which serves pizza, chicken tenders, French fries, hamburgers, grilled chicken salads, wraps, hot dogs, and more.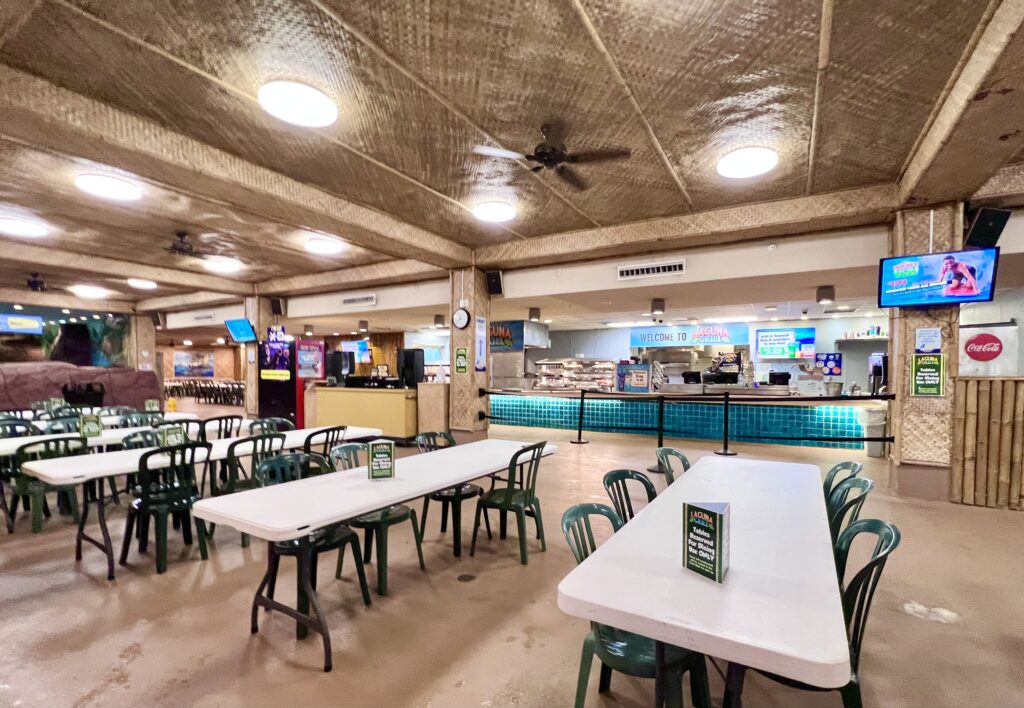 Looking for more fun places to visit in Erie, PA?
Here's a list of 17 fun things to do in Erie, Pennsylvania. Also, check out the VisitErie website for tons of ideas.
Sponsored Post – VisitErie hosted us at Splash Lagoon. All opinions are my own.