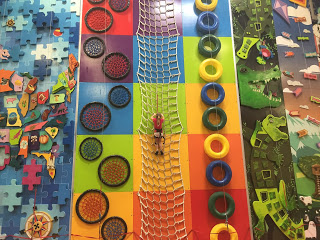 One of the many climbing walls at ClimbZone
ClimbZone is one of the few places in the country that use the Clip 'N Climb system for recreational wall climbing. It is a new attraction developed in New Zealand and beginning to be seen more in the United States. Kids as young as two years old, and even adults, can participate in climbing, as long as they are within the minimum and maximum weight. The climbers wear a harness and are clipped onto a pulley system on the wall. When they want to come down, they kick off the wall and are slowly lowered down to the floor.
We traveled to ClimbZone on a Sunday morning to check out their wide variety of unique climbing walls. ClimbZone is located in a new industrial park in Laural, Maryland (a half hour southwest of Baltimore) and was very easy to find. There is also plenty of parking in front of the building. We arrived a few minutes after the facility opened that day and had the place practically to ourselves for about a half hour. After that, the facility quickly began to fill with both kids and adults. There was a wide-range of people of different ages trying out the numerous walls.
Climbing "Mount Rushmore"
When you first arrive, there is a practice wall where an employee will show you how to properly clip your children onto the wall, and they will put on the harness for you. The system is quite easy, and since we've done Clip 'N Climb before, our tutorial was quick.
Some walls are easier to climb than others, and my four-year-old struggled with these walls more than she does with some of the easier ones at Spooky Nook Sports. She was very excited about these walls though, because they are colorful and very creative. These are just a few of the themes of the walls: Mount Rushmore, United States, Tetris, soccer, haunted house, tornado, skatepark, etc. In addition to the walls, there are also two inflatables, and an area for children 3 years and younger to crawl around and play.
Things to Remember:
1. Wear comfortable clothes and shoes for climbing.
2. Waivers need to be filled out and that can be done online before you arrive to save time.
3. Reservations are accepted and may be needed during the weekend or other busy times.