The best playgrounds in Maryland are some of the nicest playgrounds in the country! Enjoy these fun-themed playgrounds. As always, ensure they are open before venturing out.
Watkins Regional Park – Upper Marlboro
Watkins Regional Park's main attraction is the Wizard of Oz themed playground. In my opinion, it's the best playground in Maryland. However, there are many more amazing features of this park. There's a miniature train (seasonal) , carousel (seasonal), and another beautifully themed playground.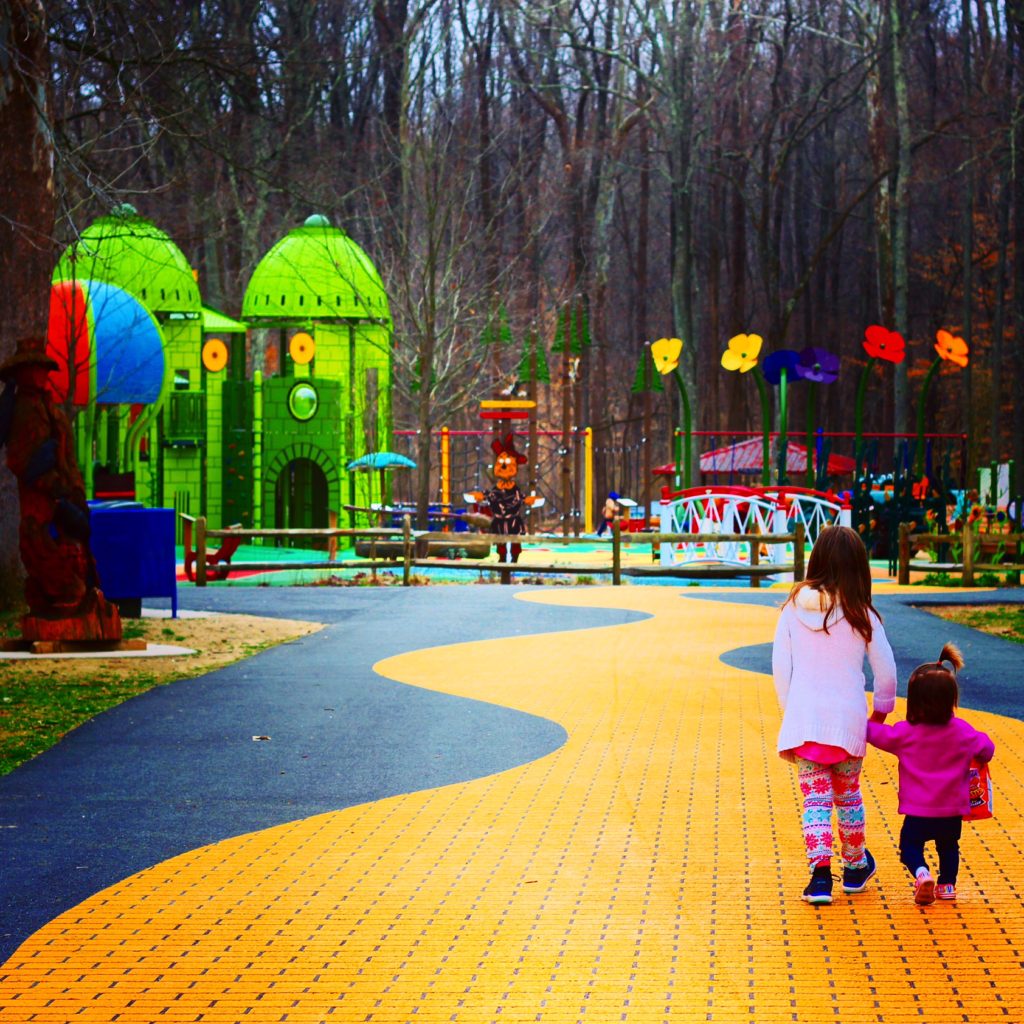 This is a must-visit park for toddlers, preschoolers, and young children. Be sure to notice all of the fun details of the park, including Toto's water bowl and the Wicked Witch of the West's legs. Check out other detailed information about the miniature train and carousel on the park's website.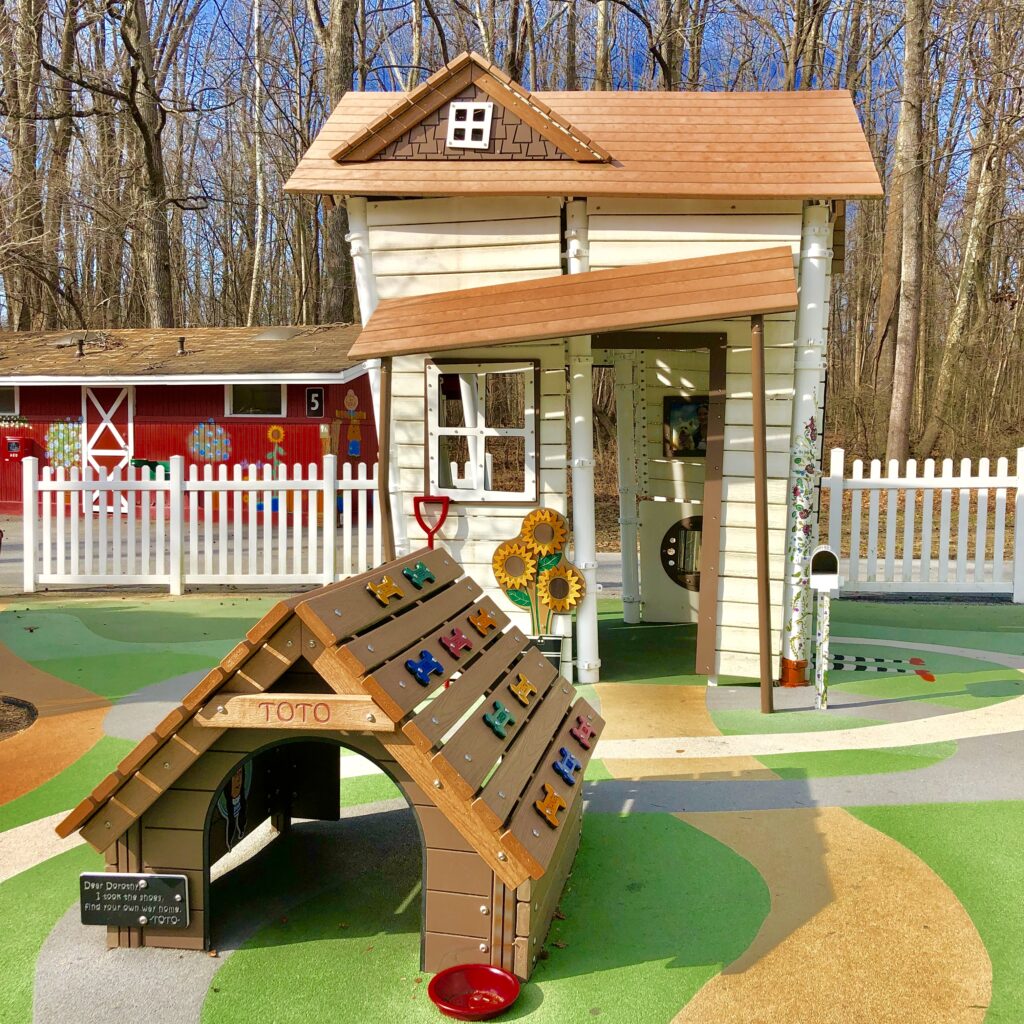 Annie's Playground – Fallston
Annie's Playground is an amazing wooden playground in Fallstown, Maryland. There are tons of slides, places to climb, and fun theming to enjoy.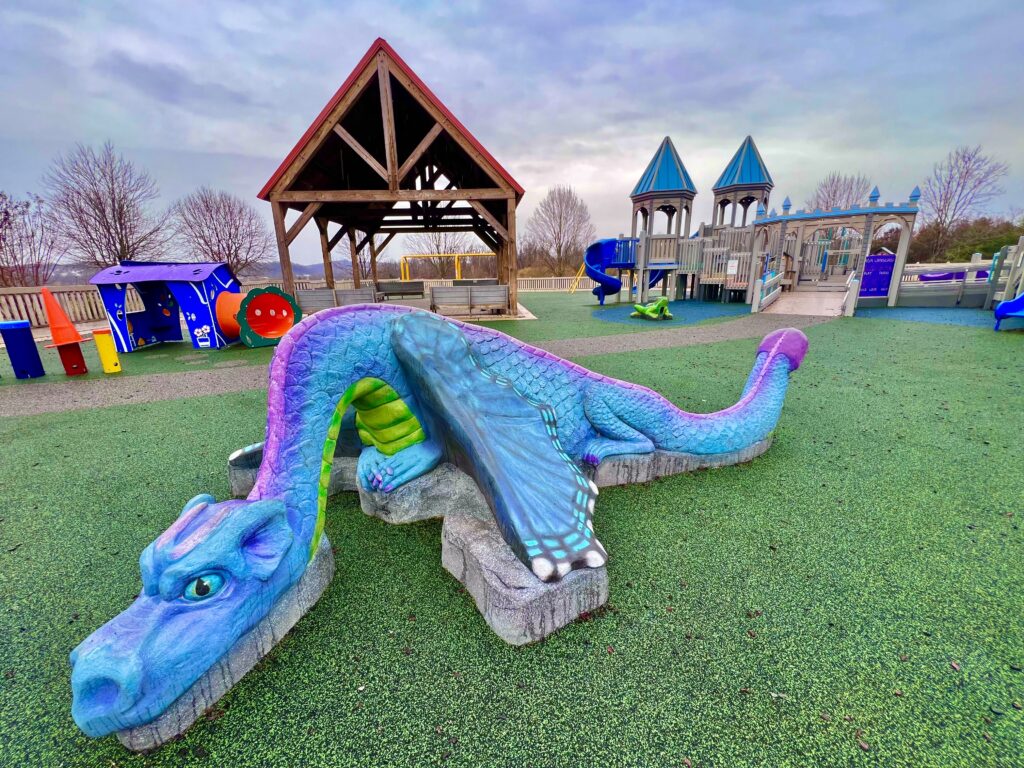 It was recently renovated in 2023, and it's still as vibrant and colorful as the original version of the playground. There's also different sections for each age group.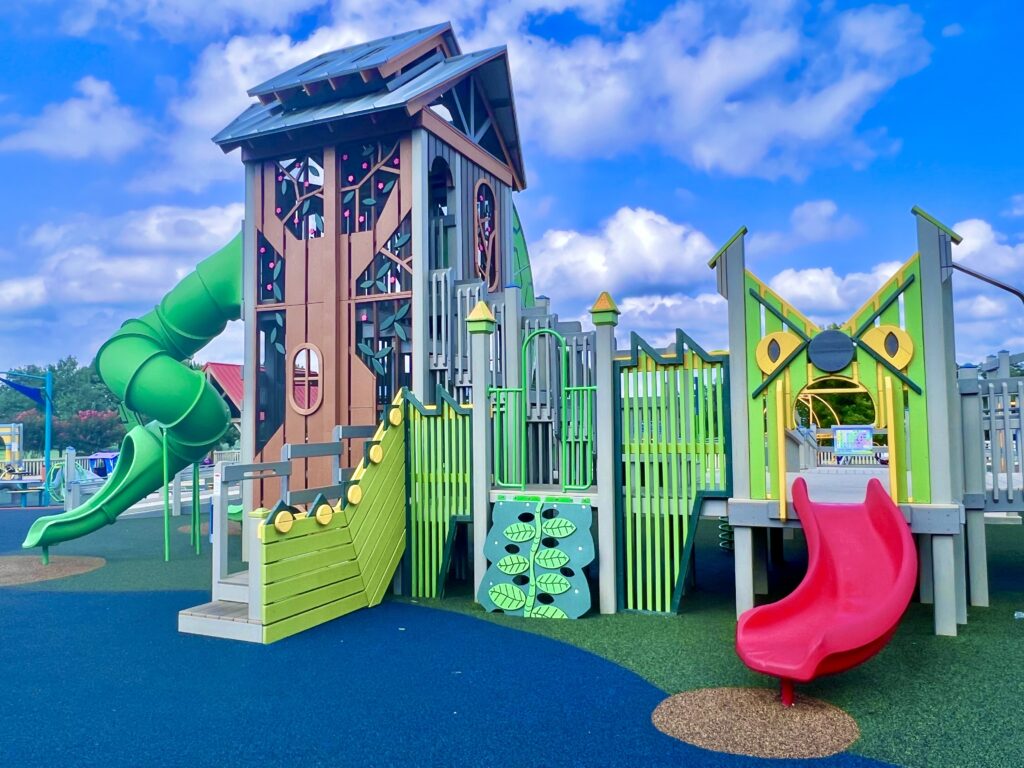 Wheaton Regional Park – Silver Spring
We love this park for the amazing slides! Wheaton Regional Park seems to be an example of how slides can be made as long as possible. We love pulling up to this playground and seeing the extra long, yellow slides.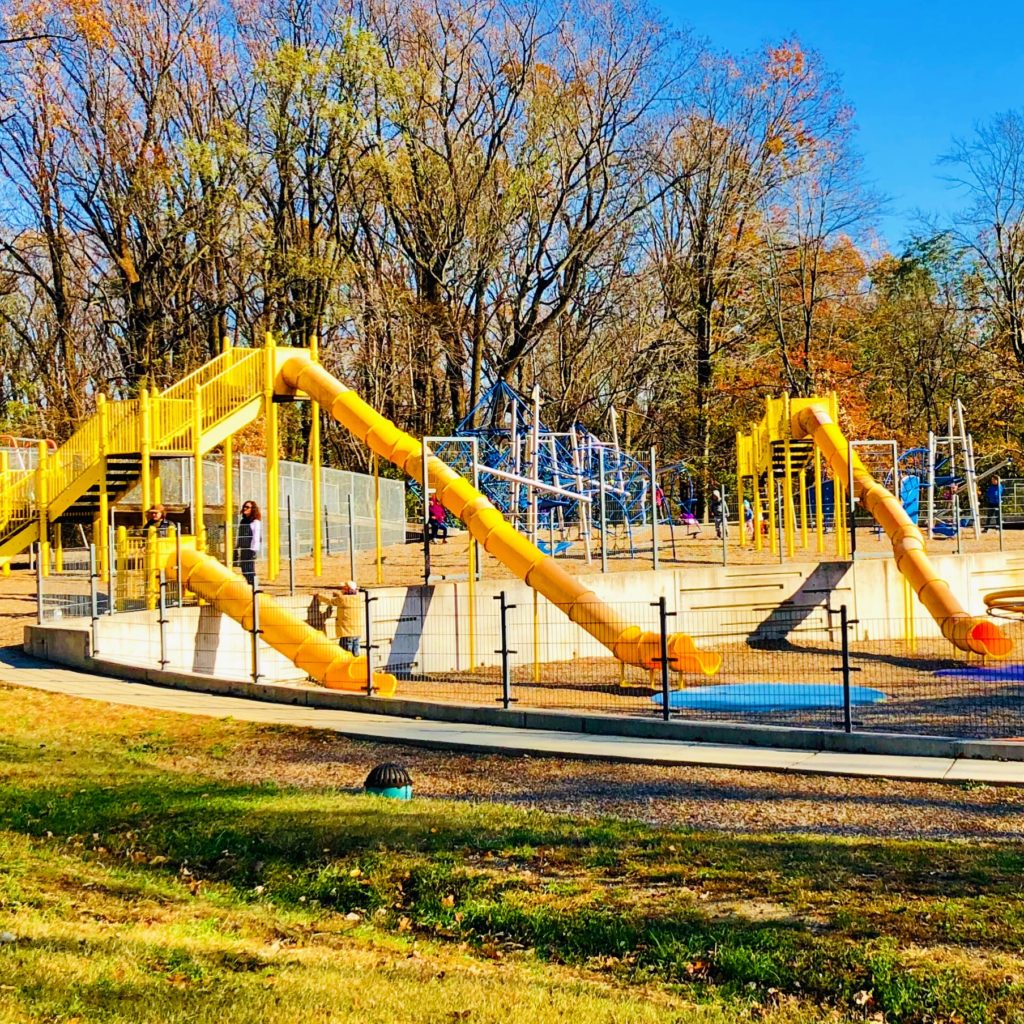 Another fun feature is the wall climbing opportunity to get back up to do another slide down those enormous, yellow slides. Don't forget to check out the other unique features of this playground, including the large blue hill. Here's more information about this playground.
Walker Mill Regional Park – Capitol Heights
Walker Mill Regional Park has everything a kid could want in a playground. It's beautifully themed, including the chance to climb up a windmill. This is another park full of little details.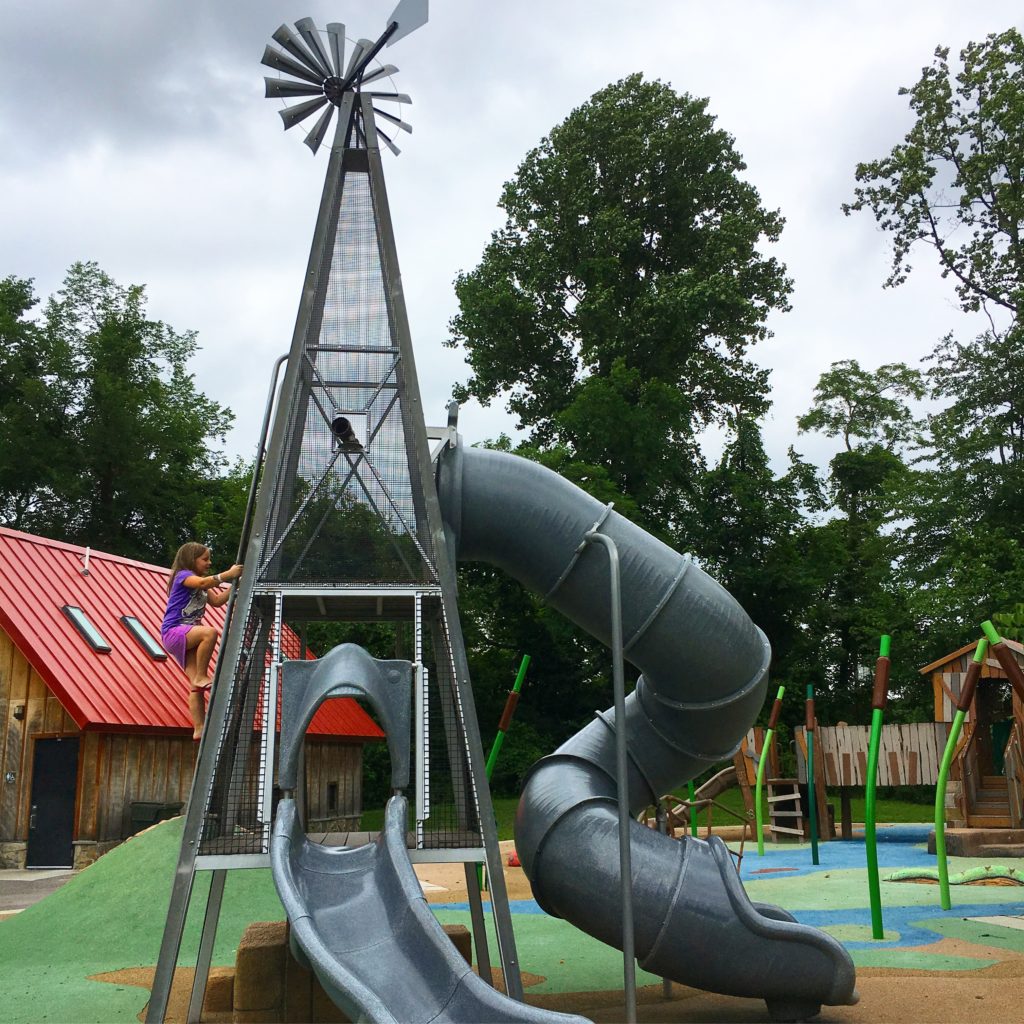 Be sure to look for all of the hidden animals. During the summer, there's also the chance to cool off in the misting part of the playground.
Sailwinds Park – Cambridge
Sailwinds Park is an amazingly cool playground that makes for a nice pit stop on your way to the Eastern Shore of Maryland. It has beautiful views, and an equally beautiful playground.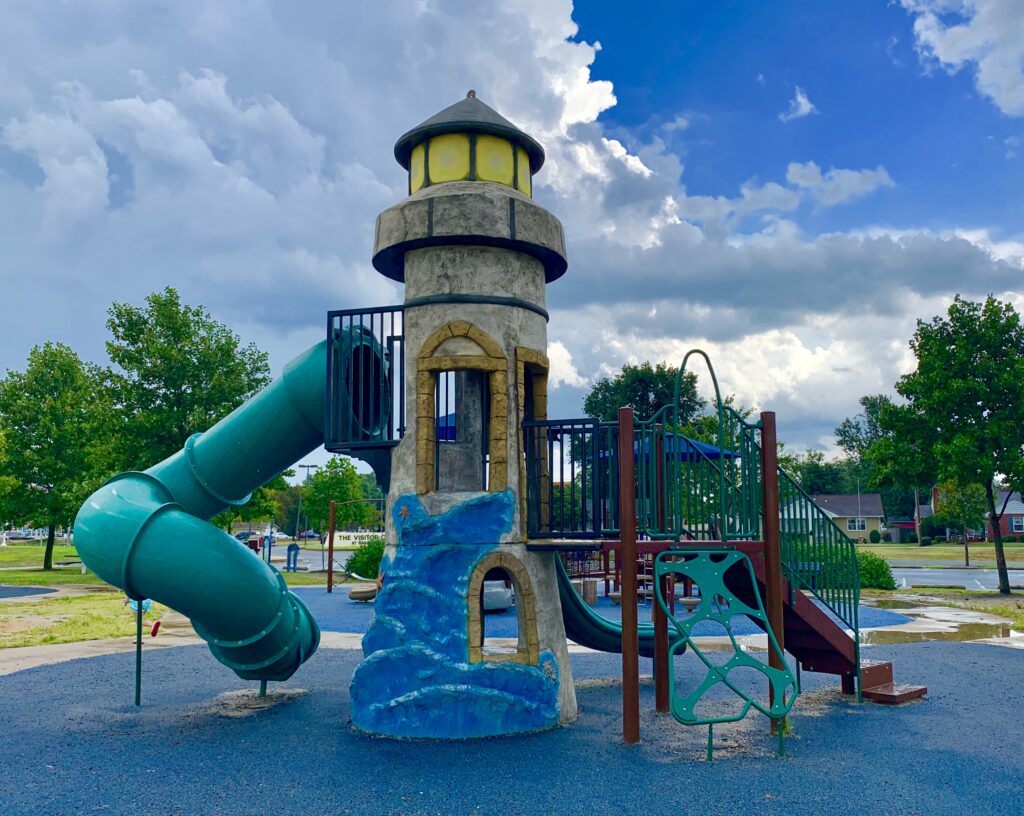 Perfectly themed with a lighthouse and ship, it's a ton of fun to play here. A walking trail by the water and a view of an actual light house run out the reasons to visit this park.
Northwest Regional Park – Owings Mills
Northwest Regional Park is home to the new Ravens-themed playground. This playground includes an obstacle course and a large slide structure.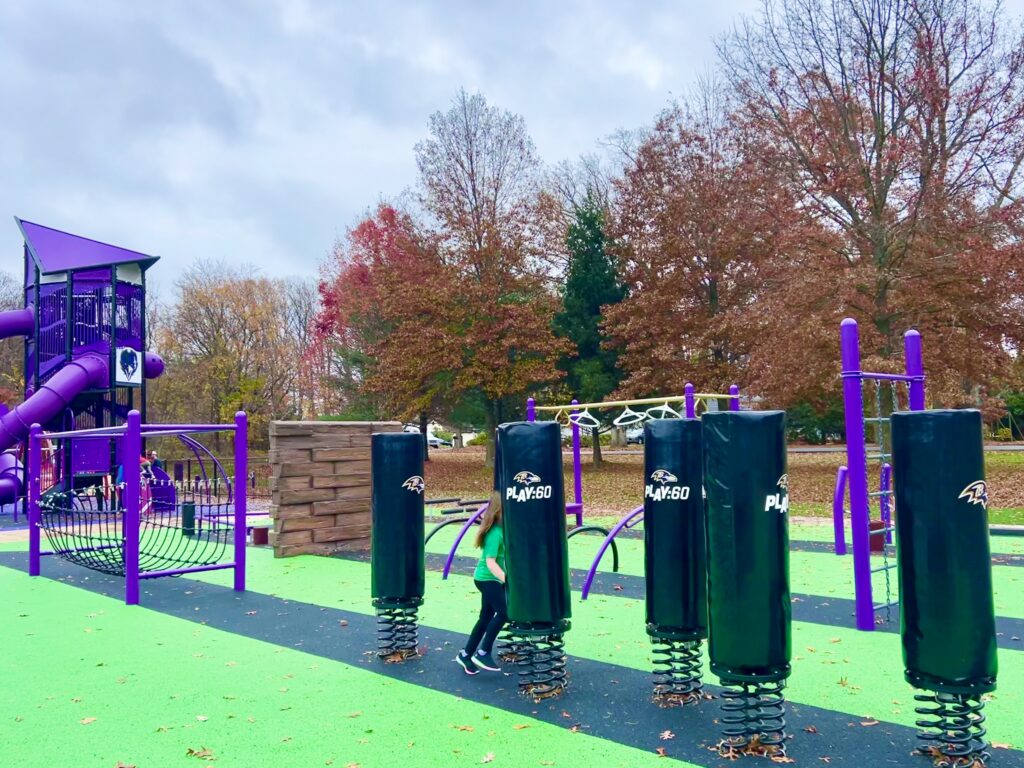 The obstacle course even has timers available with start buttons to time your ability to get through the obstacle course.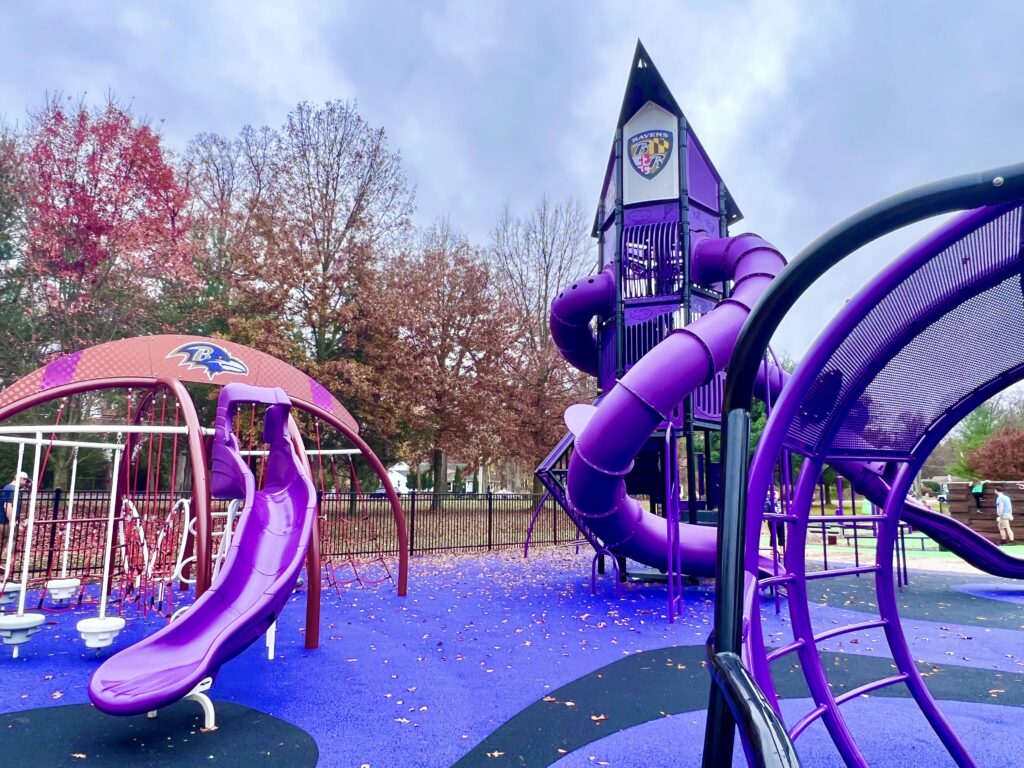 White Marsh Park – Bowie
White Marsh Park includes a large sports complex with a football field. It also has a unique, sports-themed playground with soccer, lacrosse, and many other sports represented in the play structures.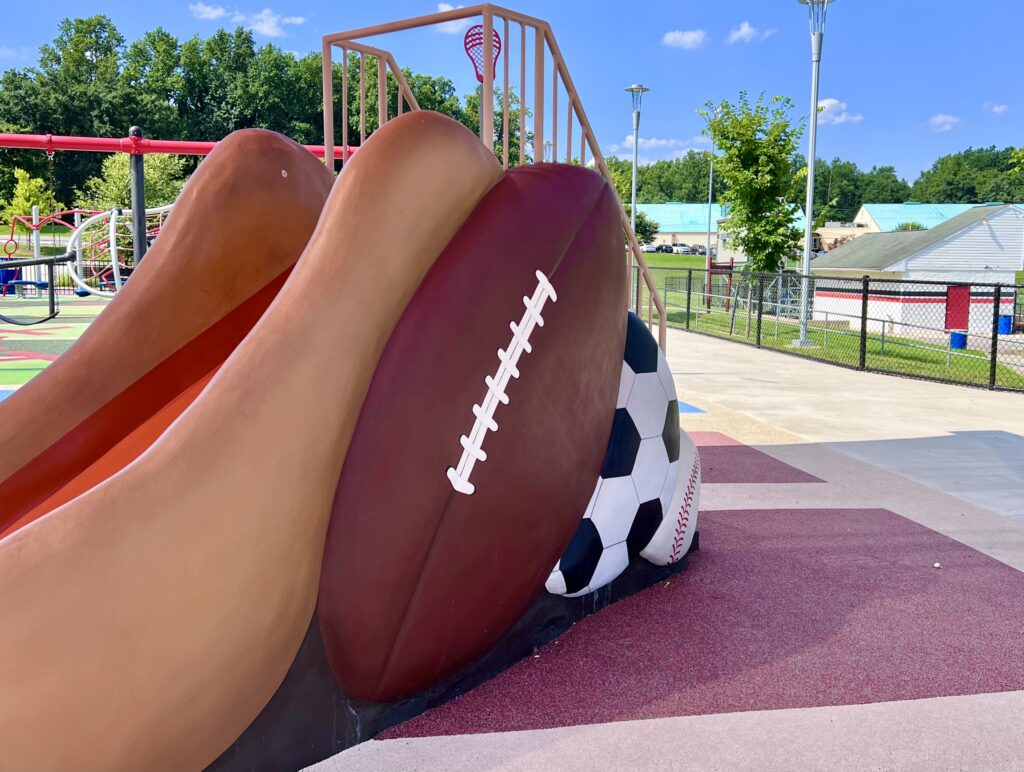 This playground also includes swings, ropes climbers, and of course, slides.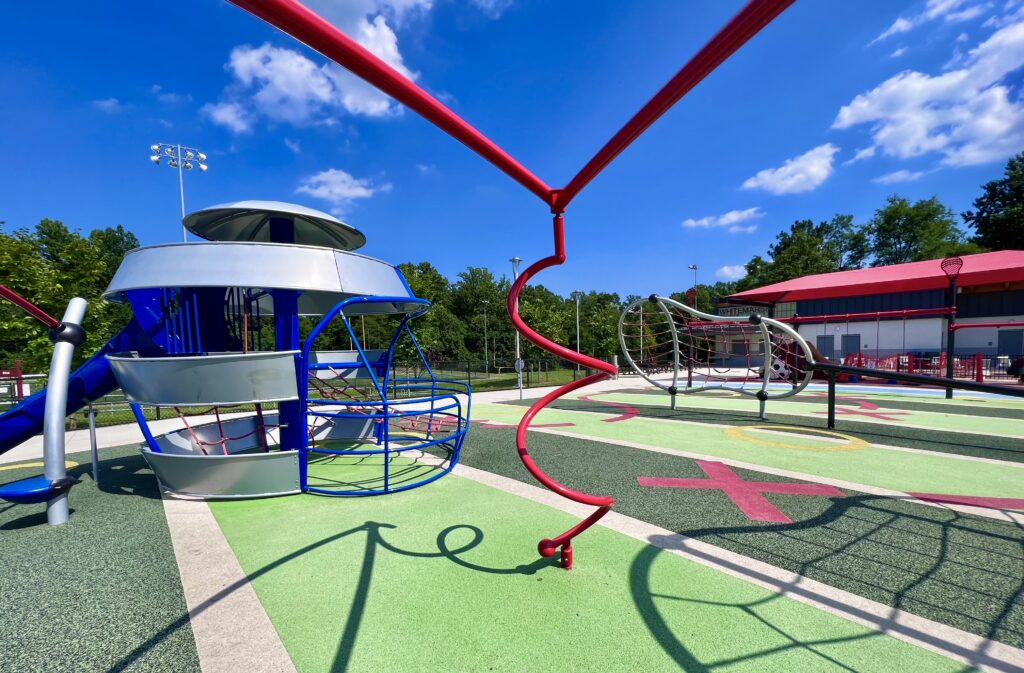 Loys Station Park – Rocky Ridge
Loys Station Park is known for its covered bridge within the park. There's also a nice playground with many slides and climbing features.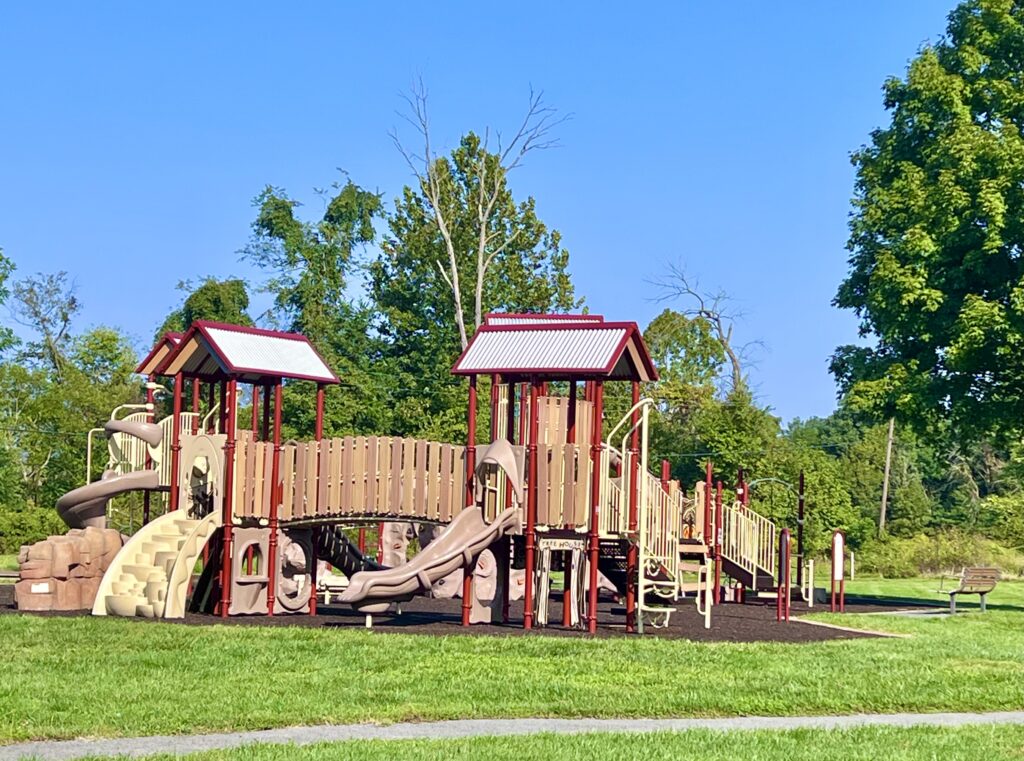 Pen Mar Park – Highfield-Cascade
Pen Mar Park is known for its magnificent view, but it also has a cool playground! The playground is a new version of the wooden playgrounds, and features a rope bridge and a long zip line.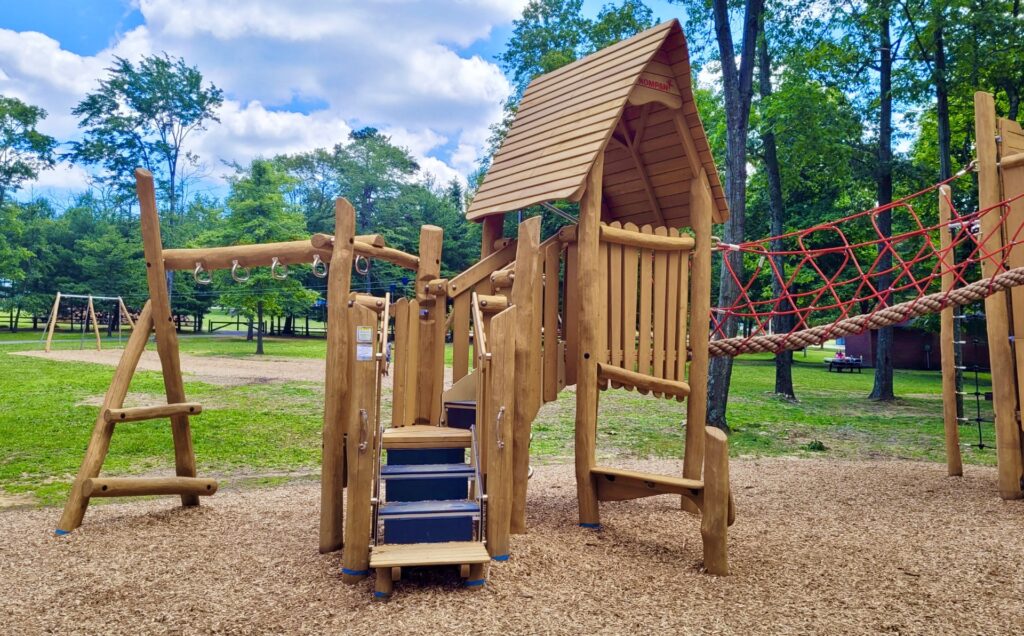 Be sure to check out the view while you are at this park. There's also picnic pavilions to enjoy a picnic lunch, and a connection to the Appalachian Trail.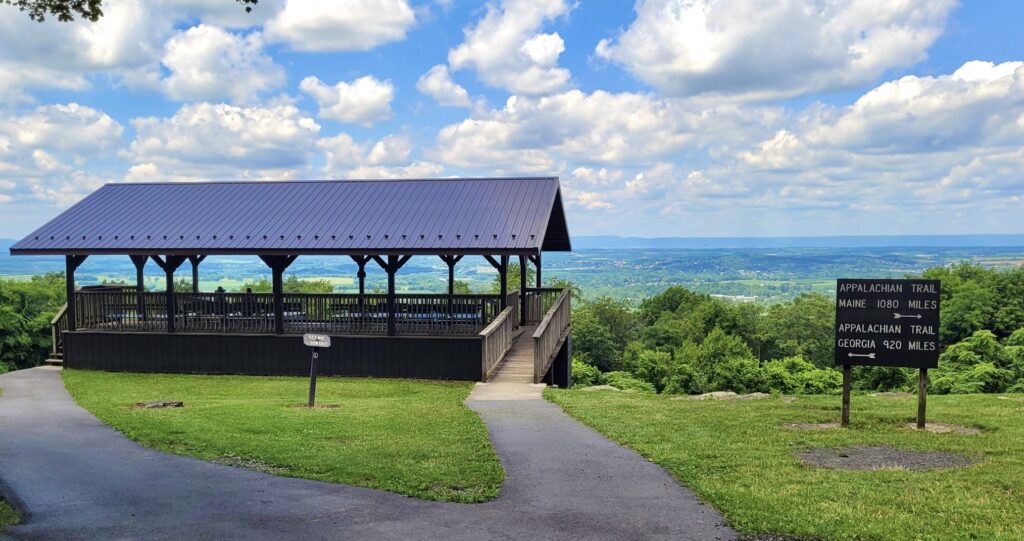 Marty Snook Park – Hagerstown
Marty Snook Park is located in Hagerstown, Maryland. The playground at this park is a bit hidden, but it can be found by parking at pavilion 2 and taking the short, paved path into the woods.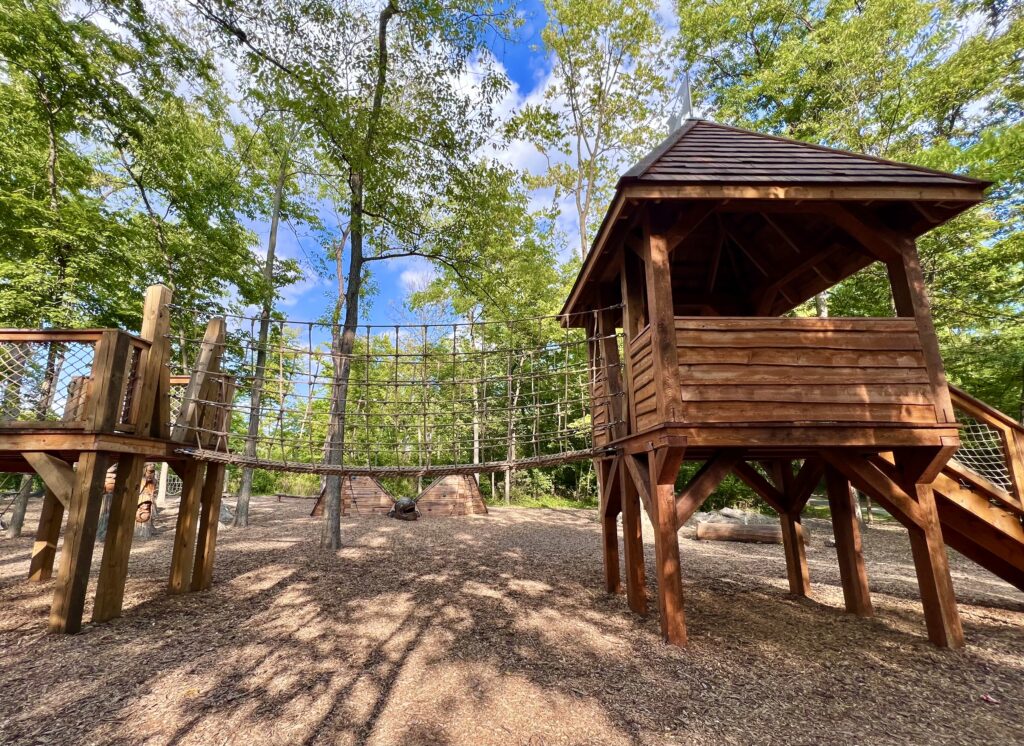 Marty Snook Park has some magnificently-carved creatures within the park. Don't miss all of the small details that make this park very whimsical!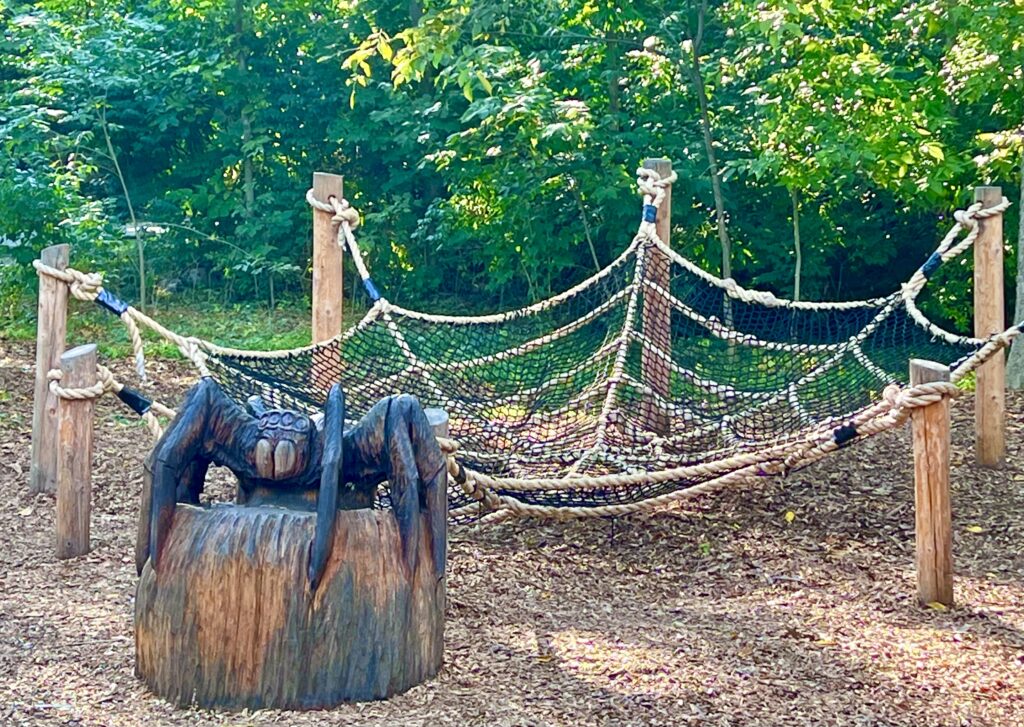 Harry S. Parker Athletic Complex – Salisbury
While Harry S. Parker Athletic Complex isn't a traditional park, it has a great playground to check out!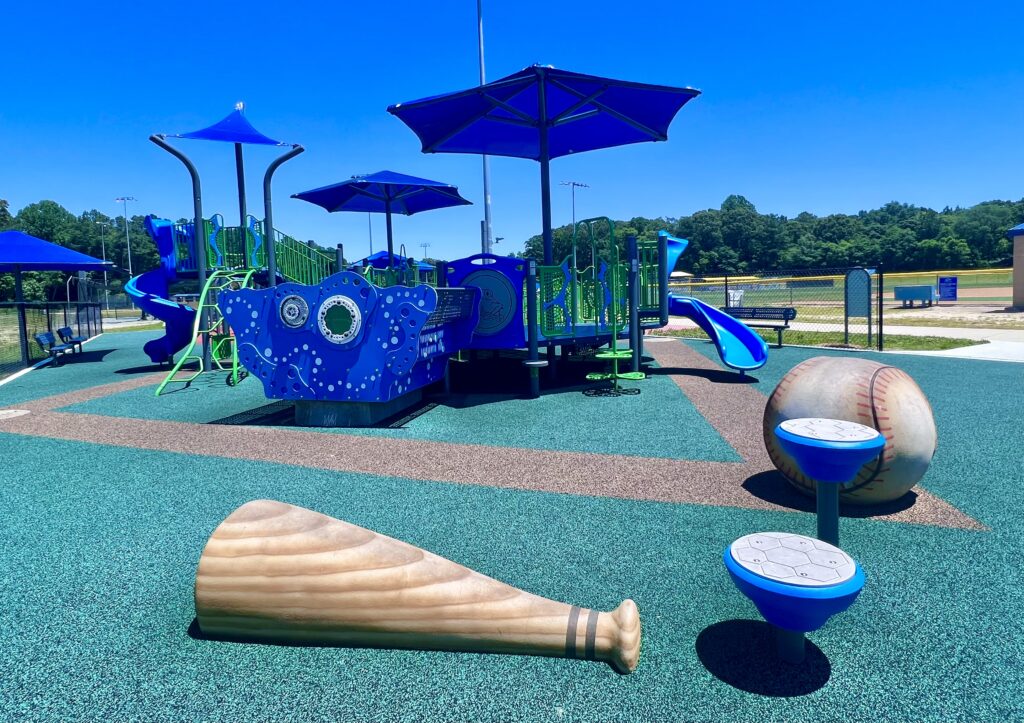 This athletic complex features many baseball fields. In the midst of the fields is a playground with a baseball theme!
Watkins Park – Mount Airy
This park should not be mixed up with Watkins Regional Park in Upper Marlboro. This park is located in Mount Airy, near Frederick. The Watkins Park features a new playground with a large climbing rope structure. The unique feature of this rope course is the small, enclosed "house" that sits at the top.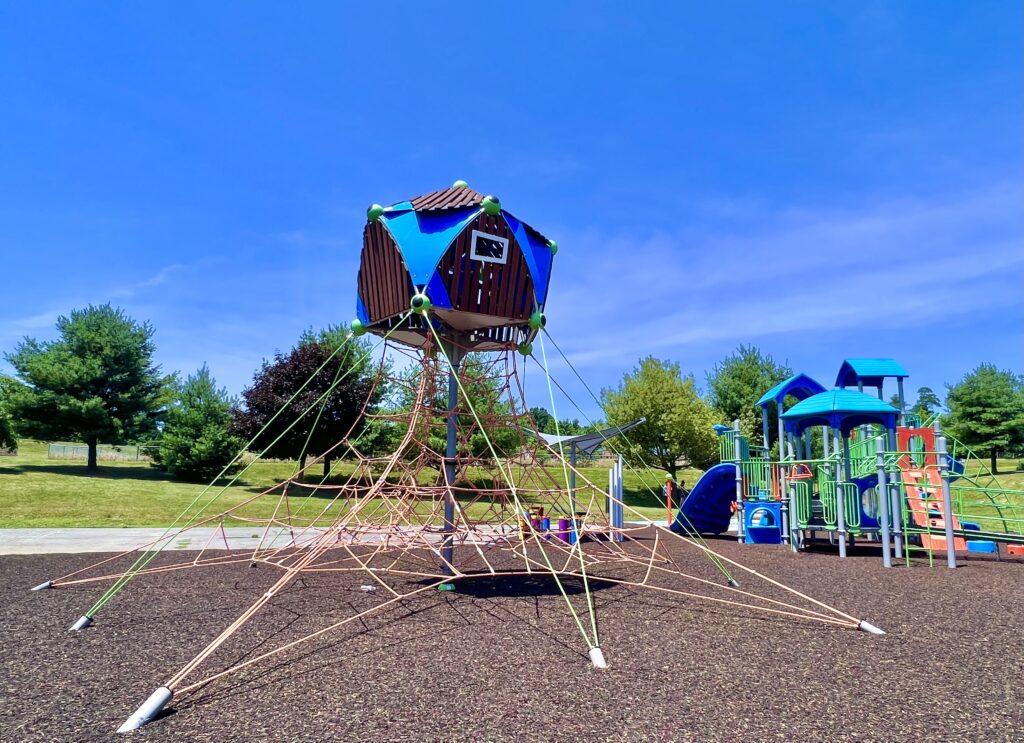 Millard Cooper Park – Sykesville
Millard Cooper Park has enjoyed a renewed popularity because of the splash pad that was recently installed at this park. The splash park includes many spray features and a small slide.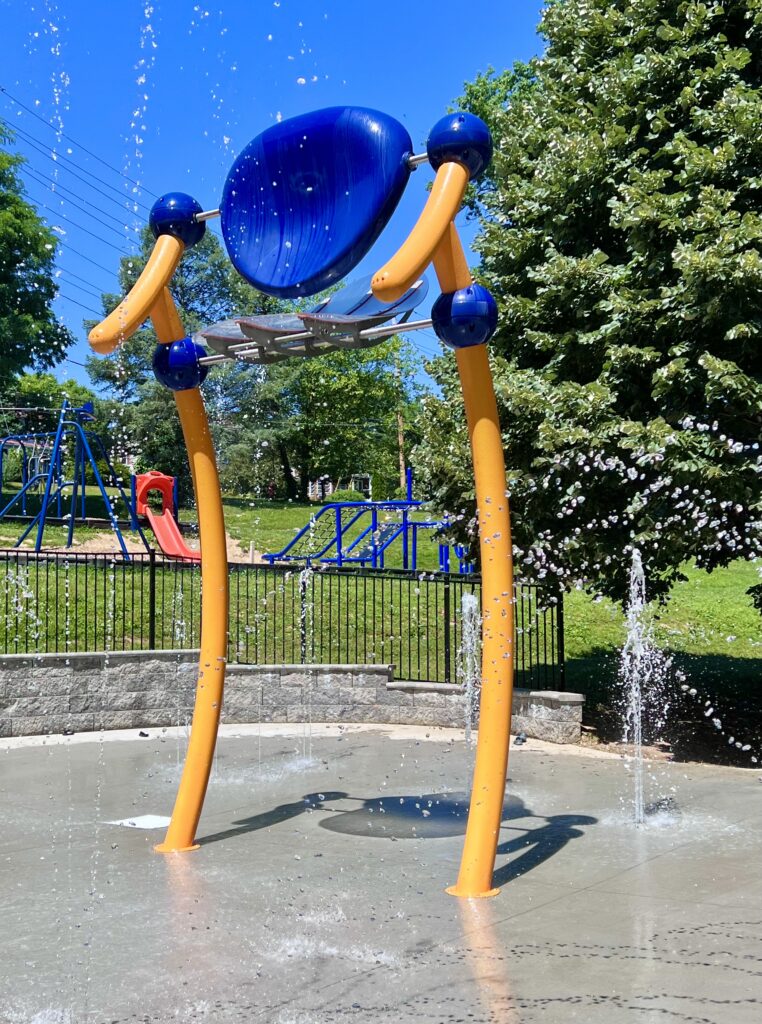 There's also a new playground area with a long zip line and ropes climber.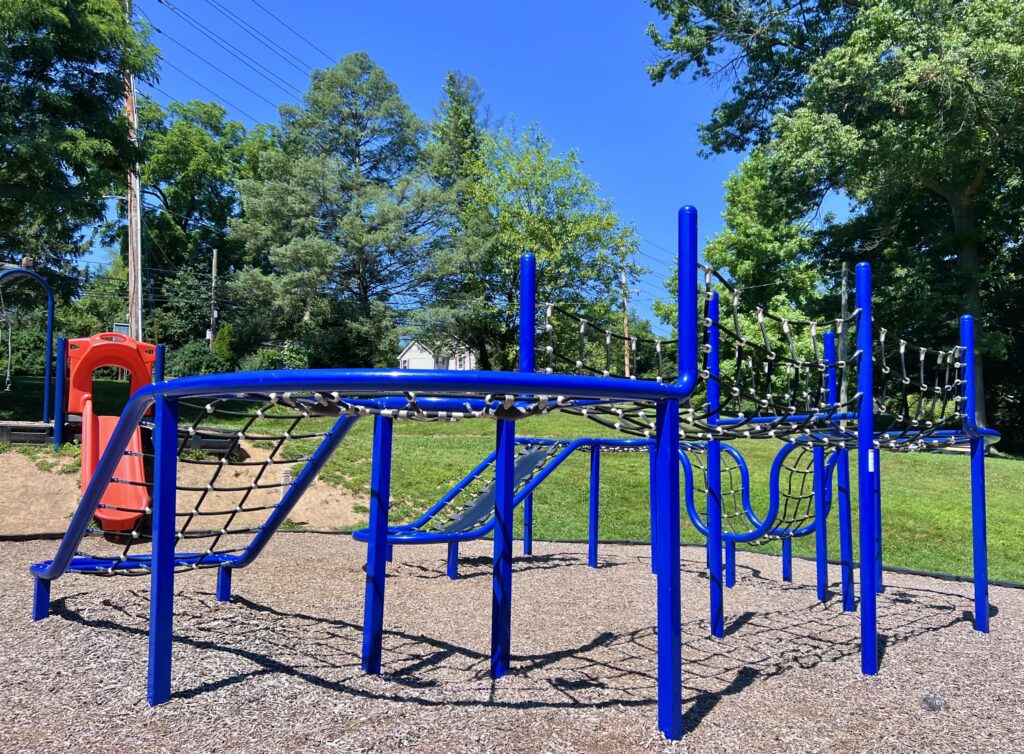 Ben's Red Swings – Salisbury
Ben's Red Swings is a memorial playground located beside the free Salisbury Zoo. The playground is large and is shaded by very tall trees.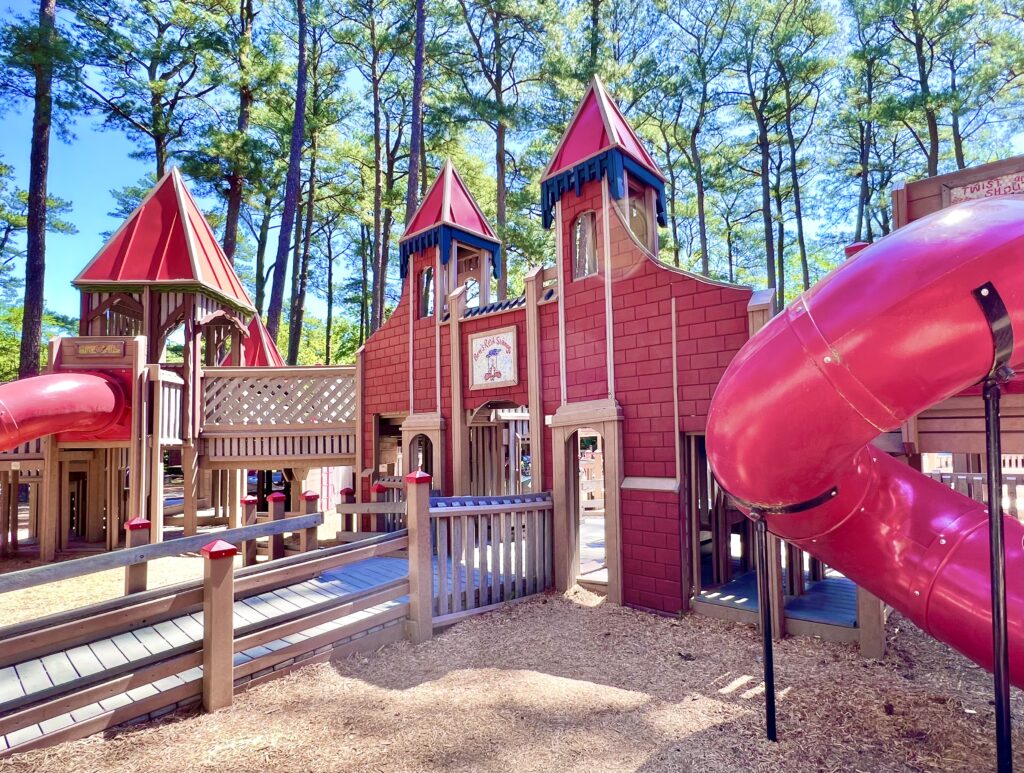 There are sand play areas and of course, red swings. Check out the picnic areas near this park, as well as the free zoo.
Kinder Farm Park – Millersville
Kinder Farm Park has many activities in addition to their big playground. There are animals to check out, as well as picnic pavilions.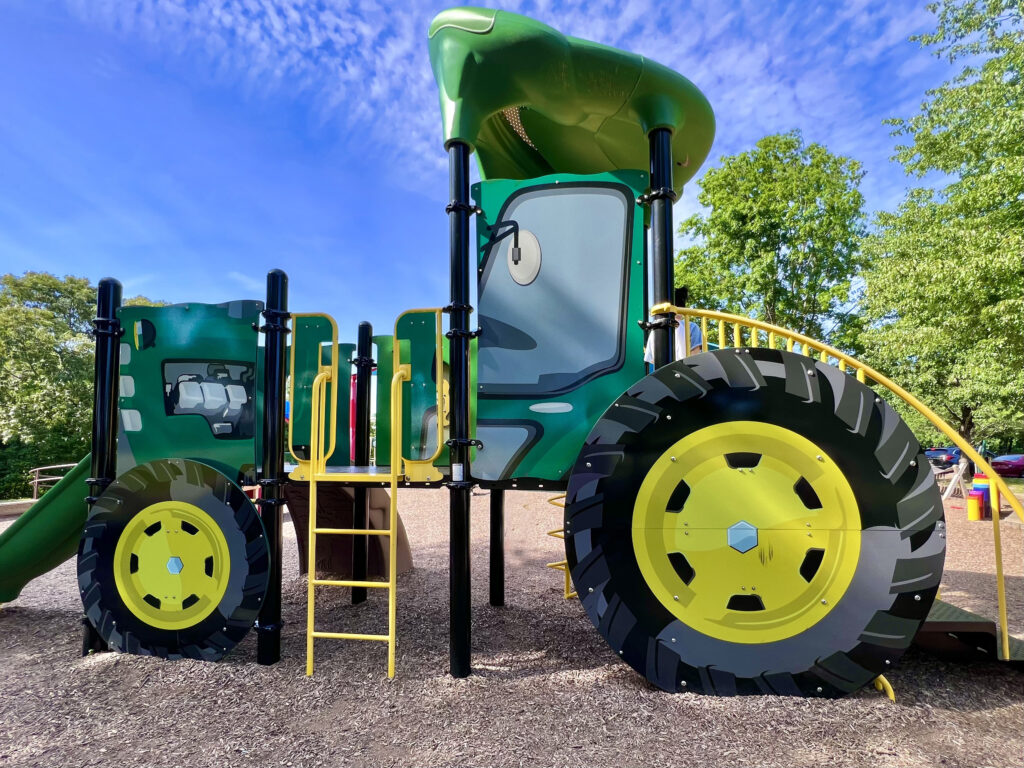 This playground is large, including many levels of playground equipment. There is a special area for toddlers and some shade structures.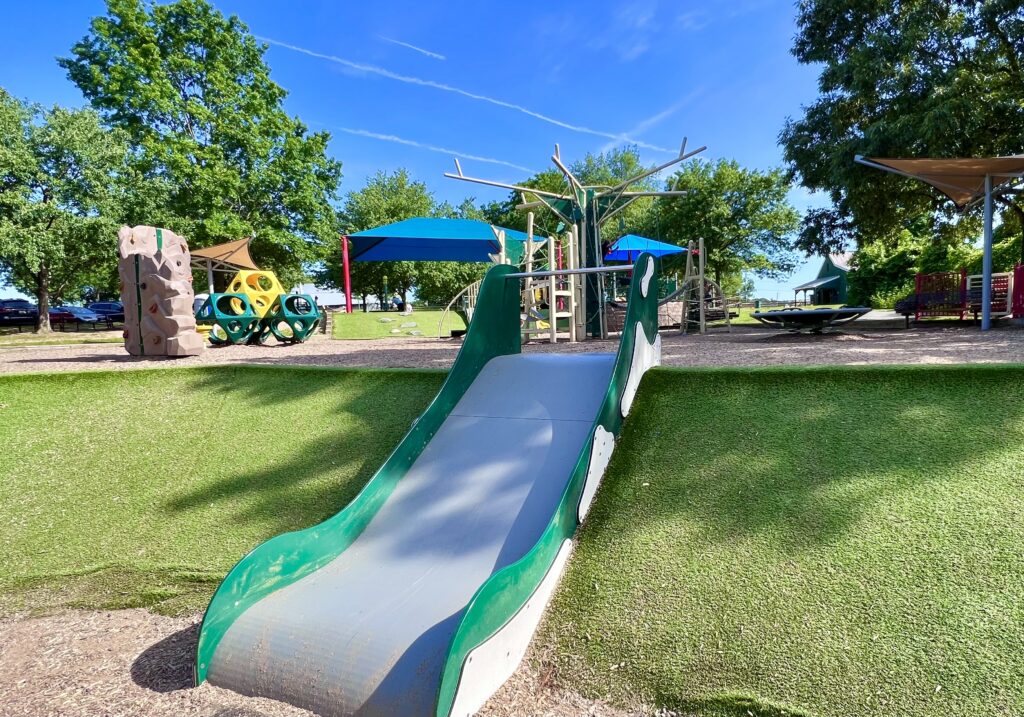 Idlewild Park – Easton
Idlewild Park features a large playground, colorful basketball course, and much more. This playground is mostly fenced, and includes areas for different aged children.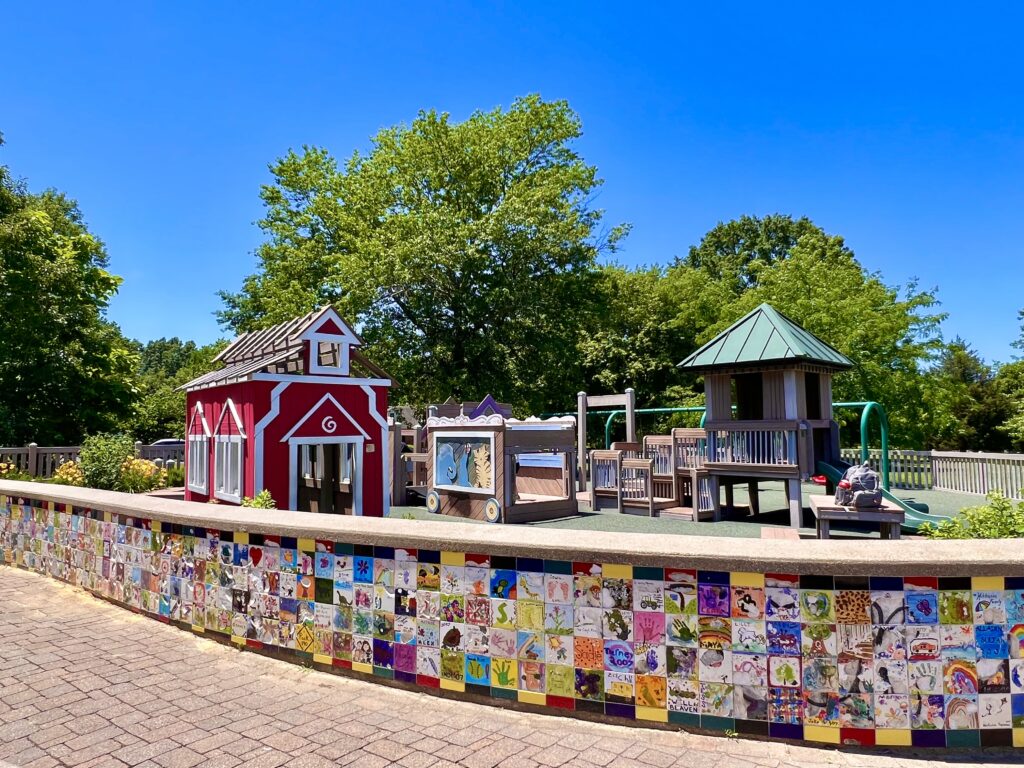 Brantwood Regional Park – Elkton
Brantwood Regional Park contains a newer playground and a paved walking trail. The playground has a unique three-seat swing that is the hit of the playground!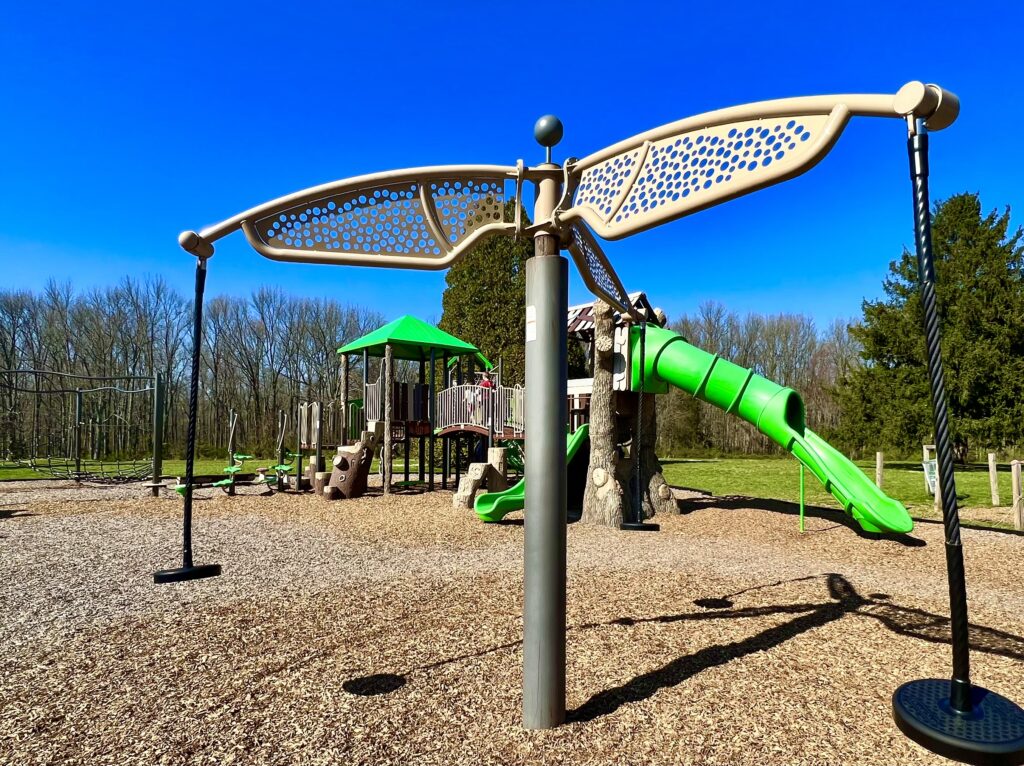 Sweet Air Park – Phoenix
Sweet Air Park contains a playground that has some great ride-on options for toddlers. There's also a big climbing structure.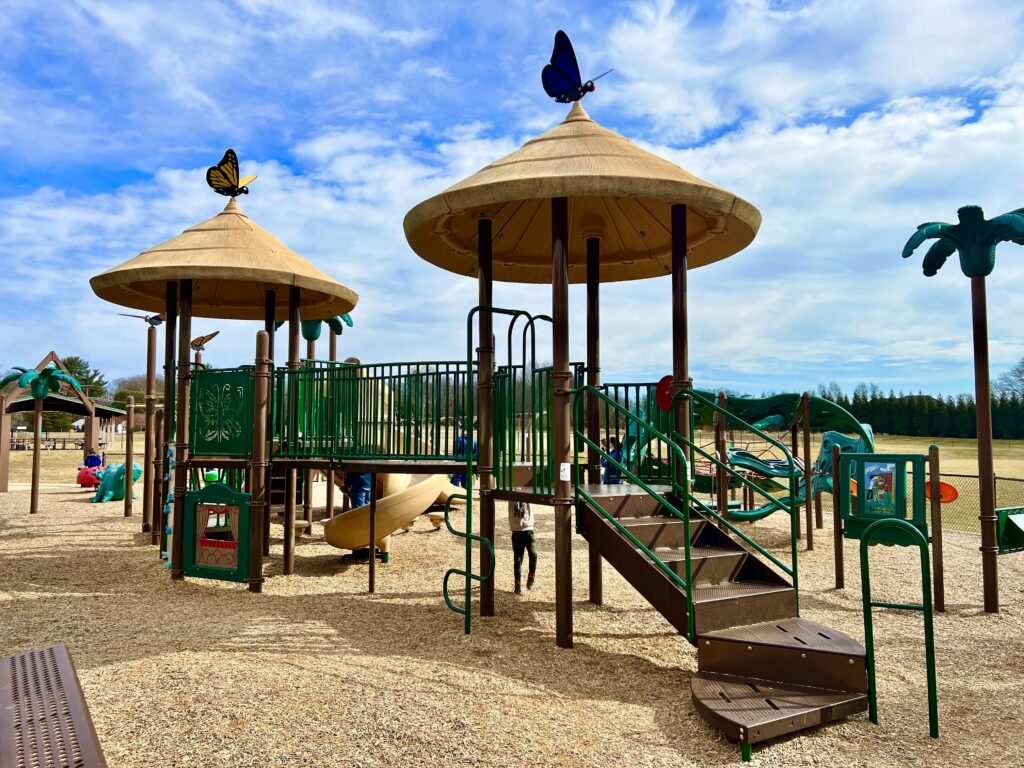 Bowie Heritage Playground – Bowie
This park's name is a bit difficult to determine, but in most places it's called either Bowie Heritage Park or 10th Street Park. This park has unique, kid-size buildings that can be explored.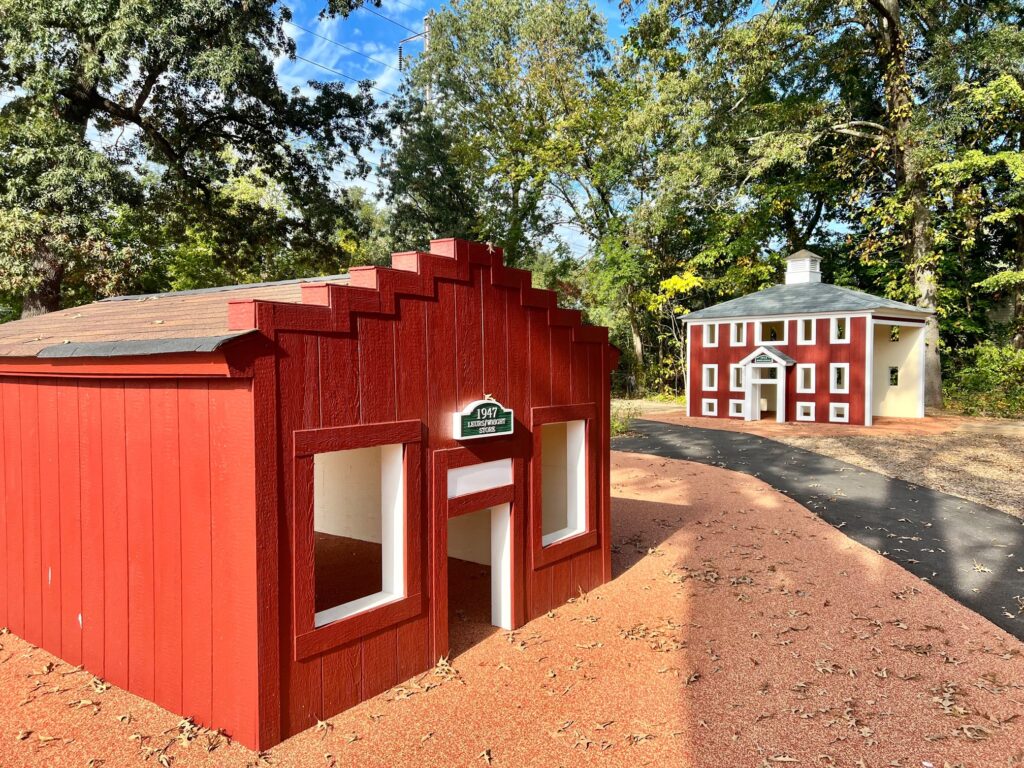 There's also more traditional playground equipment, in addition to the tiny buildings.
Angel Park – Perry Hall
Angel Park is a giant fenced-in playground in Perry Hall. The playground has many slides, monkey bars and two zip lines.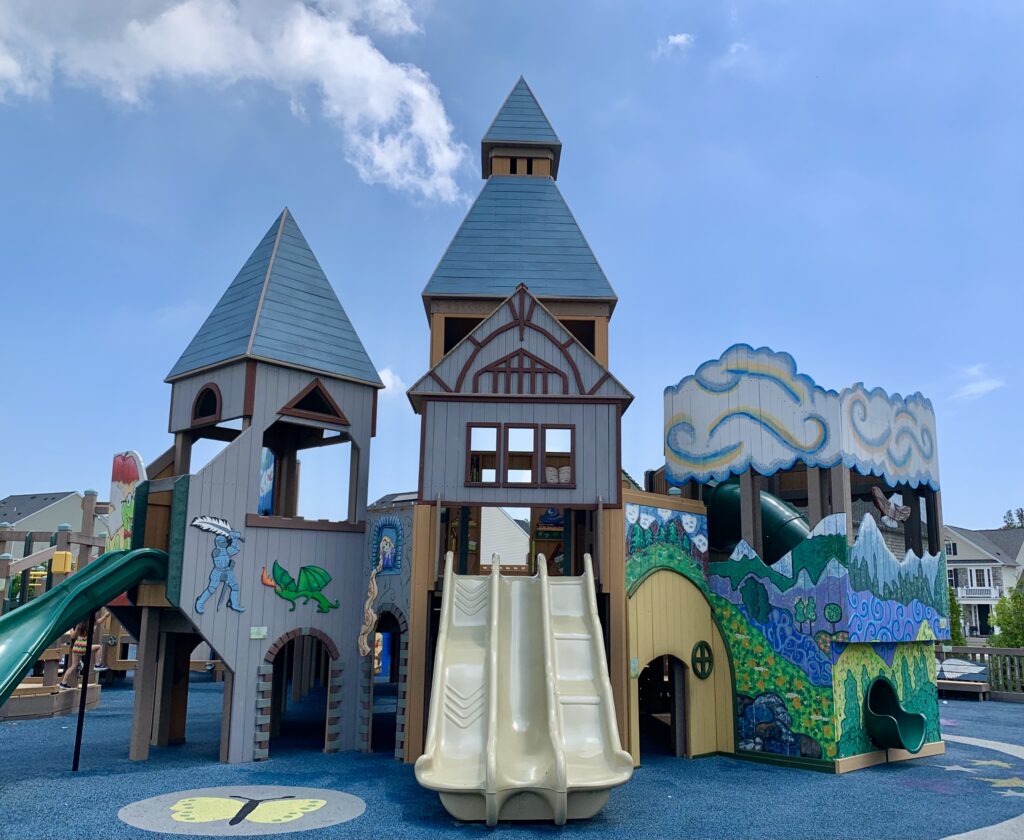 Sophie and Madigan's Playground – Frederick
Sophie and Madigan's Playground is a memorial, fairy-tale themed playground that recently had a new phase added to it. The new phase features tons of unique elements!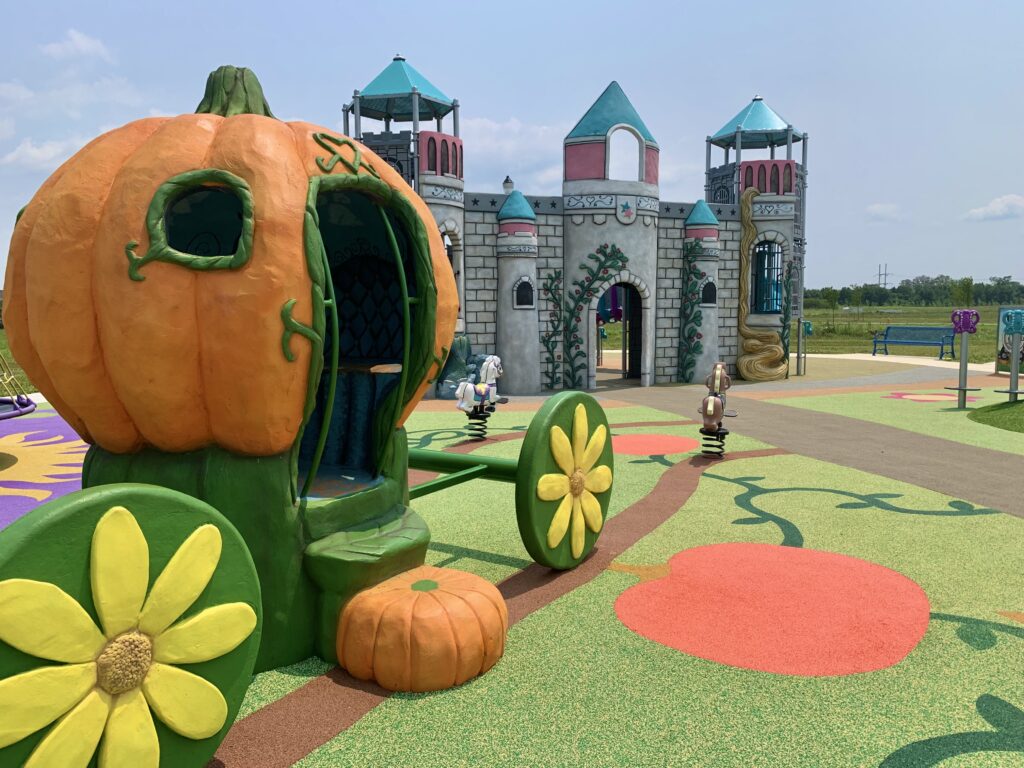 Rockfield Park – Bel Air
Rockfield Park is a very unique playground. During the warmer months, there is a large water feature where kids can play.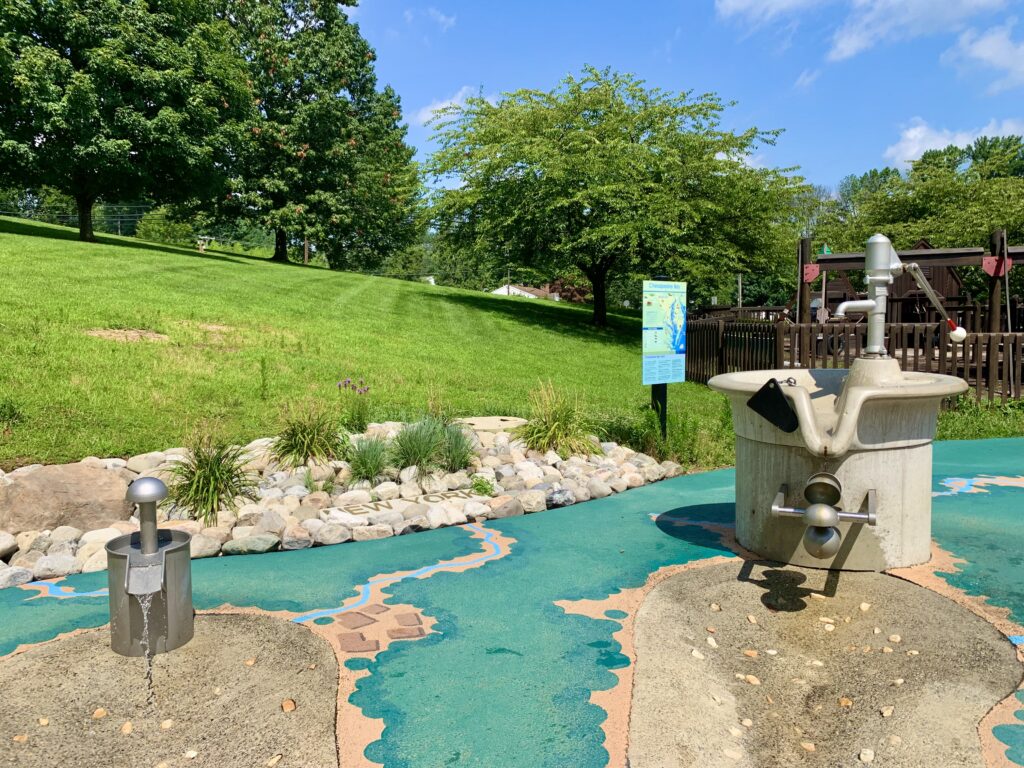 Blandair Regional Park
This is one of the biggest playgrounds in the area! Blandair Regional Park features Laura's Place playground. This playground has many different sections, which each have a theme.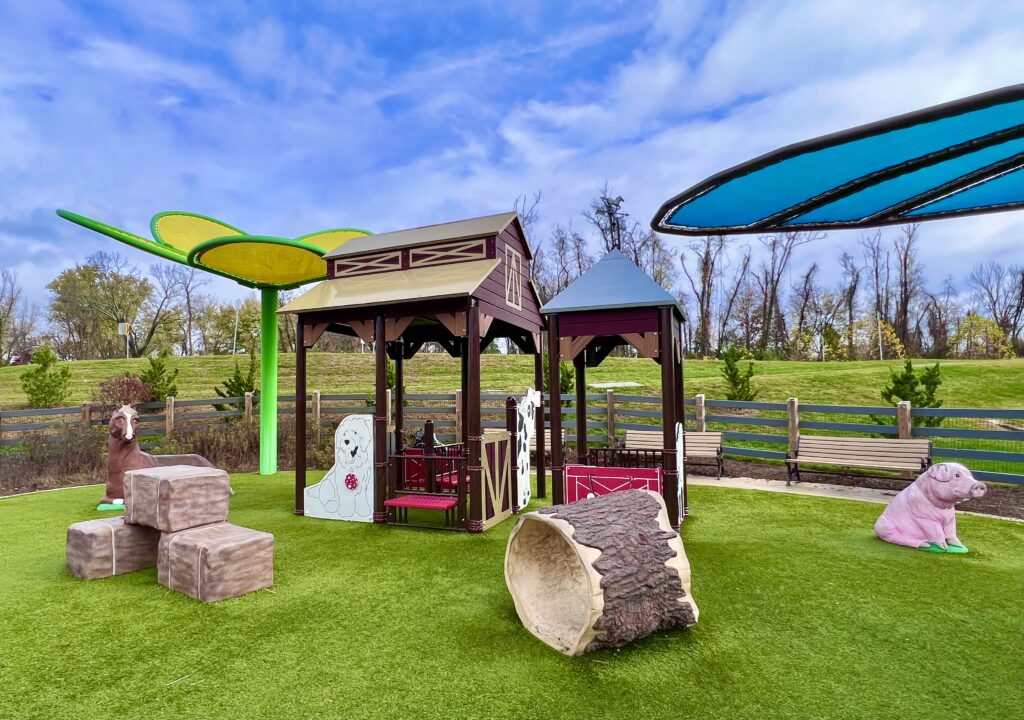 This park also features an obstacle course.
South Bowie Community Center – Bowie
South Bowie Community Center's playground is fenced and a bit smaller than the others on this list. However, it's creative castle theme makes up for its small size.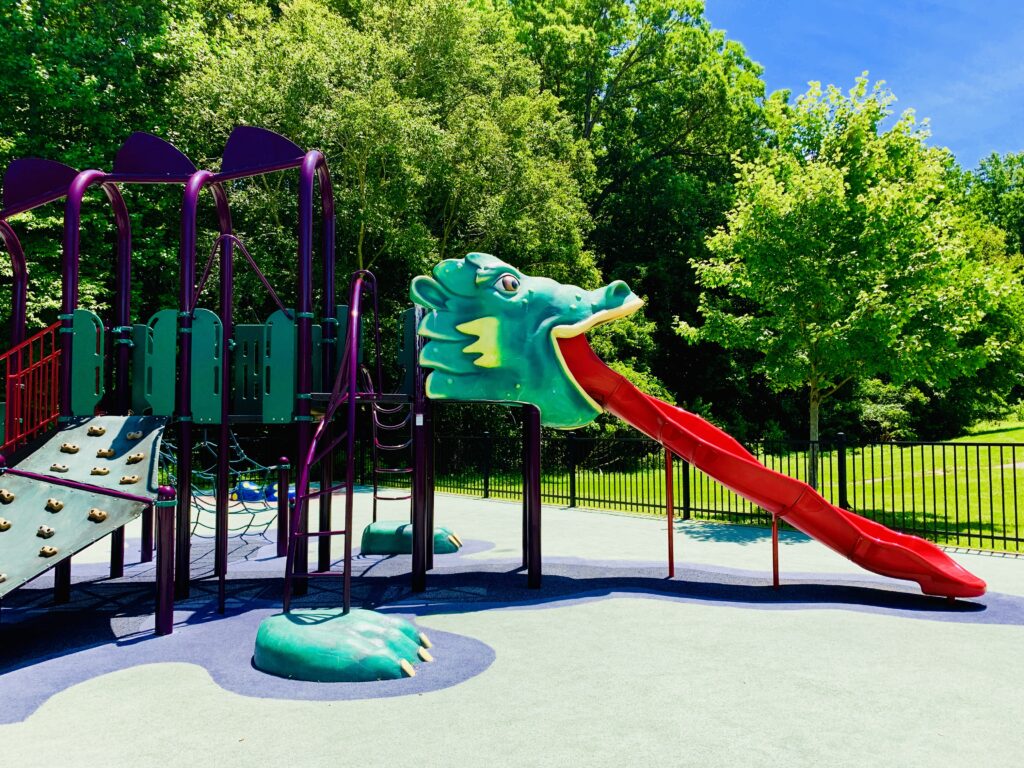 Millard Tydings Memorial Park – Havre de Grace
Millard Tydings playgroud features a unique lighthouse slide, as well as lots of traditional playground equipment. It's located close to the Havre de Grace Promenade, which is a scenic and educational walking area around the waterfront area.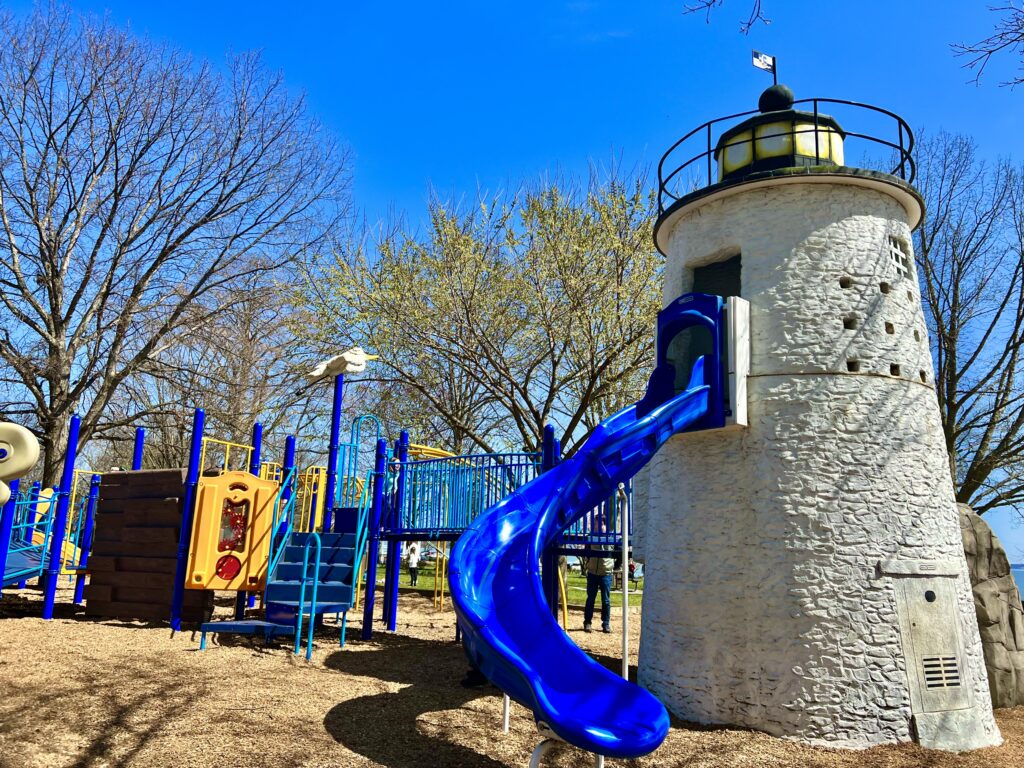 Sandy Point State Park – Annapolis
Sandy Point State Park is known for it's beach along the shores of the Chesapeake Bay. However, there's also a cute playground that is themed for the beach and for the nature surrounding it.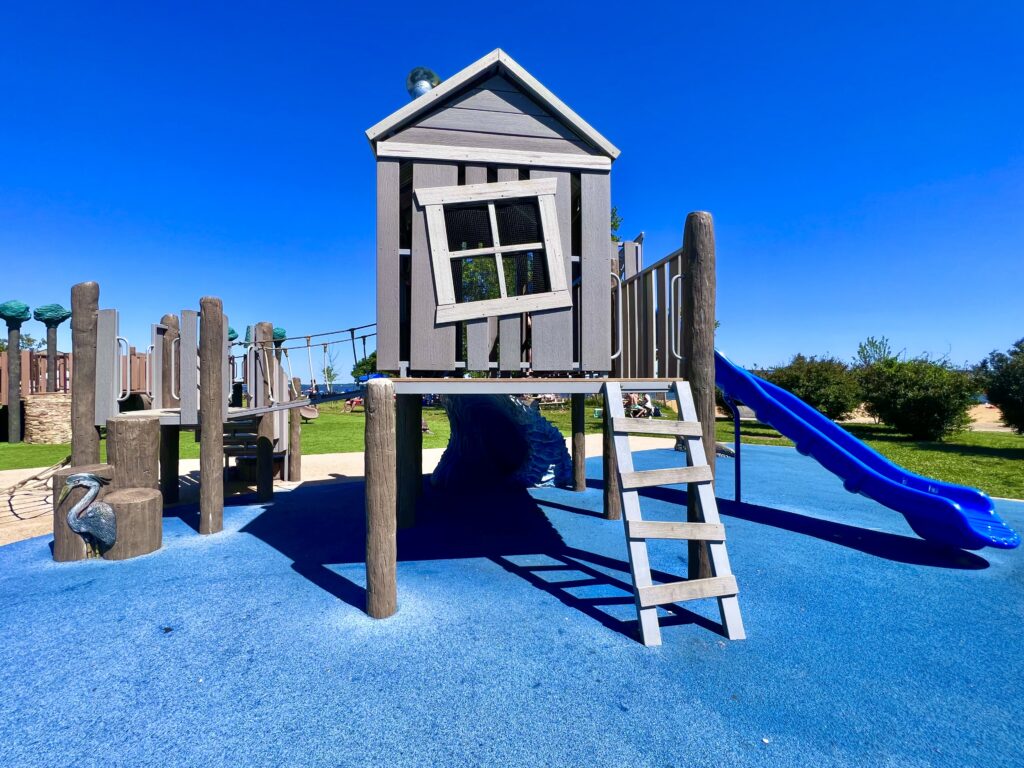 Pinecliff Park – Frederick
Pinecliff Park features a large, three-story climber with many tall tube slides to enjoy for older children. There's also a tot play structure, swings, and monkey bars. Keep in mind this playground is not fenced, and there's a nearby pond that is used for ice skating when the conditions are right. There's also a sledding hill at this park.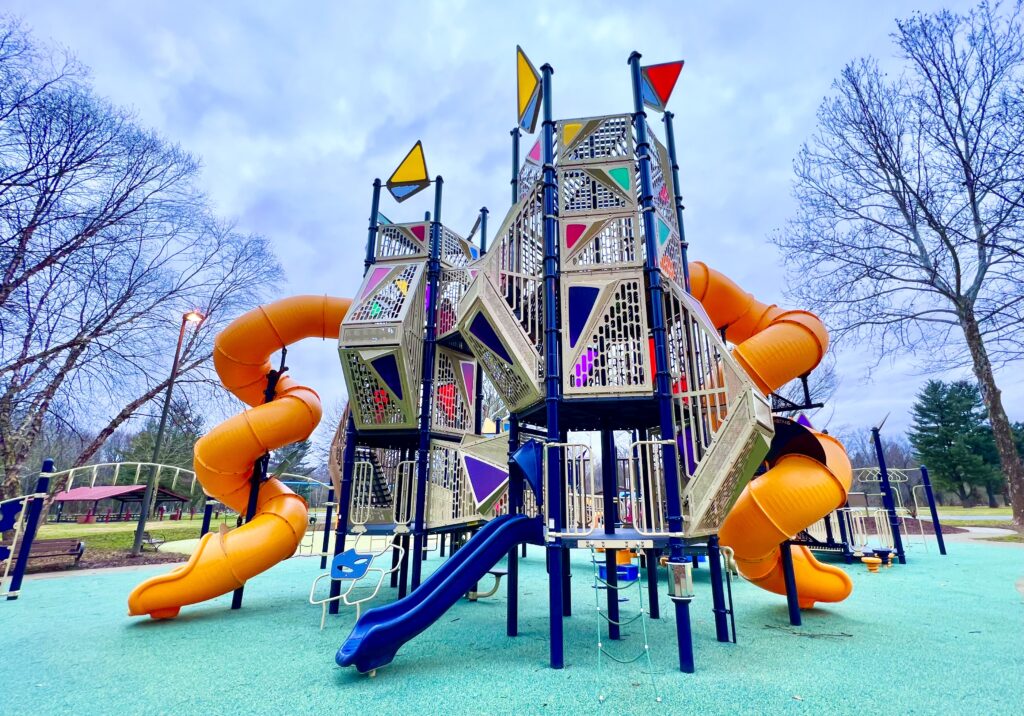 Utica District Park – Frederick
Utica District Park is a large park with many different types of sports fields. For playgrounds, there's to separate, fenced playgrounds for older children and younger children. The structure have shade built-in, and there's plenty opportunity to climb and slide.
Lyn Stacie Getz – Bel Air
Lyn Stacie Getz playground is a memorial playground located in Bel Air. It features colorful play equipment, a row of swings and a tire swing, a shaded pavilion with seating, and a tot lot with a train and truck for play.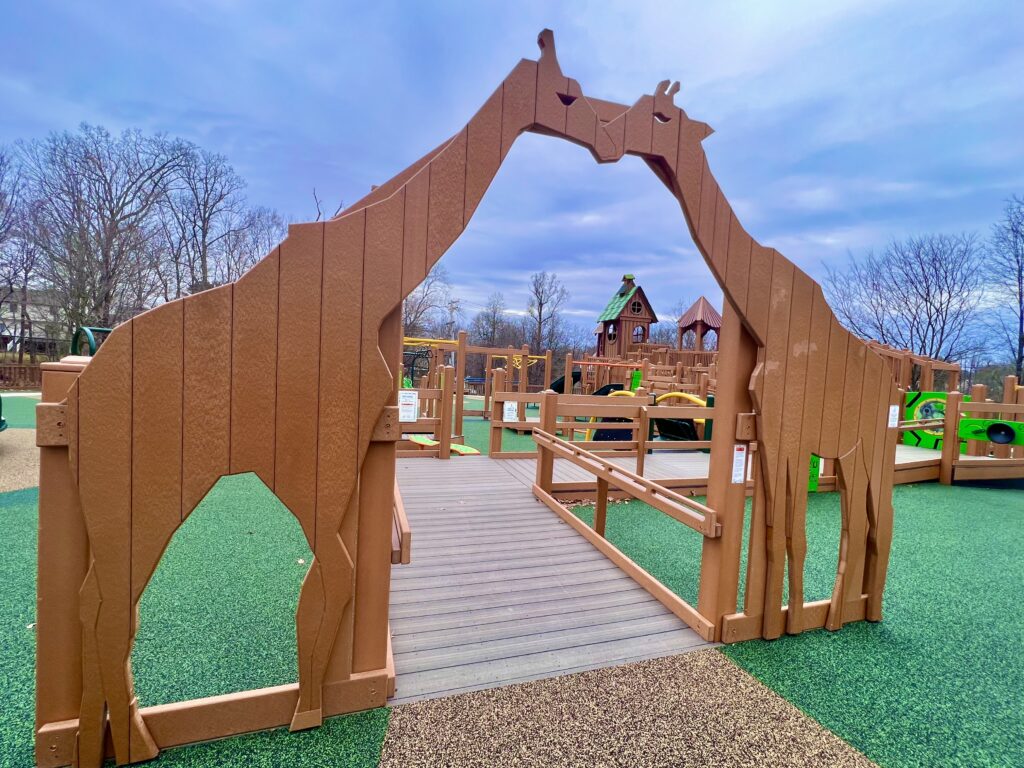 Heurich Park – Hyattsville
Heurich Park features to different playgrounds. One playground is comic hero themed, while the other is called the Heurich Mobility Playground. Each playground is unique. The mobility playground features a large rope structure with clubhouse at the top. The comic hero playground features logos from many super heros, swings, slides, and a small pavilion.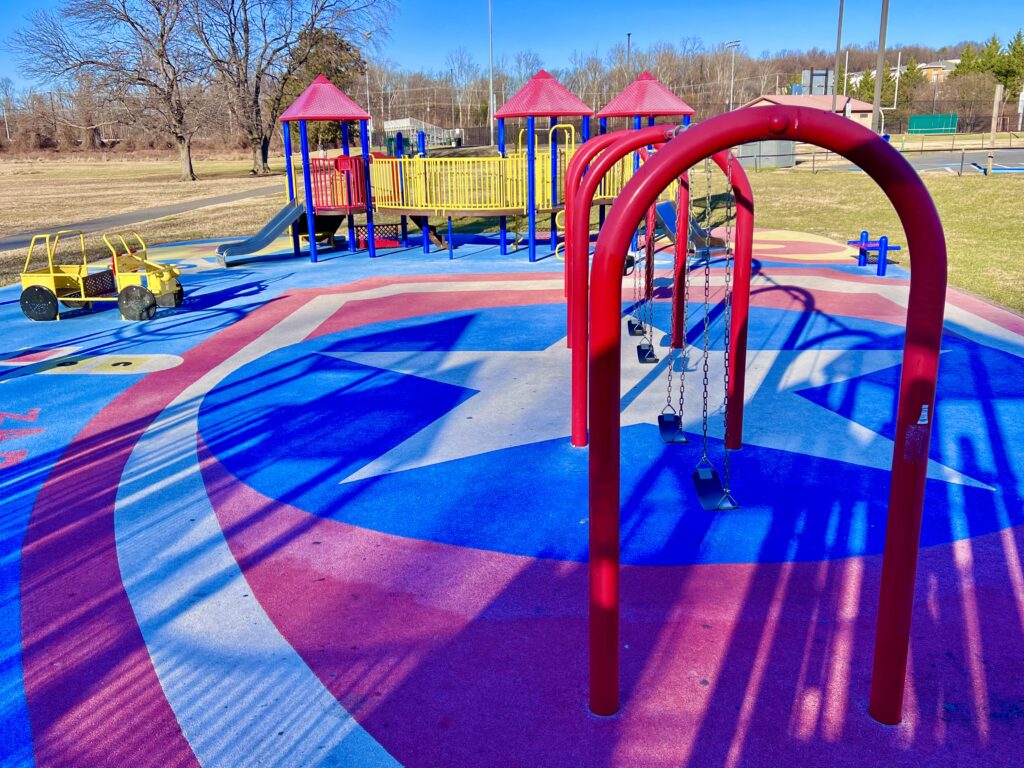 Othello Regional Park – Knoxville
Othello Regional Park is located between Frederick and Harpers Ferry. The park features a fenced-in playground with slides and "rock" climbing to access the play structure. There are benches near the playground, but not much shade.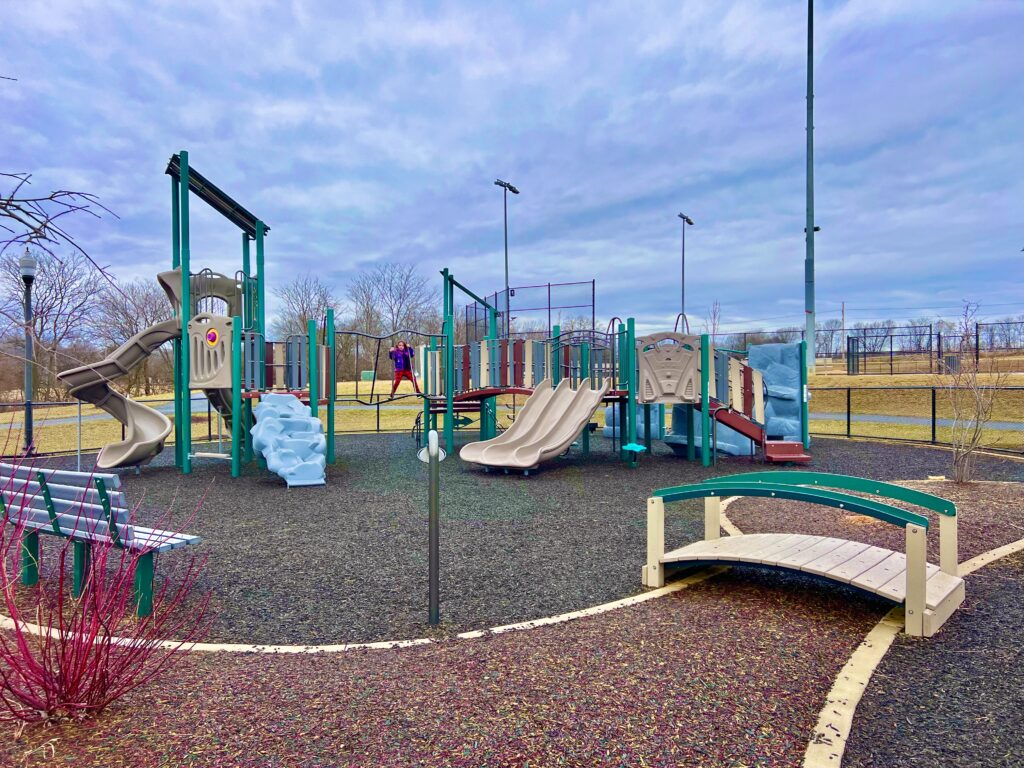 Best Playgrounds in Maryland
This brief summary of the best playgrounds in Maryland will hopefully give you plenty of ideas for fun places to take your kids. Enjoy the warm summer days or bundle them up get some fresh air when it's cold. Whenever you decide to visit, have fun!
Looking for more amazing playgrounds in addition to these best playgrounds in Maryland? Check out this comprehensive list of playgrounds.