There are tons of amazing playgrounds in the DMV (DC/Maryland/Virginia) metropolitan area. This list contains some of the best playgrounds near Washington, D.C., and this area has a lot to offer. Some of these parks are within close proximity of each other, making playground hopping a possibility.
Fairlington Park – Arlington, VA
Fairlington Park is located beside Fairlington Community Center on South Stafford Street. It is home to the fastest slide on our list. Before your kids enter the big climbing structure at this park, make sure they aren't afraid of heights.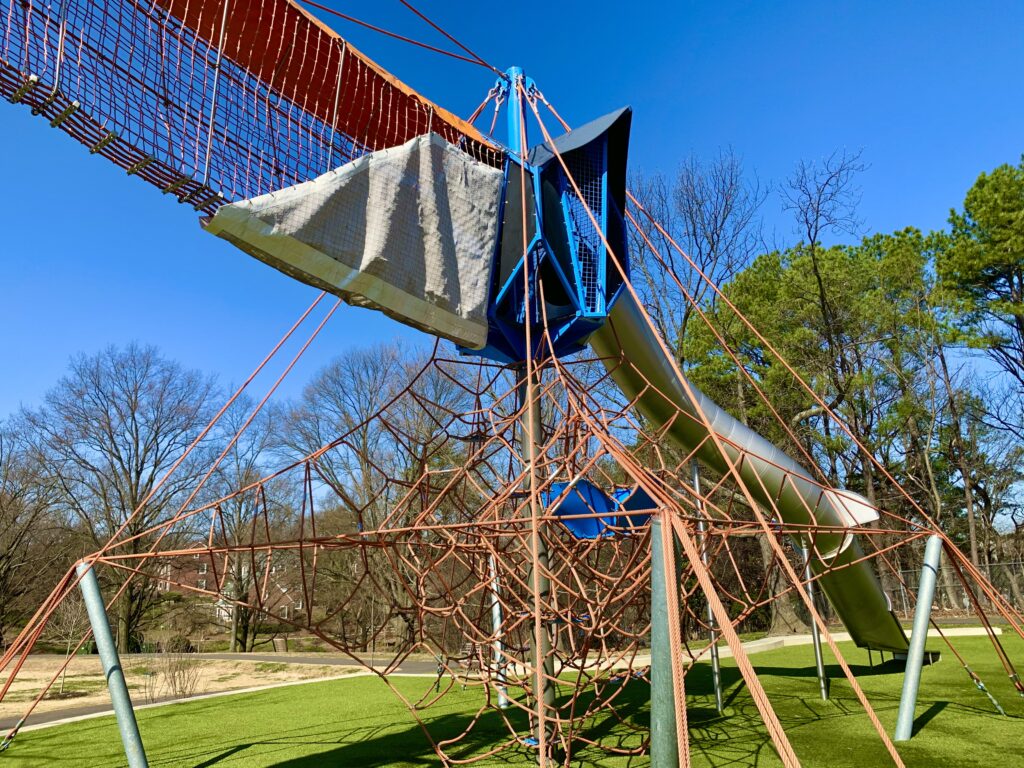 Also, the best tip for this park is to be sure to warn your kids about the fast slide. Time after time, kids slid out and landed on the ground a few feet from the slide. Be ready to catch your toddlers!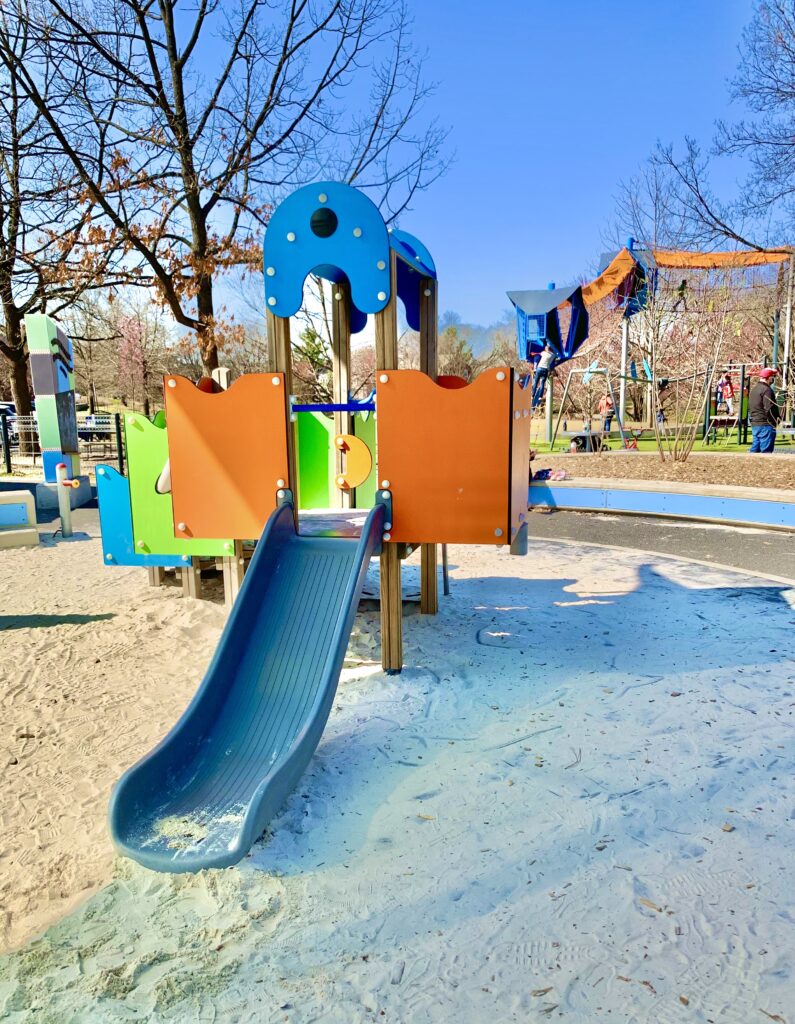 The parking lot for Fairlington Park is fairly large, but can get full on nice summer days. There didn't seem to be a restroom available at this park.
Guy Mason Playground – Washington, D.C.
Guy Mason playground is situated beside the Naval Observatory, just north of Georgetown. It's in a busy area, but there is a lot of on-street parking and a small parking lot near the recreation center.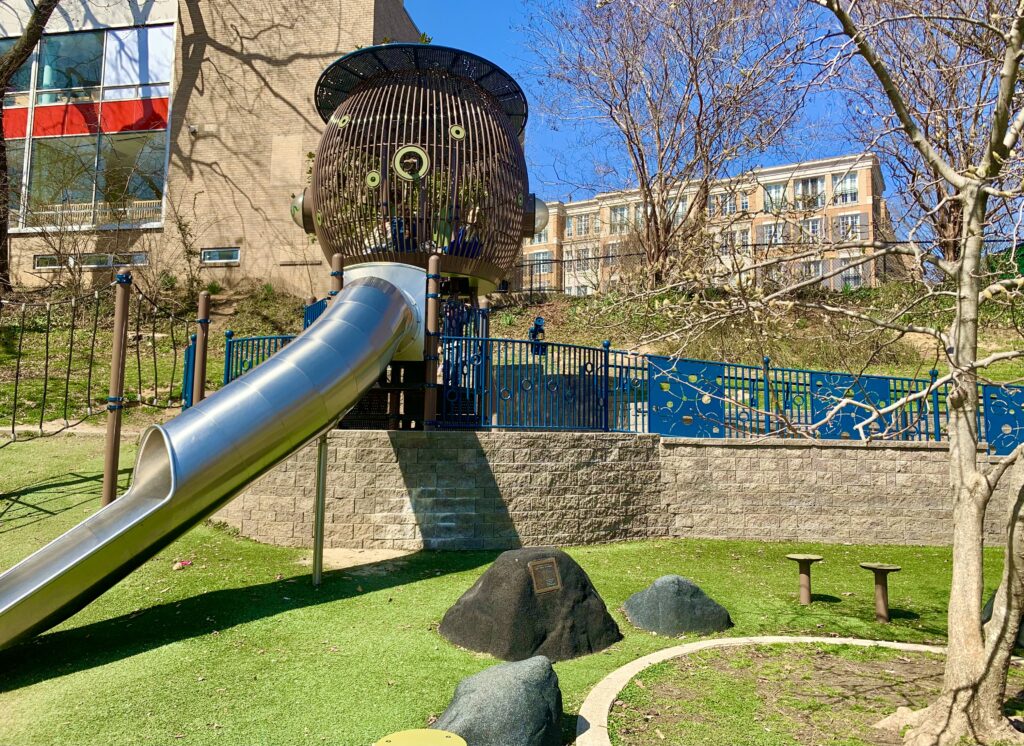 This park is large and wide open, with the main attraction being the nest that kids can sit inside.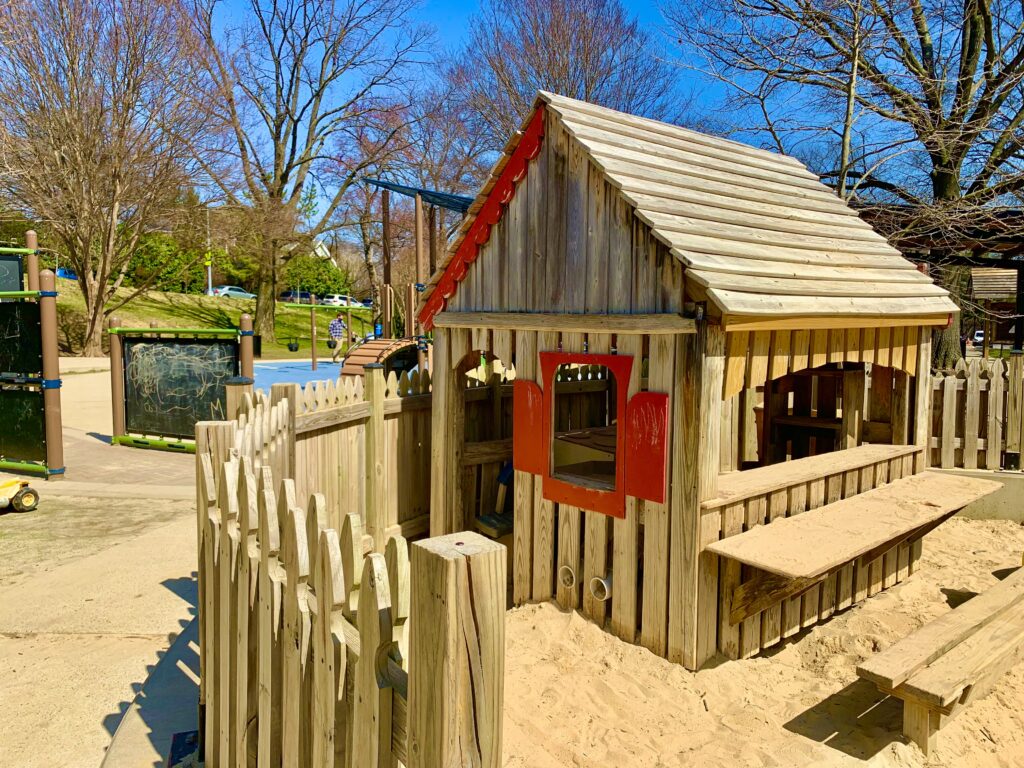 Another main feature of the Guy Mason playground is the sand area. There's a kid-size house with a sand "kitchen" and a large sand area in front of the house. It appeared that some toys were available for sand play, but you might want to bring your own.
Palisades Playground – Washington, D.C.
Palisades Park is located close to the Potomac River in northwest DC. The playground and sports fields have a small parking lot close to the playground, but on a sunny spring day it was full.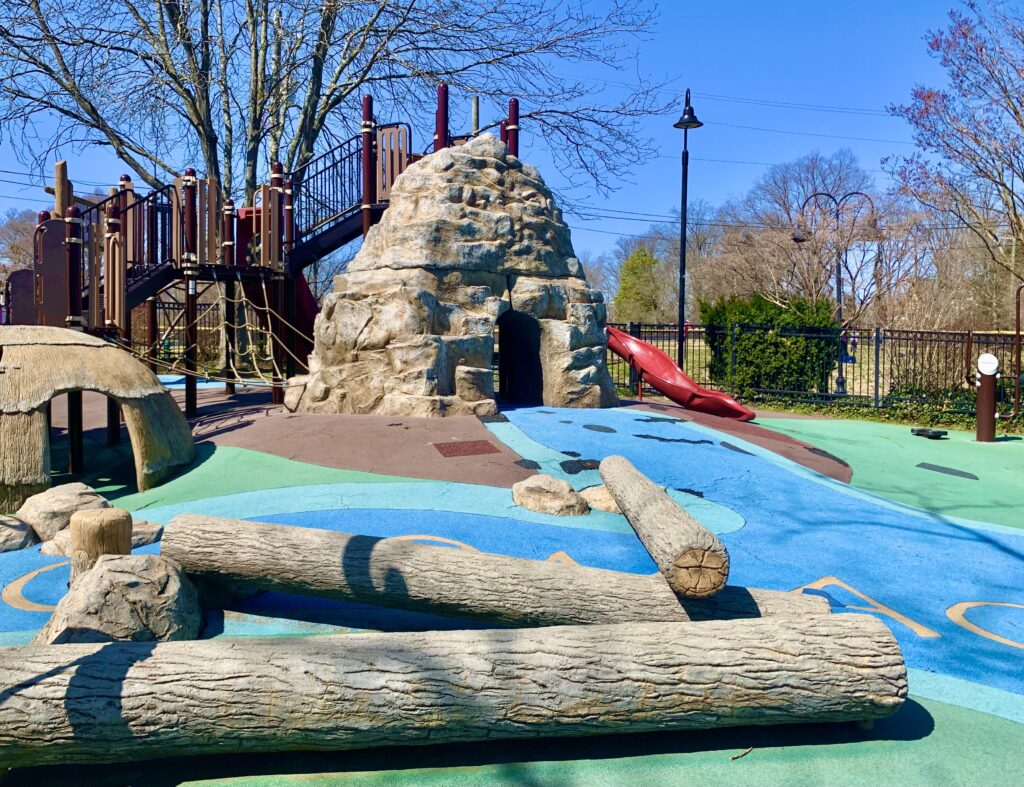 On-street parking is available, but it was slightly difficult to find. This park includes a spray ground and small slide, as well as a larger, dry area of the park. There's a few picnic tables under trees and a shade area for hot summer days.
Bluemont Junction Park – Arlington, VA
Bluemont Junction Park is located outside of DC in nearby Arlington, Virginia.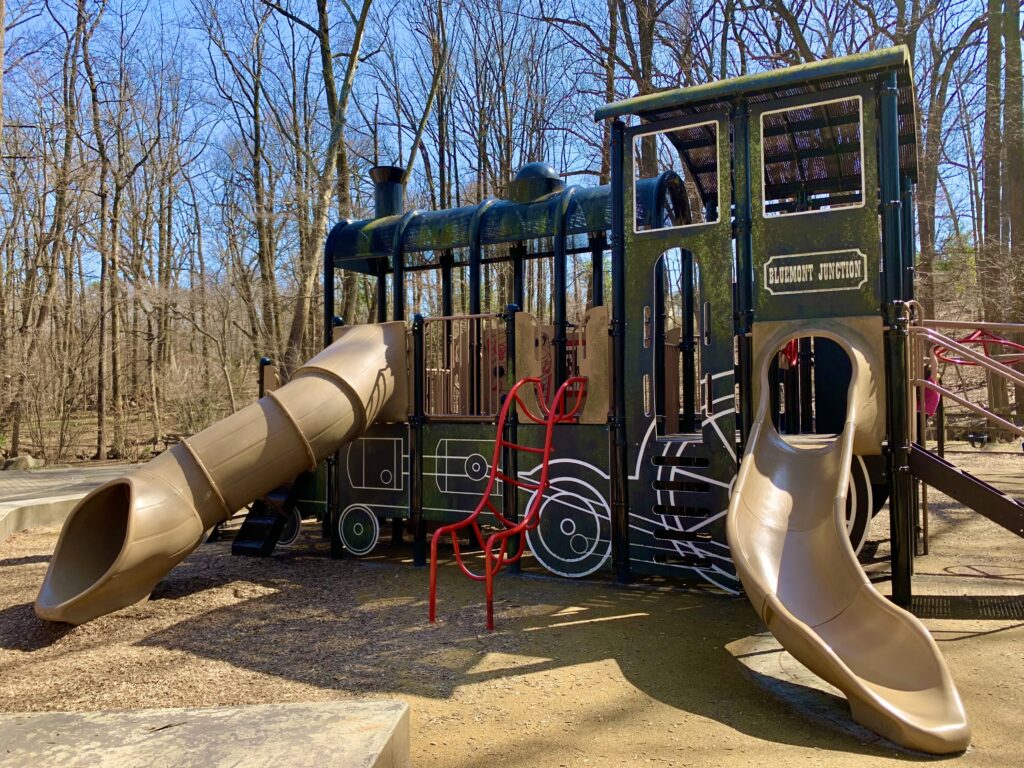 While there's a parking lot near Wilson Blvd and the tennis courts, this is not the closest parking lot for the playground. If you do happen to park at the tennis courts, there is a nice paved path to lead you to the playground, however it's about a quarter mile long. Ample parking is available close to the playground.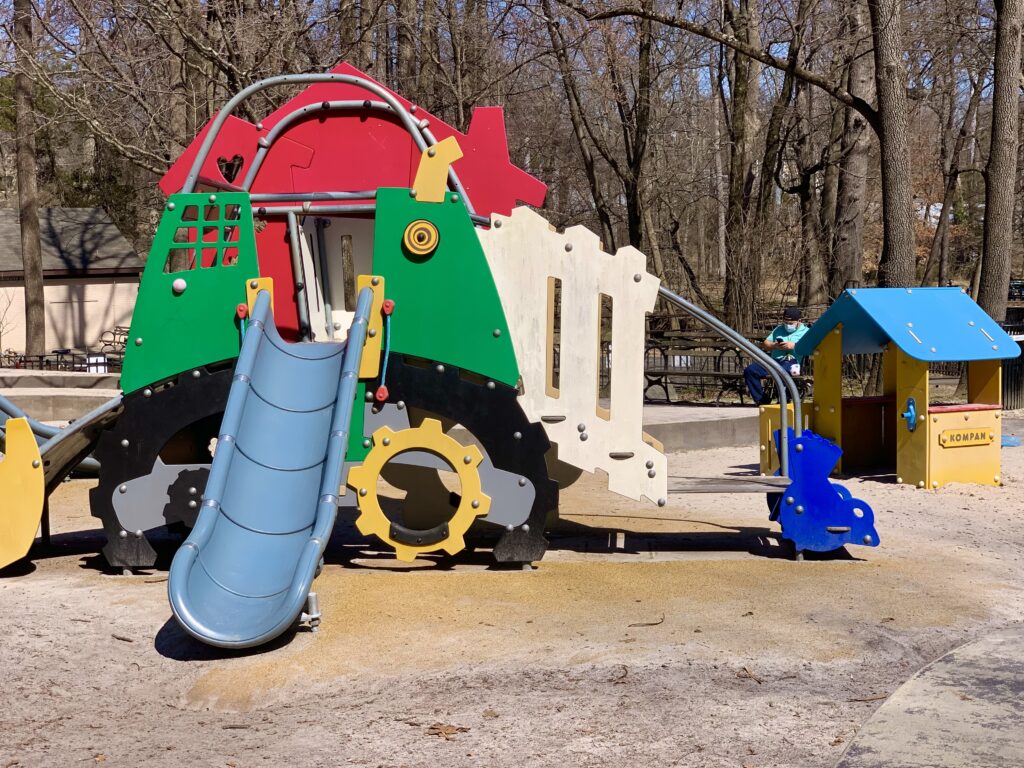 This playground has a fence in front of it, but the back of the playground is open to a stream. Keep this in mind if you have a child that loves to play in the water, because it is very tempting on a warm day. It is easy to access the banks of the stream from the playground. You might want to bring extra clothes.
Oak Grove Park – Arlington, VA
Oak Grove Park is very close to Mosaic Park. We found that on a nice, sunny day that Mosaic Park was packed with people, yet Oak Grove was fairly empty. It may be because Oak Grove is hidden at the top of a hill, while Mosaic Park is colorful and easily viewable from the street.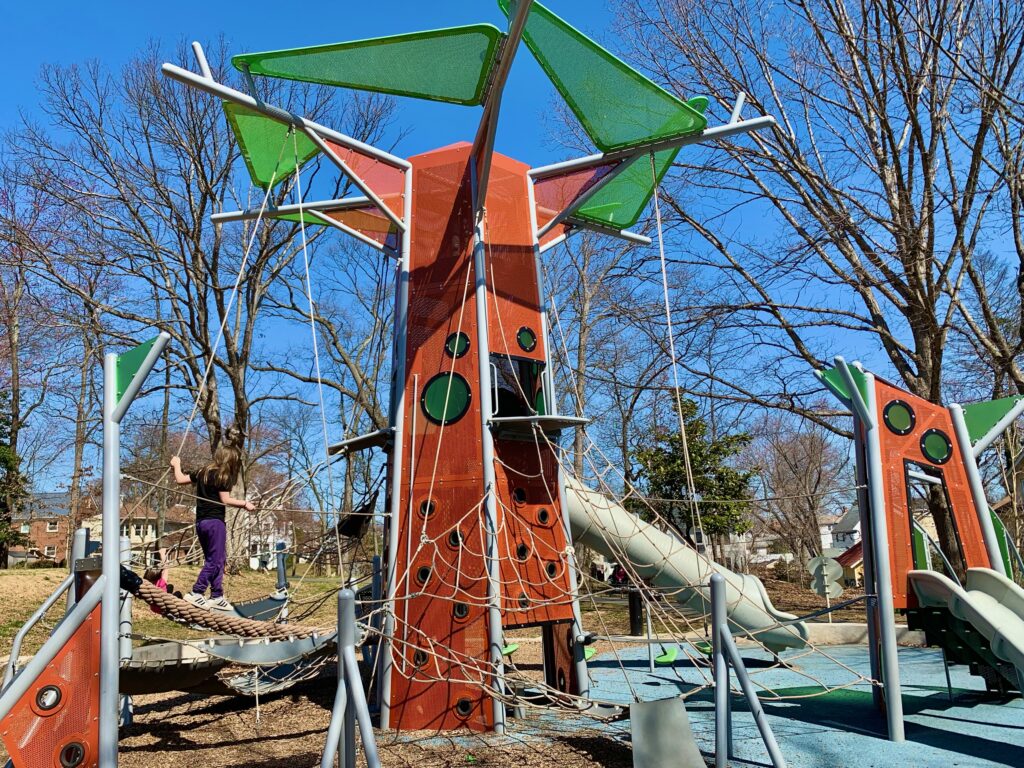 Oak Grove Park is relatively small, but has a unique climbing structure. The climbing structure is fairly high, so keep that in mind for small children. There is a tot lot with a smaller structure and slide. The pavilion at this park is small, but the entire park has a very nice design.
Lubber Run Park – Arlington, VA
Lubber Run Park has an interesting combination of wooded walking trails and modern playground. If you park in the small parking lot near N Columbus St and 2nd St N, you'll be greeted by a small stream and an amphitheater. To get to the playground, you can take the walking trail to your right when facing the amphitheater.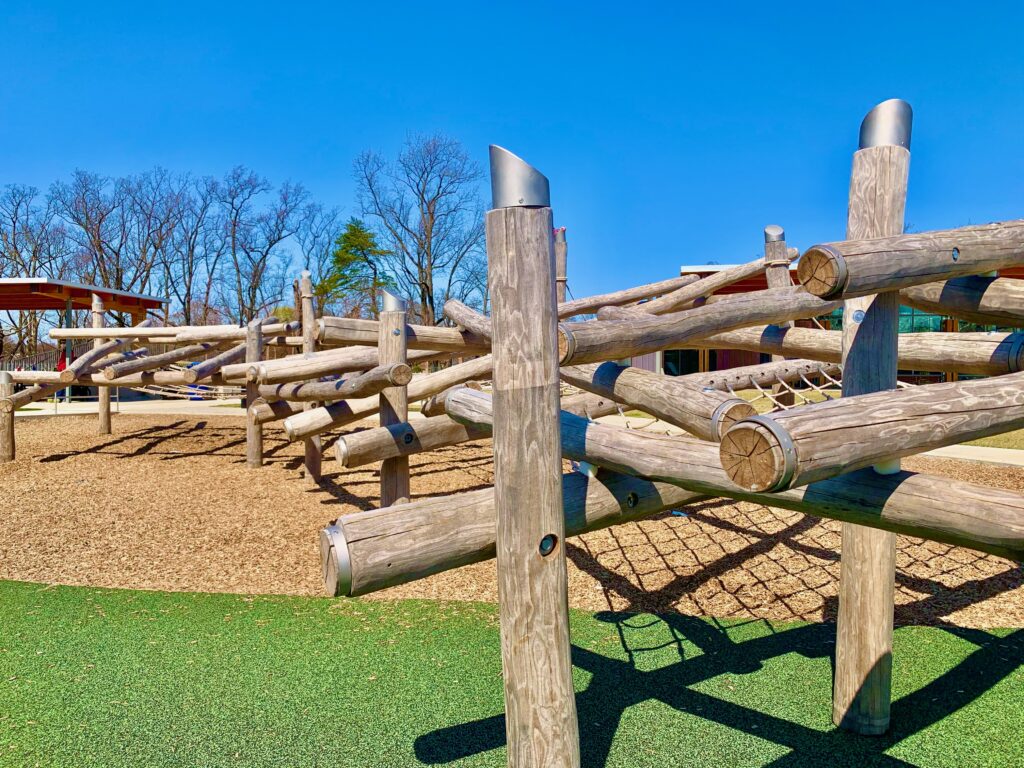 You'll walk approximately a quarter of a mile and then approach a long set of steps leading to the playground. For easier access to the playground, closer parking is available near the playground at N Park Dr.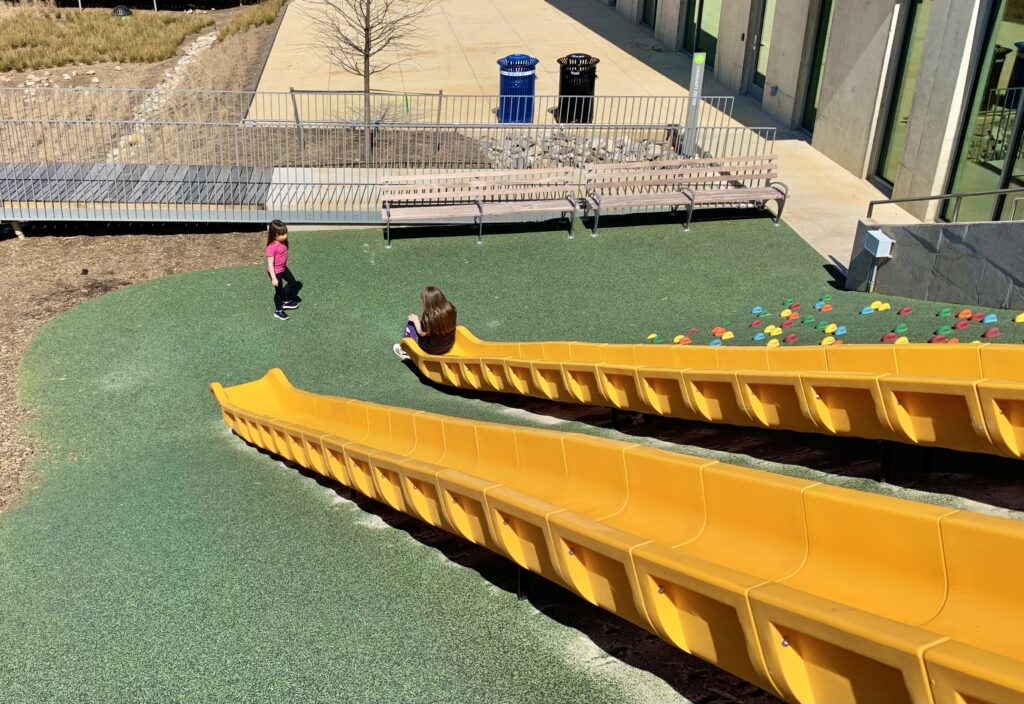 Lubber Run playground is unique because of its natural log climbing area. Don't miss the really long yellow slides tucked into the far corner of this playground. This is just one of the very unique playgrounds near DC.
Mosaic Park – Arlington, VA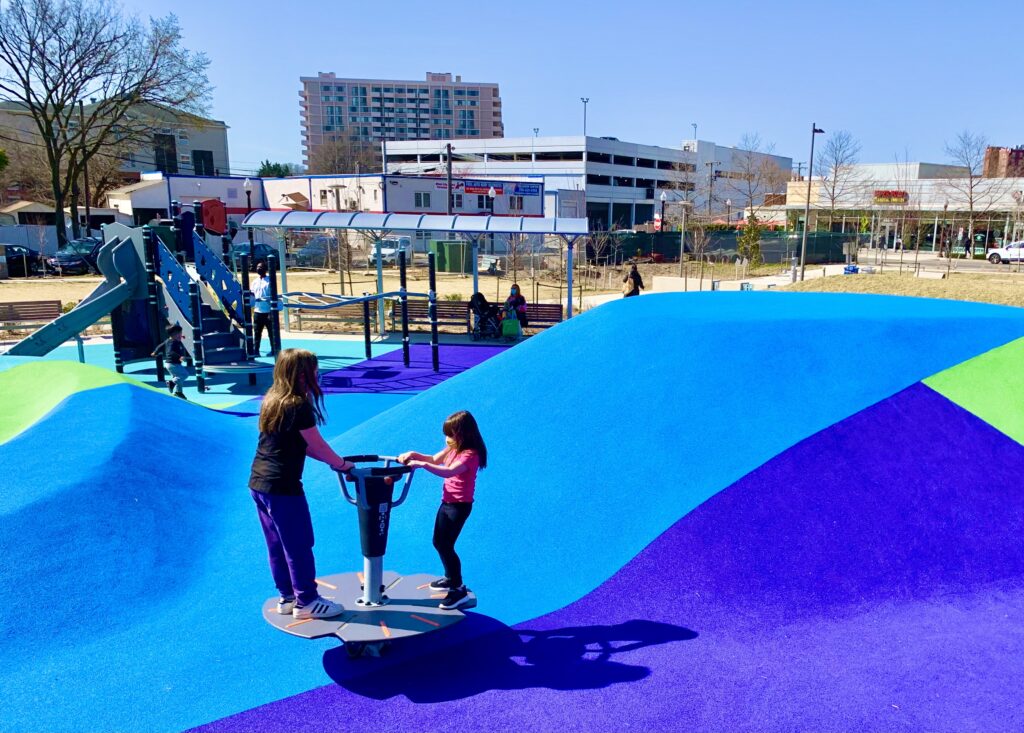 This modern playground located in a busy part of Arlington. Mosaic Park has on street parking available, and a small parking lot along one side of the playground. There was construction around this small parking lot when we visited, so check signage after the construction is complete.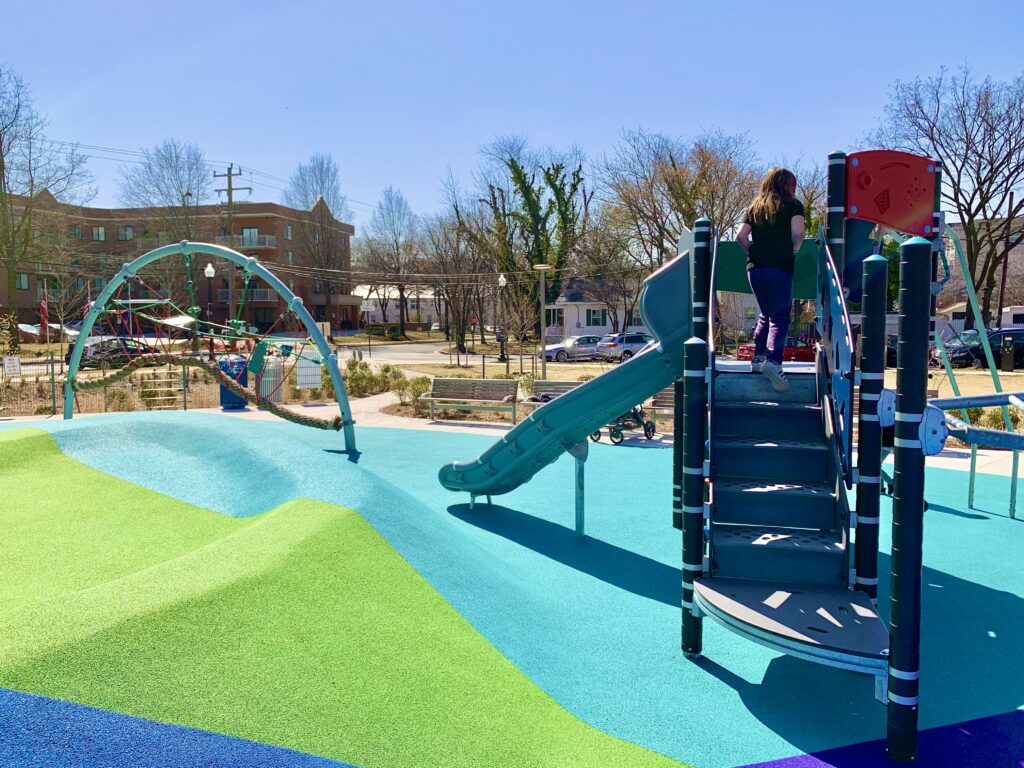 This park is very modern and colorful. The hills and valleys of this park can be interesting to navigate, and may be a challenge for toddlers. This park had a small soccer or multi-use lawn area, and a climbing wall.
Rocky Run Playground – Arlington, VA
Rocky Run Park has some nice basketball courts and an interesting playground located up the hill from the courts. There's a toddler playground, as well as a huge climbing structure for older children.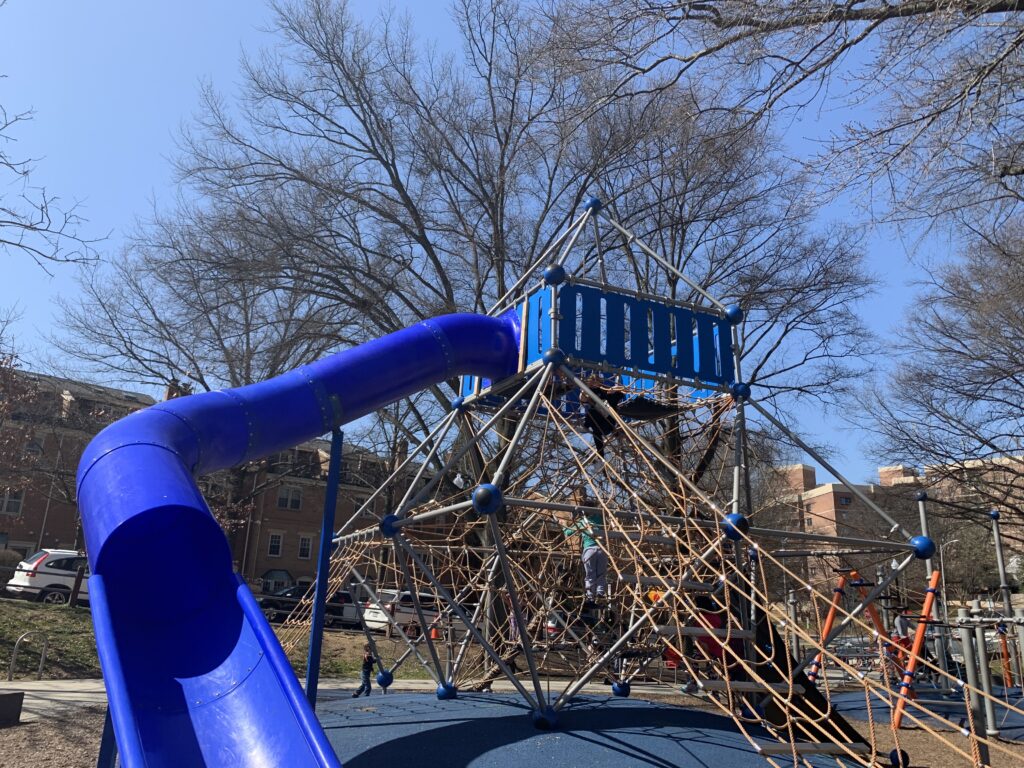 Note that when we Rock Run Park, the slide needed to be repaired and was unusable. Hopefully it is fixed soon, because it looks like a lot of fun.
Be careful on the climbing ramp that leads to the slide platform. If your children don't make it up the climbing ramp, they could slide down it and scrape against on the climbing holds. A parking lot wasn't easily noticeable, but there is close on-street parking.
Walker Mill Regional Park – Capitol Heights, MD
Walker Mill Regional Park is located in Capitol Heights, Maryland, which is east of Washington, D.C. This park has tons of details in their play structure. See if you can find the racoon hidden in the photo above! This park is large and has restrooms available near the playground (though subject to closure). There is a large red slide that goes down the hill and plenty of shaded seating areas.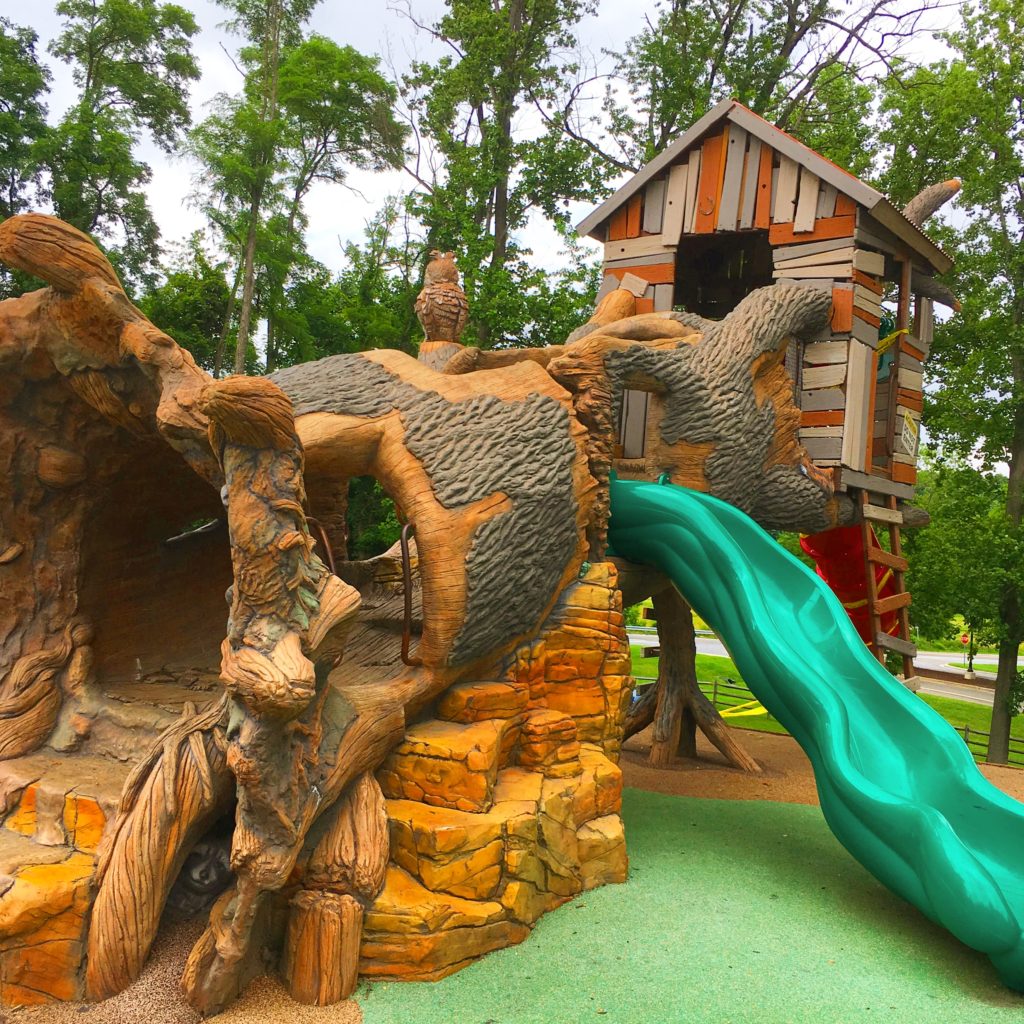 In the summer, a small spray ground is available for kids to enjoy. Therefore, be sure to bring extra clothes! It's possible for kids to get really soaked! This is a gem, and one of our favorite playgrounds near DC.
Watkins Regional Park – One of the Best Playgrounds Near DC
In our opinion, this playground at Watkins Regional Park is one of the best playgrounds near DC! The Wizard of Oz playground is full of neat details for the kids to find. The bright colors and theming are spectacular, and there is a large parking lot nearby.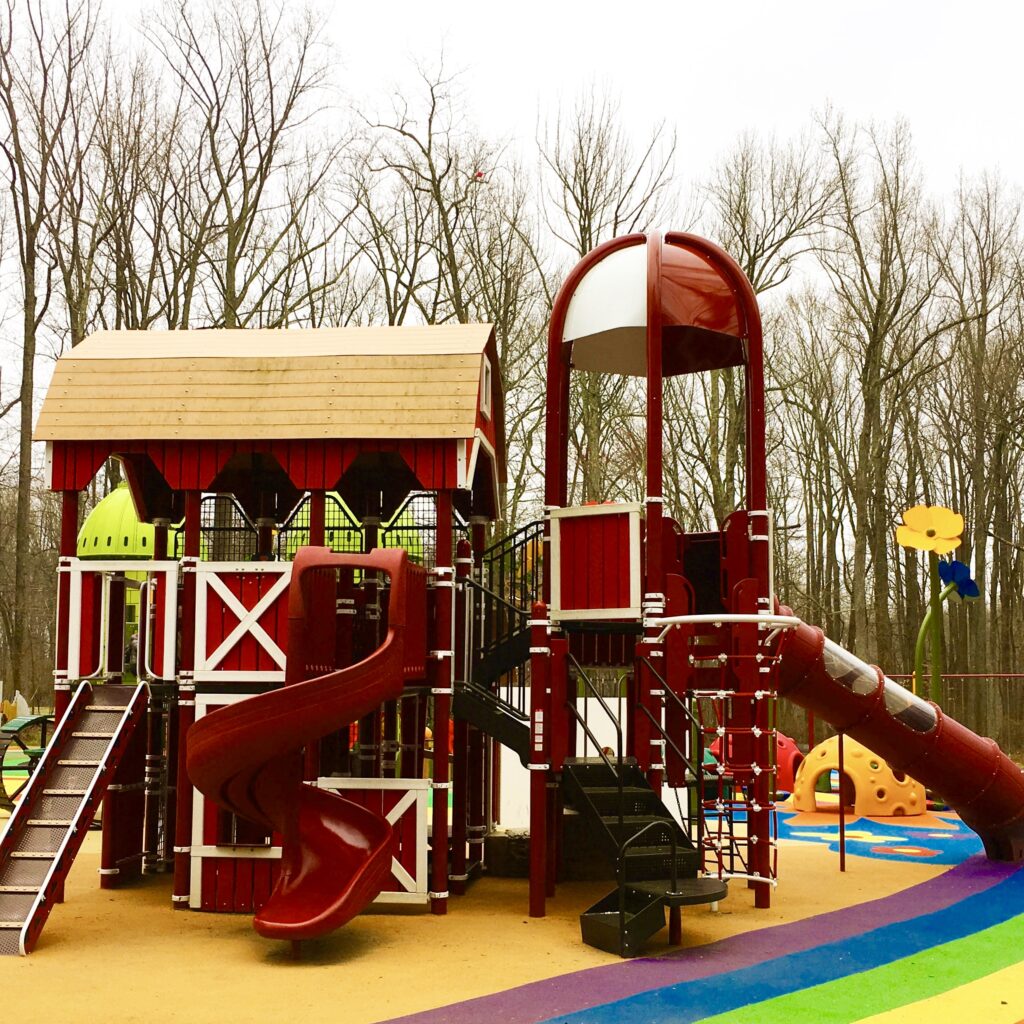 Watkins Regional Park is very large and located east of Washington D.C. in the area of Upper Marlboro. Check out more information about this beautiful park: Watkins Regional Park post.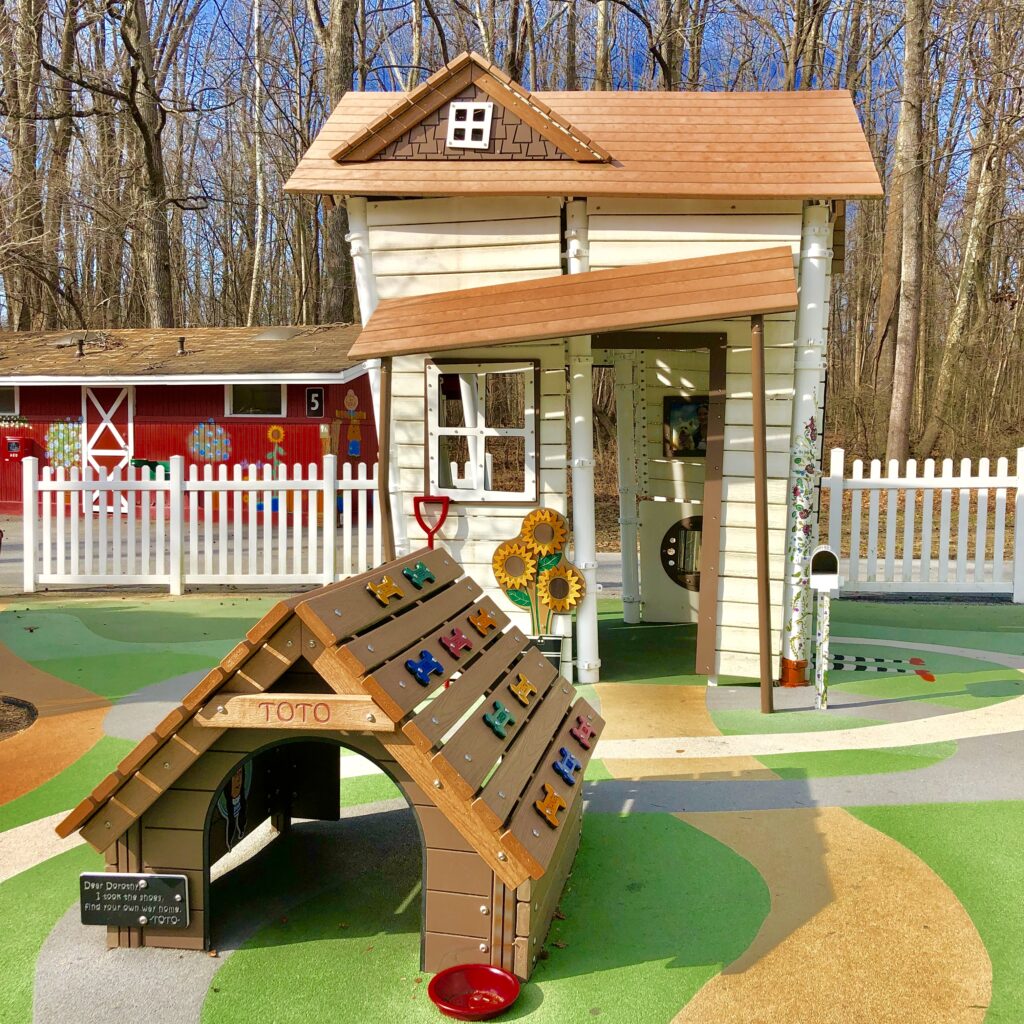 This park also features much more than just the playground. Check the status of Watkins Regional Park's carousel and train here.
Turkey Thicket Playground – Washington, D.C.
Turkey Thicket Playground has a large train play structure, small structures for younger children, and a splash pad during the summer months. The playground is located at 1100 Michigan Ave NE in Washington, D.C.
The playground is fairly large, and it includes several sections. There's one section that takes advantage of a hill, with a ropes climbers and roller slide.
Beauvoir Playground – Washington, D.C.
Beauvoir Playground is set on the grounds of Beauvoir, the National Cathedral Elementary School. The school allows the public to visit their playground during certain hours on certain days.
Typically, the playground is open when school or camp is not in session. Check out their website to ensure it will be open to the public when you visit.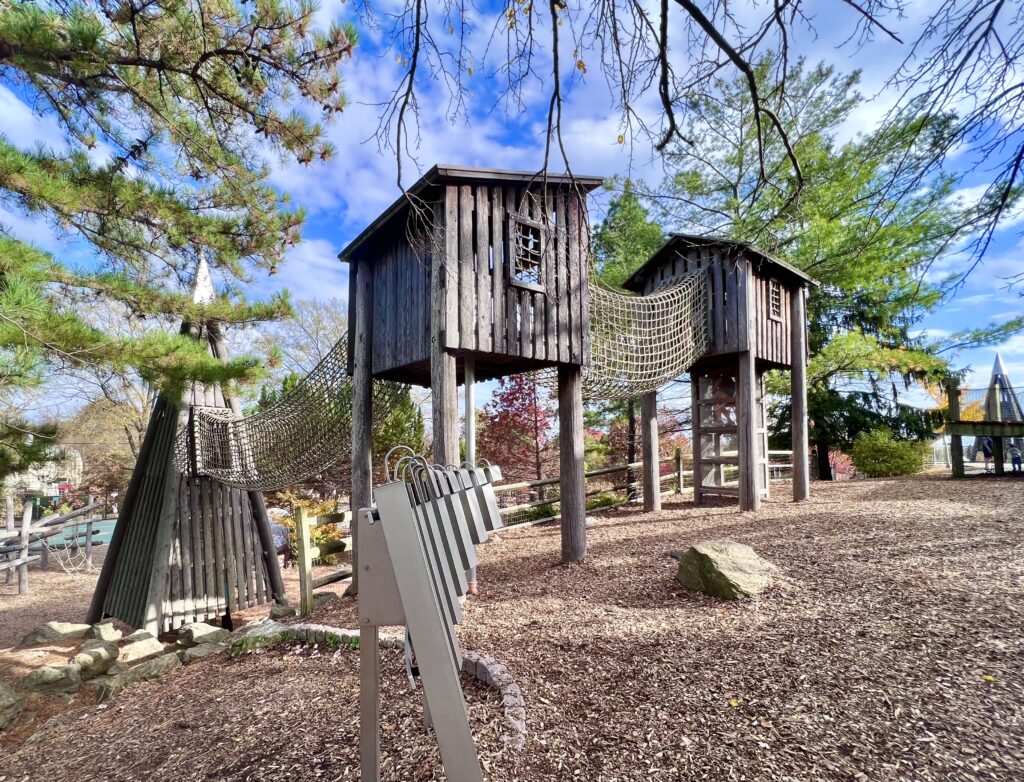 The playground is made of mostly natural materials and focuses on children's free and imaginative play. There is an area for older children with large ropes bridges and a zip line.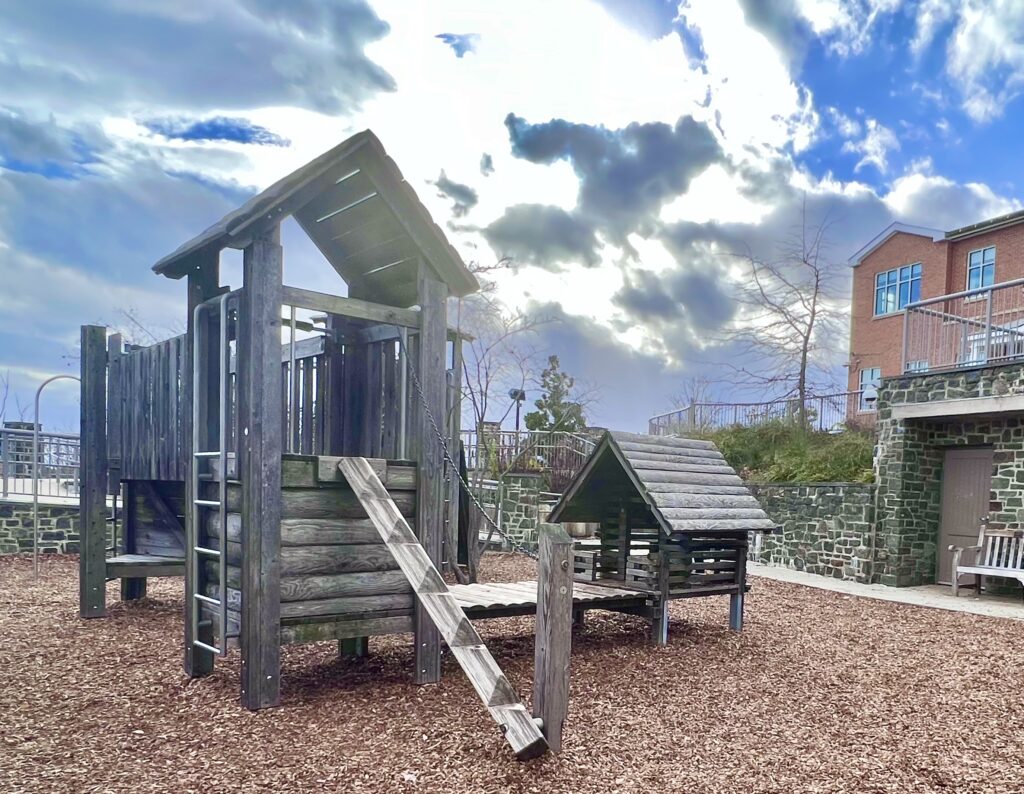 There's also a smaller playground for children. Note the restrooms at Beauvoir playground are usually closed when the park is open to the public.
Georgetown Day School Playground – Washington D.C.
Georgetown Day School's Playground is located behind the school, at 4200 Davenport Street, NW, in Washington, D.C. This is another playground that is typically open to the public when school is not in session. Always check their website before visiting, since there are can be a few weekend days when the playground is closed.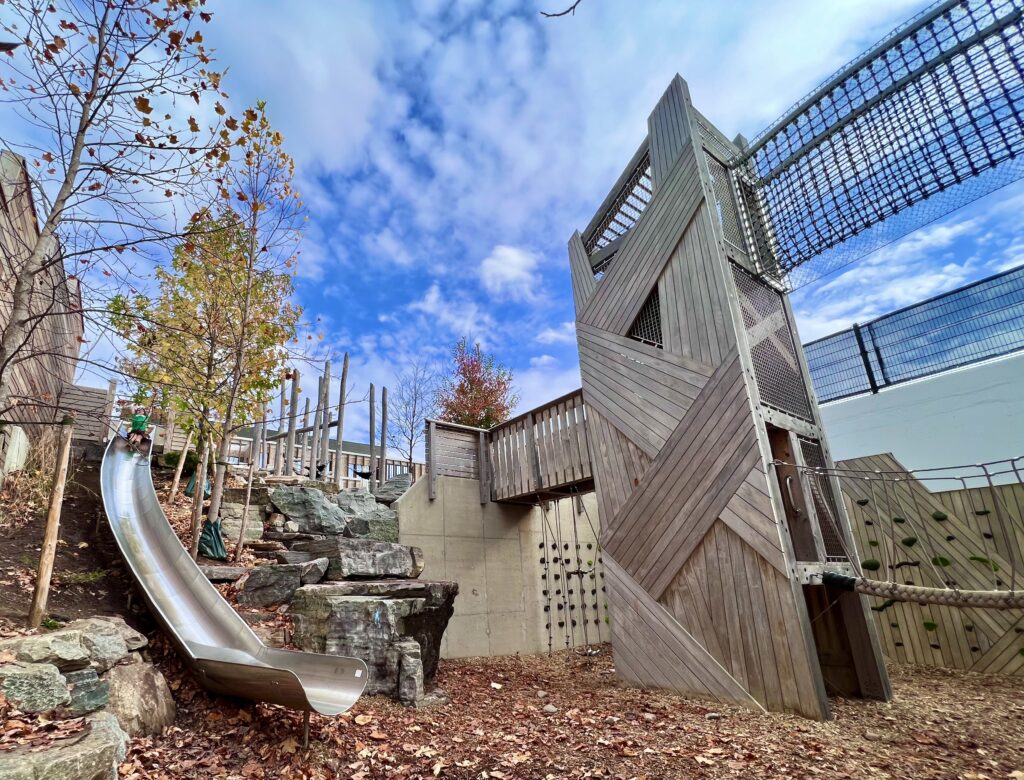 The wooden playground at Georgetown Day school consists of several levels for kids to climb and explore. There's a water play area near the exit of one of the slides. There's also a smaller playground for young children.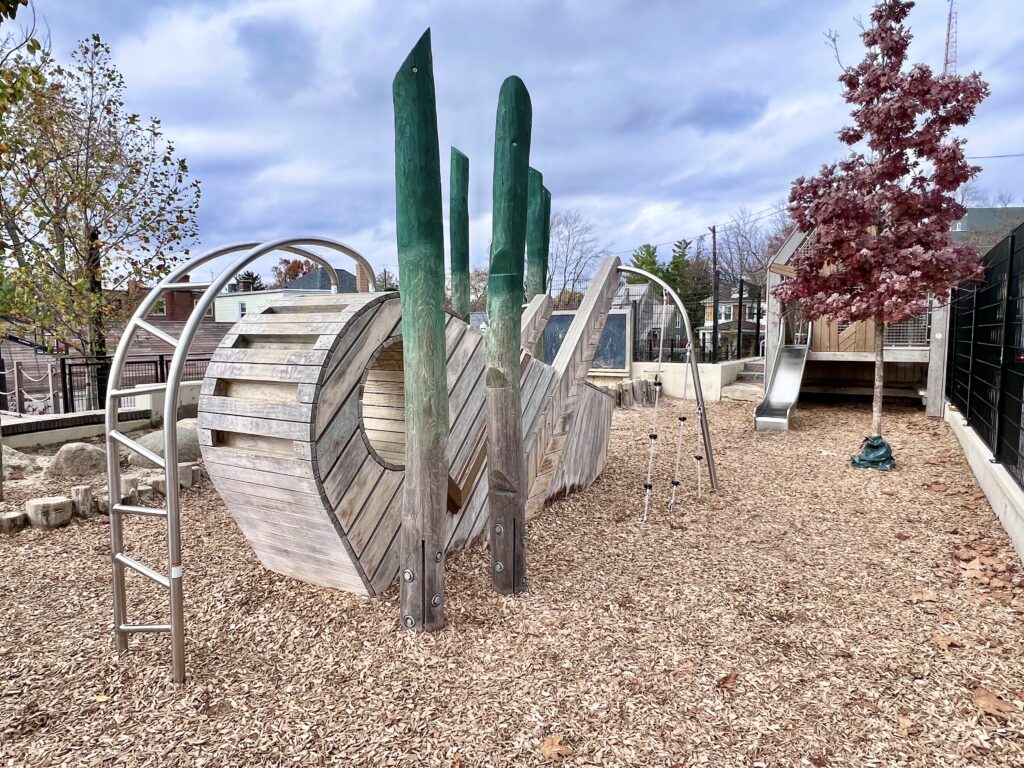 Historic Flour Mill Playground – Adelphi, MD
Adelphi Mill and the Historic Flour Mill Playground are located in Adelphia, Maryland. The address for the playground is 8402 Riggs Road. The playground is located close to the historic two-story mill. There's also a parking lot beside the playground.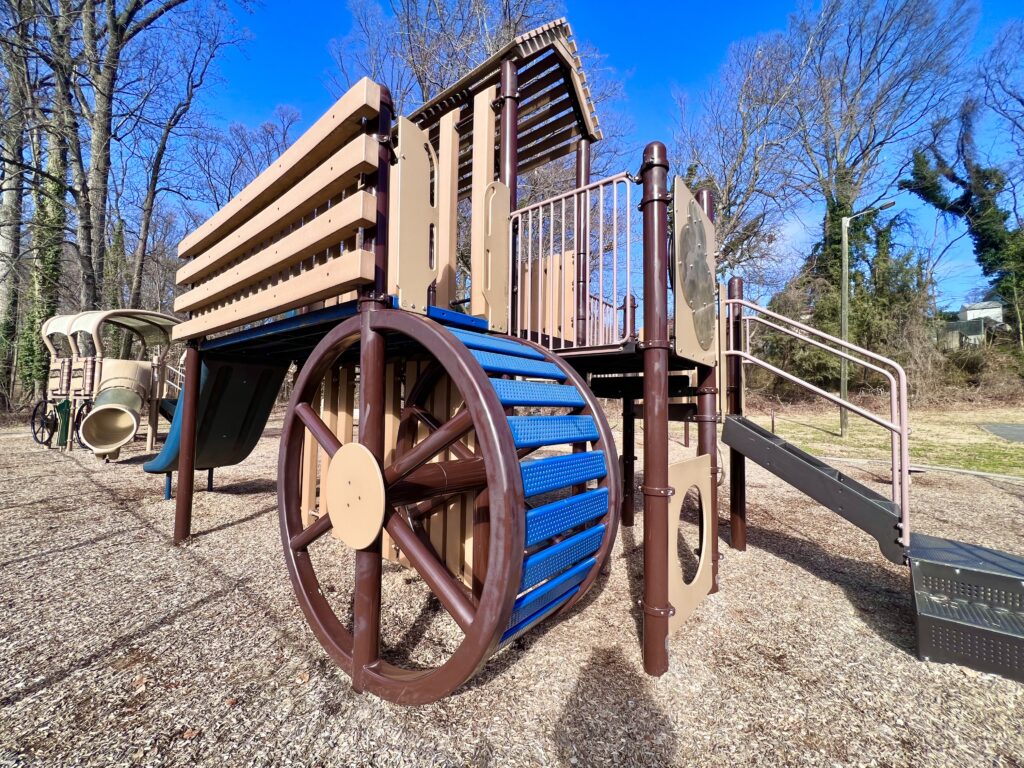 In addition to the playground structures that are a nod to the historic significance of the area, there's also a walking trail and stream at this playground.
Heurich Park – Hyattsville, MD
Heurich Park, located at Ager Road and Nicholson Street in Hyattsville, is just northwest of Washington D.C. The park has two playgrounds, one playground is closer to the main road, and the other playground is hidden down a lane.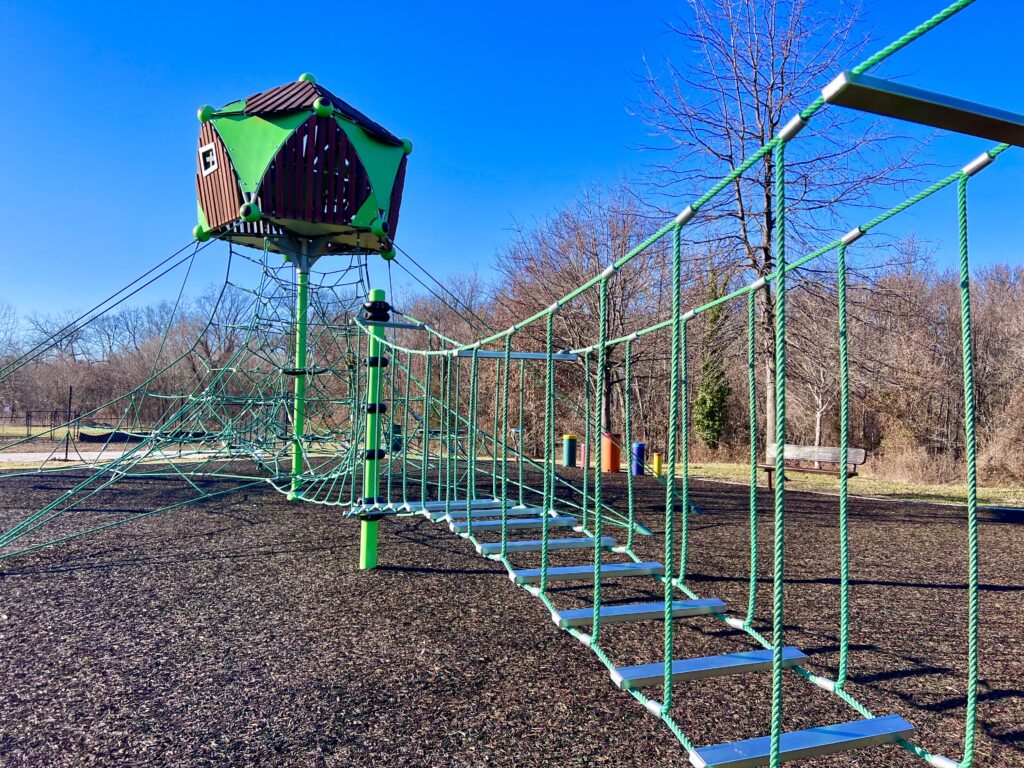 The mobility playground is the newer playground at Heurich Park. It's located beside the dog park. There's many ropes climbing structures at this playground, as well as a set of swings.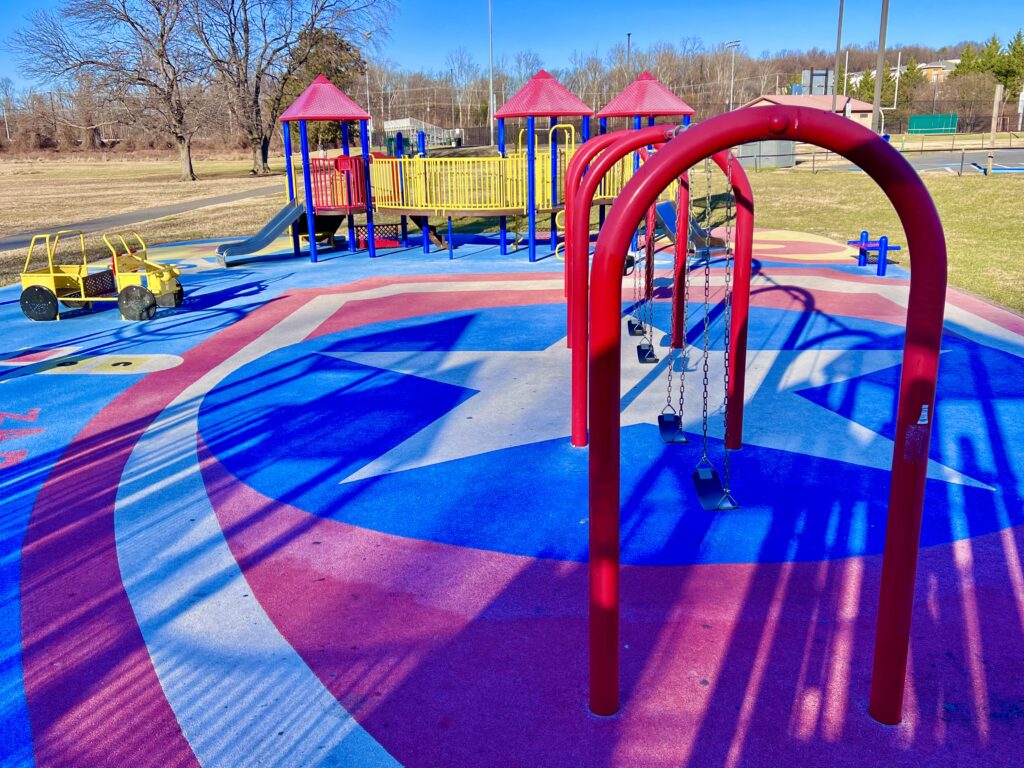 The Comic Hero Playground at Heurich Park can be found down a small driveway that takes you to the park's turf field. There's a parking lot beside this playground. There isn't much shade in the area, but there is a pavilion.
Kentland Community Center Playground – Landover, MD
Kentland Community Center has a large, colorful playground behind the community center building. The playground has a large climbing structure for older children and a tot lot for younger children.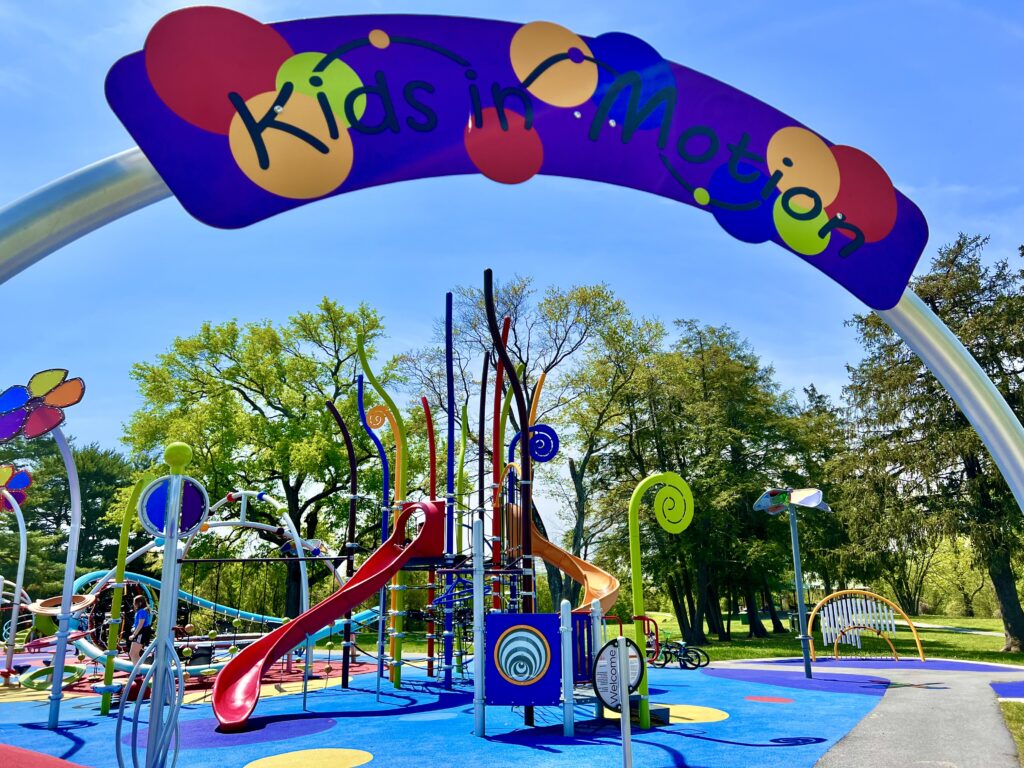 Clemyjontri Park – McLean, VA
Clemyjontri Park has an enormous playground located in a two-acre park. The park's address is 6317 Georgetown Pike, which is about a 10 mile drive from Washington, D.C.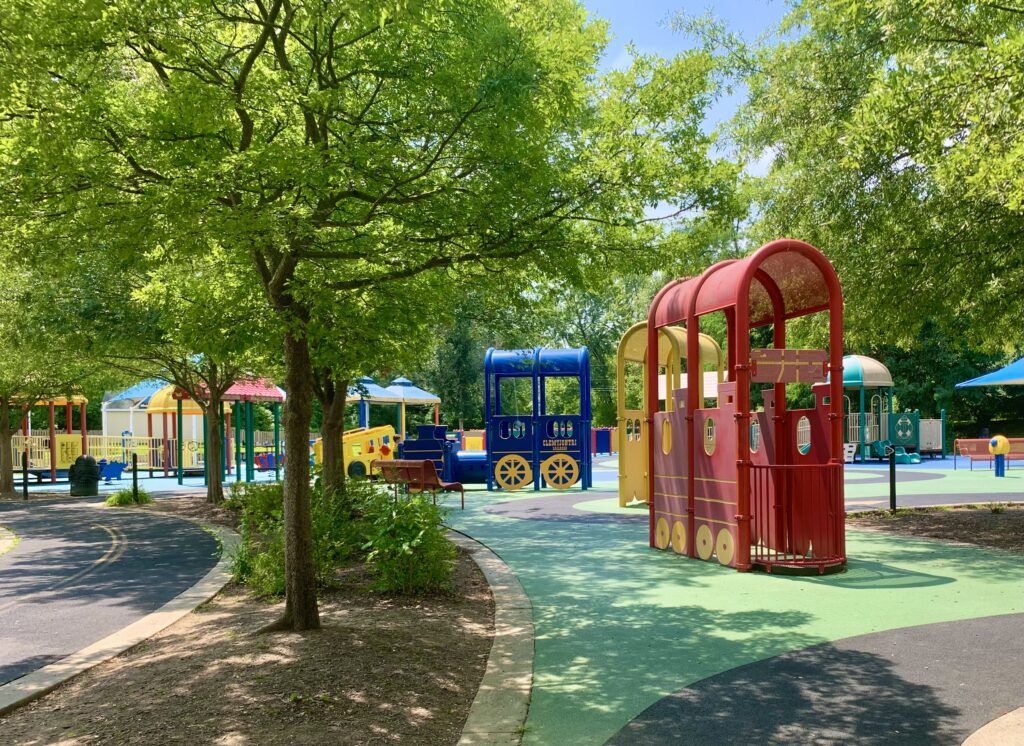 Clemyjontri Park is colorful with many different sections for different interests and age groups. There's also a carousel in the middle of the playground that operates during the warmer months.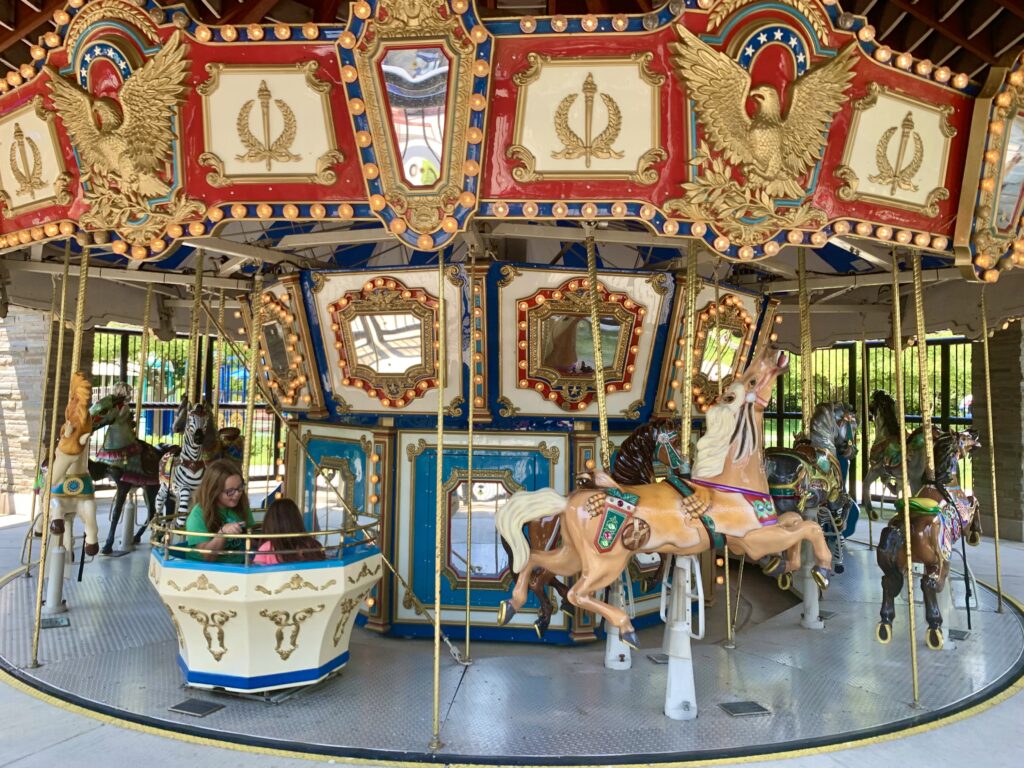 The carousel operates on specific days and times. Be sure to check the carousel schedule if your child would like to ride. Carousel tickets are sold at a ticket booth near the playground
Chessie's Big Backyard – Alexandria, VA
Chessie's Big Backyard is located in the Lee District Recreation Area. It's address is 6601 Telegraph Road in Alexandria, Virginia. The main section of the playground has a nature theme along with the nature trail.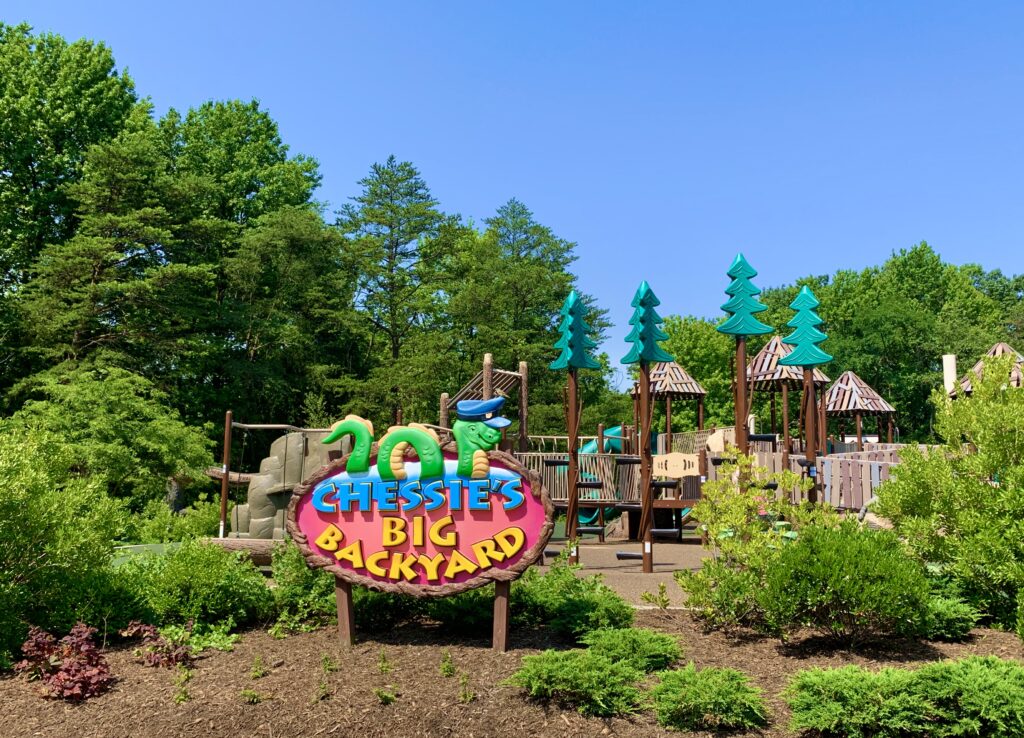 The playground also has a nautical themed playground and an entire section that's a sprayground open in the summer months.
Anacostia Park – Washington, D.C.
Anacostia Park is located in the southeast corner of Washington, D.C. It is a large park that runs beside the Anacostia River. The playground at this park is near the 11th Street bridge.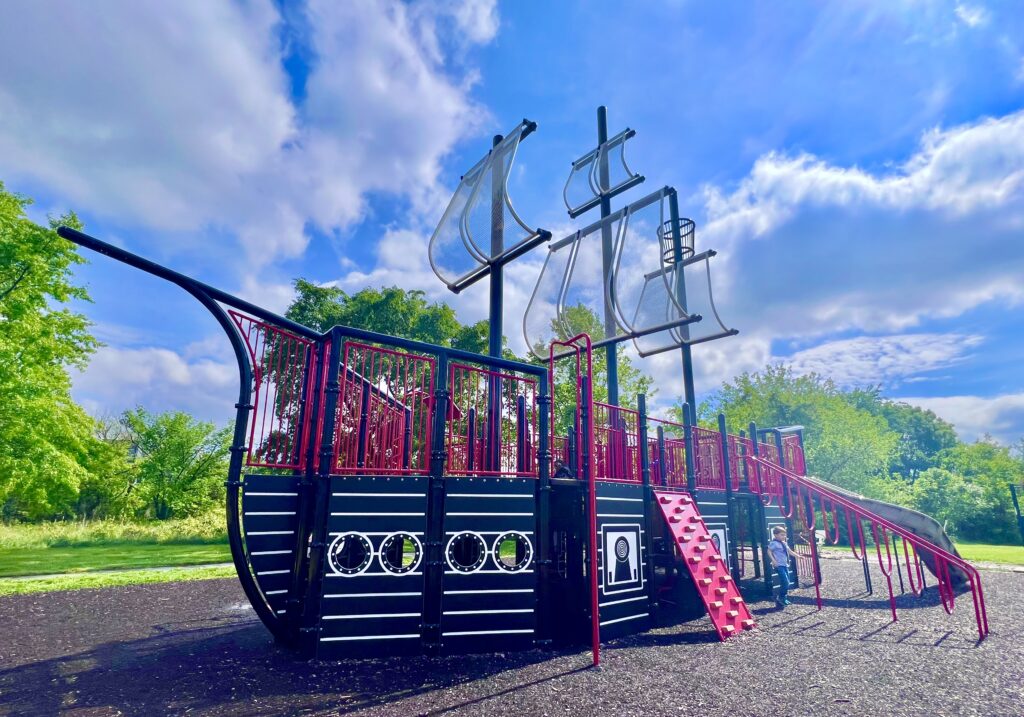 The playground at Anacostia Park consists of a large ship play structure with climbers and slides. There's also picnic tables and a pavilion in this area of the park.
Looking for more amazing playgrounds in Maryland?
Looking for more day trips to amazing playgrounds? Check out this list of the best playgrounds in Maryland.