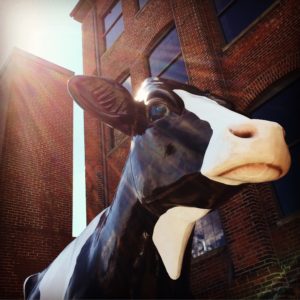 On a particularly cold winter day, we headed to the Turkey Hill Experience in Columbia, Pennsylvania. Turkey Hill Experience is located along Route 30 between York and Lancaster, and it is easy to get to from the Columbia exit. The is parking right outside the building, and it also shares the space with a Turkey Hill Convenience store. We had a buy one get one free coupon that we received from their booth at the Farm Show, and my youngest daughter was free since she is under three years old. An add-on to the admission ticket is the taste lab. This is where you can create your own ice cream using mix-in flavor and candies. We decided not to do it this time, since we did it on our last trip. Tickets for the taste lab are for a specific time slot, so plan ahead if you'd like to do this.
We walked through the museum area to the first exhibit with the milk truck. My oldest daughter loves to get in this life-size truck and pretend she's driving. She also loves pretending to milk the cow, though she got some "milk" on her pants. We hurried through to our favorite part, the ice cream taste testing. Everyone can walk up to the ice cream counter and ask for a sample of approximately ten different flavors that they have to taste each day. We quickly settled on our flavors and took a seat to watch the show about Turkey Hill.
In addition to ice cream tasting, there is also a section of their tea and lemonade flavor samples. I love that I get to taste a little of each flavor, because it helps me decide what to get at the grocery store without buying a half gallon just to try it. Once we had our fill of ice cream and tea, we went to the stations where you can design your own ice cream flavor on a computer and create a custom ice cream container. Next, you create a commercial for your new flavor, and this is the part t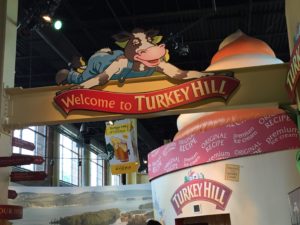 hat my daughter likes best. She dances around in front of the green screen, and then hurries over to watch the play back.
There are a couple places for the kids to play and run off some energy at Turkey Hill Experience. There's a ball pit for smaller children and also a tunnel slide. We played in this area for a while before heading back to get a few more samples of ice cream before we left. We looked around at the gift shop, and I also noticed a large area for birthday parties. We took a few photos with the giant cow outside the building before heading back home for the day.
Things to Remember:
Have a cooler in the car to store your taste lab creations if you visit during hot weather.
This attraction can get busy in cold weather or rainy weather during the summer.
Purchase tickets for the taste lab online before your trip, since time slots can fill-up quickly.