Sponsored Post – Cumberland Valley Visitors Bureau hosted us at Allenberry Resort. All opinions are my own.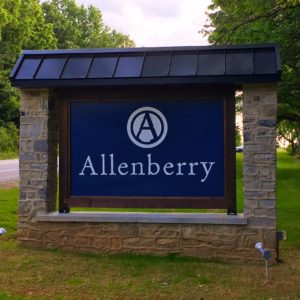 Allenberry Resort is nestled in the woods by the Yellow Breeches creek in the small town of Boiling Springs, Pennsylvania. The resort is being carefully restored and preserved over the last year or so and is emerging as a gem to the Cumberland Valley area. Many know the resort from the Playhouse that sits on its grounds. With the recent renovations, the Playhouse is set to reopen this summer. Some of the shows will be especially family friendly, including a special Family Series of plays that will run at different times of the year.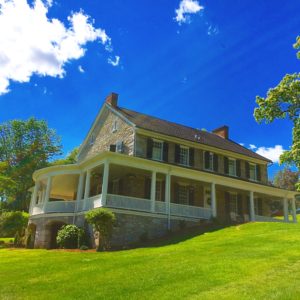 Recently, we stayed on the Resort property and got a first-hand look at the completed renovations and those still in progress. Some of the major buildings on the property have already been renovated, including the Pine Lodge which houses several guest rooms. We stayed in a private cottage, which had also been revamped with modern furnishings and upgrades. The cottage's back deck was perfect for watching the sun rise and with two bedrooms its size was nice for traveling with children.
My daughter's two favorite things about staying at a resort or hotel are the pool and the breakfast in the morning. Allenberry was still working on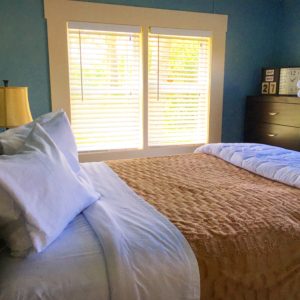 preparing the pool for the summer when we stayed, but it looked very inviting as we explored the grounds. The continental breakfast in the morning included a staple of the resort, sticky buns which she loved! There was also cereal, yogurt, fruit, and other quick breakfast foods to enjoy.
We spent a good portion of an afternoon exploring the grounds. The Yellow Breeches creek was beautiful and peaceful, and it was relaxing to sit on a bench and watch fly fishermen at work. There is a huge tent on the grounds for wedding receptions and a fabulous mansion to also rent for weddings. The staff was very inviting, and we were sad to leave the next day! We're very excited for the shows to start in the playhouse, so we can come back and enjoy the resort again.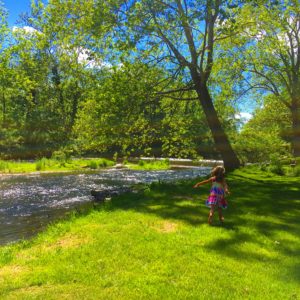 Sponsored Post – Cumberland Valley Visitor's Bureau hosted us at Allenberry Resort. All opinions are my own.