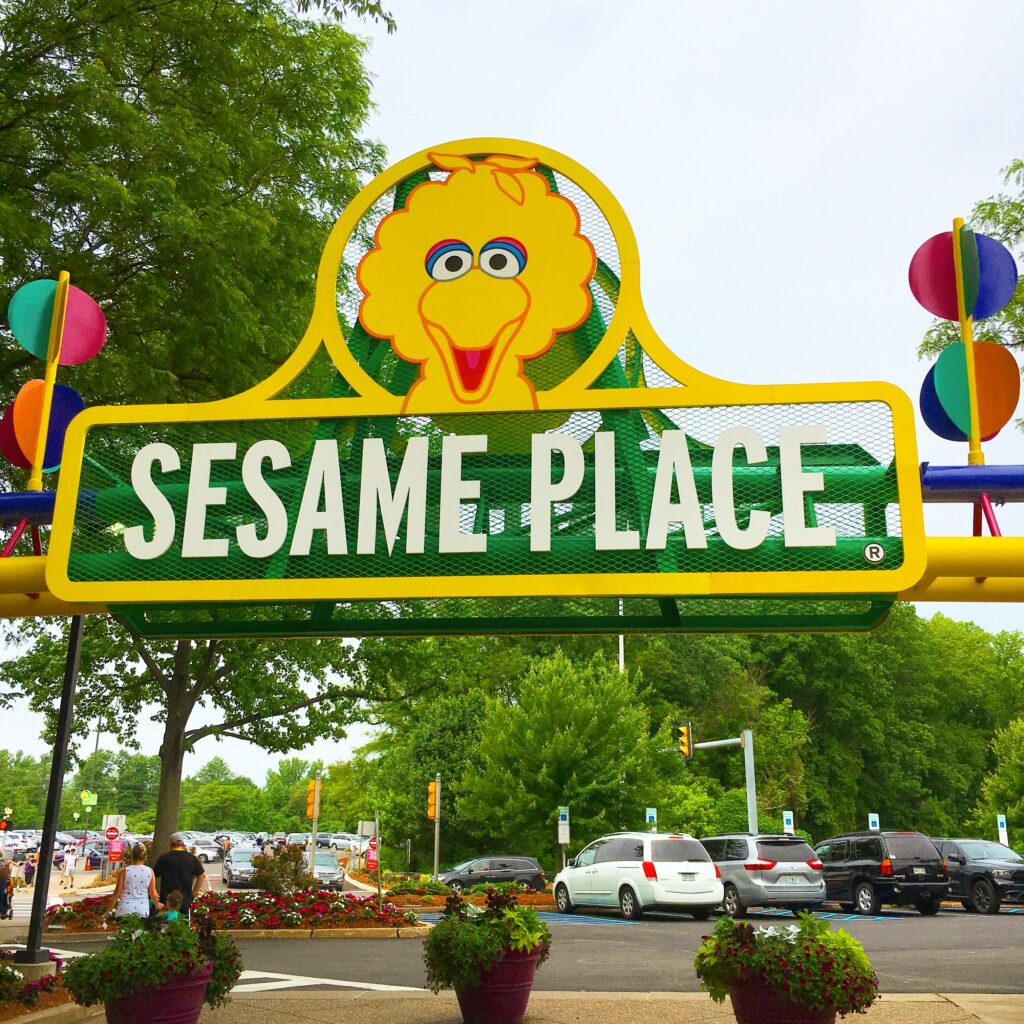 Sesame Place in Langhorne, PA is a Sesame Street-themed amusement park. It's located about 25 miles northeast of Philadelphia near the New Jersey border. The park first opened in 1980, and includes rides, shows, and a water park. It is owned by SeaWorld Entertainment, which also owns Busch Gardens, Aquatica water parks, and of course, SeaWorld. The park opens in early May each year. It operates throughout the remainder of the seasons including a special Halloween and Christmas event.
Arrival
We visited on a holiday weekend at the end of May.  Parking options include general and preferred parking.  The general parking lot is across a busy street from the park. However, there is a large crosswalk section to get to the entrance.  You can save a small amount of money by purchasing a parking pass online.  When we arrived right before park opening, the general lot wasn't very full.  We were able to get a spot within the first few rows.  Ensure you remember the row or the Sesame Street character that is on the pole near where you parked.
As we crossed the street and approached the park, there was a bit of a line to get in.  The line went fairly fast, and we were inside the park within about five minutes.  There are restrooms before entering the gate, which we quickly took advantage of before getting in line.  When entering the park, immediately to your left and right are roller coasters which have a minimum height requirement.  As you walk toward the back of the park, the majority of water rides and water park areas are to your left.  The dry rides are on the right.
Sesame Place Coasters
This year, the park opened its second family-friendly roller coaster, called Oscar's Wacky Taxi. The coaster is a one-of-a-kind wooden-steel hybrid, that is inspired by a taxi driven by Oscar the Grouch. We visited this coaster first, but found that later in the day the line was shorter, so we rode it again. While the initial hill of the coaster isn't very tall, there are a few air time hills and a banked turn that give the coaster a bit of a punch.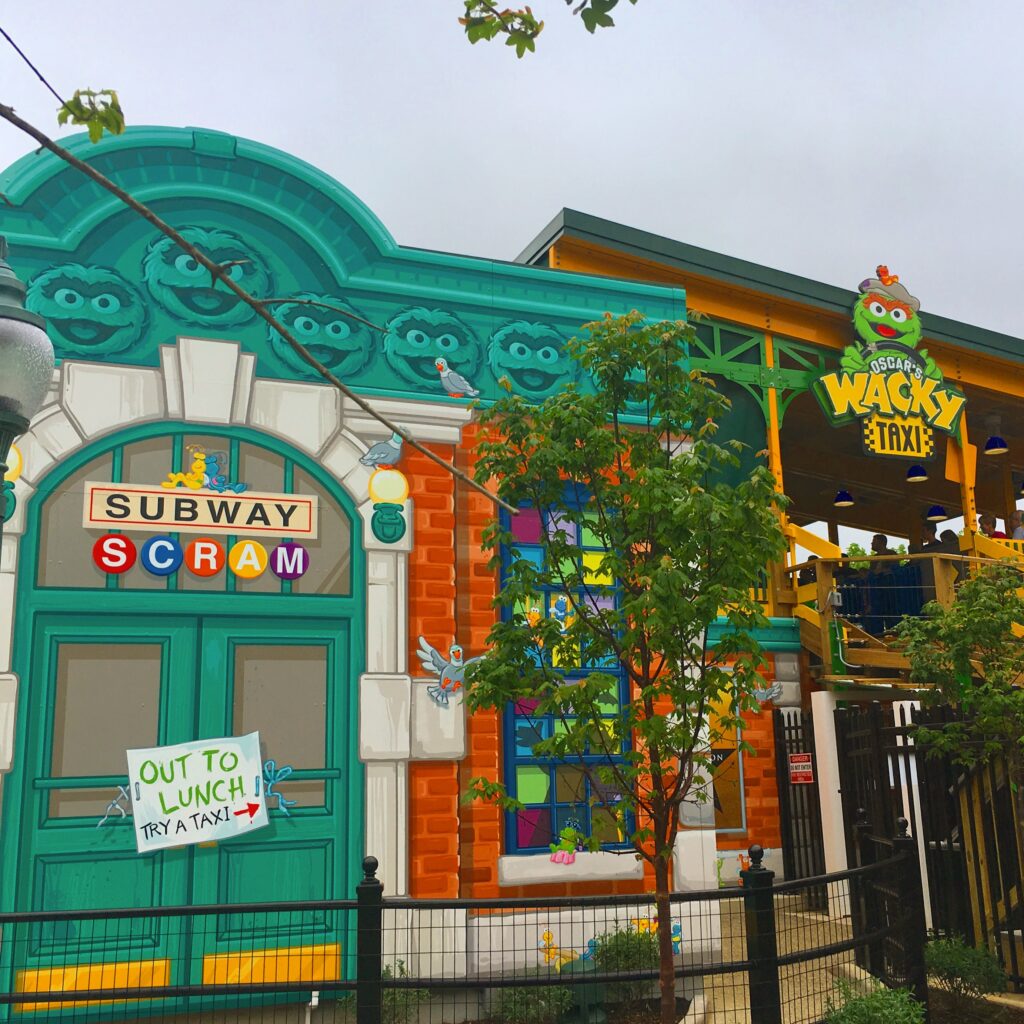 Vapor Trail, the other coaster in the park, is a steel coaster that is fairly smooth. It does include a lot of turning motions, so if going around in a circle isn't your thing, this coaster may not be for you. Again, the line for this coaster was longer in the morning, and we decided to skip it. When we checked it before we left, we were able to get right on with no wait.
Sesame Place Meet & Greets
As we ventured further into the park, we often came across characters doing meet and greets. There is a schedule in the park map, but we were able to meet with the Count, Cookie Monster, Elmo, and Oscar the Grouch without any planning. We only waited about 5-10 minutes to see each of these characters, and my two-year-old and six-year-old had fun interacting with them. Most characters had a staff member with them that would take photos for you with your camera or with their camera. They'd place a photo wrist band on your arm, which you could use to access your photos and decide whether to purchase them.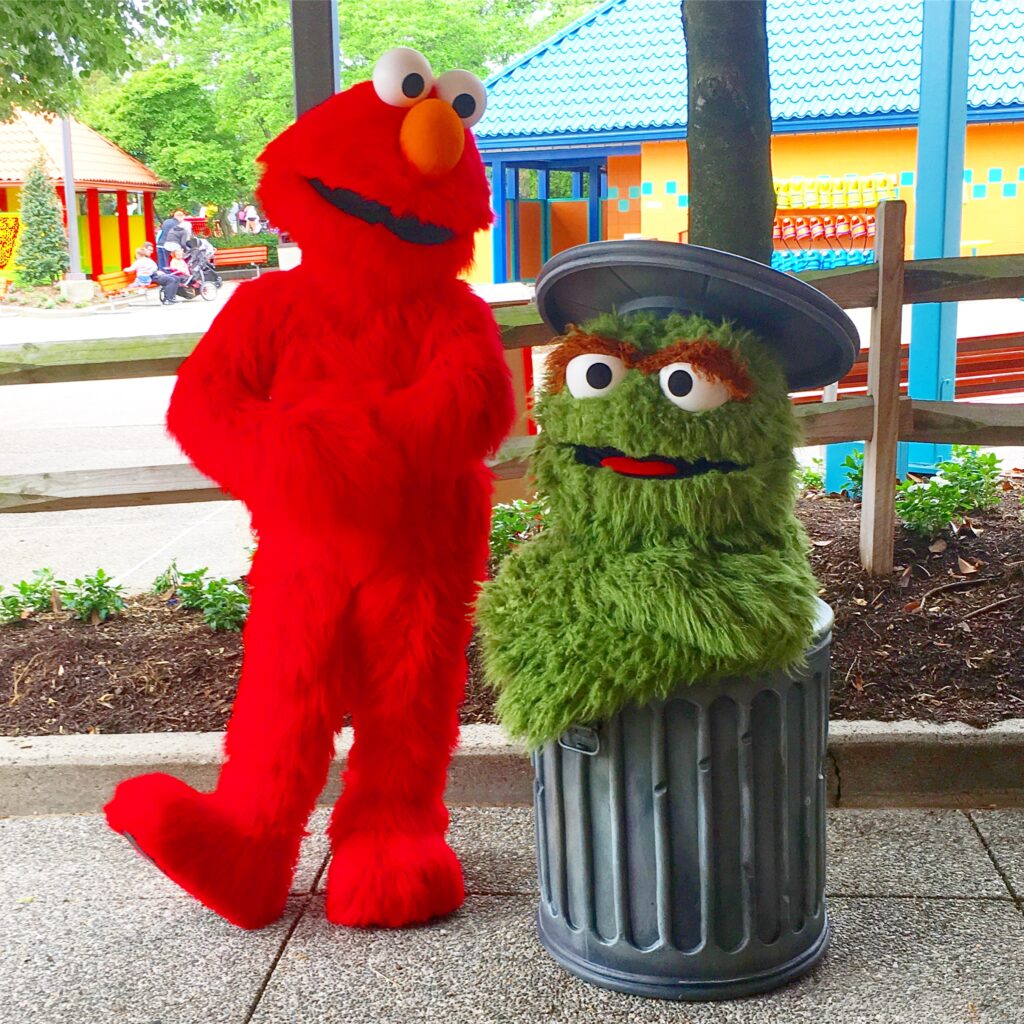 Sesame Place Shows & Rides
There are a few different shows to watch, and when we visited we watched "The Magic of Art" show. It was cute, fairly short, and mostly kept my kids' interest. There's usually a parade to watch, which we ended up leaving before it started, since it was later in the afternoon. The lines for the smaller rides were fairly long, so we ended up skipping most of them. I'm guessing it was busy because of the holiday weekend. We did ride the carousel, which had a really cute theme.
One of my kid's favorite areas was the Monster Clubhouse, which had a net area they could climb and then walk across.  Since we had a two-year-old, I felt as though I should follow her.  The kids loved it, but they were bouncing everywhere on the netting, and it was hard to keep up!  Afterwards, we headed to look at the water rides. However, it was a bit too chilly to change into our swim suits.  The water rides were miniature versions of regular water park rides. They looked really cute to get kids started with tube and raft slides.  Instead of doing the water rides, we enjoyed some rest while watching the kids play in the large sand area near the water park portion of the park.
Overall, Sesame Place is smaller than the large amusement park we are used to visiting. Though, this is nice because it is geared toward small children.  In my opinion, the age sweet spot for this park would be 2 – 4 years old.
Looking for other things to do near Langhorne, PA?
Langhorne, PA is close to Philadelphia, which has many fun attractions for kids. Check out posts about: Legoland Discovery Center, the Franklin Institute, and the Please Touch Museum.
Tips for Visiting Sesame Place
Look for Groupons for ticket discounts, they tend to have them throughout the year.
If lines are long for the coasters in the morning, check them out again before leaving the park in the afternoon or evening.
Prepare your children for whether you plan to do water rides before arriving at the park. The water rides are spread out, making it impossible for the kids to not see them.