Sponsored post – Cherry Crest Adventure Farm hosted us.  All opinions are my own.
Cherry Crest Adventure Farm in Ronks, Pennsylvania (near Lancaster) opened a major new attraction in 2017, Sproutsville.  It is a tiny village for kids that includes seven different structures, and represents the best parts of a town for pretend play.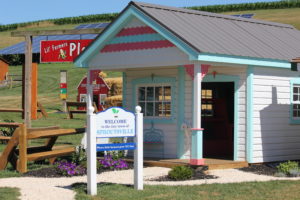 When entering Sproutsville, the first building to the left is the Ice Cream Shop.  The shop serves pretend cakes and other treats, and of course, ice cream.  There are twelve different flavors of ice cream, and the scoops of ice cream are actually large puff balls.  There's a working cash register to "pay" for your dishes and cones, and even aprons that the kids can wear when pretending to work in the shop.  This seemed to be the most popular building, with the barn being a close second.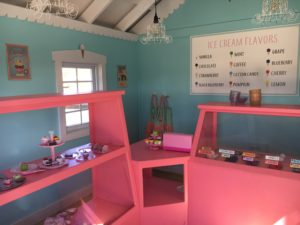 Next is the Farmers Market, where kids can use baskets and shopping bags to pick up all the necessities.  A wide variety of fruits, vegetables, dairy, and dry goods are available for "purchase" at the Farmer's Market, and the Market also includes a scanner and cash register.  Our favorite part of this building was the scale to weigh the fruits and vegetables.
Beside the Farmers Market is the School House, with adorable vintage looking desks and a chalk board at the front.  Kids can write on the board or point to different places on the globe.  Next door is the post office, with mail carrier uniforms and hats, as well as mail and bags to do the deliveries.  There are plenty of pieces of mail to "deliver" and each building has a mail box to receive mail.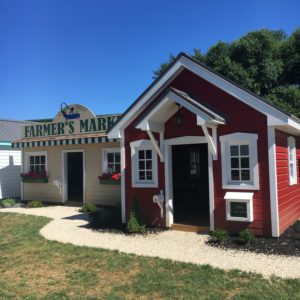 Every town needs a place to take their pets, so the veterinary hospital is located right around the corner.  This building is fun because of its details, such as cages for each stuffed pet.  Each pet also has a collar with their name on it, which matches up to a cage.  There's an x-ray machine and plenty of medical devices including stethoscopes with heart beat sounds, a place to bathe the animals, and a doggie door with a gated area for the "pups" to play.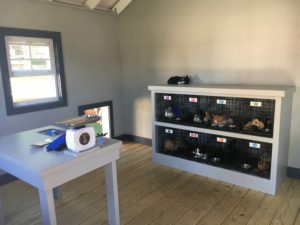 The center piece of the village is the barn & silo, which has two stories and an enclosed tube slide to exit.  Inside, kids can collect eggs from the chickens and send them down a shoot.  They can also send "hay" up to the second story with a pulley system.  The last building in the village is the garage, with a kid-size tractor and other smaller ride-on tractors to pedal around a course.
Overall, the town is very well done, with accents and details everywhere.  It's landscaped beautifully and provides plenty of space in the center of town for adults to watch their children.  The buildings are big enough for adults to stand in, though some people may need to duck their heads as they enter in the doorways.  There is only one entrance and exit to the town, making it easy for adults to stand close to the exit, knowing they can keep track of their children from that one location.  There are also a couple nice trees right outside the fence of Sproutsville, with picnic tables and chairs to relax.
For more information about Cherry Crest and their other fun activities, check out my blog post from our visit last year.
Visit Cherry Crest's website for operating hours, ticket prices, and more details.
Sponsored post – Cherry Crest Adventure Farm hosted us.  All opinions are my own.