Sponsored Post – Visit Hershey Harrisburg hosted our trip to Indian Echo Caverns – All opinions are my own.
Indian Echo Caverns is a limestone cave located in Derry Township, near Hummelstown and Hershey, Pennsylvania. The cave was formed by the flow of water over the span of millions of years.
A visit to Indian Echo Caverns includes a guided tour of the cave, as well as a petting zoo, picnic area, and playground. They also have a gift shop where the timed-admission tickets to the cave are sold, as well as souvenirs relating to the caverns.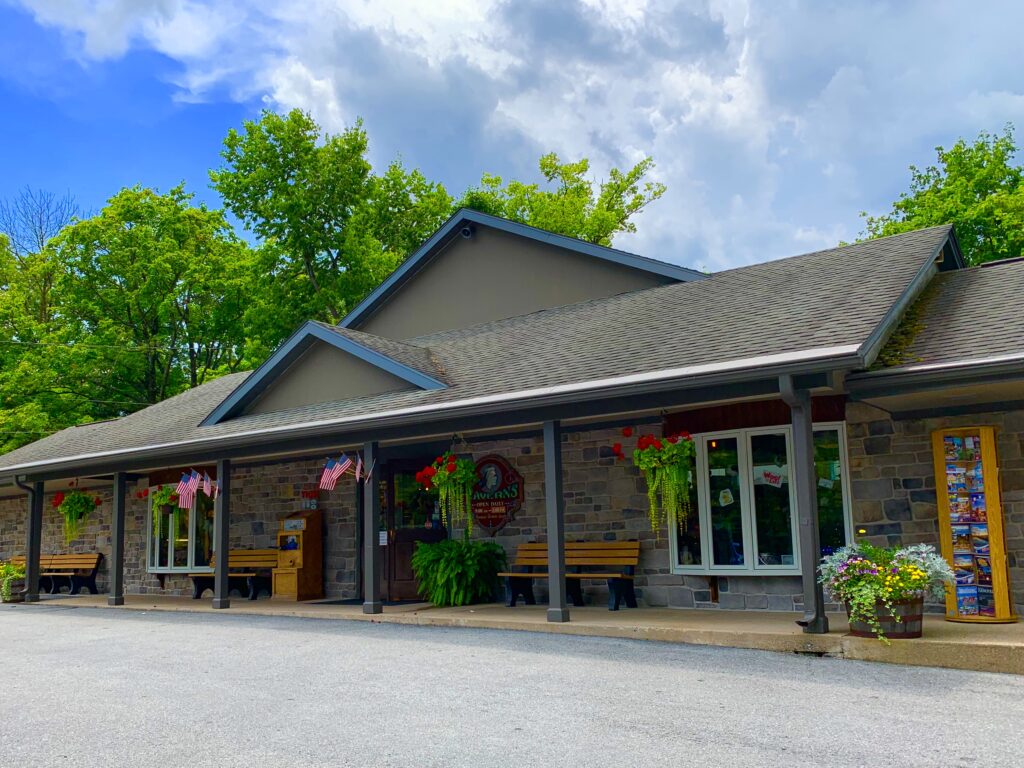 Upon arriving at Indian Echo, there is ample parking in their grassy parking lot. Before arrival, it's best to purchase your timed tour tickets online via their website.
Other Attractions at Indian Echo Caverns
When they announce the tour groups, you can hear it throughout the gift shop and at the picnic and playgrounds. We arrived at a particularly busy time during the mid-afternoon on a summer Saturday.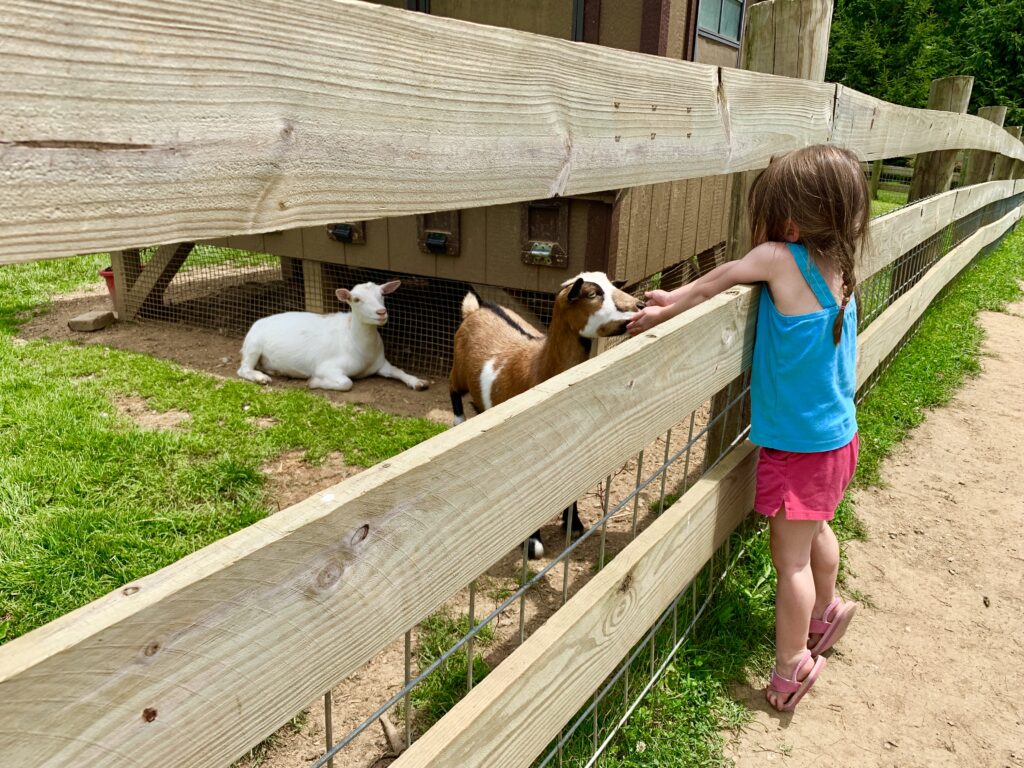 Luckily, there is plenty to do while you wait for your tour to begin. There's a large playground and petting zoo to keep the kids busy. While we waited, we fed goats and played on the playground. With just a few minutes to spare, we took the kids to use the restroom before our group was called.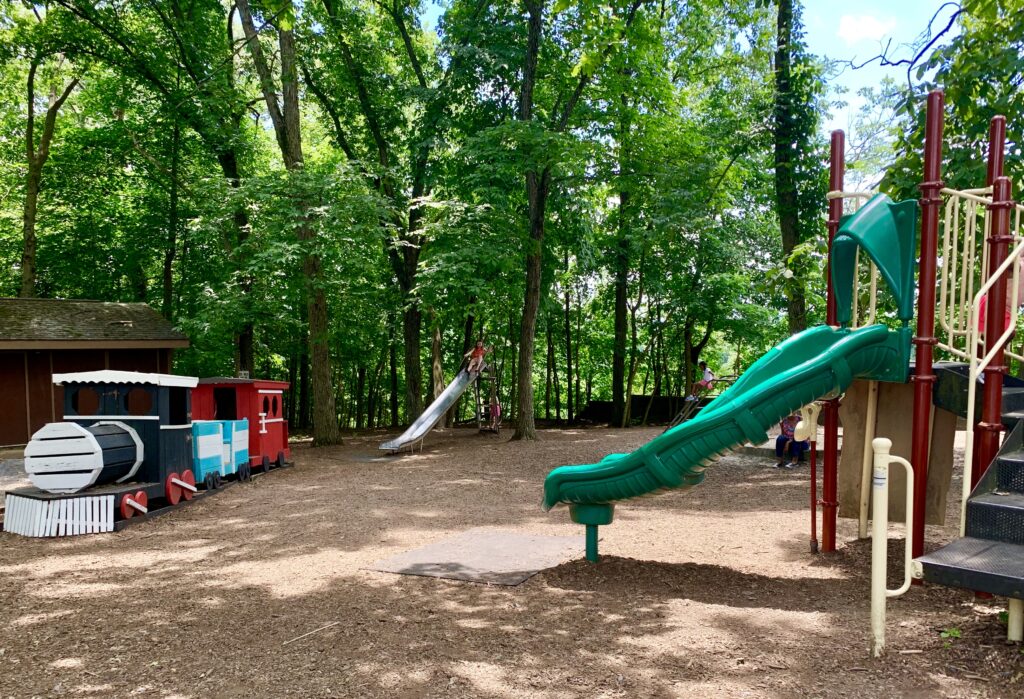 Touring Indian Echo Caverns
The tour is a total of 45 minutes in length. After our tour guide explained some rules of the cave, like not touching the walls, we headed down a gradual slope to a set of stairs. There were a lot of stairs, and they were much easier to navigate on the way down than they were on the way up!
Our tour guide took us through the caverns, as we explored several "rooms" and passageways inside the cave. There are legends and true stories that are associated with the cave. Our tour guide pointed out many of the natural elements of the cave and explained how they were created.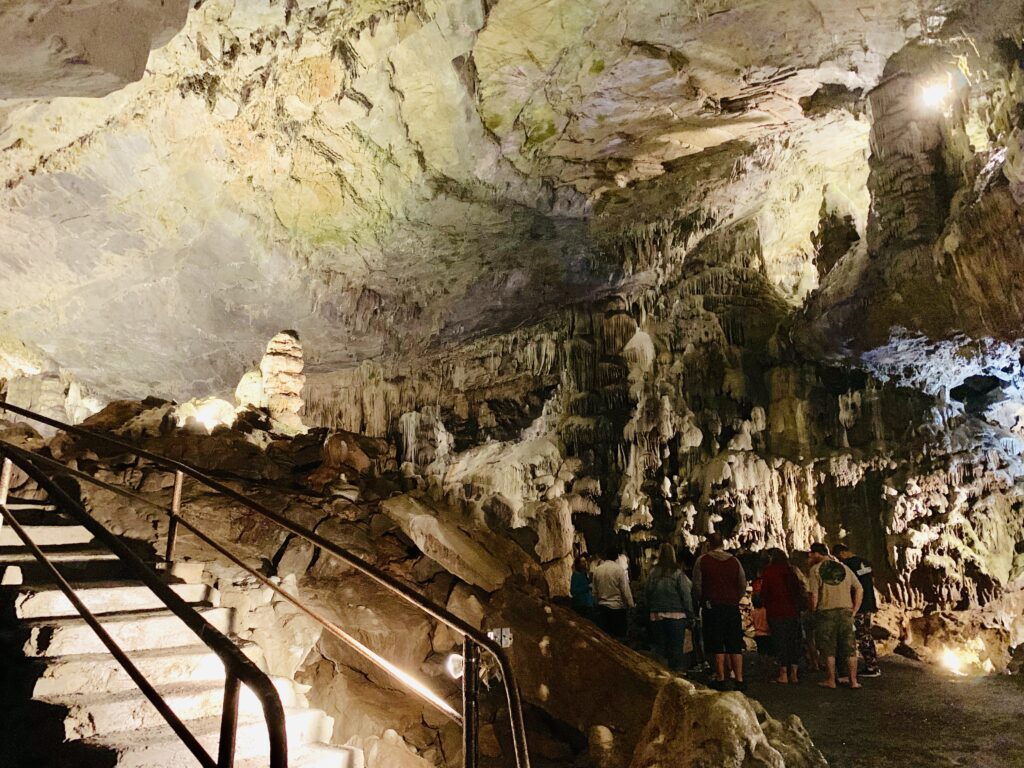 The tour guide stopped at some places and talked, but my three-year-old stayed interested and entertained the entire time. The floor of the cave is mostly gravel with some larger rocks, and my kids didn't have any problems navigating it. There is a point where the tour guide will ask if you'd like to experience total darkness, but she seemed to take clues from the children in the group as to what they were comfortable with. It only lasted a couple of seconds, but it was neat to experience it.
My favorite part of the tour was seeing Crystal Lake, a small body of water in the caverns, and the "wedding chapel", a place where people actually can get married inside the caverns! It was also enjoyable to listen to the history of the cave, how it was originally found, and how it is being preserved for many years to come!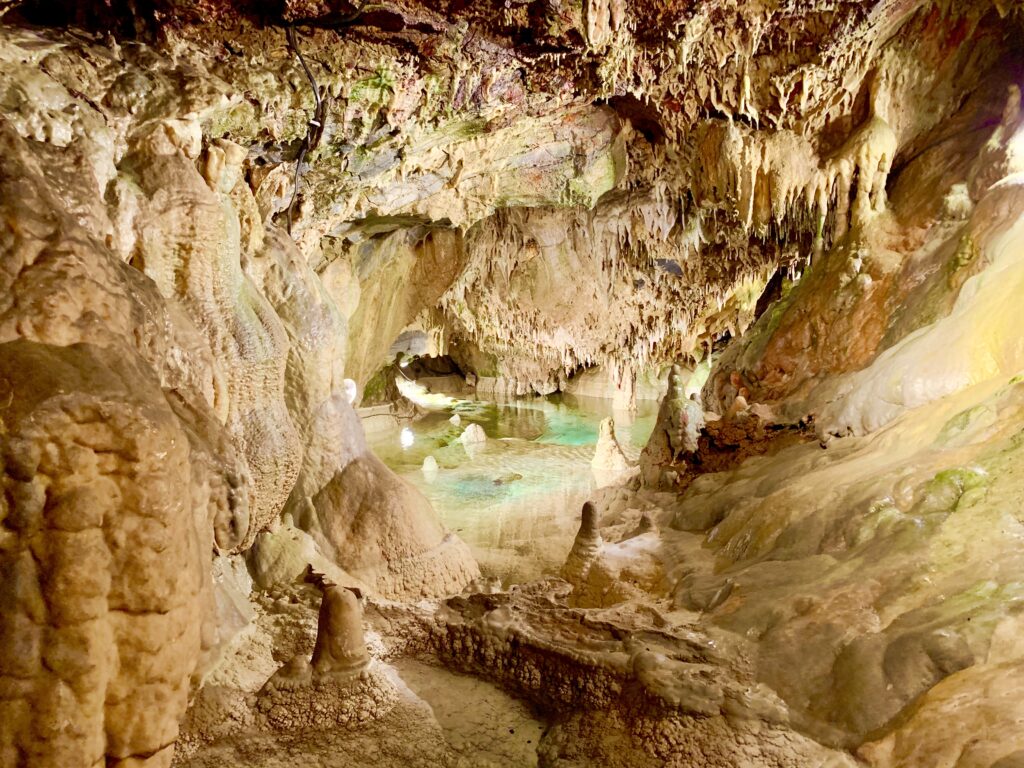 Tips for Visiting Indian Echo
Bring appropriate clothing for a 52 degree day (that's the temperature in the cave). Since we visited in summer, we wore shorts and t-shirts. I brought jackets for my kids to wear inside the cave, and they did appreciate having them.
Tours take place during all types of weather. We were in the cave during a thunderstorm. Of course, we couldn't tell what was going on with the weather outside at all. Just keep that in mind if it's raining, there is a bit of a walk to get to the steps that lead down to the cave. The actual steps have a roof over them, which is nice in the rain and the hot sun.
Visit the restrooms before your tour time.
Take a picnic lunch and enjoy it on one of the many picnic tables. There's also a covered pavilion to keep out of the sun and rain.
Bring a couple dollars in quarters if you'd like to feed the goats.
Wear shoes with good tread for walking in the cave. It's not essential, but it makes it easier.
Looking for other cool, family-friendly attractions near Hershey? Chocolate World Attractions and Lake Tobias are great add-on adventures to a Hershey trip. Even more ideas can be found on the Visit Hershey and Harrisburg website.
Sponsored Post – Visit Hershey Harrisburg hosted our trip to Indian Echo Caverns – All opinions are my own.