Our trip to Hershey, PA was sponsored by Visit Hershey & Harrisburg. As always, all opinions are my own. I only write about places I love!
Are you planning a trip to Hershey, Pennsylvania or somewhere nearby? Have you wondered what there is to do inside Hershey's Chocolate World? You've come to the right place. Here's all the information you need to know about Hershey's Chocolate World attractions.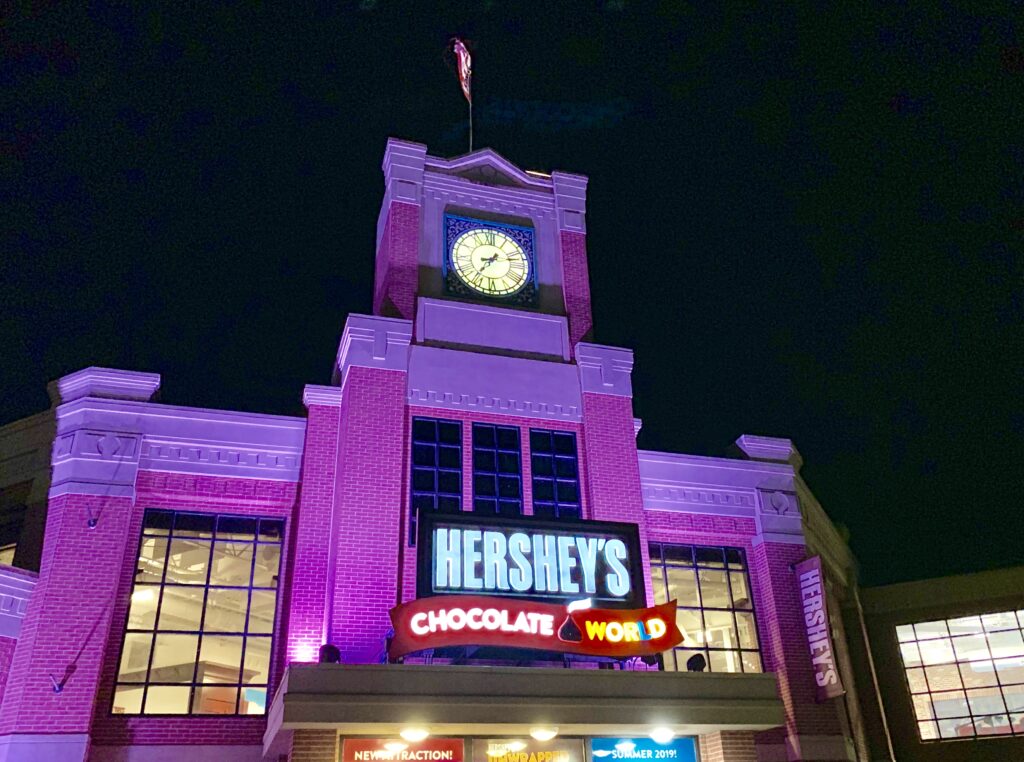 When to Visit
Most people visit Hershey's Chocolate World before or after their visit to Hersheypark. This makes a lot of sense, since Hersheypark is located right beside Hershey's Chocolate World. But, it creates peak times at this attraction. The best time to visit Hershey's Chocolate World is during the months of January through March, when the amusement park is closed.
During the winter months, the crowds are the lightest. However, visiting during these months may not make sense with most people's vacation schedules. Typically, people visit Hershey when Hersheypark is open. Therefore, if you're visiting during the amusement park season, plan your visit to Hershey's Chocolate World early in the morning, when it first opens.
You'll want to visit early in the morning for a couple reasons. First, if Hersheypark is not open yet (unless you have access to Sweet Start). If you're also visiting Hersheypark check out this post full of tips. Hersheypark requires a ticket to enter their amusement park and water park (plus the zoo is included too!). On the other hand, entering Chocolate World is free. The Chocolate Tour is also free to experience. Chocolate World's other ticketed attractions can be purchased individually or as a package.
During the busy summer months, it's best to purchase Hershey's Chocolate World attraction tickets ahead of time on their website. Each attraction has a specific entry time, so purchasing in advance allows you to ensure there will be space available at the time you would like to visit each attraction. If you don't purchase tickets in advance, then visiting Hershey's Chocolate World in the morning is even more important. Attractions can sell out for the day, so purchasing tickets in the early morning will help (but not guarantee) that you'll be able to experience that attraction.
Parking at Hershey's Chocolate World
When arriving at the main attraction entrance of Hersheypark, to the right will be a sign for Hersheypark parking, and to the left will be a sign for Hershey's Chocolate World parking. Hershey's Chocolate World has a sizable parking lot right beside their building.
Parking is free for three hours in the Hershey's Chocolate World lot. This should be enough to experience most attractions. After that, the parking fees increase from $15 for over three hours to up to $40. Upon entering the Hershey's Chocolate World parking lot, the parking attendants will give you a slip of paper with your parking time on it. When exiting, give the paper back to the attendants. They will then charge the appropriate amount if you've been parked there for over three hours.
Hershey's Chocolate World Attractions
Visiting Hershey's Chocolate World can be a free activity to enjoy with your family if you choose not to participate in the ticketed attractions. In the entrance lobby, there are plenty of photo opportunities with Hershey's Chocolate-related back drops. Costumed candy bars often wonder around the lobby posing for photos with guests. As mentioned previously, the Factory Tour Ride is free. Plus, at the end of the tour ride you get a free fun-sized chocolate bar!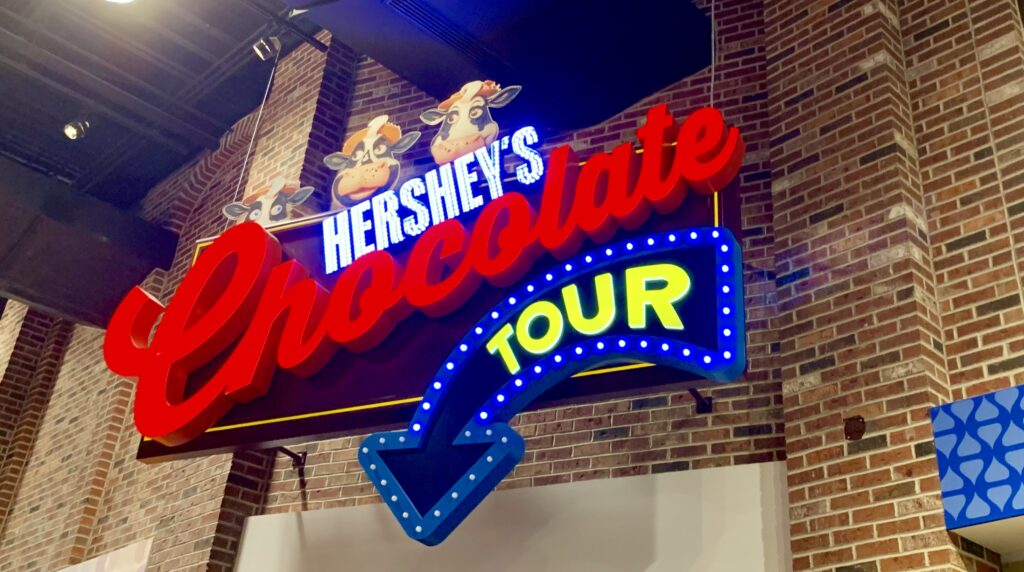 There's also a gigantic retail store which features a wide-variety of Hershey's Chocolate merchandise, and of course, giant chocolate bars. Often, chocolate and candy can be found here that are more difficult to find in regular stores. In addition to the retail store, there's a food court with full meal options, ice cream, and milkshakes.
Chocolate Tour Ride
Hershey's Chocolate World Tour Ride follows building hours. It was recently renovated with brand new ride-in cars. There's an updated video that plays on a screen mounted in the cars. The cars are themed to be either Hershey Bar, Kiss, or Reese's Cups. Pro tip: The cars can be programmed to present the tour dialog in English, Spanish or Mandarin Chinese. Ask the ride attendant if you'd like to change the language.
The Chocolate Tour Ride is continuously moving, meaning the platform you walk on to enter the cars is moving. Watch your step! This keeps the queue moving, since there are always people entering and exiting the ride. The entire ride will stop for people not following the rules, so be sure not to reach your hands outside of the car or stand up.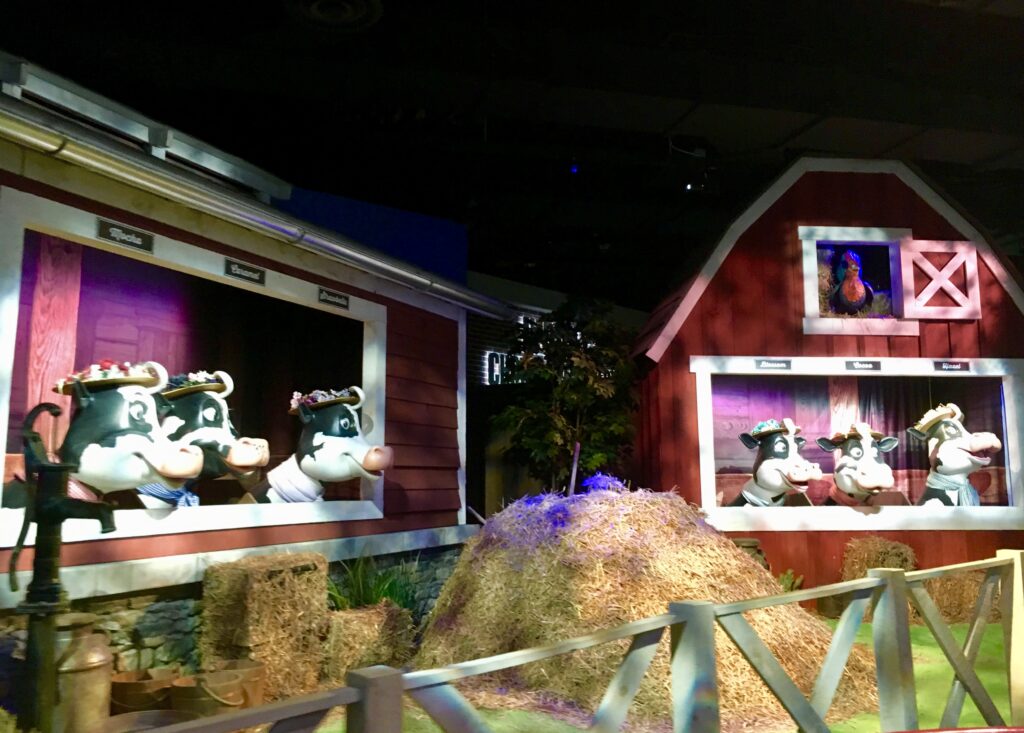 The Chocolate Tour Ride will take visitors through the process of making chocolate. It lasts about five minutes, and there is now an on-ride photo opportunity that you can purchase after exiting the ride. After the ride, you'll exit through a long hallway, and a fun-sized Hershey product will be given to you at the exit.
Ticketed Attractions
Hershey's Chocolate World has four options for ticketed attractions: 4D Chocolate Movie, Trolley Works, Hershey's Unwrapped, and Create a Candy Bar. Each of these attractions requires a timed-ticket, that can be purchased in advance online or at Central Ticketing inside Hershey's Chocolate World. Central Ticketing can be found to the right of the lobby when entering through the main doors.
4D Chocolate Movie
The 4D Chocolate Movie is held in a theatre inside Hershey's Chocolate World. You'll get 3D glasses to enjoy the 3D features of the movie. The movie lasts 30 minutes. It can have several variations of events, as the audience's interactions with the characters help solve a chocolate mystery. Keep in mind this movie contains special effects. This includes strobe lights, loud noises, and theatrical smoke.
Trolley Works
There are two variations of the trolley works trolley tour. The original trolley tour lasts about 45 minutes and includes a family friendly "show". The historical tour lasts about 75 minutes and is more like a documentary.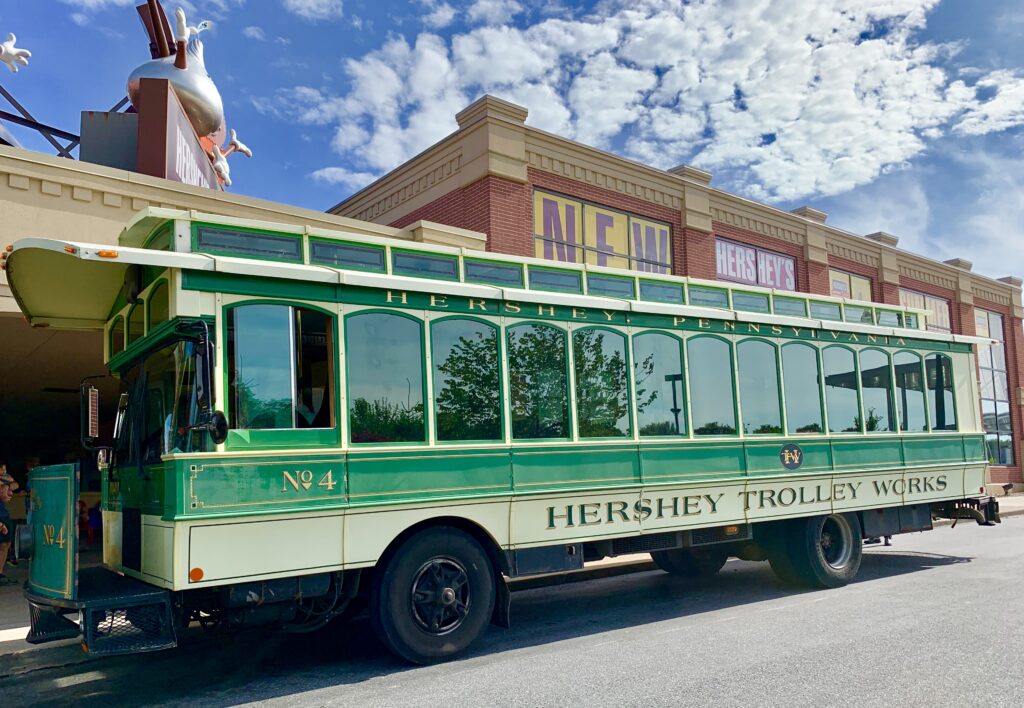 Whichever you choose, about 15 minutes before your ticketed time you'll meet at the trolley station located right outside of Chocolate World. They'll scan your ticket, and you'll shortly be on a trolley ride through Hershey. They distribute some chocolate to taste during the ride!
The original tour features the town of Hershey and information about Milton Hershey's life. It include places typically not accessible to the public, including Milton Hershey's home at Highpoint Mansion. The tour will depart and return to Chocolate World. There are no off/on stops along the route.
Pro tip: There are holiday-themed trolley tours during the Halloween and Christmas season.
Create a Candy Bar
The Create a Candy Bar attraction is very popular. Like the other ticketed attractions at Hershey's Chocolate World, you'll receive a specific time to enter the attraction. The queue for this attraction is located to the right of the entrance, by the bake shop.
Once entering the line for Create a Candy Bar, the attendant will give you a hair net and apron. You'll start by typing in your flavors and add-in candy choices for your candy bar. All of your choices are tracked by scanning the code on your ticket, so keep your ticket! All candy bars use milk chocolate as the base chocolate.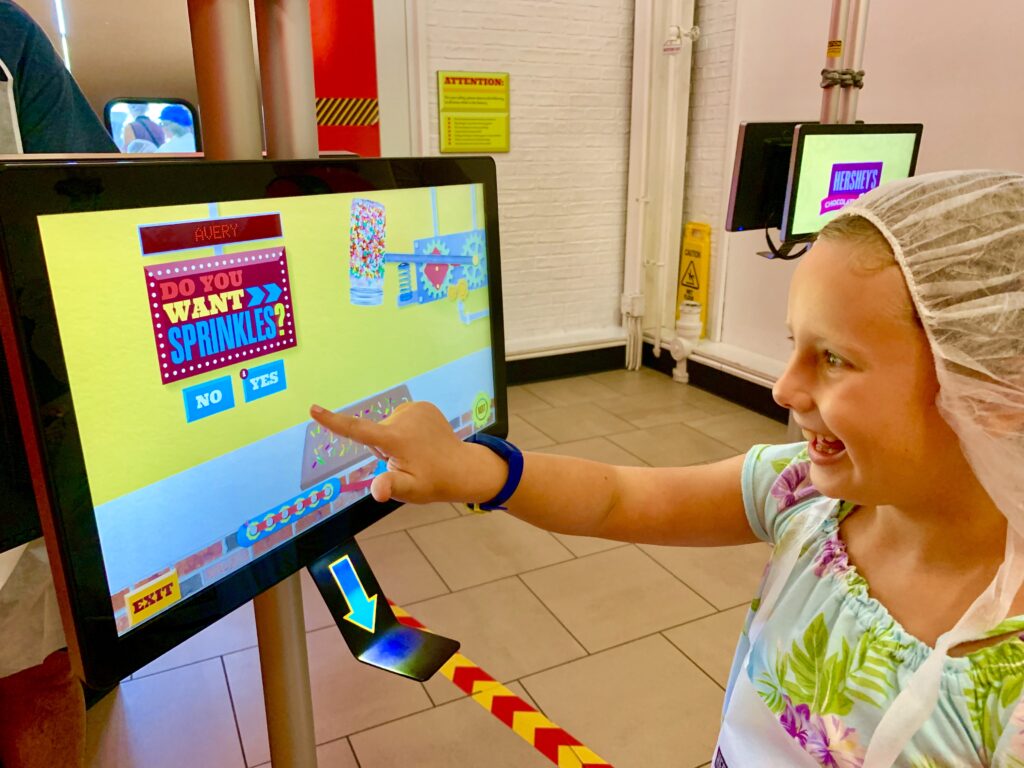 The process will allow you to watch your candy bar be made as it travels across the conveyor belts getting ingredients added. The chocolate coating gets lathered on, and then you can watch the packaging. Digital signage throughout the process lets you know where your candy bar is located within the process. Then your custom wrapper is printed and you'll receive your candy bar to take home (or eat right away!).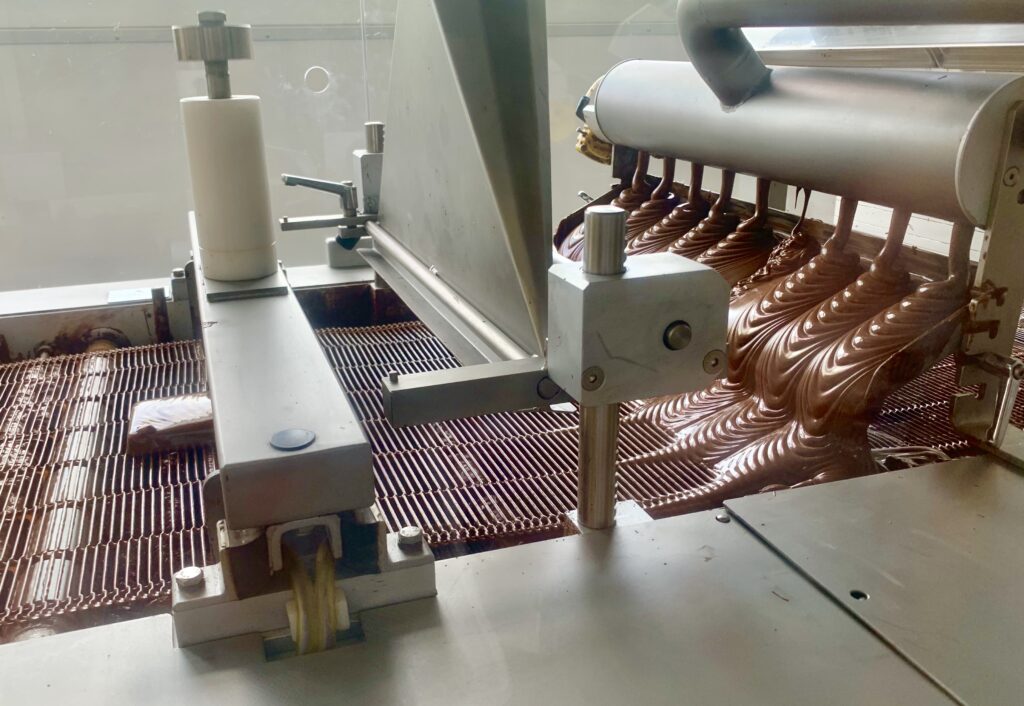 Pro tip: If it's a hot day, your custom chocolate bar may melt if left in the car or carried around a hot Hersheypark. Have a cooler in your car, create the candy bar at the end of the day, or just devour it immediately! You'll still have the cool custom packaging as a souvenir of the experience.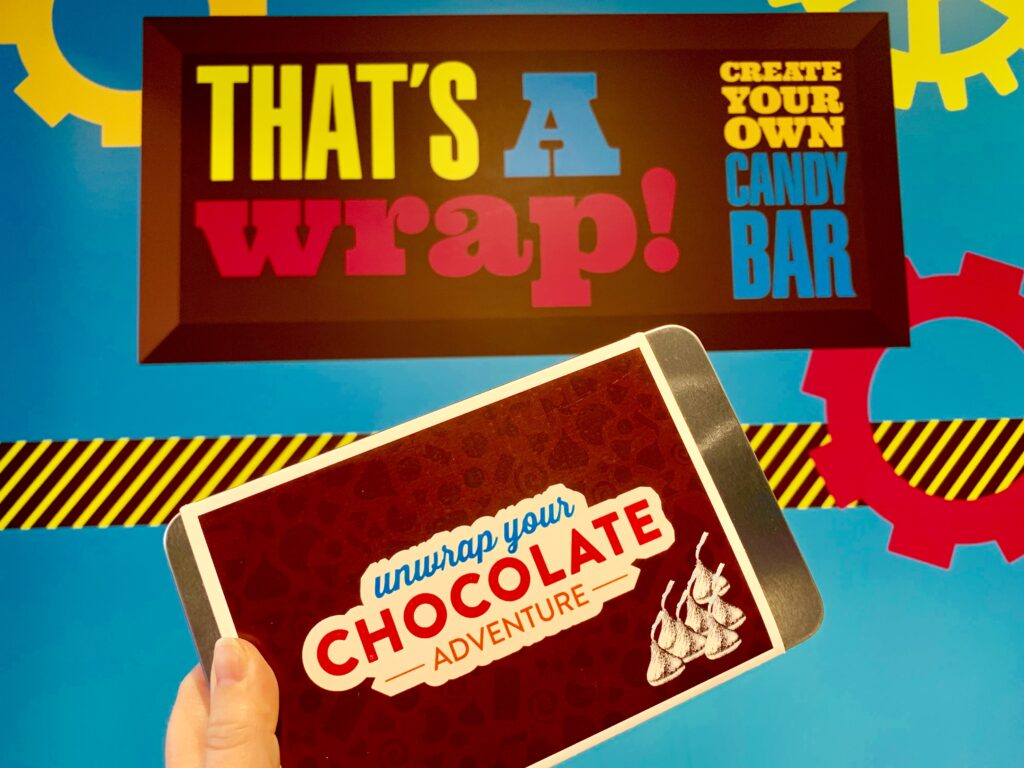 Hershey's Unwrapped
Hershey's Unwrapped is Hershey Chocolate World's newest attraction. It's a tasting adventure which includes a tin of chocolates for each participant to savor as they are taken through an adventurous story. The meeting place for this attraction is to the left after walking through the doors in the main lobby. It lasts about 30 minutes.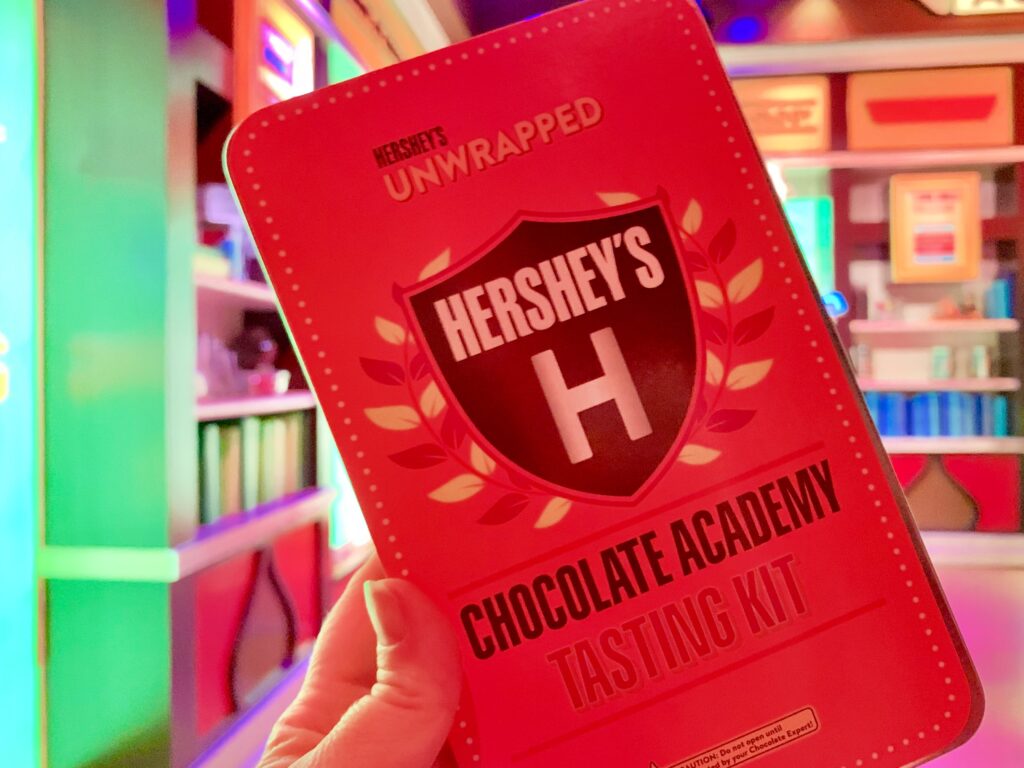 Food Court & Retail
If there's time between attractions, it's easy to fill it with looking around the retail store which includes both various chocolate-themed souvenirs and Hershey's branded clothing and merchandise. The food court has many options, including reasonably priced kids meals, ice cream sundaes, milkshakes, and plenty of other dessert options.
Tips & Tricks
Bundle and Save! Purchasing these attractions as a package will save money instead of purchasing separately. A meal ticket can also be added to the bundle. More ticketing details are available on the Hershey's Chocolate World website. For a complete list of tips for Hershey's Chocolate World, check out this post.
Looking for other cool, family-friendly attractions near Hershey? Indian Echo Caverns, Roundtop Mountain Adventures, and Lake Tobias are great add-on adventures to a Hershey trip. Even more ideas can be found on the Visit Hershey and Harrisburg website.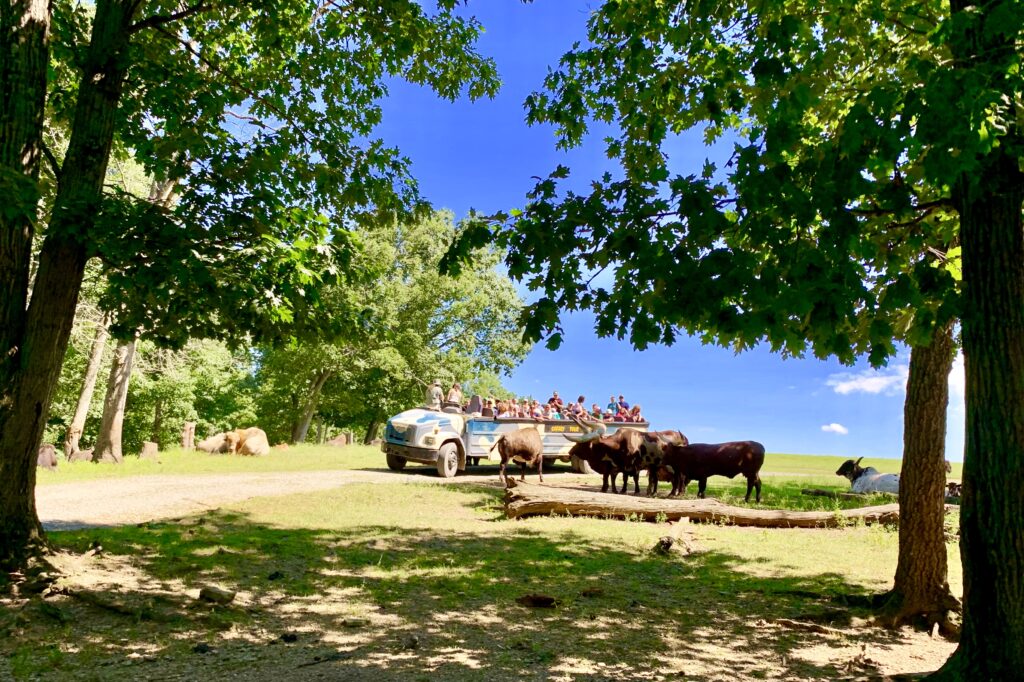 Our trip to Hershey, PA was sponsored by Visit Hershey & Harrisburg.As always, all opinions are my own. I only write about places I love!