Visit Hershey & Harrisburg arranged a hosted visit for us at Lake Tobias. All opinions are my own.
Lake Tobias Wildlife Park is located approximately 25 miles north of Harrisburg, PA. The park is a farm and zoo with safari tours available where visitors can see animals in their natural habitats. The park is open daily from May through Labor Day, and then on weekends in September and October.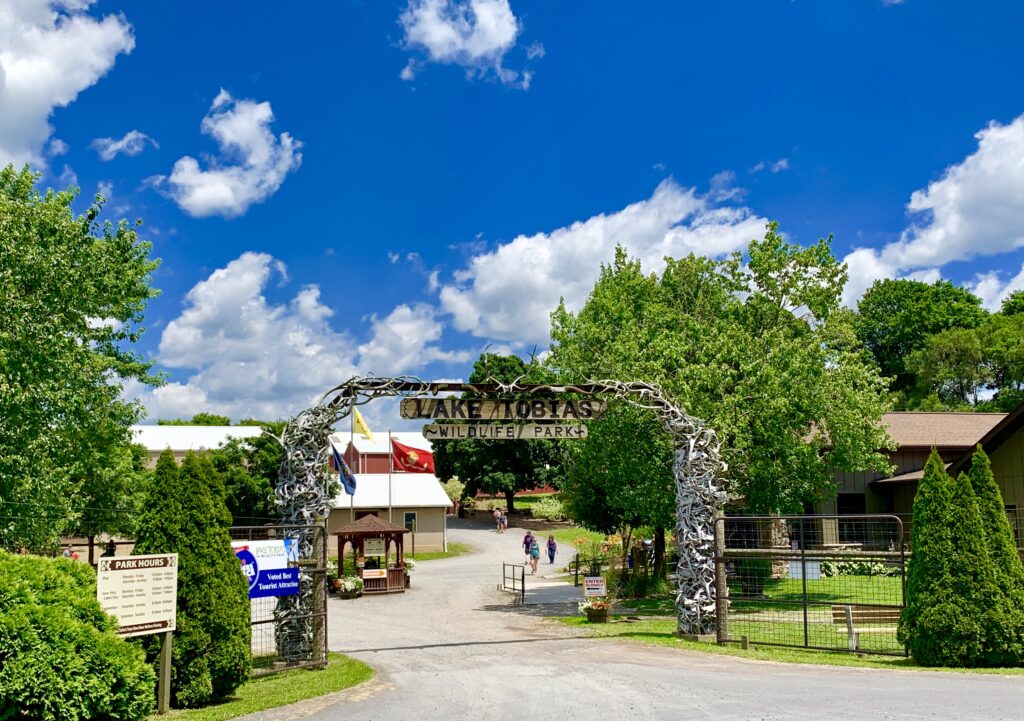 Arrival
Depending on the time of day when you arrive, they could be directing you to park in one of several parking lots that surround Lake Tobias. We arrived shortly after opening. You may purchase tickets from the admissions booths that you pull up to in your car. Some of the parking lots have pavilions and playground equipment nearby. We parked and took a short walk over a bridge to get to the safari tour loading area.
Safari Tour
In 2020, Safari Tours utilize your own vehicles. The paragraphs below describe how it normally operates using Lake Tobias buses.
Safari tours are available at Lake Tobias as a separate ticketed excursion. The tours are provided in buses that have been converted to top-less cruisers to allow for animal interaction. Tour tickets can be purchased at the time of purchasing admission to the park. At the Safari Tour Station, there are restrooms and a concession stand, as well as a place to park strollers. At the concession stand, you can purchase feed for the animals and snacks for yourself.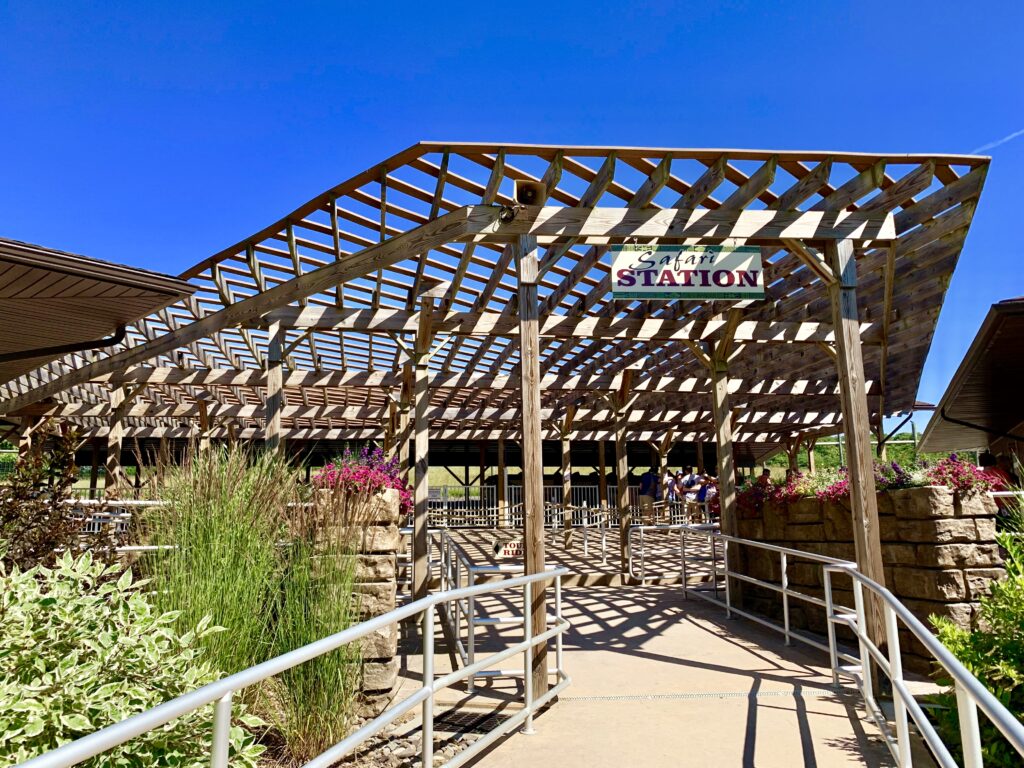 The Safari Tours run throughout the day. Announcements are often made to alert you that a tour is starting. Upon loading onto the bus, your safari tour guide will give a brief background about Lake Tobias, point out animals, talk about each animal's characteristics, and answer any questions you may have about the animals.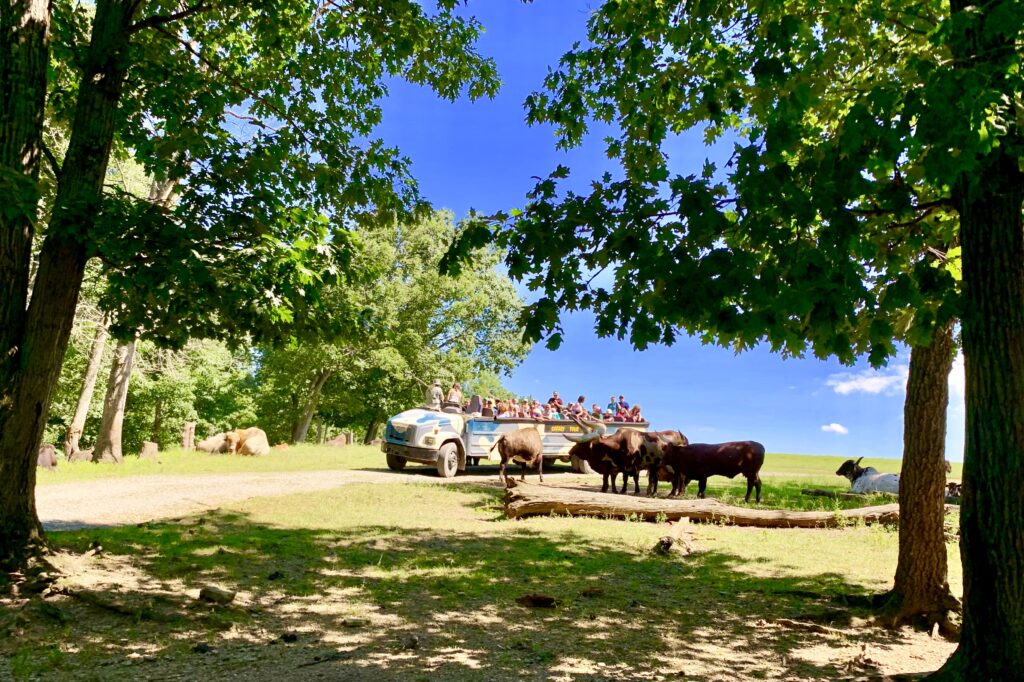 Lake Tobias Animals
Animals can also be viewed throughout the walking paths of the wildlife park. Some of our favorite animals to view at Lake Tobias are the bears, zebras, monkeys and the tiger. We especially love feeding the zebras. These are just a few of the animals and birds that can be viewed at Lake Tobias.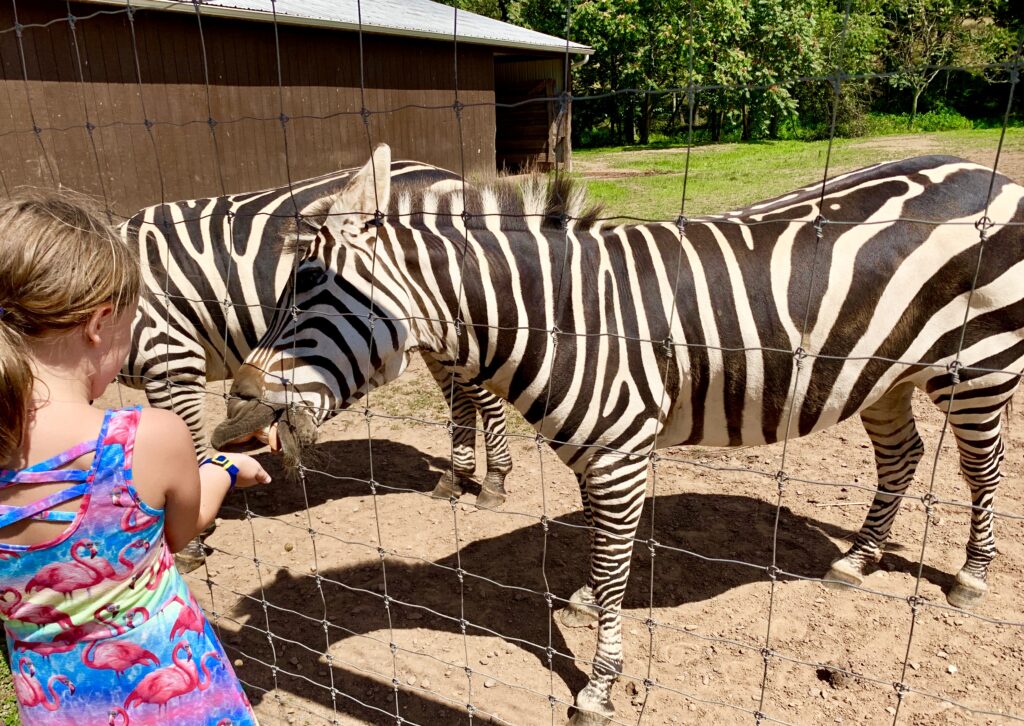 The newest addition to Lake Tobias is the giraffes! They are housed in a separate area that can be seen from the Safari tour. For now, Lake Tobias is still getting their habitat ready, as they are new to the zoo. However, very soon you will be able to purchase feed for them. Keep in mind they are on a special diet and may not be accepting food at all times.
Petting Zoo
Lake Tobias is also home to a large petting zoo with pygmy goats, a miniature horse, and alpacas. There's even a red kangaroo housed in a pen inside the barn of the petting zoo. Feed for the animals may be purchased at the petting zoo booth or from the coin operated dispensers throughout the petting zoo. Note that the petting zoo closes a half an hour before the park's closing time.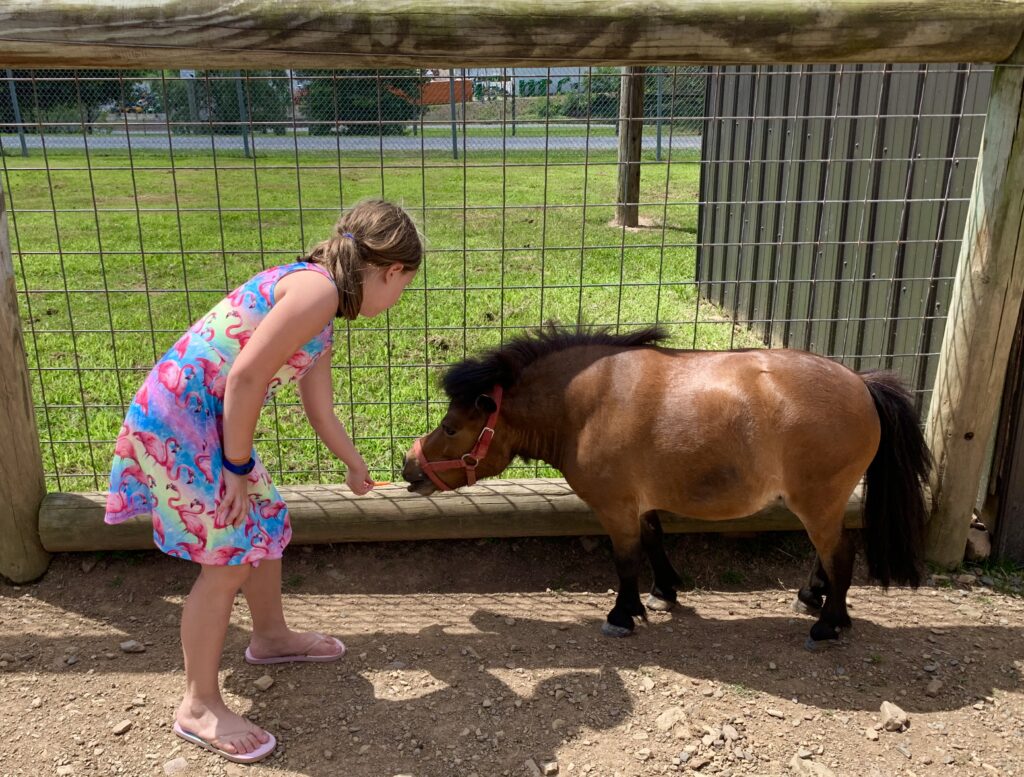 Reptiles and Exotics
The reptiles and exotics are in a relatively new building near the main entrance. When we visited, both a snake and an alligator were available for petting. Kids and adults can touch them to feel their unique textures, but Lake Tobias staff oversee the interaction.
Periodic reptile shows are available throughout the day. Check Lake Tobias's website for times. You will learn about the fascinating animals in the Reptile building, as well as conservation efforts to help save them. You can take a closer look at some animals. This building also houses the sloth!
Tips for Visiting Lake Tobias
Outside food may be brought into the park. There are plenty of picnic tables, and you may use any that are not reserved. If you wish to reserve picnics tables for your group, contact Lake Tobias.
Straws are not available at concession stands because of the danger they pose to the animals. If you have young children, you may want to bring a sippy cup or other cup with a lid to prevent spills. This is especially important if you choose to purchase the slushies. 🙂
While you cannot feed outside food to the animals, you can purchase feed at many locations throughout the park, including the petting zoo and safari tour area.
The safari tour buses do not have a cover, so keep an eye on the weather if it's a stormy / rainy day.
Try to time your arrival at the reptile building for one of their educational shows. They last about 20 minutes.
Looking for other cool, family-friendly attractions near Hershey? Chocolate World Attractions, Roundtop Mountain Adventures, and Indian Echo Caverns are great add-on adventures to a Hershey trip. Even more ideas are available on the Visit Hershey and Harrisburg website.
Visit Hershey & Harrisburg arranged a hosted visit for us at Lake Tobias. All opinions are my own.