North Arundel Aquatic Center boasts an indoor water park and is located in Glen Burnie, Maryland. Residents of Anne Arundel County and non-residents may purchase a pass to access the water park during their specified session times.
The water park consists of one large water slide for children over 48″ and adults, one small water slide for children under 48″ and a vortex pool.
North Arundel Aquatic Center Policies
One very important policy to note with this water park is that they do not allow any children under 3 years of age or any swim diapers in the pool. Children must be potty trained to use their pools and water park.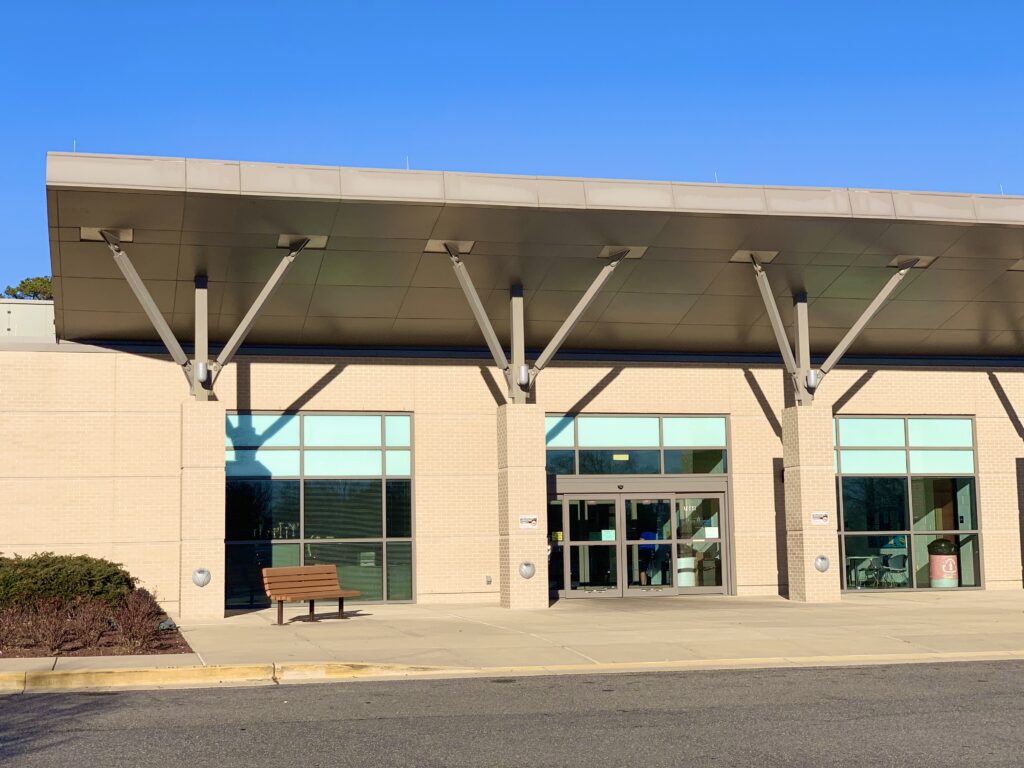 When purchasing a pass for the water park, note that this pass does not include access to the lap pool. If purchasing a pass, you must indicate whether you intend to swim in the lap pool or the water park. You can not switch between them.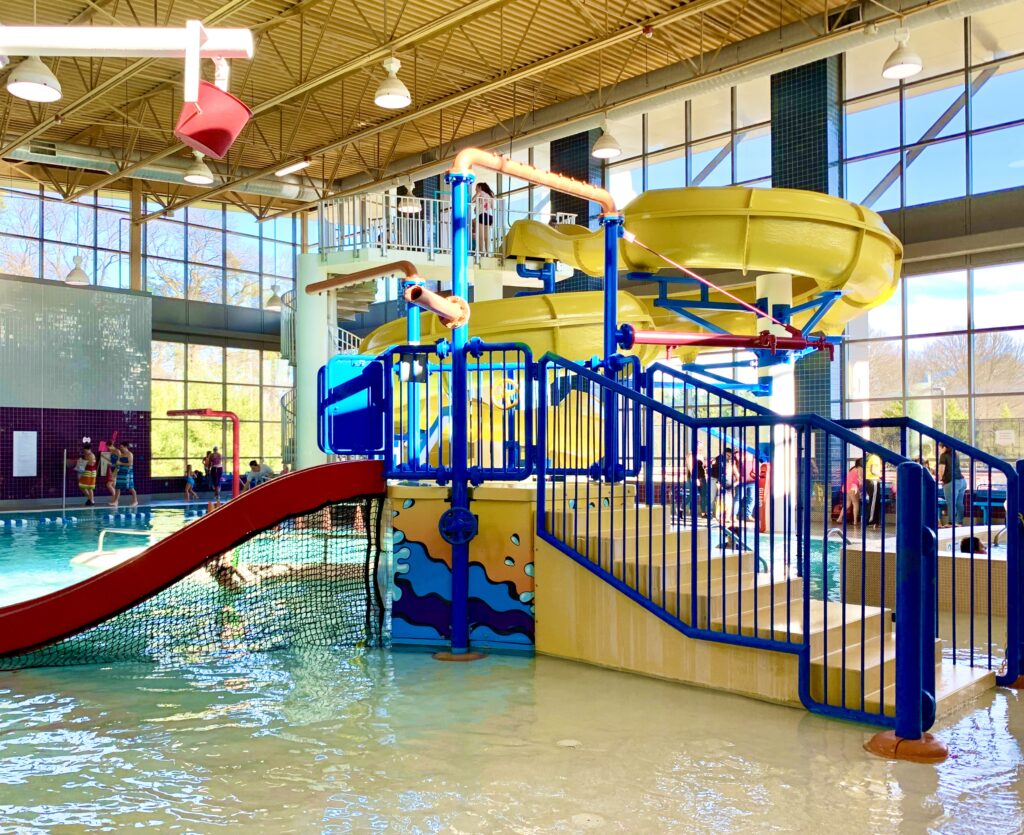 Water Park Sessions
The water park hours include a Monday through Friday evening session, as well as many sessions throughout the weekend. Ensure that they are open for public water park sessions by checking their website.
In some cases, they may close to the public for swim meets or annual cleaning. Since the water park is a bit of a drive for us, I always call beforehand to make sure they are open.
Water Park Sections
The water park has several different elements that make it fun for wide-range of ages. There is a small slide structure for younger children. For children over 48″ tall (barefoot) and adults, there is a large water slide.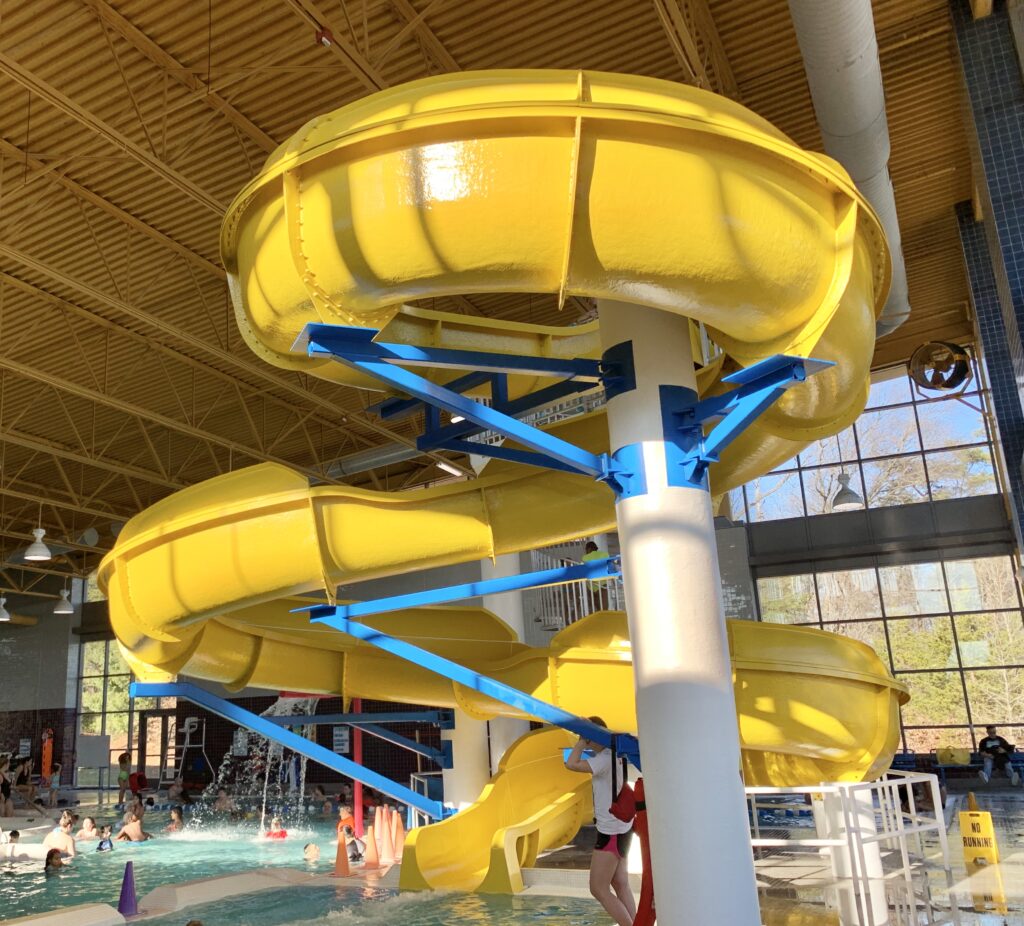 Vortex Pool
North Arundel Aquatic Center has one of my favorite water park elements, a vortex pool. This is a circular section of the pool where the water current flows around in a circle. Once entering the vortex area of the pool, the current will effortlessly take you around in a circle. It's like a water merry-go-round!
Be sure to arrive early for your water park session, as sessions sometimes sell out. You'll be given a wrist band and tickets once you pay for admission, and everyone lines up down a hallway to wait until the session starts.
Locker Rooms
In addition to the typical men's and women's locker rooms, there is a family locker room with two private shower rooms and a restroom. Lockers are available, or if you don't have valuables, most people put their bags on the small sets of bleachers that overlooked the water park.
Tips for Visiting North Arundel Aquatic Center in Glen Burnie
Ensure that any children you bring to swim at the North Arundel Aquatic Center are potty trained and at least 3 years old.
Even in the winter, it's nice to have a pair of flip flops to wear in the locker room and on the pool deck.
Bring puddle jumpers of life jackets for children who may need it in the pool. However, they are not required.
Arrive in plenty of time before the session starts, as sometimes the sessions sell out.
If you're an Anne Arundel County resident, bring proof of residency to the front desk when purchasing a ticket.
More Indoor Water Parks near Glen Burnie
Germantown Indoor Swim Center
Rollingcrest-Chillium Splash Pool
Hershey Lodge
Friendship Center
Cub Run RECenter
Aquatopia at Camelback Mountain Resort