Sponsored Post – Dollywood hosted us. All opinions are my own.
Dollywood is a theme park partially-owned by Dolly Parton and located in Pigeon Forge, Tennessee. Pigeon Forge and the surrounding Smoky Mountains are a popular vacation destination. From most points in the mid-Atlantic region, Pigeon Forge is a straightforward drive once you reach Interstate 81.
Dollywood is known for its fabulous shows, beautiful scenery, and unique, yet thrilling, rides. The park has grown tremendously since it became Dollywood in 1986. It's totally possible to just head to the park without a plan in mind and still have a fabulous day. However, if you're like me, you like to be totally prepared, especially when traveling with kids.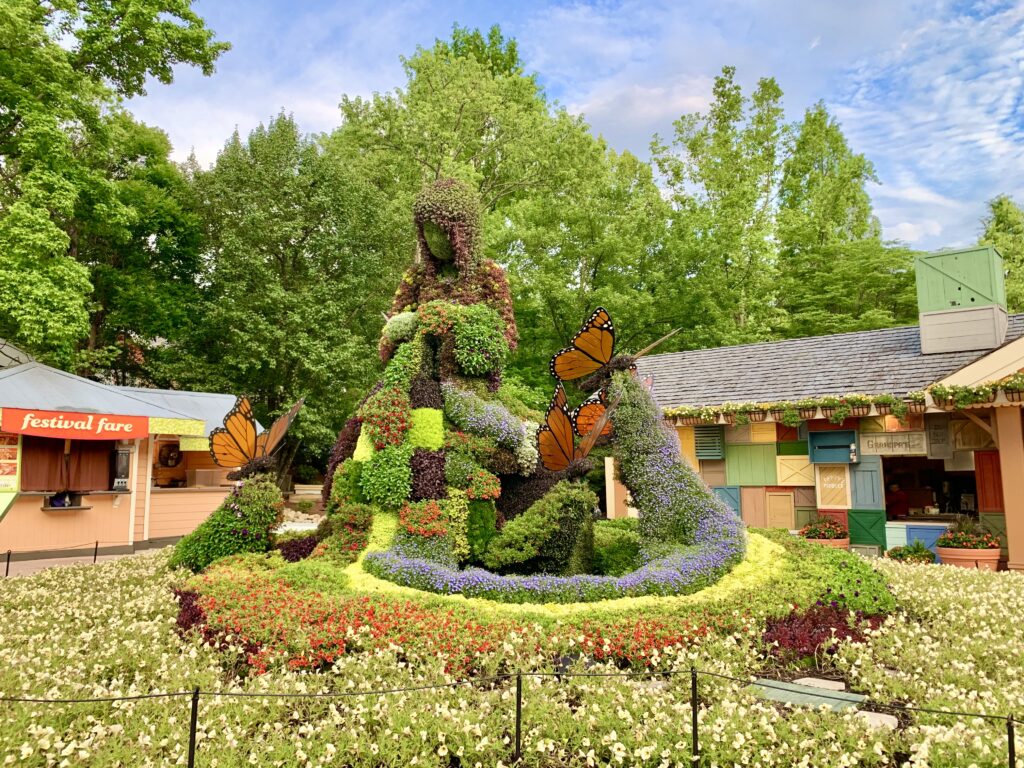 The following 10 tips for your first trip to Dollywood will enhance your day, help you avoid kid meltdowns, and enjoy all the food, shows, and rides that Dollywood has to offer. The first tip will get you headed in the right direction.
Path to the Left
There are two separate entrances to Dollywood. There is the main entrance that most guests use, and then there is the resort entrance that is exclusively for guests of DreamMore Resort. After entering the park, most people seemed to be heading to the right. The path to the right takes you to Red's Drive-In and the ever-popular roller coaster, Lightning Rod.
We learned that heading to the left and up through a winding path toward Wildwood Grove (kids' area), Mystery Mine (another popular roller coaster), and Thunderhead (a wooden roller coaster that was a surprise hit with us!) allows you to split from the crowd. This results in some low wait times for the coasters along the narrow path to the left.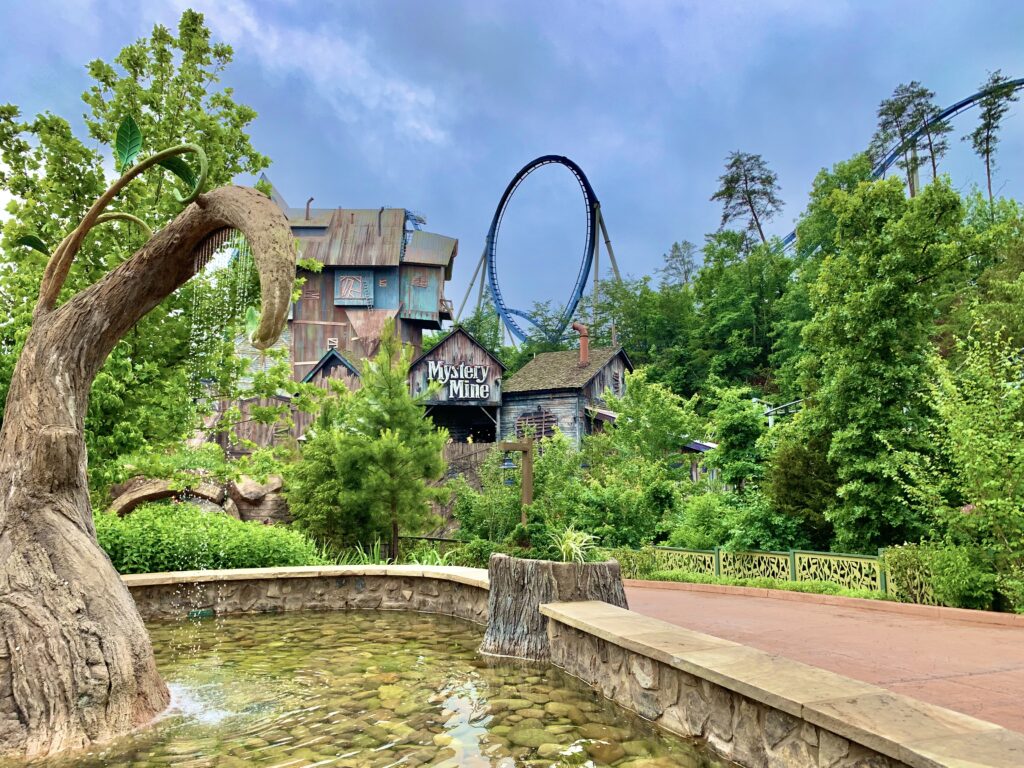 If you have young children who may be ready for a family roller coaster, I'd suggest heading to Wildwood Grove to ride Dragonflier. If your kids love more thrilling coasters, go up the path on the left and make Mystery Mine and Fire Chaser Express priorities to ride. Each of these coasters get a decent line when the park is busy, but hitting them early when most people are at the front of the park will help.
All You Care to Eat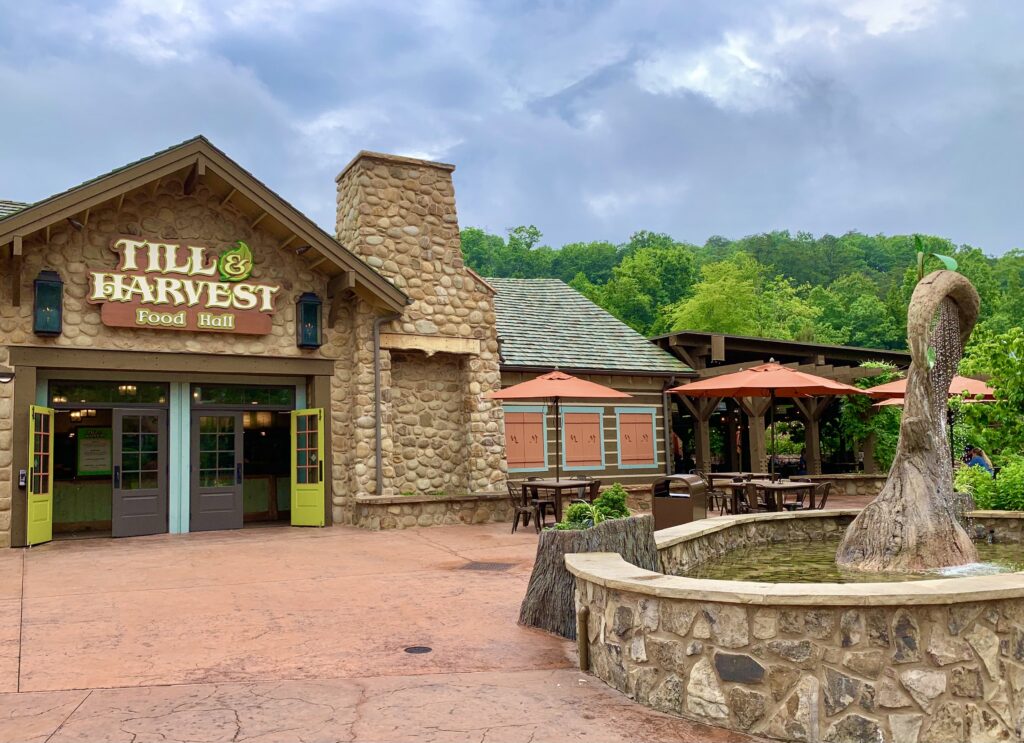 We decided that we wanted to take advantage of the delicious food at Dollywood. We ate a small breakfast, and then shared a lunch. At Till & Harvest, we got a nacho plate at with some amazing queso dip on top. This was easy to split, and left us hungry enough for an all you care to eat meal before dinner (our main food event!). We wanted to visit Aunt Granny's before the dinner rush hit, and we succeeded!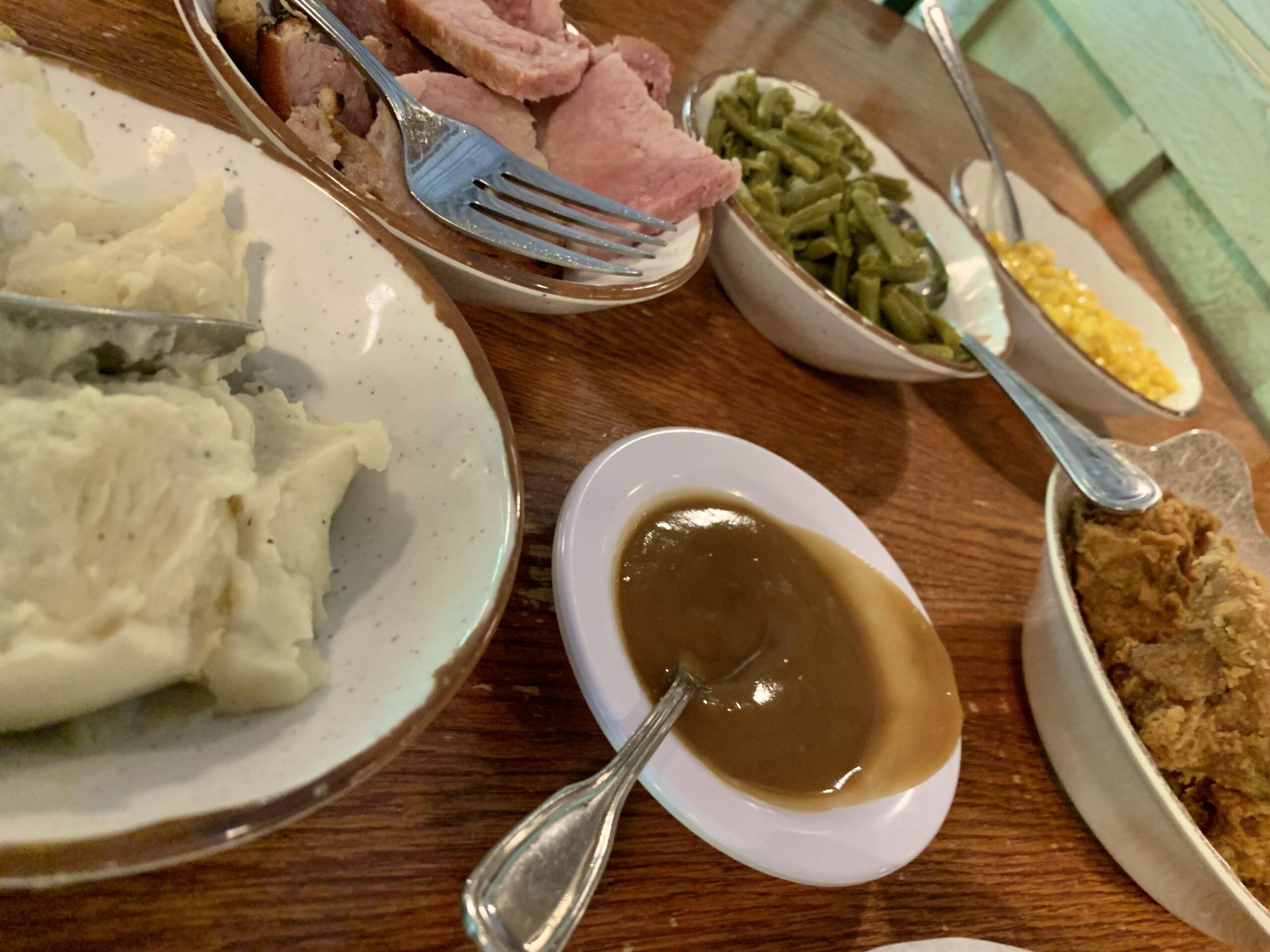 Aunt Granny's is a family-style restaurant. You can choose certain meats, sides, and each person can choose from a list of desserts. Seating is limited in Aunt Granny's, and if you eat at a meal time, you may need to add your name to the wait list. When we ate early on the day we visited, around 4 PM, there was not a wait for a table.
Cinnamon Bread is a Must
If you are staying at the DreamMore Resort, you may want to skip purchasing cinnamon bread in the park. It's available in the cafe at the resort, which usually has a short line. At the park, since the cinnamon bread is a main attraction, the lines to purchase it can be busy. However, I couldn't wait, and I visited the Grist Mill late in the day. Luckily, the line was fairly short, and the bread didn't make it back to the resort.
Ways to Cool Off
Dollywood has Splash Country, a separate admission water park. However, there are also two water rides in Dollywood. These rides are a shoot-the-chute boat ride with a big splash at the end (I got soaked), and a white water rapids ride (I somehow managed to not get soaked). Of course, these two rides are a great way to cool off on a hot day. If your kids are too small to ride these two major water rides, there's a splash pad in Wildwood Grove which is much more low key. Plus, there are shaded benches for parents, and magnificent view of the Dragonflier, flying by.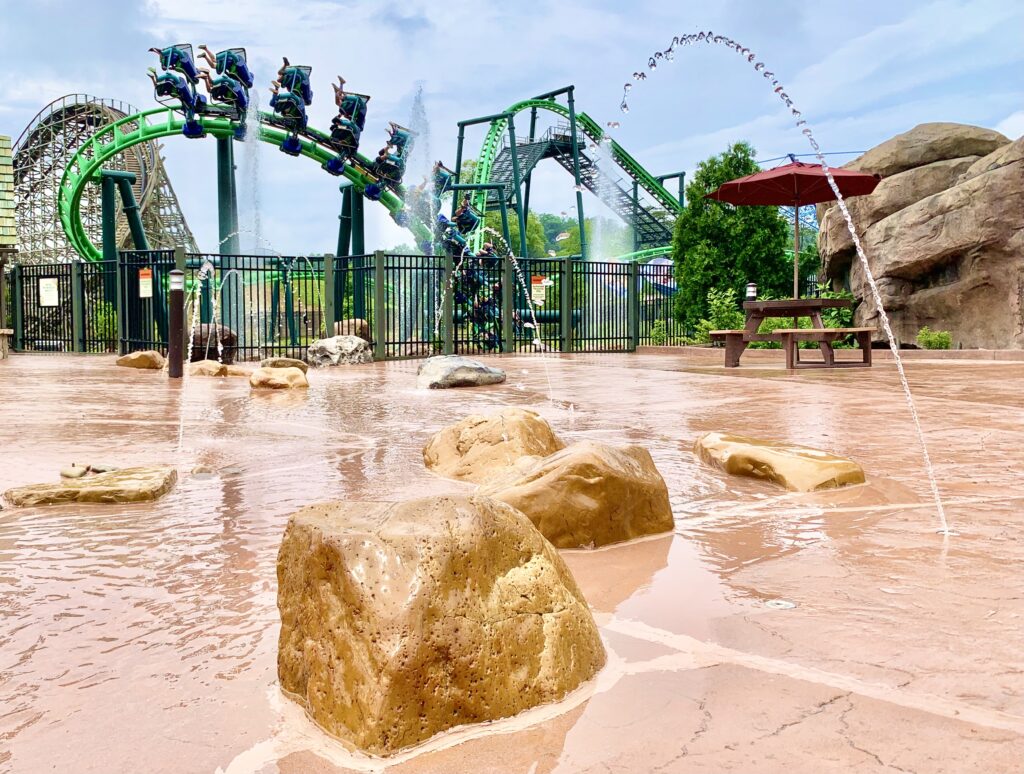 Don't Miss the Train
The Dollywood Express has scheduled departure times each day. Check the park's mobile app or brochures for times the train is planning to depart. We were planning to arrive at the depot just a few minutes before the departure time, but we luckily learned from a fellow guest that you need to arrive at least 20 minutes before the departure time. The time listed in the app is when the train actually leaves the station, by that time everyone has already boarded.
Of course, the train is high capacity, so as long as you arrive well ahead of time there should be available space. Try to gauge how early you need to arrive by the crowd level in the park that day. If it's a busy day, you may want to arrive even a half hour before departure. The train ride is about 20 minutes, so you may also want to have young children visit the potty before boarding.
Kids and Blazing Fury
Usually, I do a lot of ride research before heading to a new-to-me amusement park. For some reason, I didn't look up any information about Blazing Fury. Since my 5-year-old daughter is tall enough to ride it, we were planning to take her on Blazing Fury. However, a few minutes before we arrived at this indoor roller coaster, she fell asleep in her stroller.
Therefore, I took my older 9-year-old daughter on the ride while my husband waited with my younger child. After riding Blazing Fury, I was glad that my 5-year-old missed out. The roller coaster portion of the ride is very, very mild. There are some semi-quick accelerations, but the entire ride is fairly slow. However, the ride focuses on fire, gets very dark in some portions, and could also be a bit scary, in general, for younger kids.
Blazing Fury is a classic ride and Dollywood favorite, but it may be a bit scary for kids who are not prepared for that type of ride. I saw many kids handle it fine, but I know my 5-year-old would may have been scared to ride it.
Know Your Shows
Dollywood is well-known for their shows. If you're interested in watching any of the shows, try to plan ahead with their schedule. The schedule can be found online here. If you have TimeSaver passes (read below for more information), they can be used for priority seating at shows.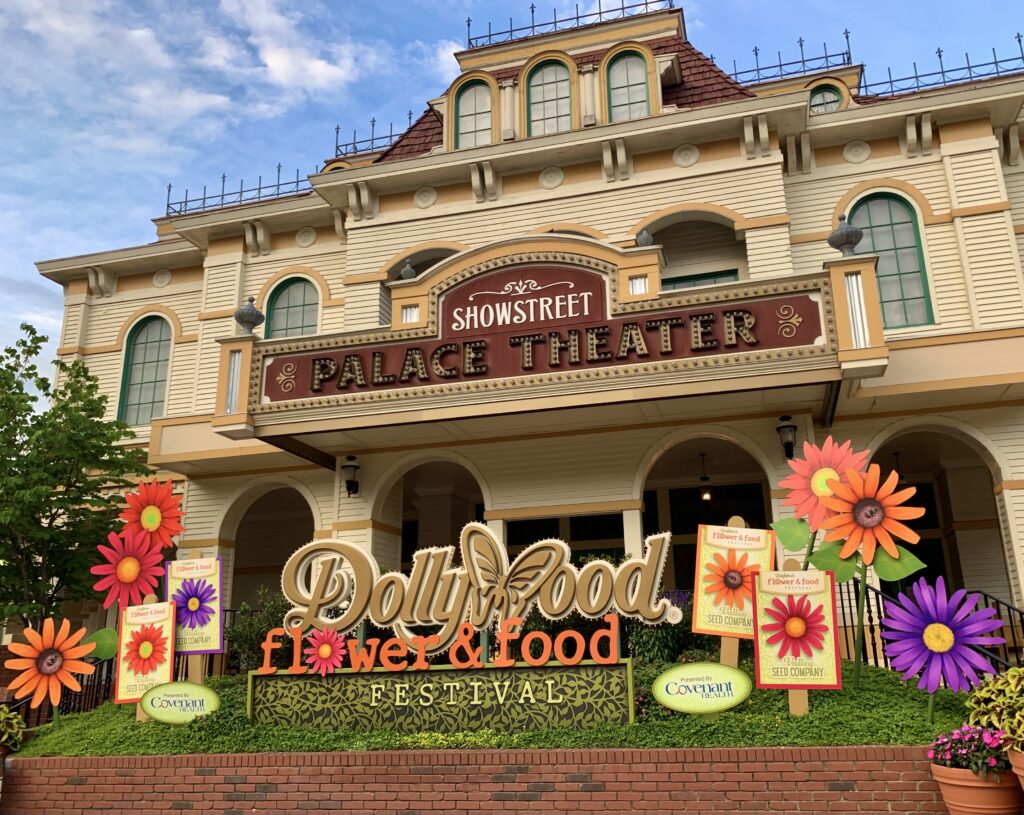 Swap the Parents
Having a tall 9-year-old and a shorter 5-year-old makes us experts at child swap programs at amusement parks. Each park seems to handle it differently. At Dollywood, the entire family enters the queue, even the child that is too short to ride. Then, after the first group rides, they exit the ride as normal and re-enter through the TimeSaver entrance. Then, the person who was waiting with the child can ride.
Resort Perks
If you're staying at DreamMore Resort, be sure to take advantage of the perks that come with your stay! At Dollywood, you'll get priority parking and a TimeSaver pass for each person in your party. TimeSavers are passes that allow you to enter a ride line or a show with priority access. If you'd like Dollywood to handle your transportation, they provide a trolley for transportation between the resort and the parks.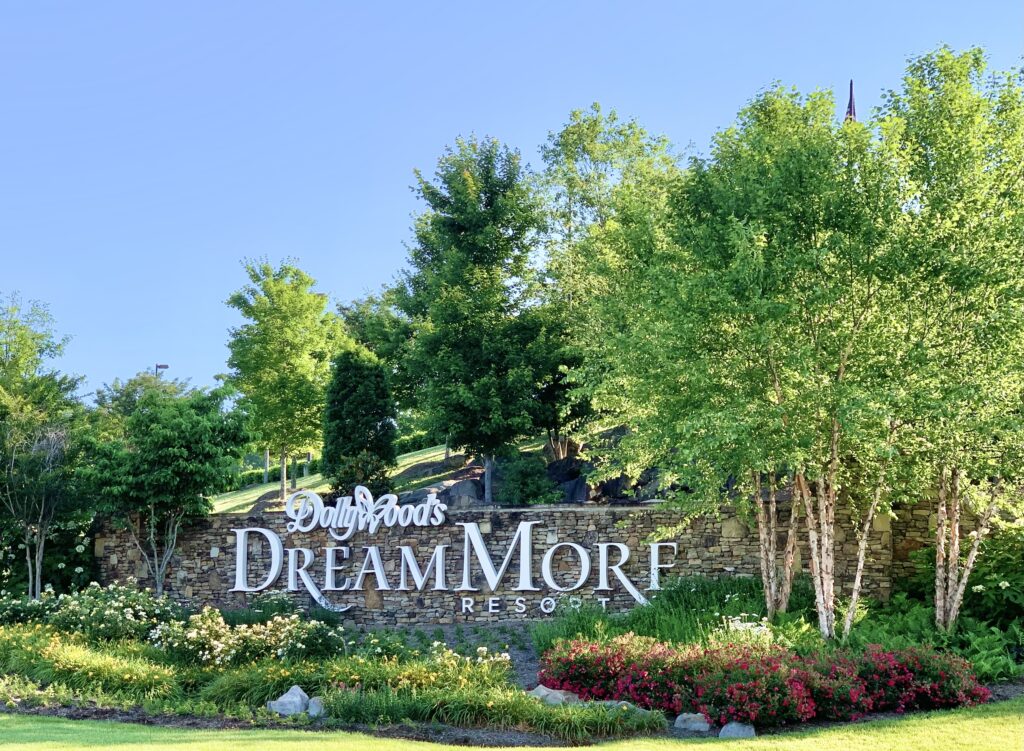 To get your TimeSaver pass for Dollywood, after heading through the resort guests gate, go to the pink building next to the Dreamsong Theater. You'll need to give them a card that you received at the resort at check in, and they'll give you a TimeSaver pass for each guest staying in your room. To keep track of your passes, you'll receive a lanyard. For those fast and upside-down roller coasters, be sure to tuck the lanyards into your shirt.
Best Use of TimeSavers
If your resort perks got you TimeSavers, or you decide to purchase them, keep in mind there are two versions. One is unlimited and another allows for eight uses. The resort perk includes the eight uses TimeSaver, so be sure to use it wisely. It can be used for certain rides and for priority seating at shows. If you are interested in these rides, they are typically a good use for your TimeSaver pass: Lightning Rod, FireChaser Express, Mystery Mine, and Dragonflier.
Bonus Tip – Charge It Up!
I just happened upon this bonus tip. It's such a great resource in the parks! While taking a break in Wildwood Grove, I noticed these charging stations for smart phones. As long as you have your USB charging cable, you can relax on a bench, in the shade, and charge your phone. Meanwhile, your kids can be playing in the splash pad!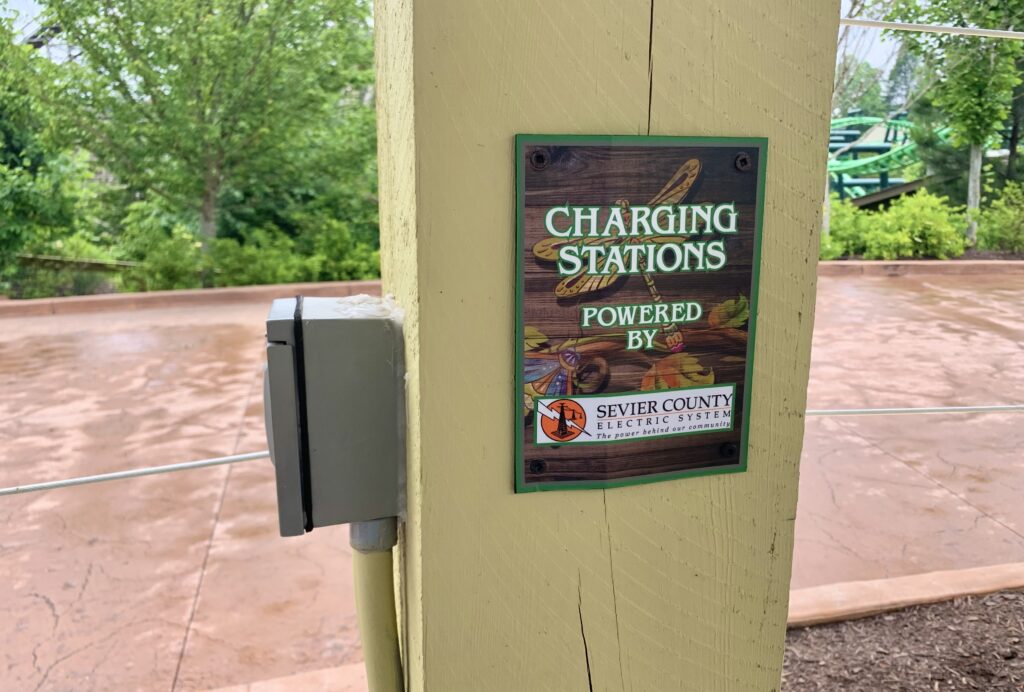 I hope these 10 tips (plus one bonus tip), help make your day at Dollywood extra special! Go make some family memories!