Sponsored Post – Soaky Mountain hosted us. All opinions are my own.
Soaky Mountain is an outdoor waterpark located at 175 Gists Creek Road in Sevierville, Tennessee. It's across the street from the Wilderness at the Smokies resort. Sevierville is just north of the popular destinations of Pigeon Forge and Gatlinburg.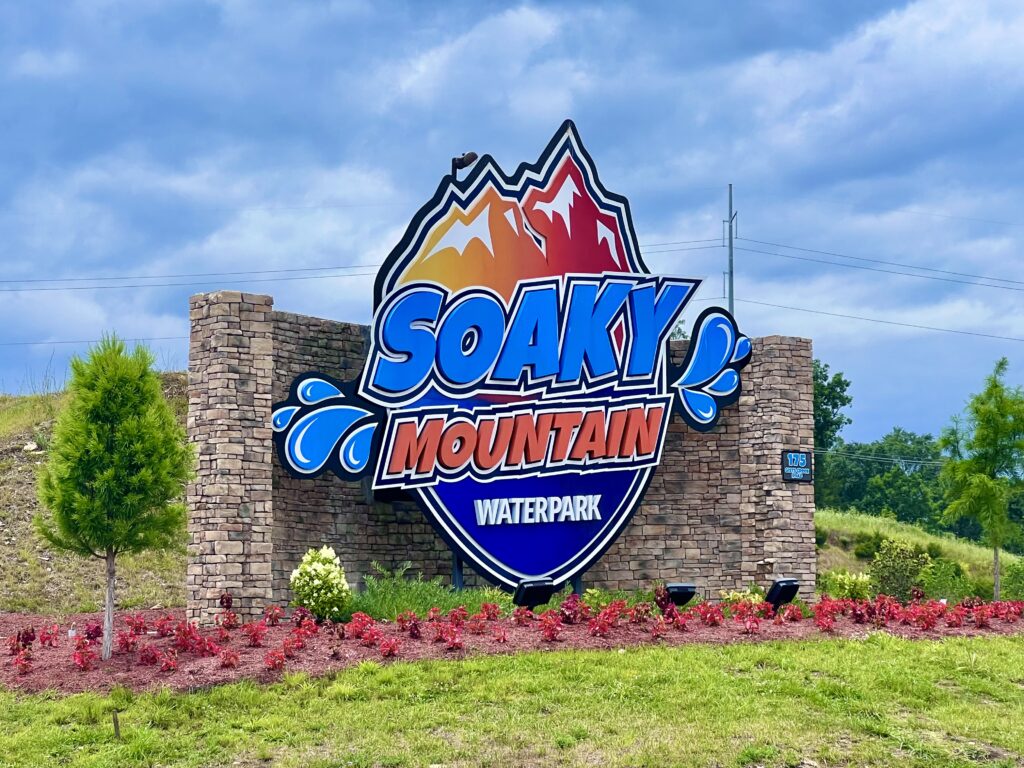 Soaky Mountain waterpark is filled with slides and rides, including a large kiddie area, family-friendly waterslides, two Wibit obstacle courses, a lazy river, wave pool, thrill slides, and a FlowRider surfing simulator.
Soaky Mountain Slides & Attractions
There are many different areas and slides to cater to different ages and thrill-seeking levels. Boomer's Bay focuses on water play and slides for young children.
The Hive is a multi-level water play structure which caters to the school-age group. For older children, check out the two watercoasters and many thrill slides.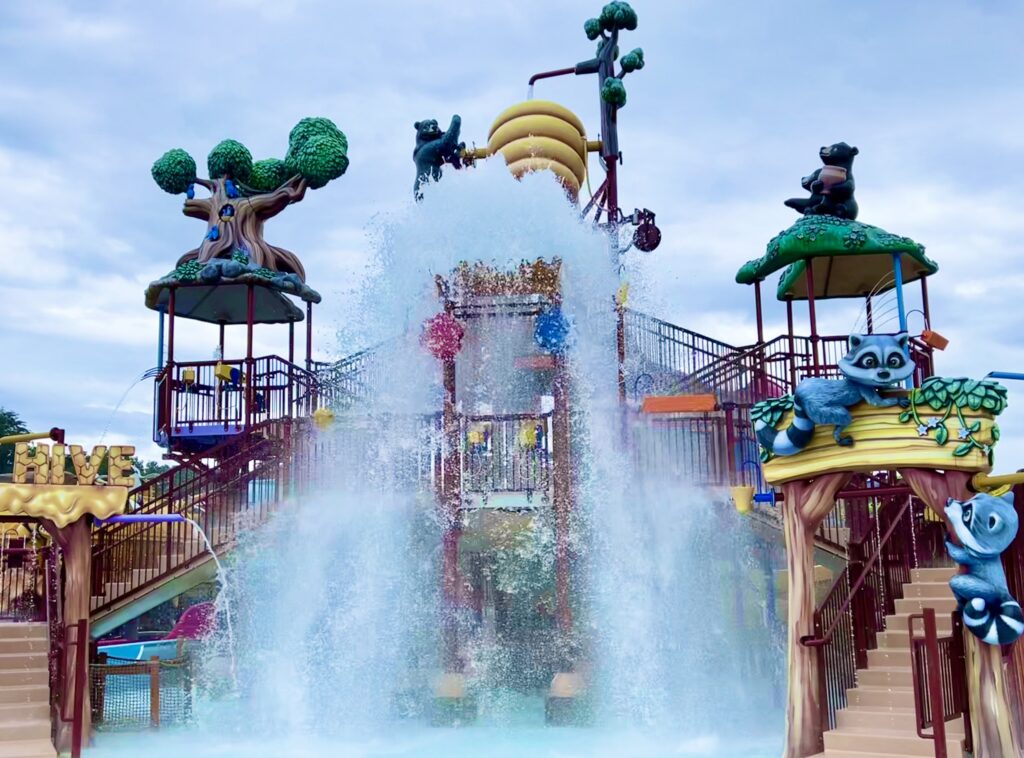 Boomer's Bay
Boomer's Bay is a water play area for the little ones. Inside Boomer's Bay are many different types of kiddie slides, a set of swings, and chairs with shade.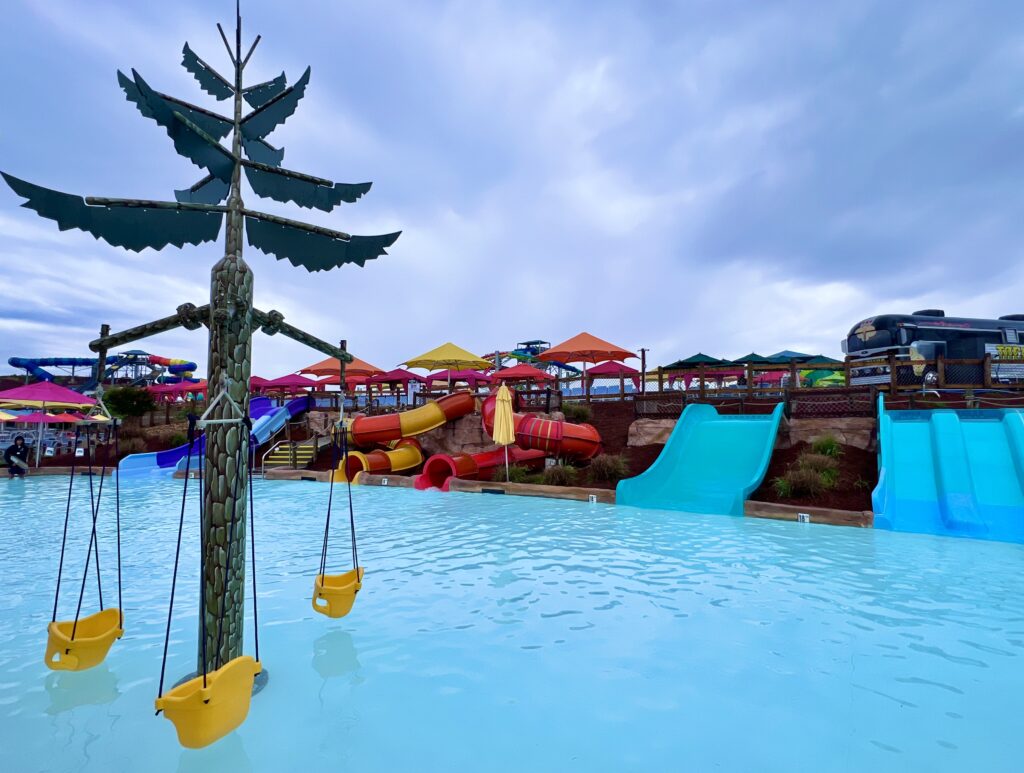 Boomer's Bay even features miniature versions of the popular boomerang and tornado slides. There's kid-sized tubes for these two slides available by the splash down pool. Large umbrellas provide shade when taking a break from the slides.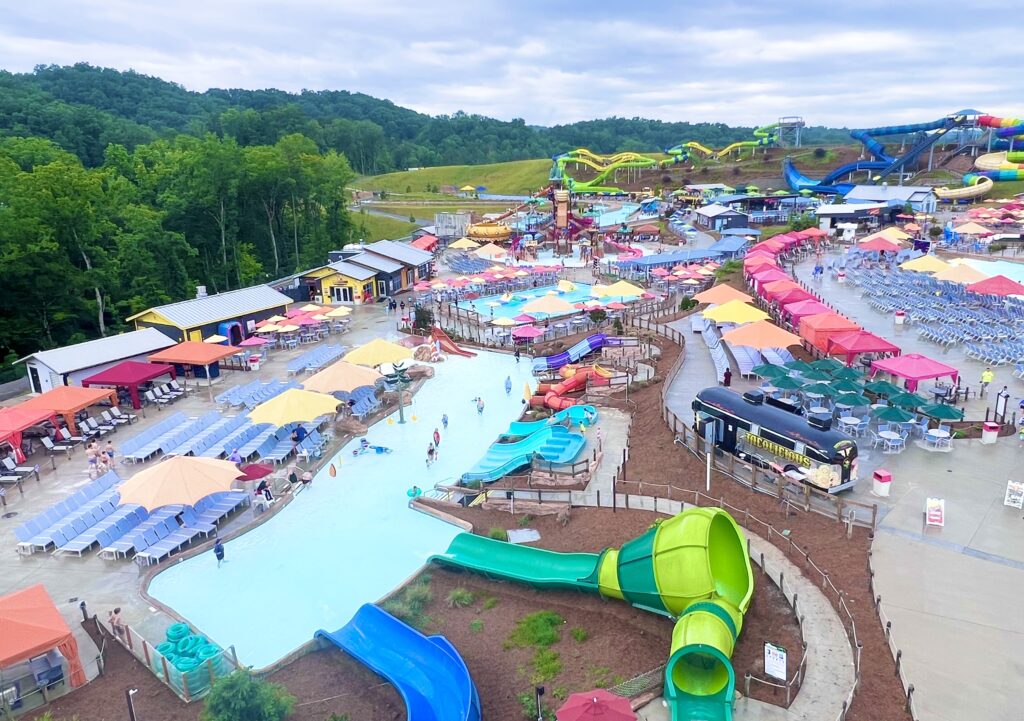 Hang 10essee FlowRider
Soaky Mountain even has something for surfers, a FlowRider surfing simulator called Hang 10essee. It requires a waiver before participating, which can be found at the station located next to it.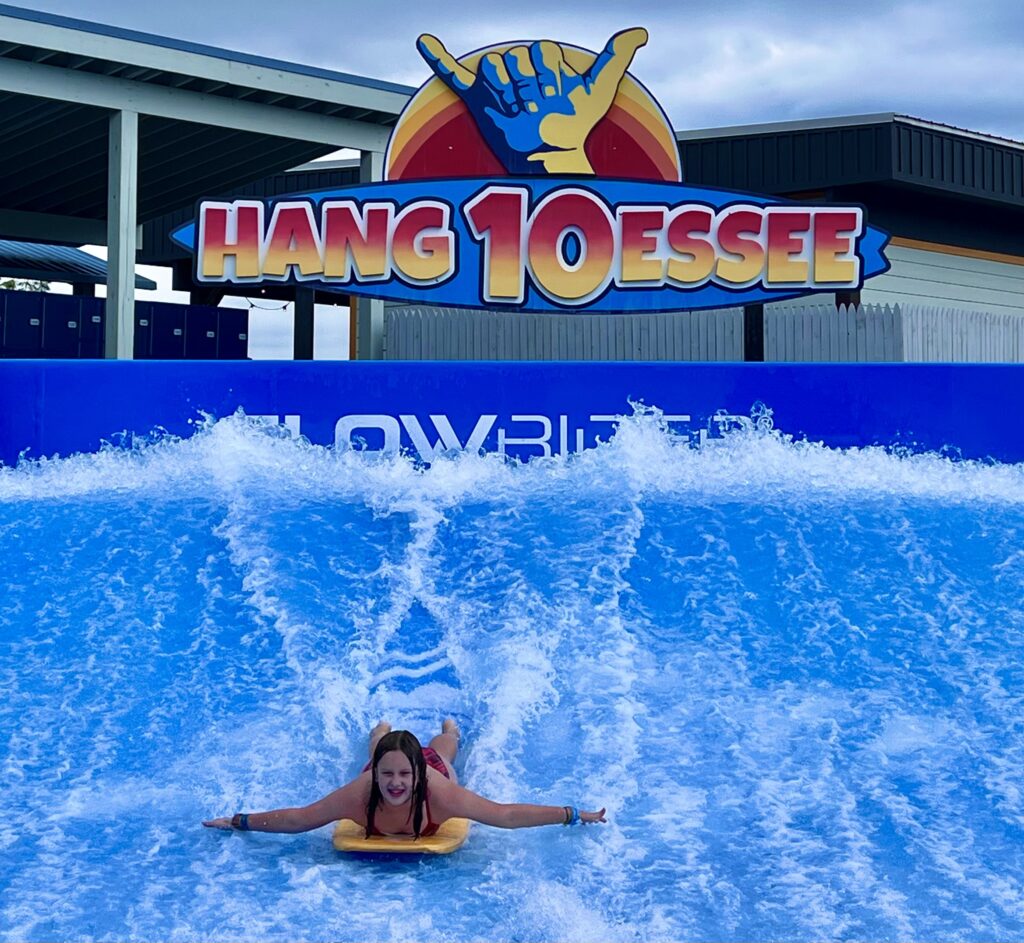 After signing a waiver, a wristband is provided for access. Each surfer will get some tips from the lifeguard before they jump on a board.
Slippery Salamanders
Another fun and unique in-water experience is the Slippery Salamander's Wibit obstacle course. Since here are two Wibit courses, it makes it possible to race to see who can be the fastest through the obstacles.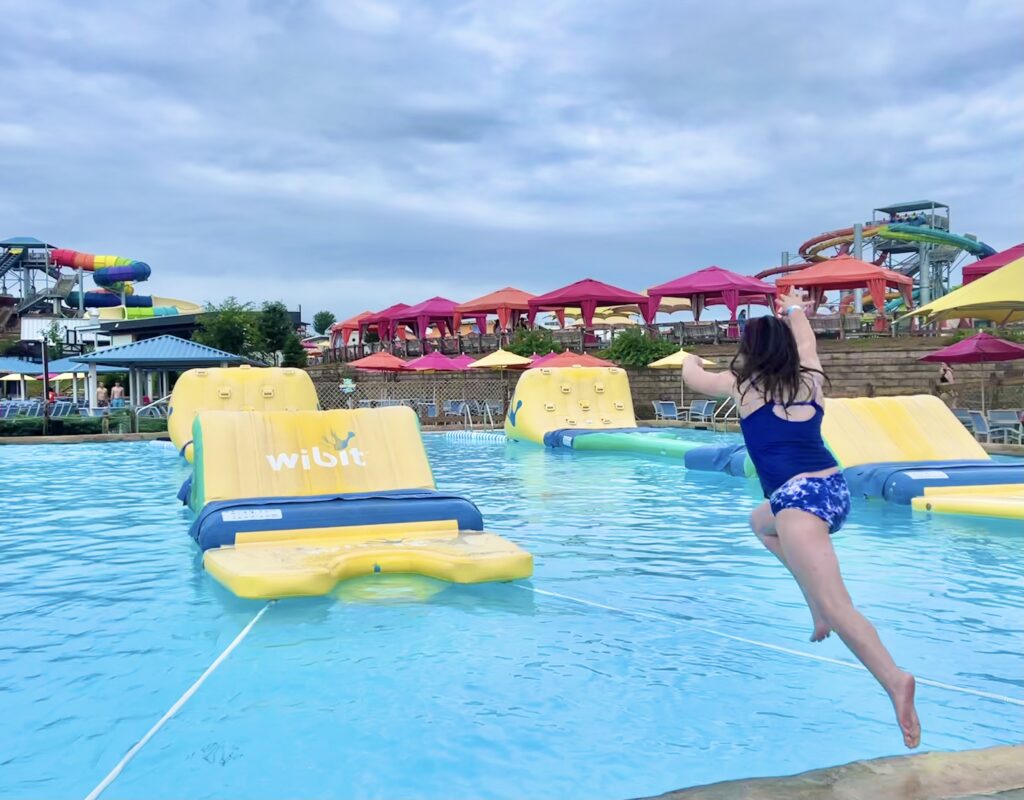 Water Coasters
Soaky Mountain is home to two watercoasters. This special type of water slide can take a raft uphill, as well as the traditional downhill ride.
The watercoaster at the far end of the park called The Edge ends in a unique feature, a boomerang slide. This watercoaster is also a dueling coaster, allowing two rafts to race to the end.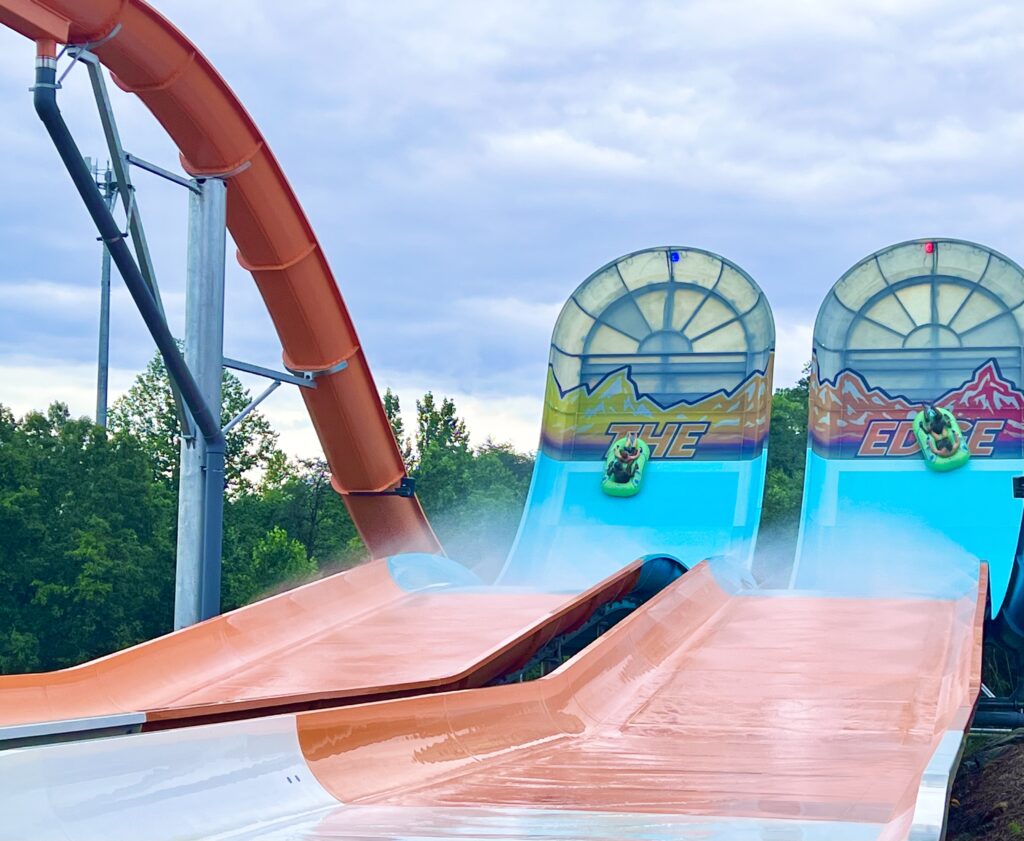 The race times are displayed at the splashdown and reports your speed.
The second watercoaster at Soaky Mountain, AVALAUNCH, has many hills and valleys, and an avalanche-like splash at the end.
Thrill Slides
In addition to the watercoasters and kiddie slides, Soaky Mountain is packed with tube slides, drop slides, and a mat racer.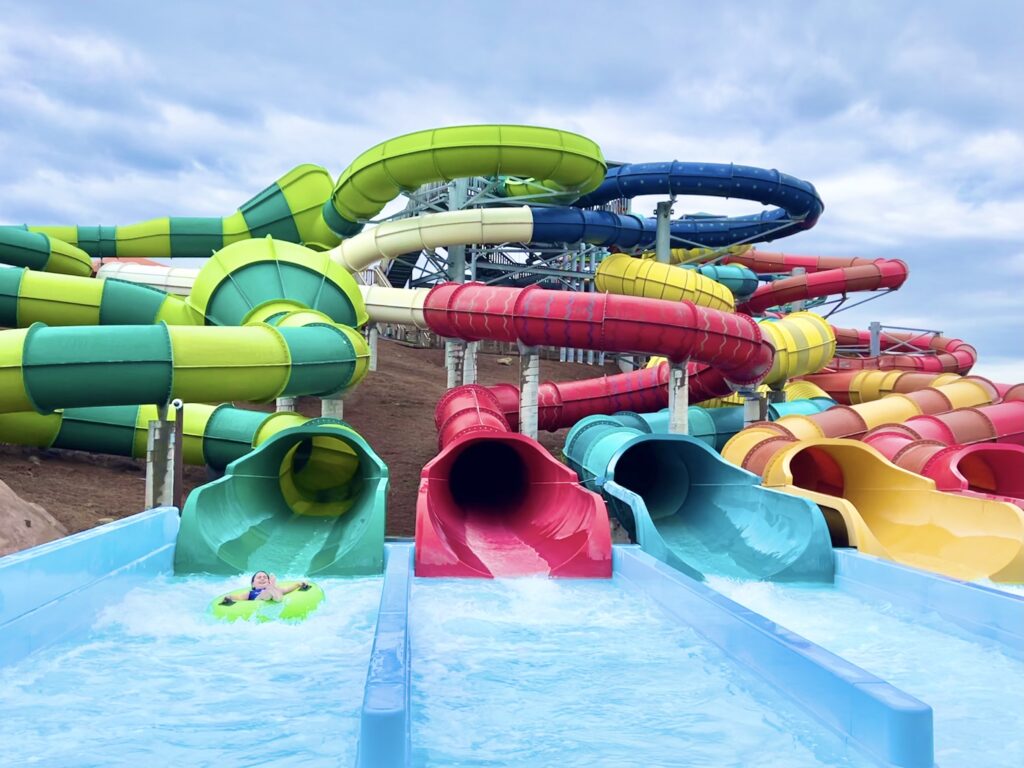 Be sure to check out each of the thrill slides, as they are different. There's mini tornados in the green slide and stars and stripes in the red slide.
Wave Pool
The large wave pool at Soaky Mountain has some major beach vibes as the waves roll in. The waves can be pretty intense when deeper in the pool.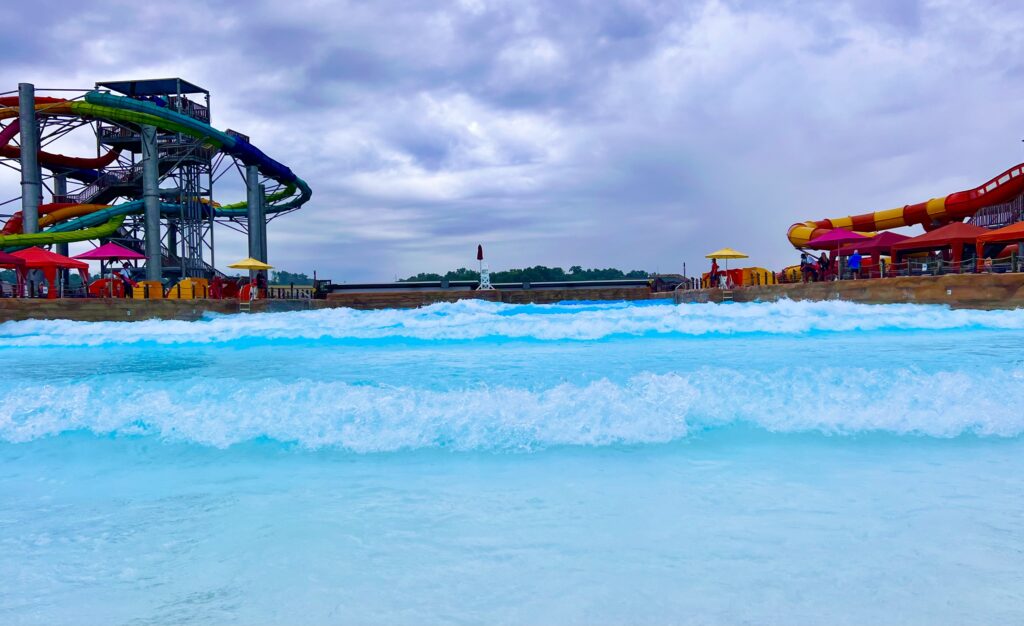 Black Bear Rapids – Lazy River
The lazy river at Soaky Mountain is called Black Bear Rapids. The experience on the lazy river changes throughout the day, going from a relaxing lazy river to a filled with rapids and fast-flowing fun.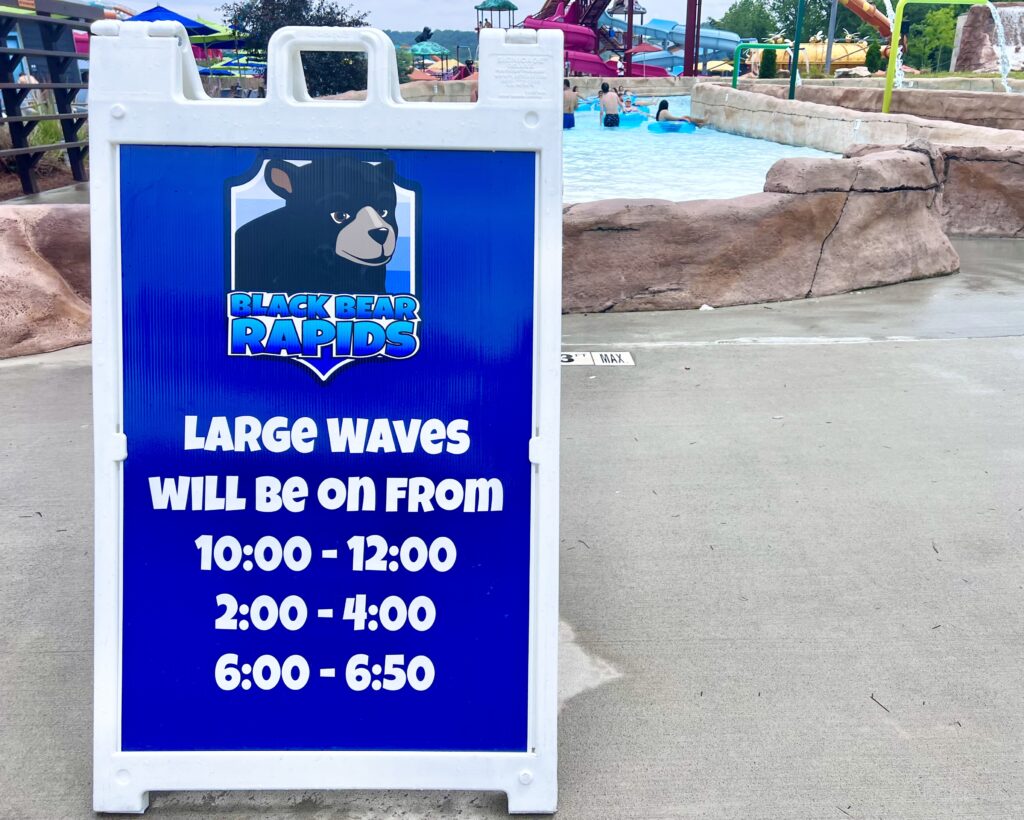 Check the sign posted in front of the Black Bear Rapids entrance to see when the large waves will be rolling in on that particular day.
Cabanas
For a break from the sun, there are many large umbrellas available. There's also a variety of cabins to rent for the day. The cabanas are scattered all over the park, so you can rent one close to where your family will hang out.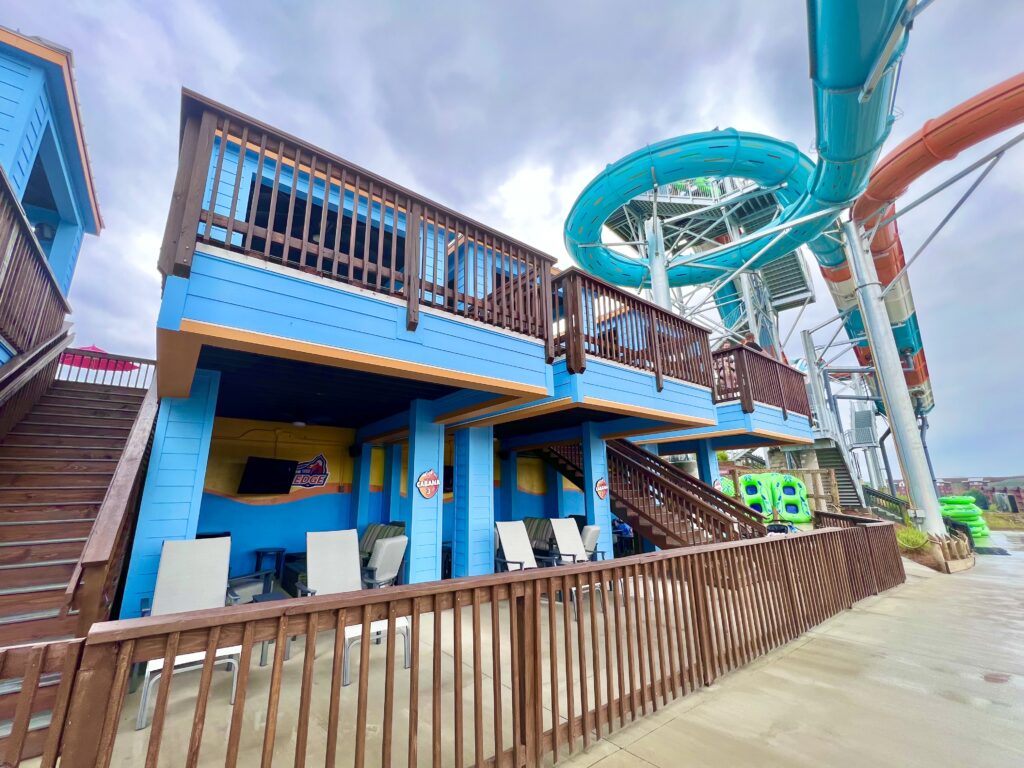 By the watercoaster, there are even double decker (two-story) cabanas. Other options for cabanas include clamshells with chairs and shade and shade and traditional cabanas..
Food and Shops
Throughout the park are shopping and dining options. There are all types of food from desserts, snacks, and meals, as well as adult beverages. There are traditional eateries with kid-friendly food, as well as food trucks, such as Tacolicious.
A yogurt shop, as well as the Candy Cabin are across from the merchandise shop close to the entrance walkway.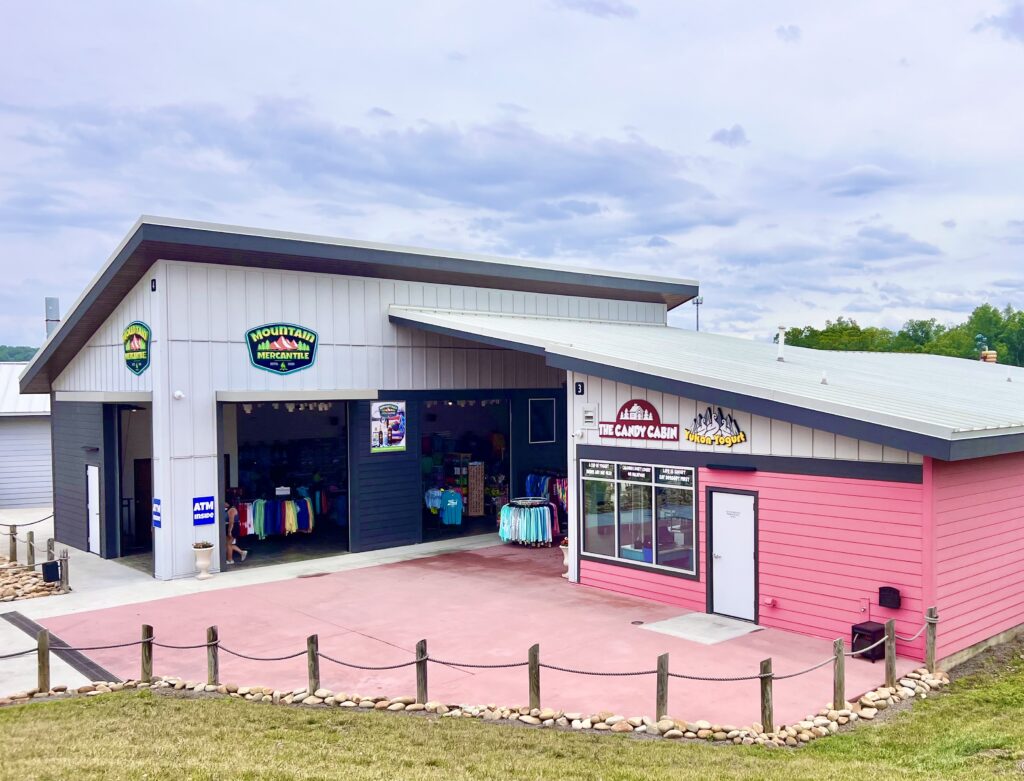 Sponsored Post – Soaky Mountain hosted us. All opinions are my own.
Looking for lodging close to Soaky Mountain?
Check out Wilderness at the Smokies, a resort nearby with three waterparks, onsite dining, and many more activities and amenities. Discount tickets for Soaky Mountain are available to guests of the Wilderness at the Smokies at the resort's front desk.