LEGOLAND New York theme park is located in Goshen, New York. Goshen is approximately 60 miles west of New York City.
From Central Pennsylvania, it's about a 3 and a half hour drive. When driving from Baltimore, it's approximately a four hour drive. The route from Allentown takes about 2 hours to drive.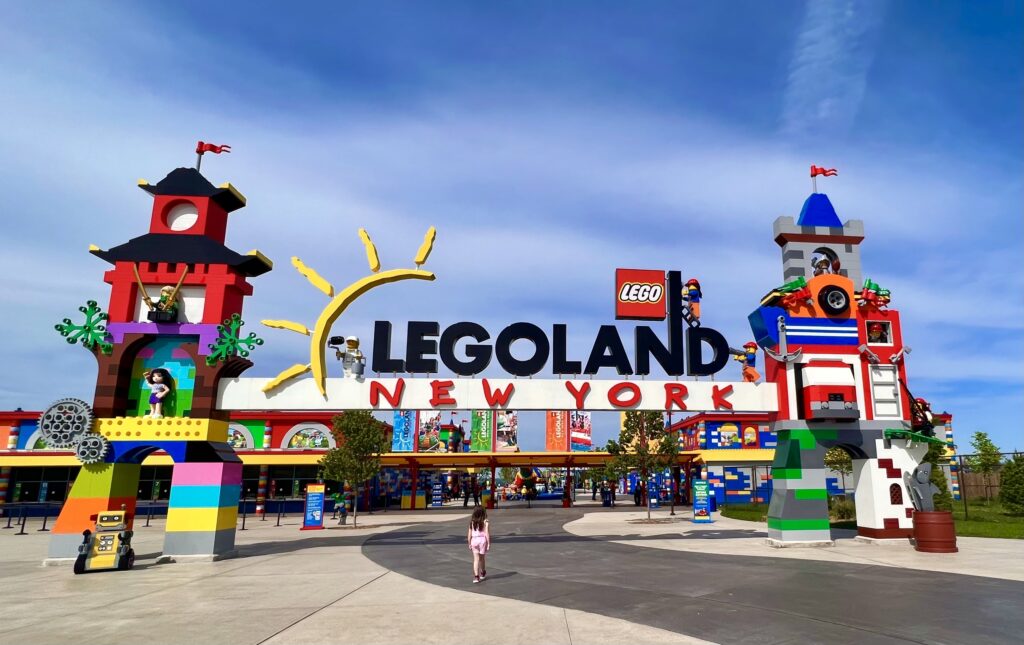 LEGOLAND New York Resort consists of a LEGOLAND theme park with rides, shows, shops, and restaurants. The Resort also includes LEGOLAND Hotel. This post will focus on the theme park.
Dated tickets are required to visit LEGOLAND New York theme park. Be sure to make these reservations in advance, as days do sell out.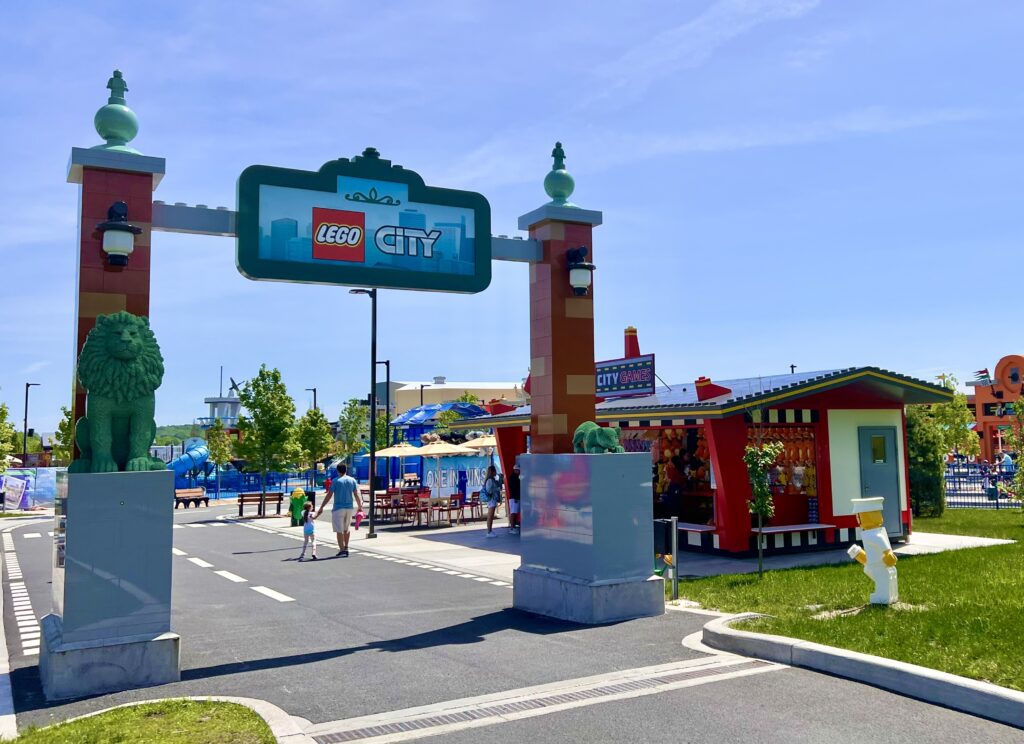 The LEGOLAND New York theme park consists of seven themed areas: Brick Street, Bricktopia, LEGO Ninjago World, LEGO Castle, LEGO City, LEGO Pirates, and Miniland.
Upon entering the theme park, the first area is Brick Street. The Brick Party Carousel will be the first ride you'll see in this area. There's also a very large LEGO shop called The BIG Shop.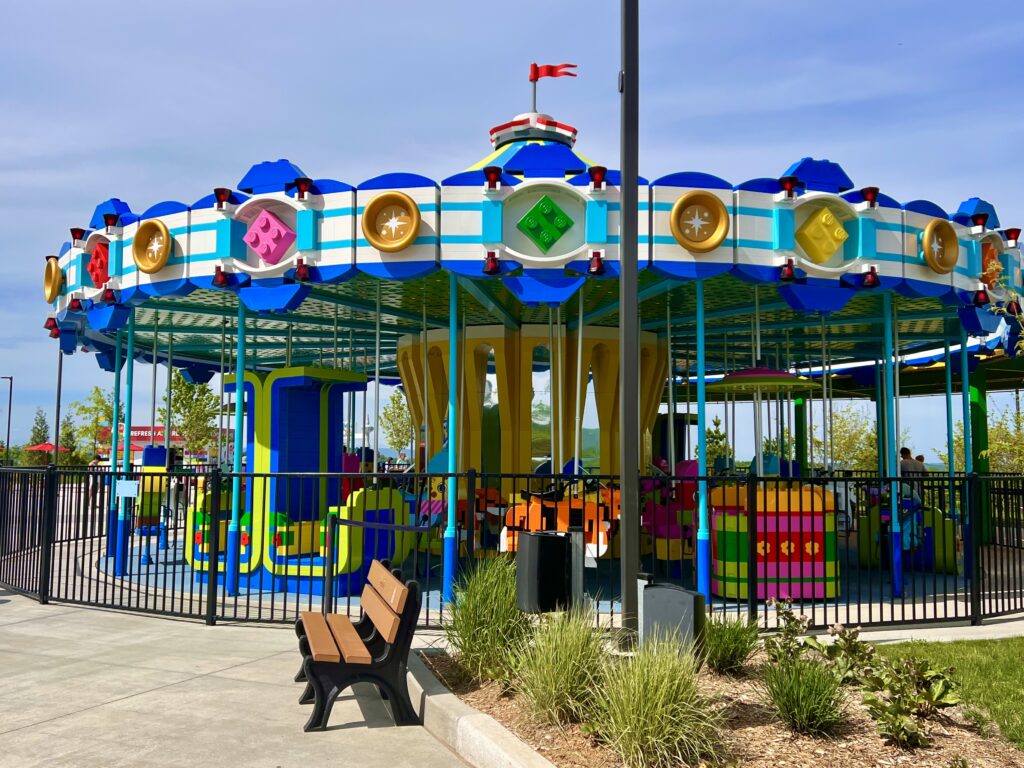 The BIG shop has two entrances, one close to the main park entrance, and one that faces the entrance to Miniland. There are many types of LEGOs to buy at The Big Shop, as well as other LEGOLAND souvenirs.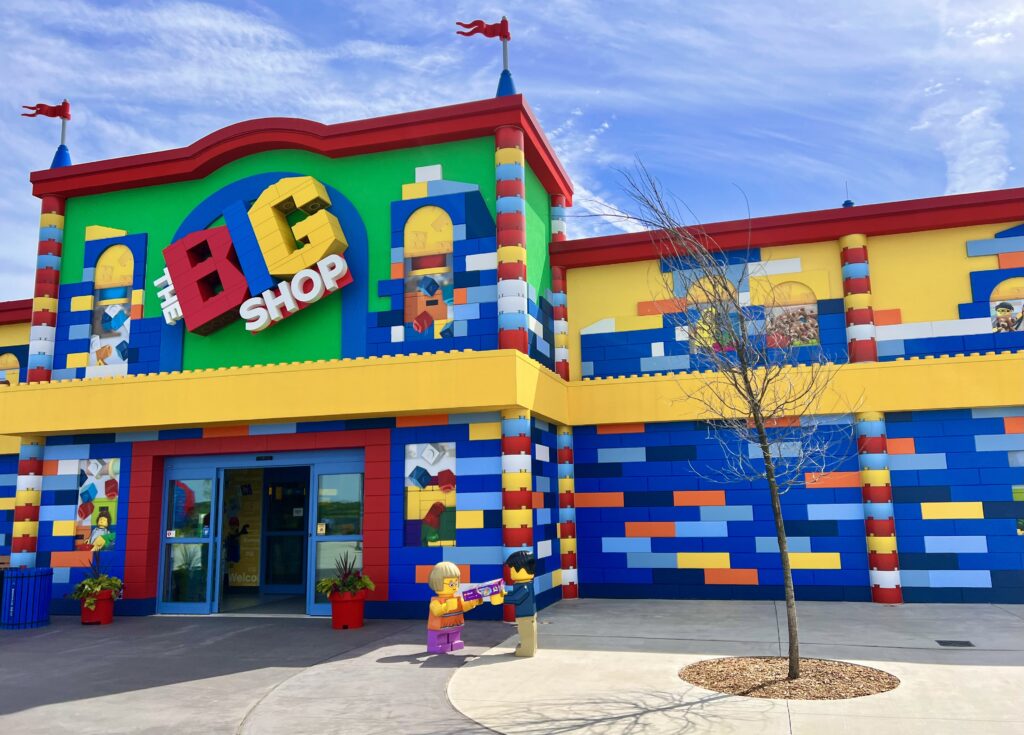 After The BIG Shop and the carousel is Build + Test area and the Creative Workshop. In Build + Test, children can make LEGO cars and race them or make a skyscraper and test its durability by shaking it.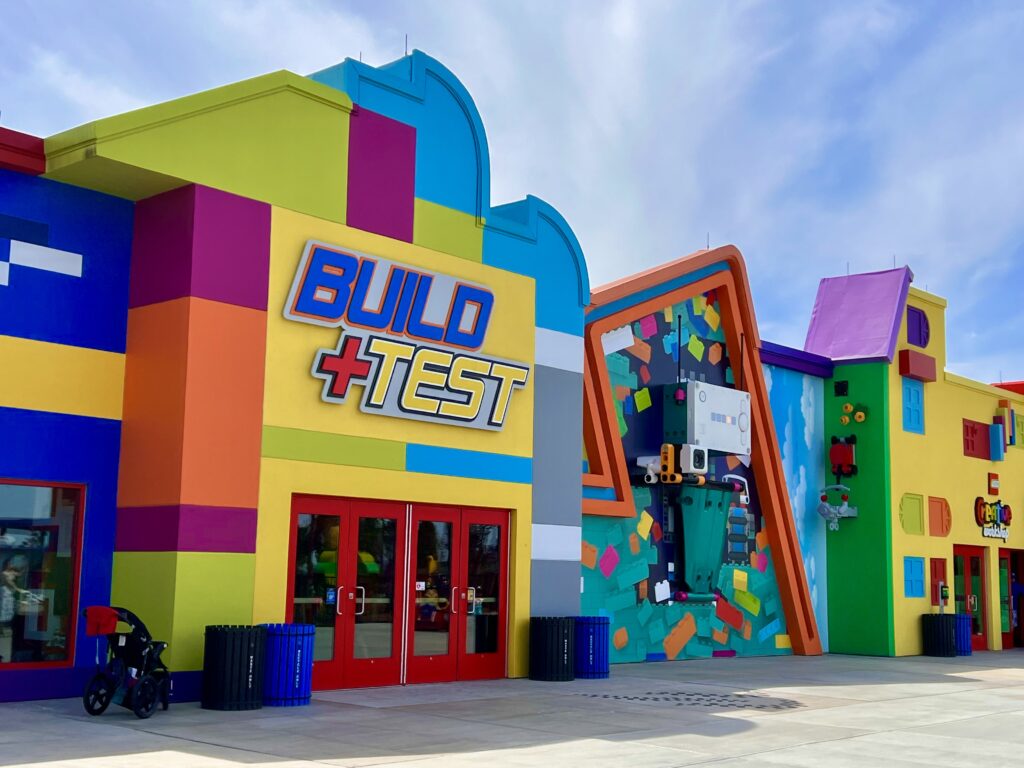 The LEGO Creative Workshop is a place for families to participate in learning the techniques of a LEGO Master Builder. There are different themed classes, so be sure to check in advance to register for the class that interests your child.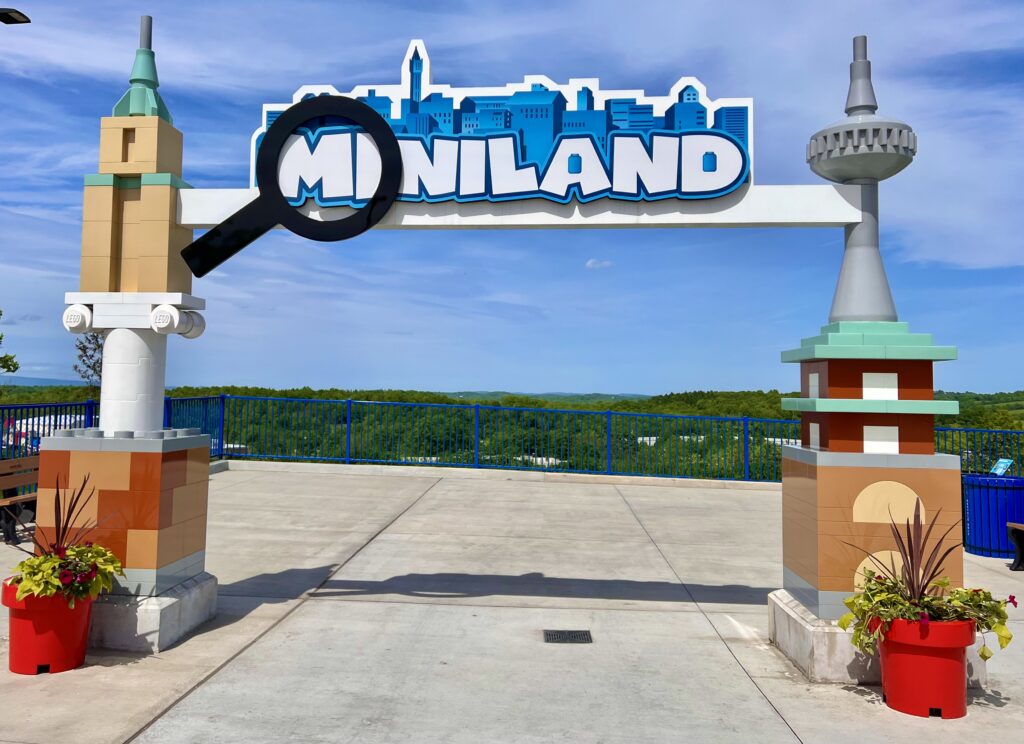 The entrance to Miniland is also in the Brick Street area. You can choose to descend (it's a large hill) into Miniland from here, which will lead to the LEGO Pirates area below. You can also continue on the main path to Bricktopia.
Miniland consists of tons of replica cities from all over the world, built out of LEGO bricks.
Bricktopia
If you stay along the main path and don't head into Miniland, the next area encountered will be Bricktopia. This area includes two flat rides, a Duplo Express train ride and DJ's Dizzy Disco Spin.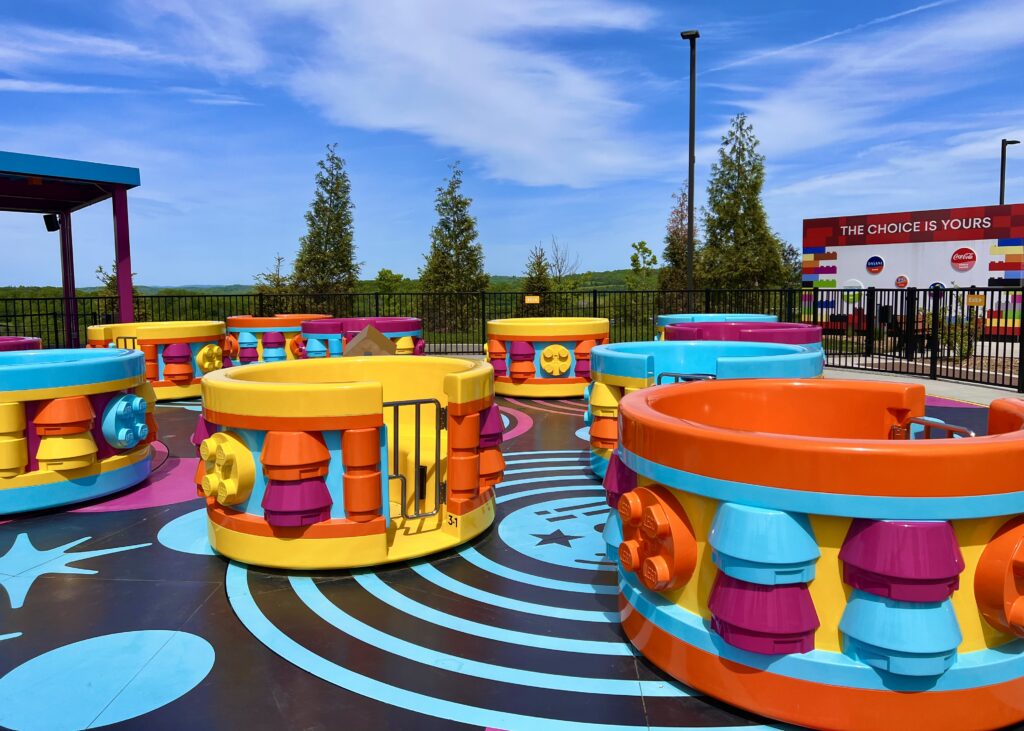 In this area there's also a large building which houses the LEGO Factory Adventure Ride. This ride is a factory-tour type ride which pretends to turn one person in your party into a mini figure!
This ride is very creative and unique. The cars move on a track-less system, so there are tons of fun twists and turns. Though, it's overall a fairly gentle ride.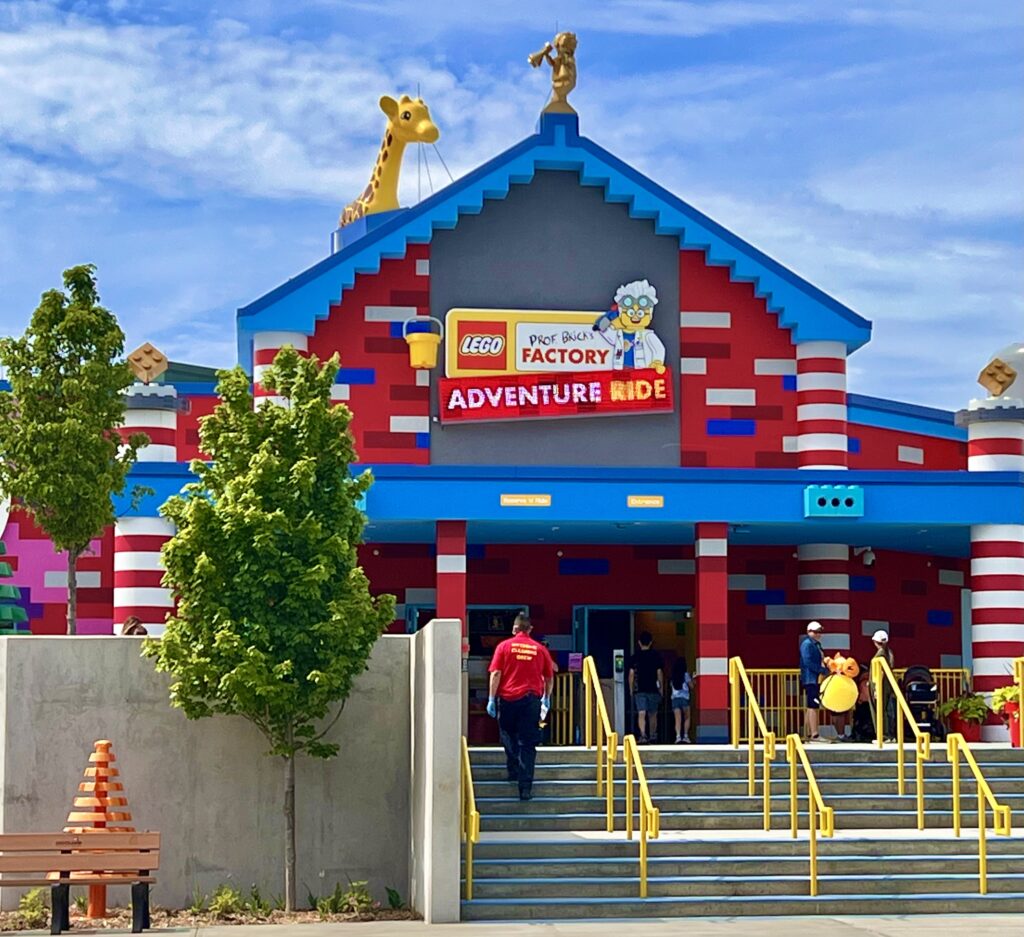 One fun restaurant in Bricktopia is the Smokey's Brick-B-Que. The building for this restaurant is a sight to see, and it also has outdoor seating. The restaurant offers real hickory wood smoked BBQ dishes like brisket, pulled pork, chicken, and sausage.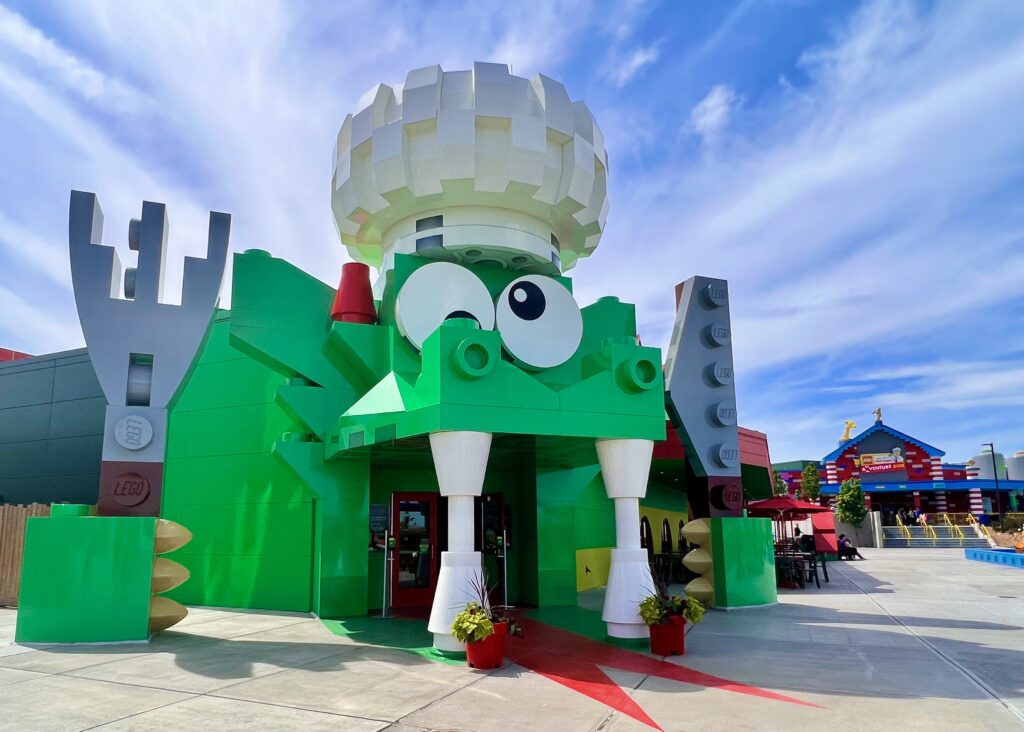 Right across from Smokey's is the musical instrument fountain, which is a magnet for kids. By standing in front of the musical instruments, they play and splash water.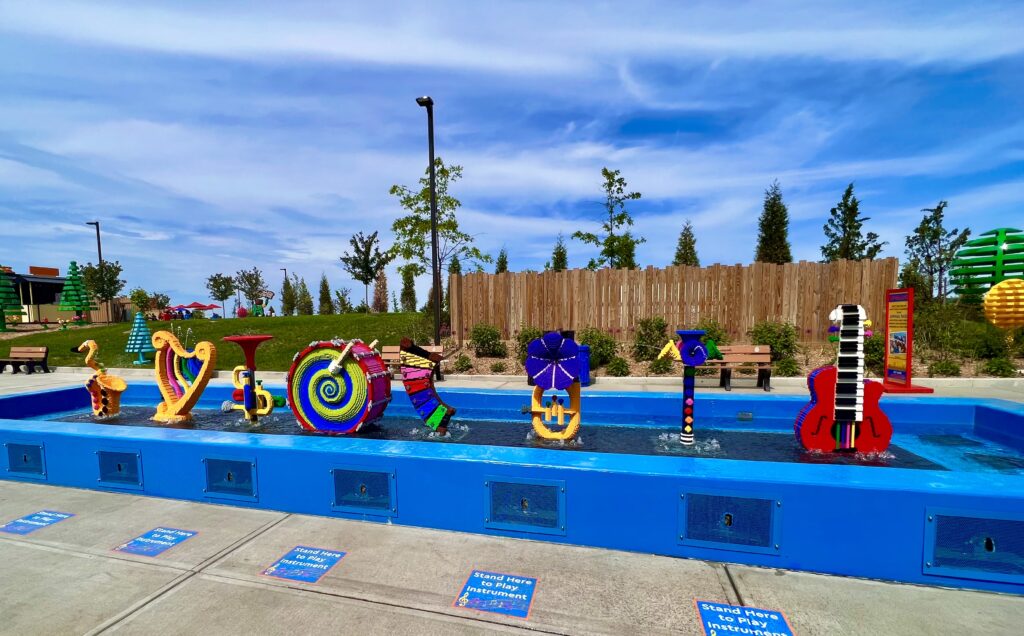 LEGO Ninjago World
Following the main path after Bricktopia is LEGO Ninjago World. This area includes the popular LEGO Ninjago Ride. This is an interactive ride where you can use your Ninjago skills to earn points.
LEGO Castle
After Ninjago World, there's a winding path that leads to LEGO Castle. From the path, it's easy to see The Dragon coaster, which is the big coaster for this theme park.
The coaster includes a winding path through some LEGO scenes, and then a quick ascent to the top of the lift hill, with twists and turns to avoid the Dragon.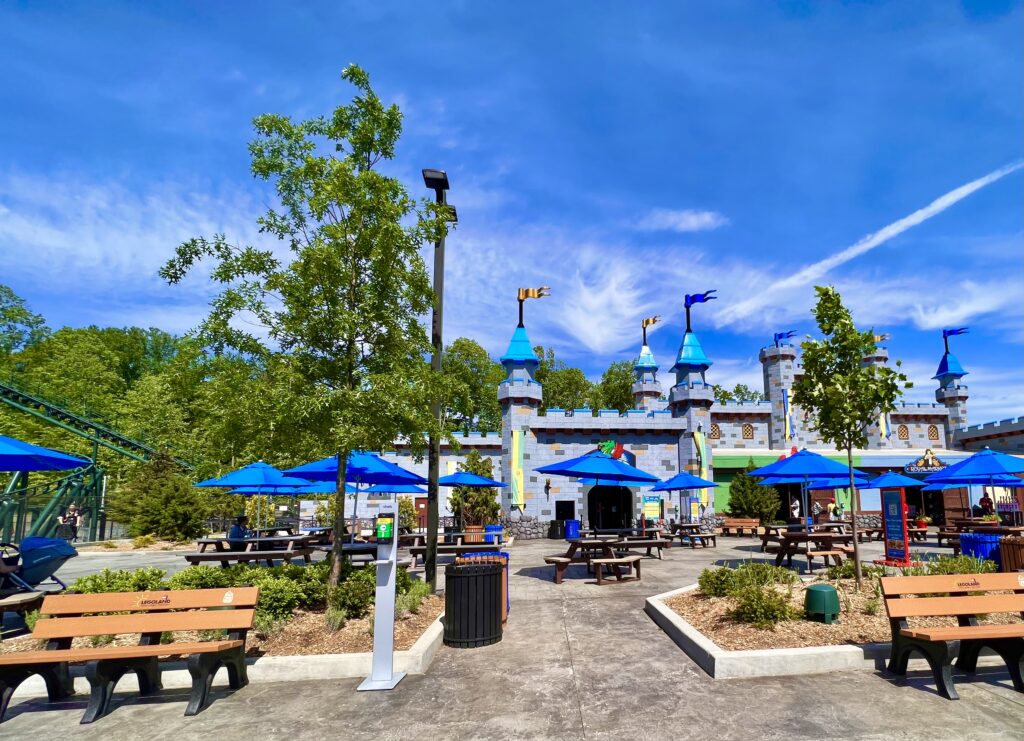 There's also a small version of the coaster for younger children, called The Dragon's Apprentice.
This area also includes Merlin's Flying Machines ride, which is a spinning ride that requires foot pedal work in order to fly higher.
There's also a Tower Climb Tournament ride where you can pull yourself up a tower using ropes, and then enjoy the ride down the tower.
LEGO City
After LEGO Castle area, there's a short walk into LEGO City. This area includes the popular Driving School, Fire Academy, and Coast Guard Academy rides.
Coast Guard Academy is trackless boat ride. Because it's trackless, it needs to be steered, but there are guiderails to help keep your boat on the right path.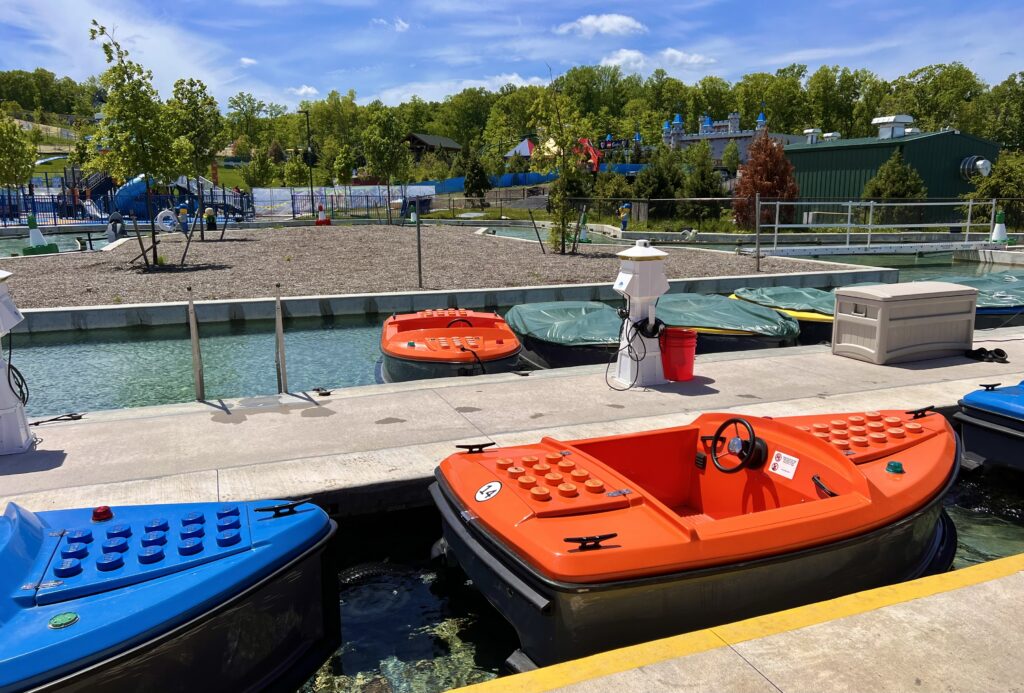 This is also the area where to purchase the famous apple fries at LEGOLAND. Apple fries taste like apple pie in the shape of a French fry.
The fries also include whip cream and caramel. You can choose to add ice cream to your apple fry order, too.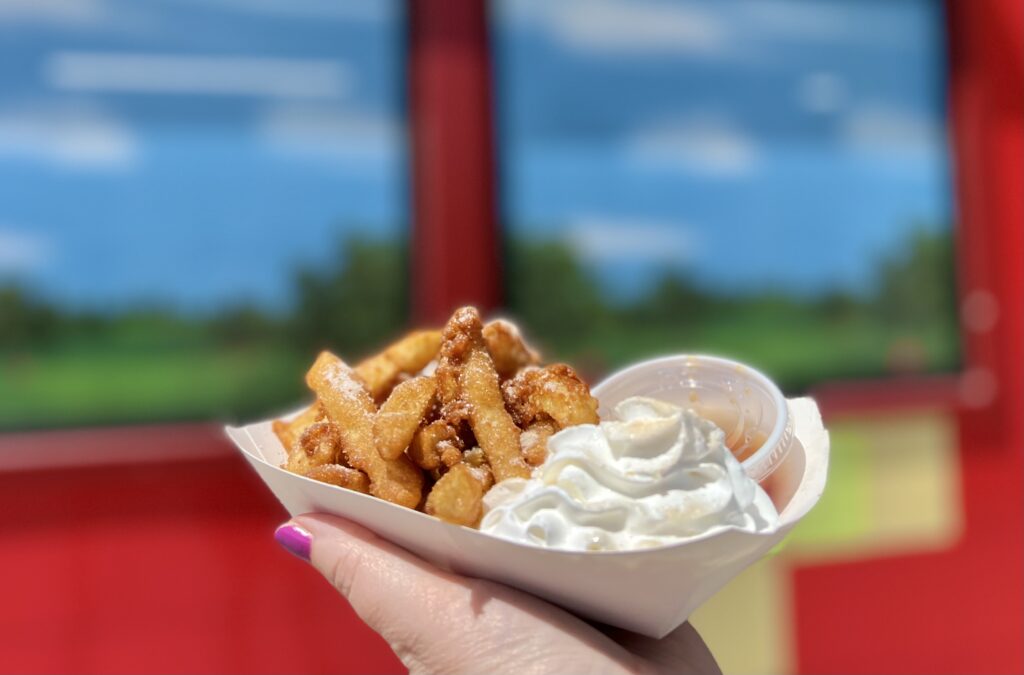 Driving School consists of two driving tracks. One for children 3 to 5 years old called junior driving school. Ages 6 to 13 can participate in the regular driving school.
Driving School is usually a favorite for kids, as it's also trackless. Kids can navigate the streets of LEGO City, learning to stop at stoplights and yield when they make left turns.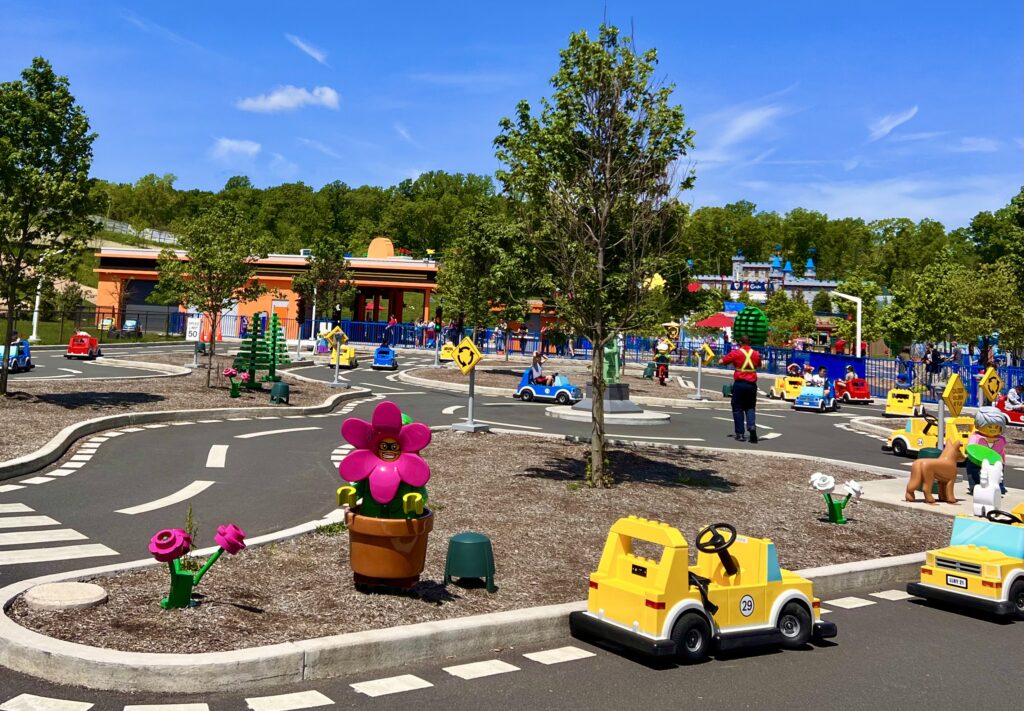 Fire Academy is another ride in the LEGO City area. For this ride, it's best to have a group of people for your LEGO fire engine, because it manually needs pumped to get to the "fire". Then, there's a race to put out the "fire", that also requires pumping.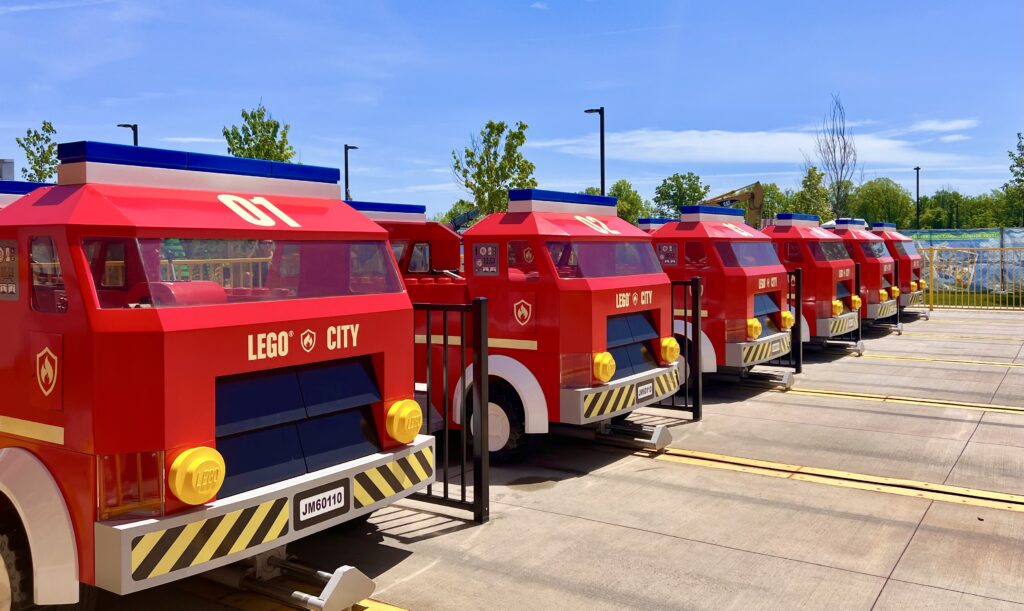 LEGO City also features the 4D Palace Cinema. This building offers rotating LEGO movies. Keep in mind that the 4D experience includes mist. You'll most likely get a bit damp from the mist during these movies.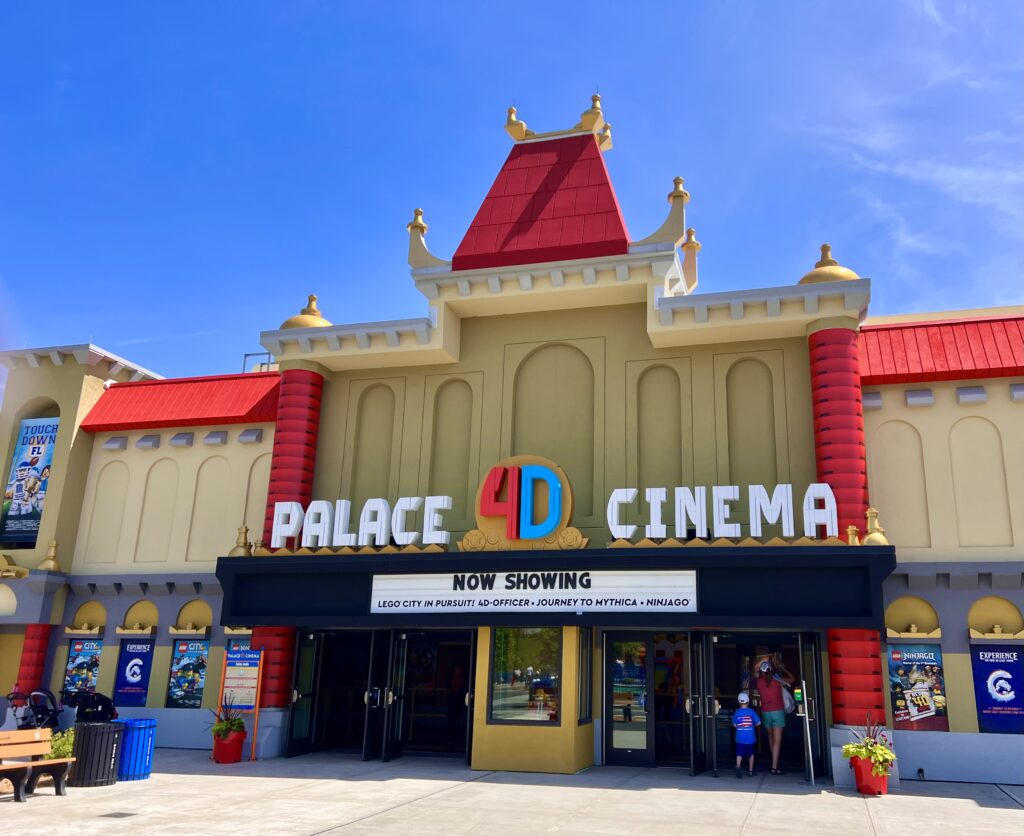 Check out their show times to ensure you arrive in time for your children's favorite themed show. There are three rotating movies at this cinema.
LEGO Pirates
Completing the loop of LEGO-themed areas is LEGO Pirates. This area includes the water rides in the park. You will get wet on these rides: Rogue Riders and Splash Battle.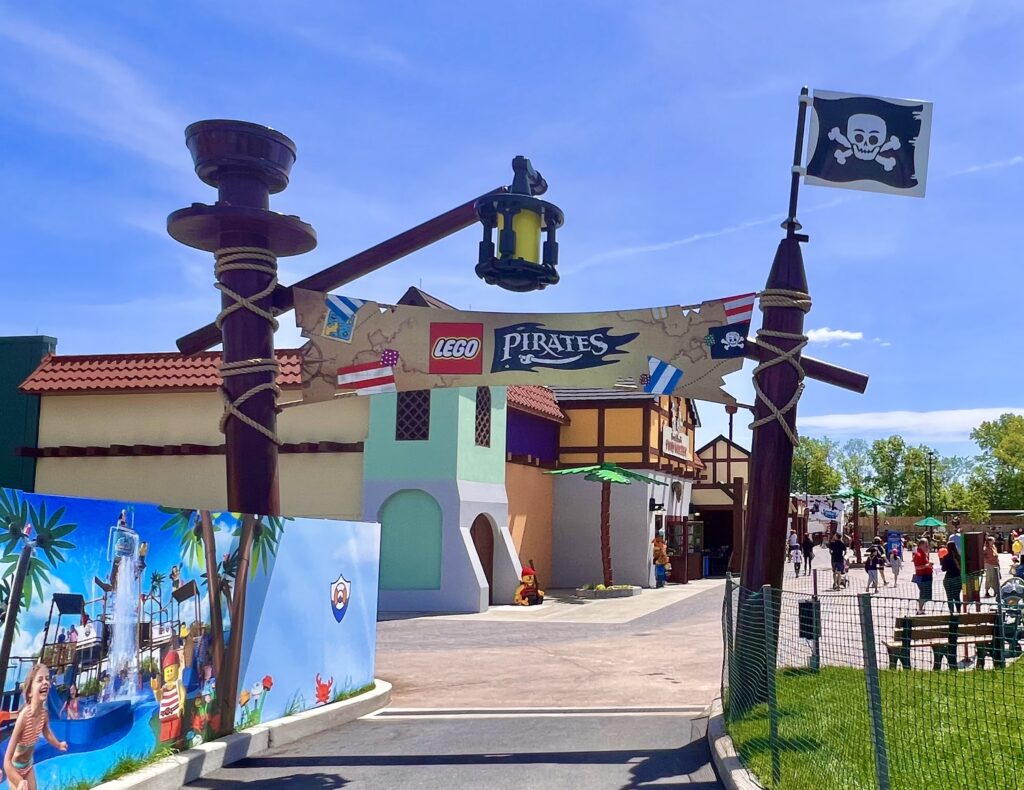 On the way to the LEGO Pirates world, you'll see the location for the new water playground. It was still under construction as of May 2022, but it's currently slated to open sometime during the summer of 2022.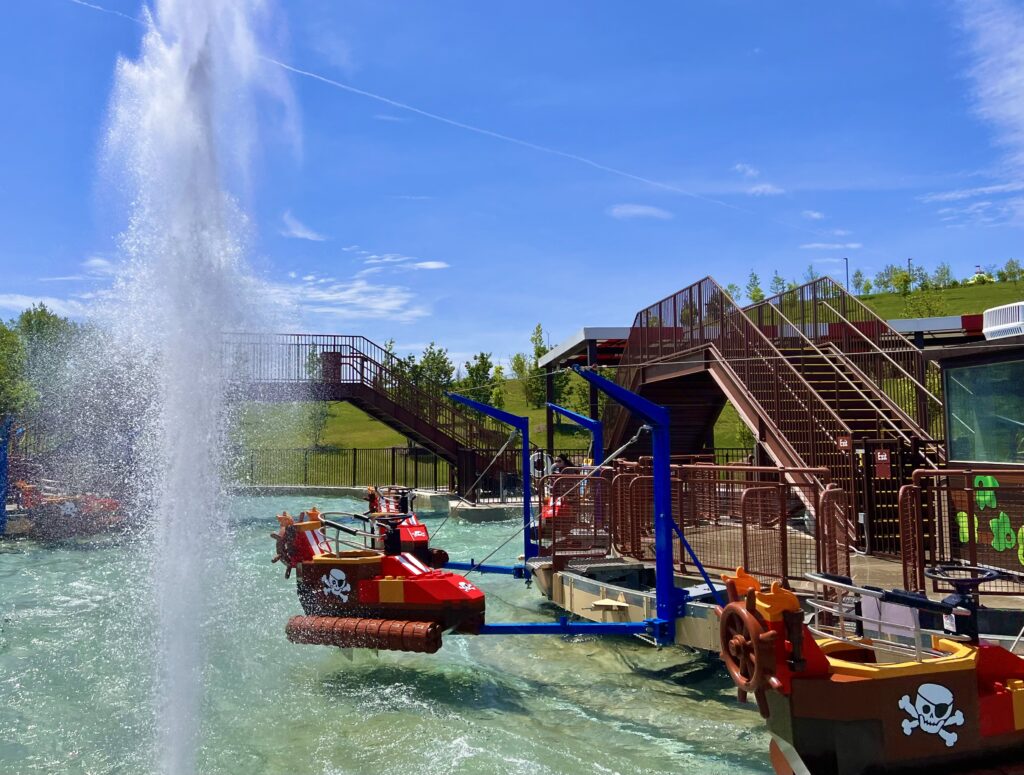 Rogue Riders has water cannons which spray at certain intervals. There's also the spray from the mini pirate ships splashing around in the water.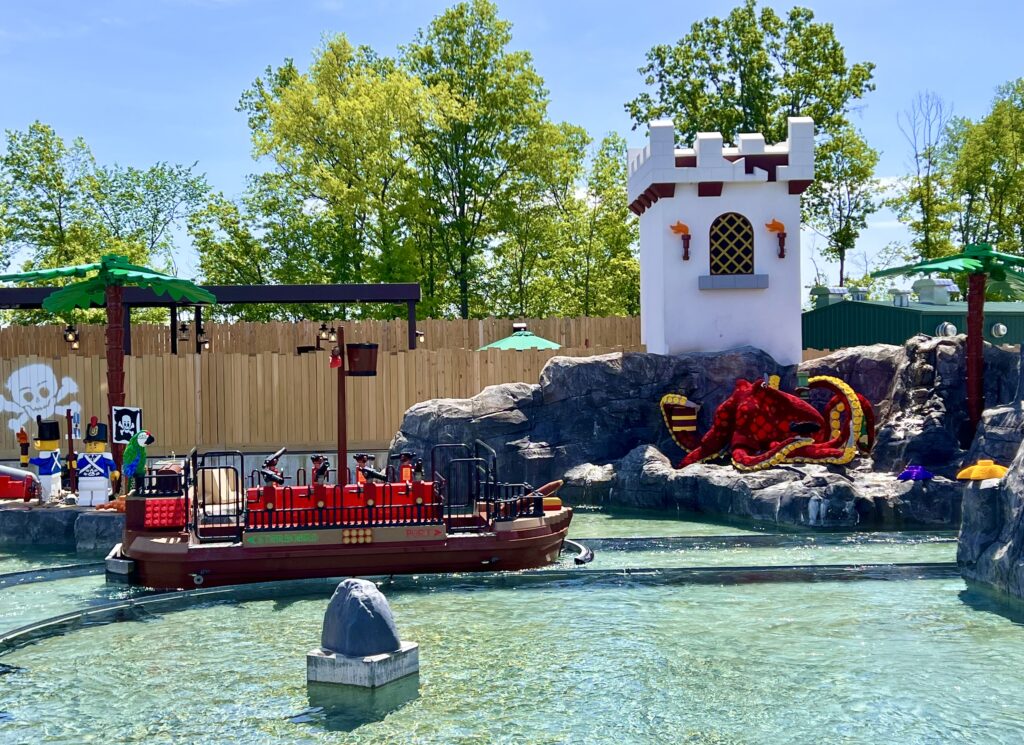 Splash Battle is a ride on a large pirate ship, which includes water cannons. Keep in mind that water cannons reach other boats. There's also cannons around the perimeter of the ride on dry land, that can also spray the cannons.
It's possible to get very wet on this ride, especially if you sit on a particular side of the boat.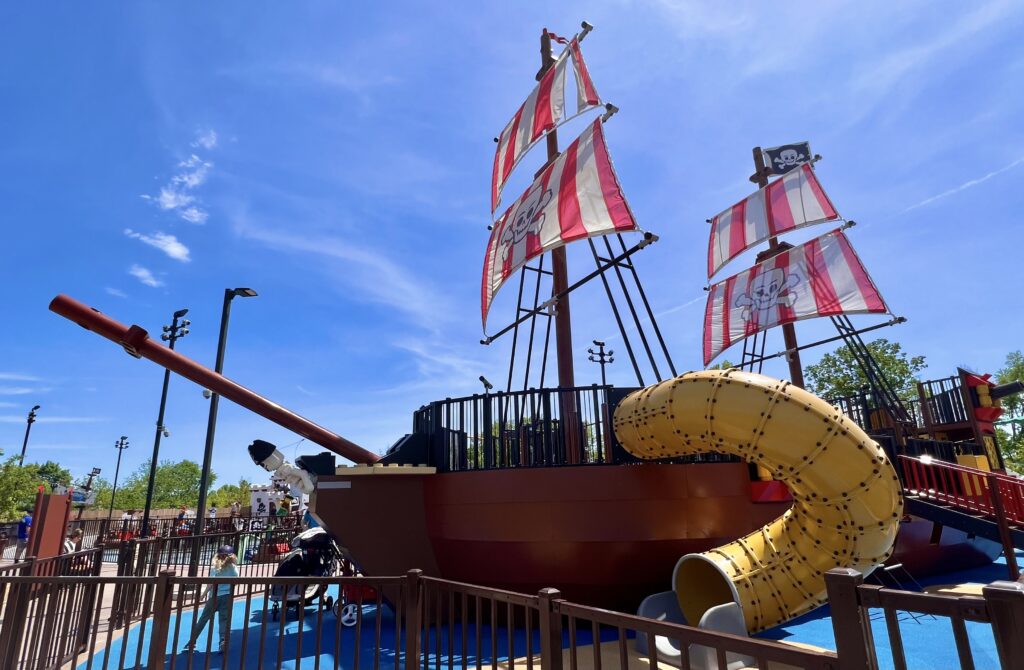 There's also a pirate ship themed playground and a pirate ship, rocking boat ride in the LEGO Pirates area.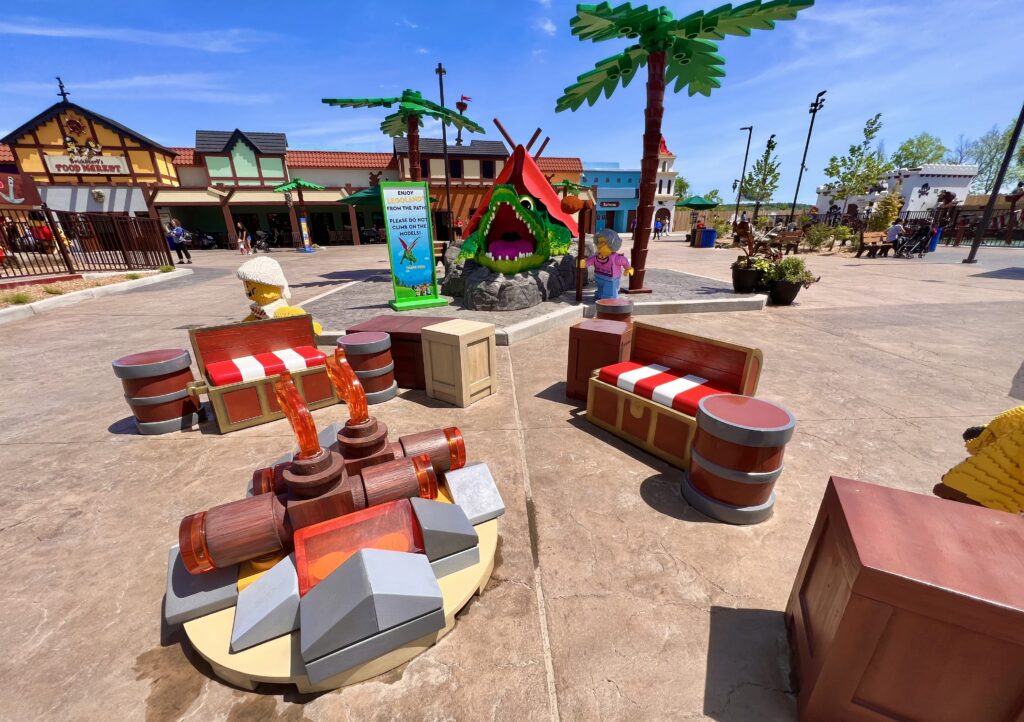 Important note about the pirate ship playground: It's possible for the water cannons from Splash Battle to launch water onto the side of the playground. If you're watching your children play and don't want to get wet, do not stand by the wooden fence.
The restaurant in the Pirate World is called Brickbeard's Food Market. It includes food such as orange chicken bowls, vegetable rice bowls, salads, cheesesteaks, burgers, chicken tenders, and French fries.
Miniland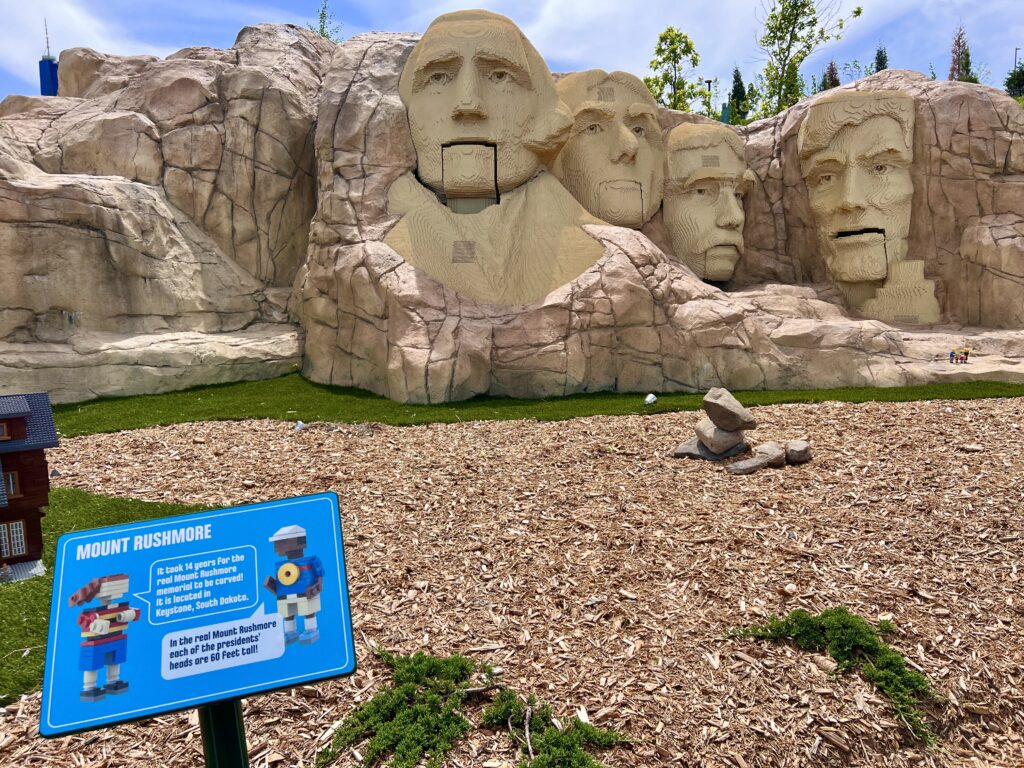 To get to Miniland from this last area, Pirates, you'll need to back track a bit to get to the path in between Pirates and LEGO City. LEGOLAND New York is currently constructing more pathways between the worlds. For now, the quickest way to get from Pirates back to the main entrance is to go up the hill of Miniland.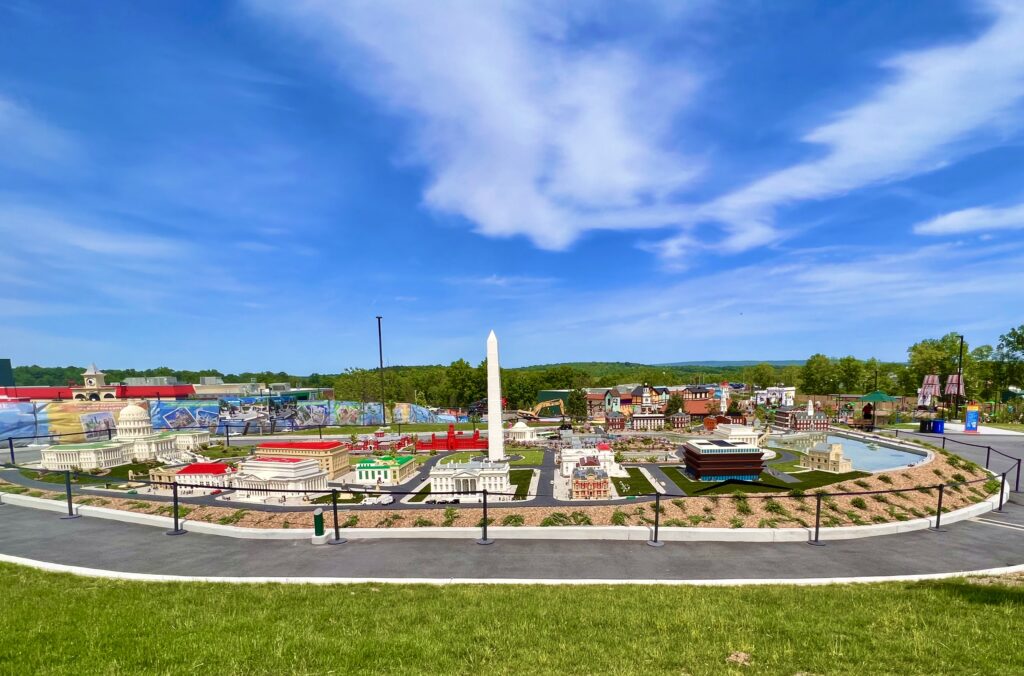 There are stairs in this area to make the ascent quicker, but there's also a gradual winding path to take in all of the amazing Miniland structures. Take note of the creative names on some of the buildings, and all of the details that go into making these Miniland cities.
How Many Days to Spend in LEGOLAND New York Theme Park
If the theme park is not busy, it's possible to cover most of the park in one day. However, it would be difficult to watch all of the shows, movies, and participate in the Creative Workshop in one day. If it's going to be a busy weekend or holiday, it may take two full days to see and ride everything at LEGOLAND New York.
If you'd like to see each of the shows, movies, and do the Creative Workshops, then it may also take two days to do it all.
LEGOLAND New York Discount Tickets
Discount tickets for LEGOLAND New York Resort can be purchased through many different outlets. There are offers for BOGO tickets (buy one adult ticket and get a free child ticket). These tickets may be called LEGOLAND Kids go free tickets. VALPAK, Little Debbie, Honest Kids, and LEGO Duplo packs have had Buy One Get One coupons available in the past. There could also be LEGOLAND coupons though AAA, Sam's Club, and Entertainment Book.
Does LEGOLAND New York have a water park?
The water playground is now open! As of June 2023, the water playground is accessible by reservation only. Reservations can be made on the LEGOLAND New York Resort website. Keep in mind, it is one water play structure and not an entire water park.
Tips for Visiting LEGOLAND New York
If you plan to ride Rogue Riders or Splash Battle, you will most likely get wet. You may want to bring a towel, change of clothes, and/or change of shoes. There's also a heavy mist in the Palace 4D movies, so plan to do all these rides and movies before changing into dry clothes.
There is a baby care station in LEGO City. It's in the same building as the Brickolini's Pizza and Pasta buffet.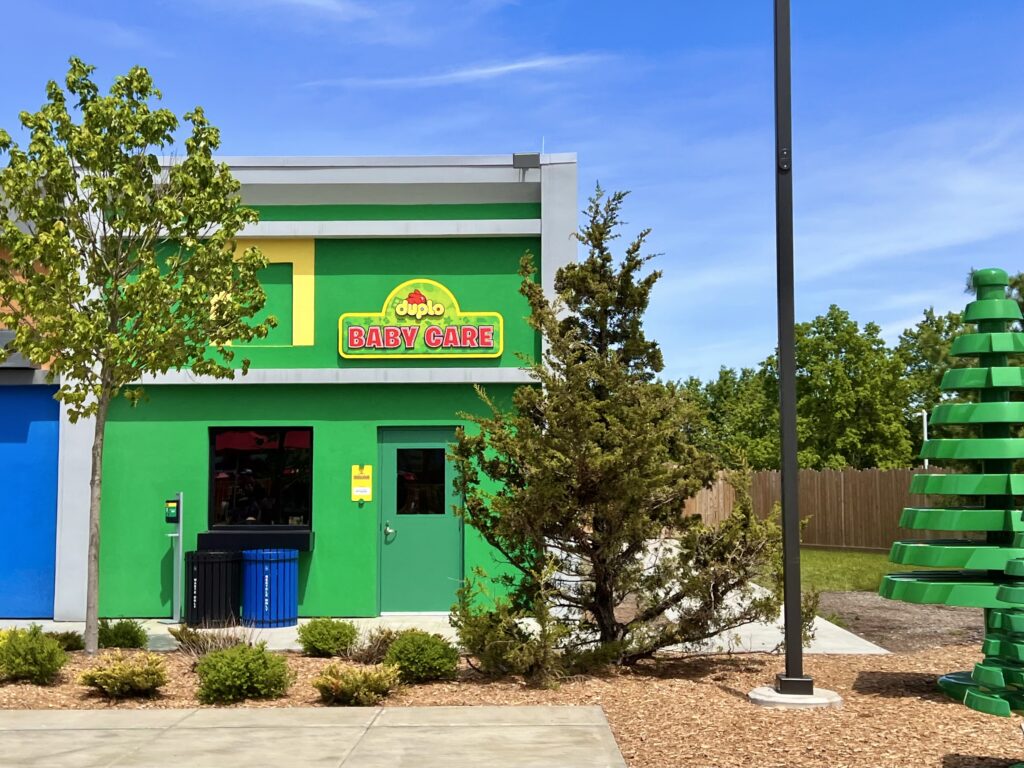 Coast Guard Academy and The Dragon's Apprentice tends to get one of the longest lines in the park. Ride them early in the day to try to avoid the line.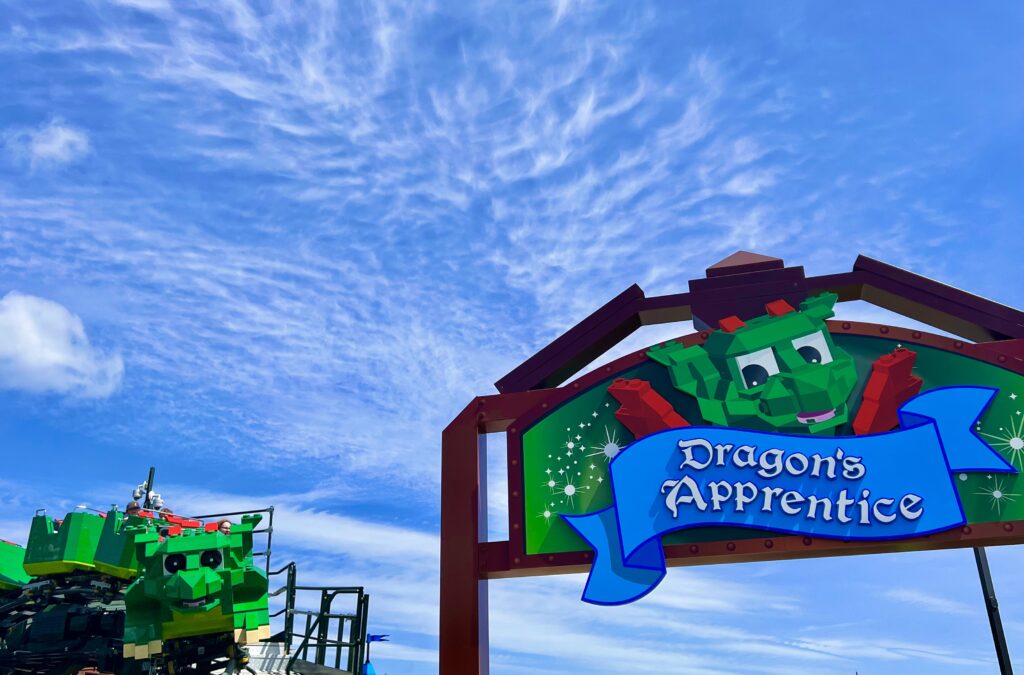 Check out the times for certain movies and creative workshops early in the day. Then, if your child is interested in a certain one, plan your day around those times.
As always with theme parks, be sure to check their website ahead of time to see which rides your child(ren) is/are old enough to ride. Download their mobile app for wait times and show times.
There is a lot of walking at LEGOLAND New York theme park, so plan to bring a stroller for younger children.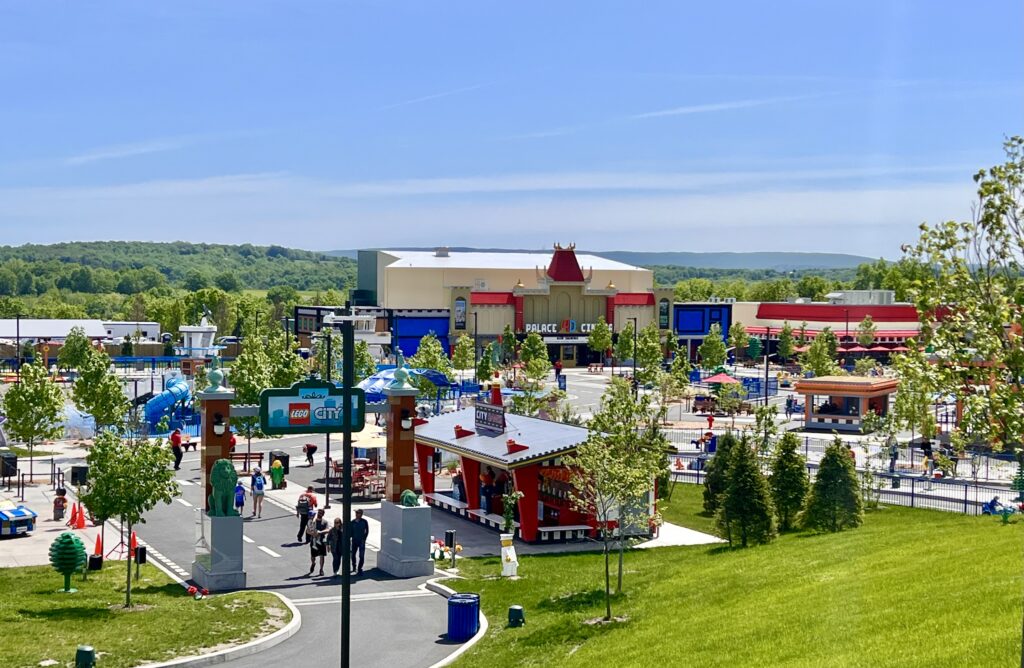 Water bottle filling stations are available throughout the park. We brought our own water bottles and refilled the water throughout the day.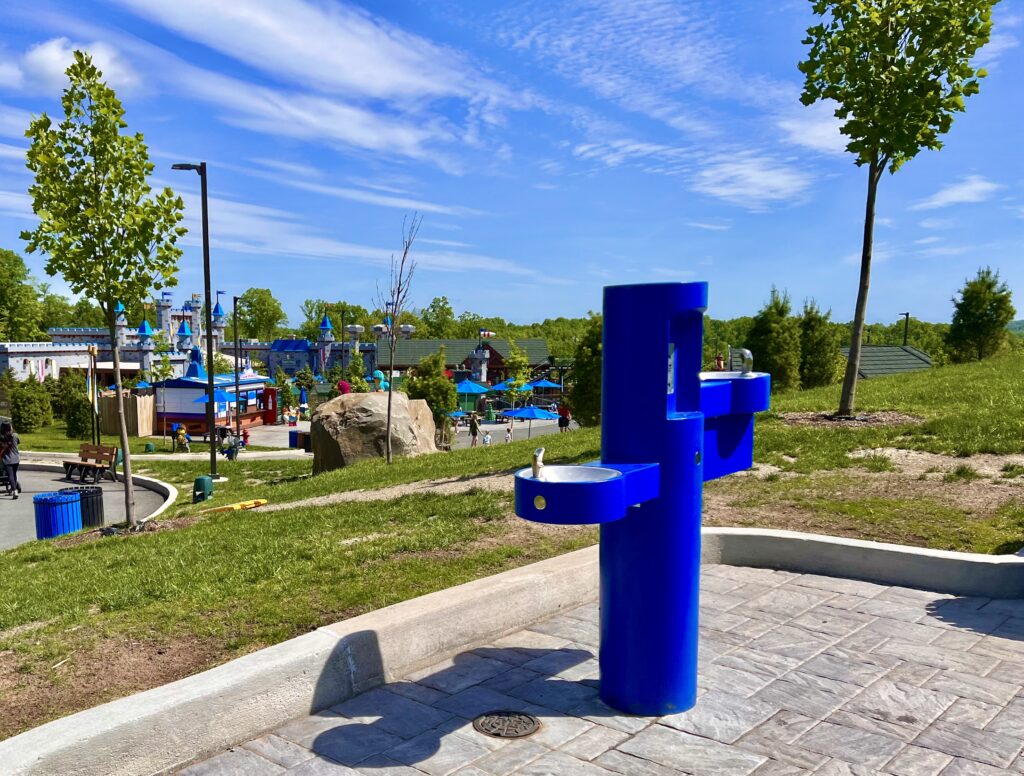 Characters appear throughout the park. We found them at the main entrance and in the castle area.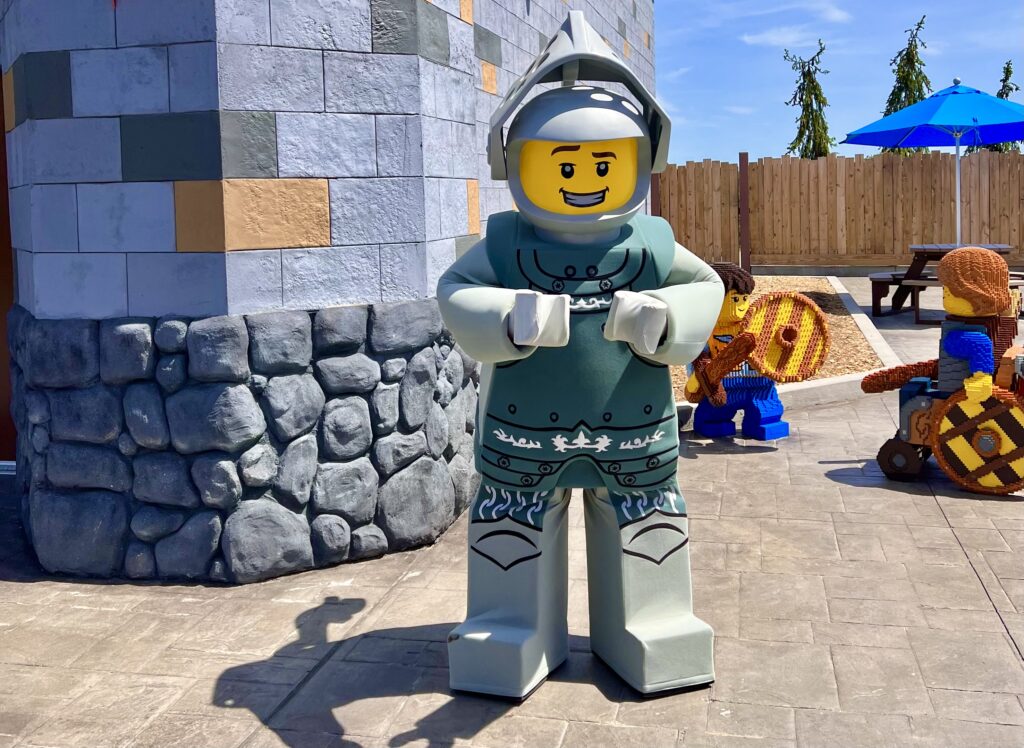 Fire Academy takes a lot of work to pump the fire engines to their location. It's best to have two adults to help.
On a hot day, there isn't many shade trees since the park is new. To cool off, ride indoor rides such as Ninjago and Factory Adventure Ride or watch a movie at the Palace 4D Cinema.
Looking for other LEGO experiences?
Check out LEGOLAND Discovery Center in Philadelphia or LEGOLAND Resort Florida.