Sponsored Post – Visit Shenandoah County hosted our visit to Bryce Resort. All opinions are my own.
Bryce Resort is located at 1982 Fairway Drive in Basye, Virginia. Basye is a short drive from Interstate 81, near Mt Jackson. It's approximately a two hour drive from Washington, D.C.
There are many adventures on the mountain at Bryce Resort in both the winter and summer.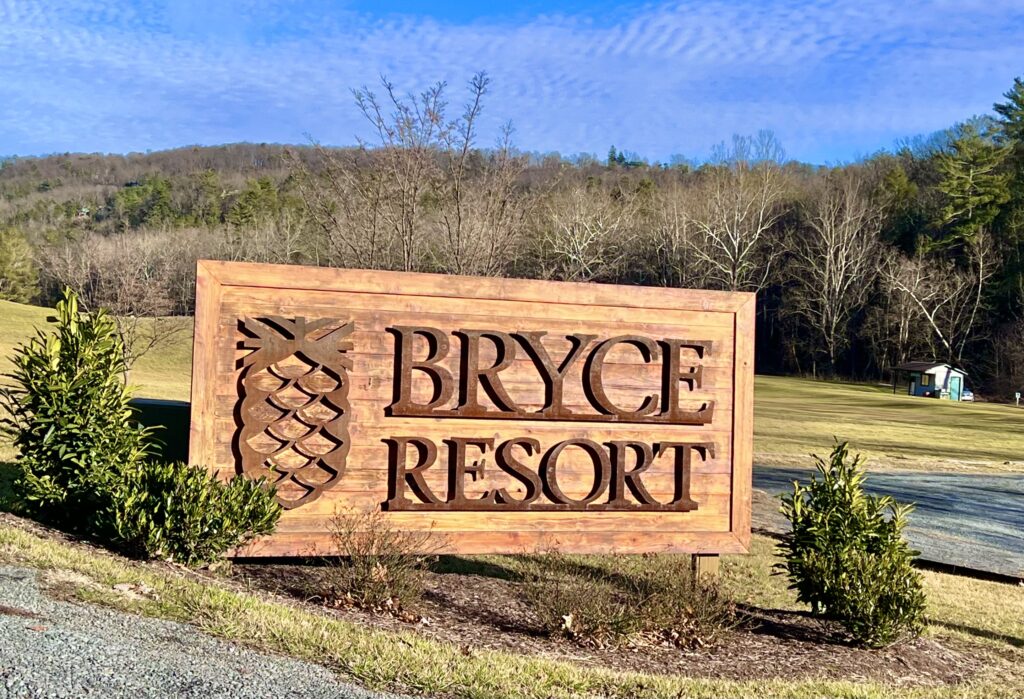 Snow Tubing
At Bryce Resort, snow tubing is one of the many attractions in the winter. There are three snowing tubing lanes on the hill. To have access to snow tubing hills, reservations are highly recommended, as times often sell out. Each reservation can be made in 90 minute blocks of time.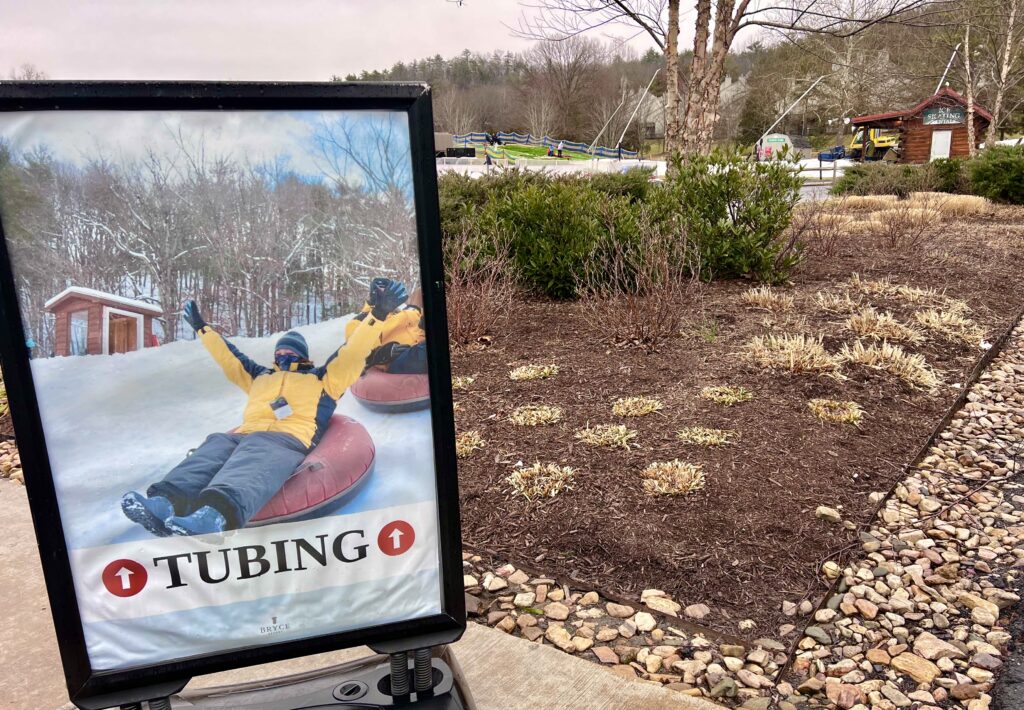 To get to the top of the hill, there is a magic carpet. The snow tubing hills had bumps toward the bottom, at least when we visited, making it very fun for the kids. When racing down the hill your hat could fall off, so make sure it is secure.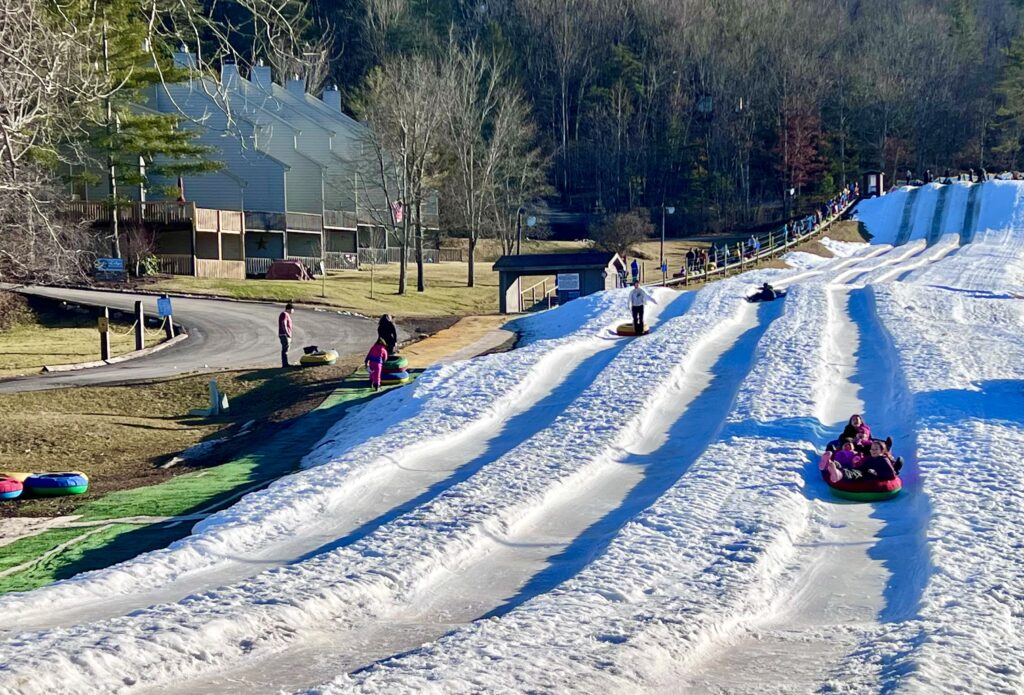 Each lane was slightly different, some were a little slower, while some had more bumps. You can go down the hill as many times as possible during your 90 minutes.
Ice Skating
The ice skating is located in front of the resort, near the snow tubing hill. Ice skating reservations can be confirmed at the main ticketing window. Beside the rink there is a little hut where you can pick up your rental ice skates.
There are benches available beside the rink for those not skating.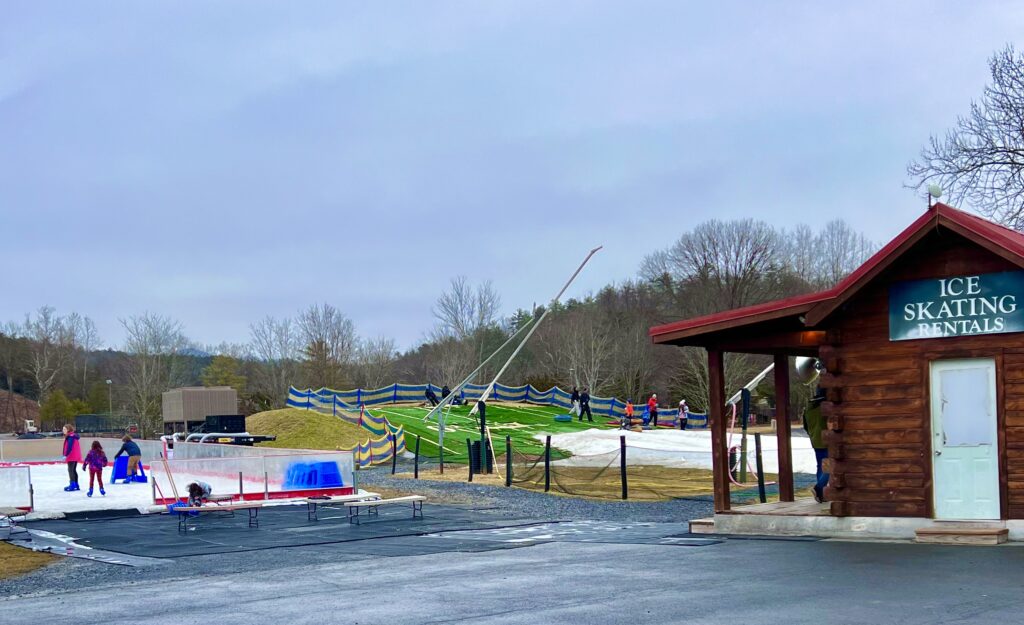 The ice skating rink has plastic skate helpers to assist beginners with ice skating. You can hold onto it and it helps you keep you balance. Reserve ice skating separately or add it to snow tubing tickets at a slight discount.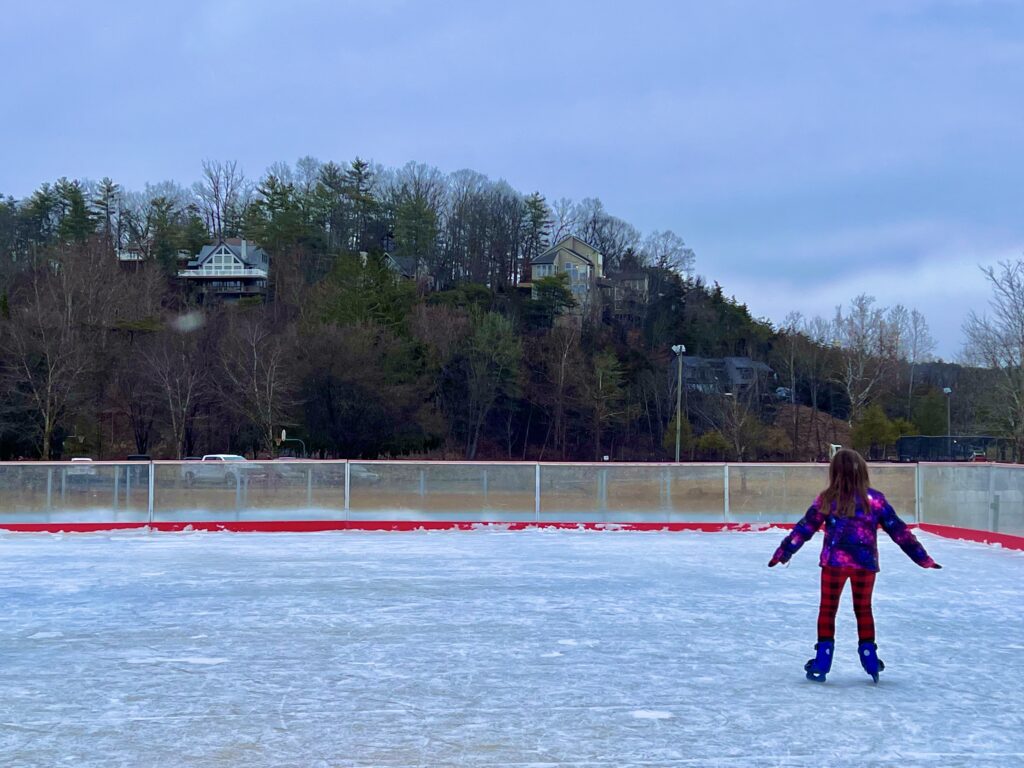 Tip for ice skating: wear high socks to kept warm and protect your ankles from your skates.
Skiing & Snowboarding
The resort is known for their ski slopes. They have a bunny hill with magic carpet, plus many more difficult trails.
For beginners there is a ski school for all ages and abilities. Skiing and snowboarding private lessons are available. Be sure to book in advance on Bryce Resort's website.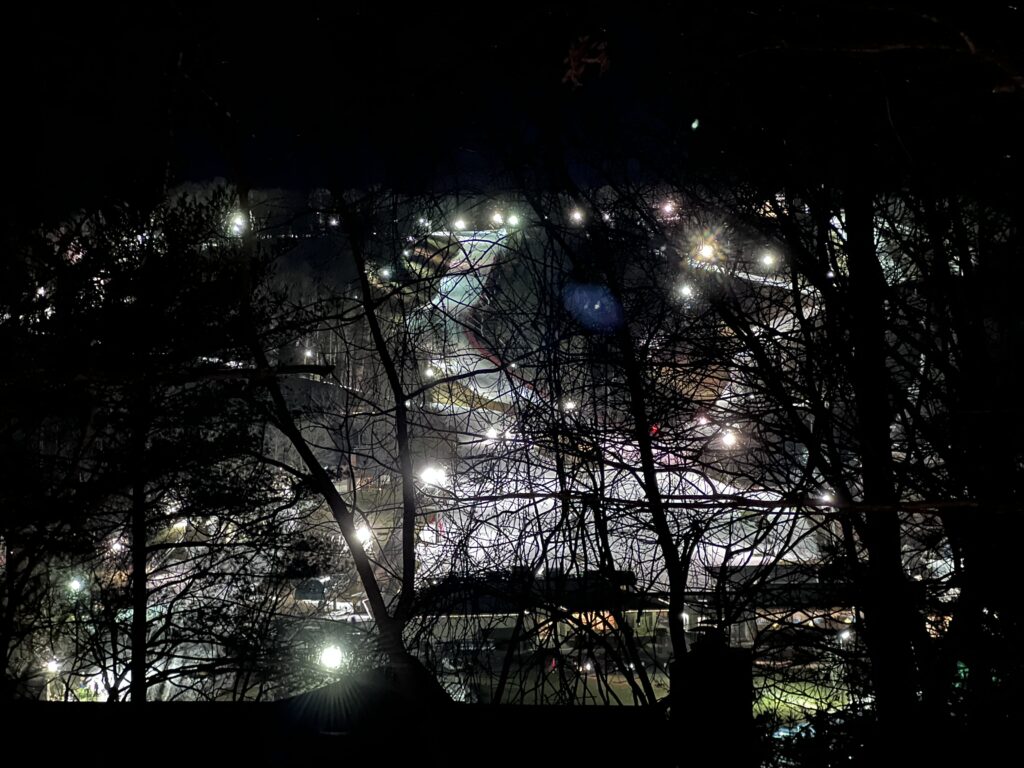 Rental ski and snowboarding equipment is available, plus there's a ski shop. The shop is located next to Copper Kettle Bar & Lounge at the bottom of the slopes. They also carry skiing and snowboarding equipment, plus other winter accessories.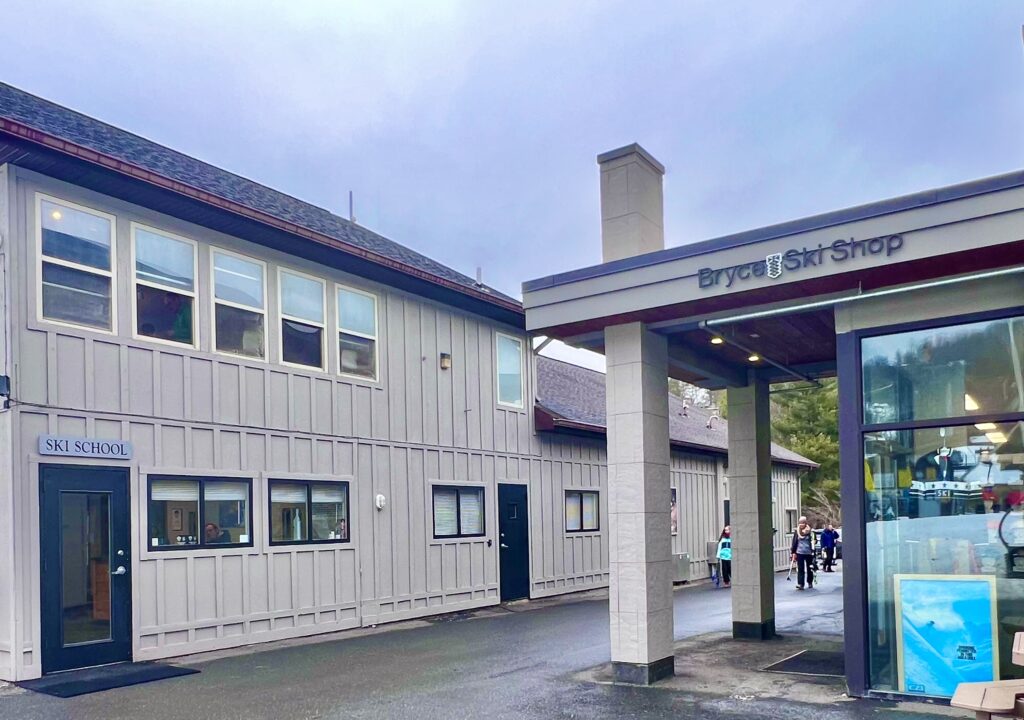 Food Options
Inside the Shenandoah Center there is a small snack bar with grab and go drinks and snacks.
During lunch, they have foods like chicken tenders, mac and cheese, hamburgers and hot dogs. During breakfast they have foods like hash browns, breakfast burritos, and pancakes. They have lots of drink options, as well as some grab and go snacks.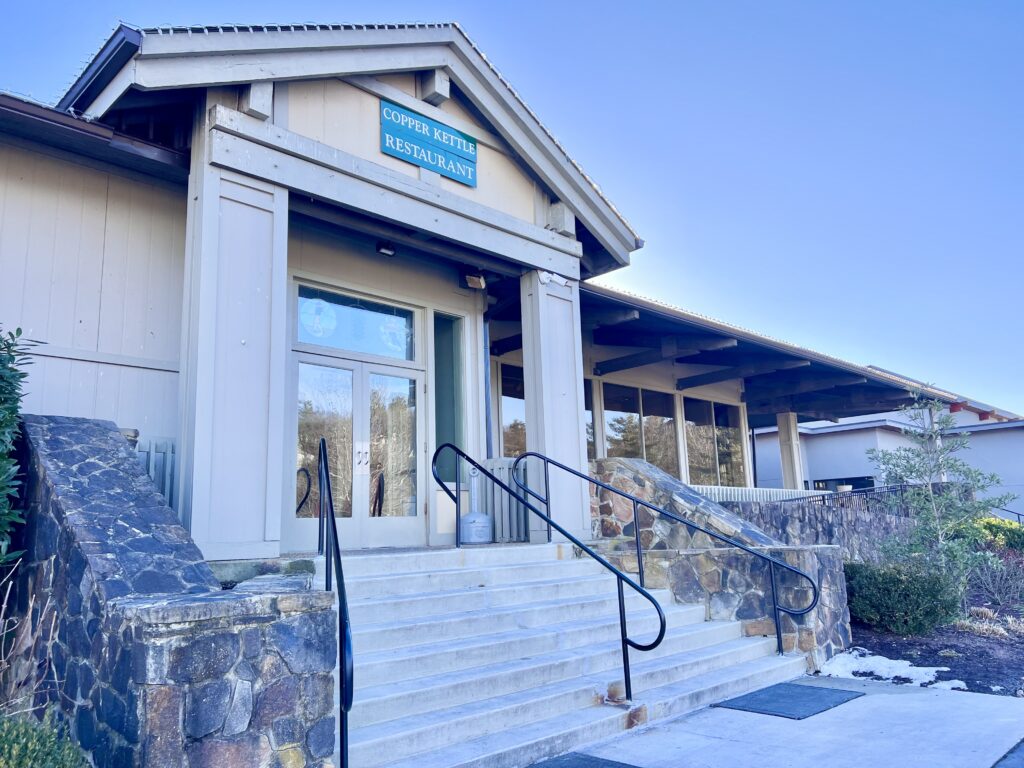 There's also the Copper Kettle Restaurant at the resort, which offers a full service meal. Reservations are required.
Bryce Resort Nearby Lodging
While Bryce Resort does not offer lodging directly though the resort, they provide a list of nearby lodging options on their website. For our visit, we were hosted in an Airbnb house on the mountain above the resort. This large home sleeps nine guests in four bedrooms and has winter views of the Bryce ski slopes.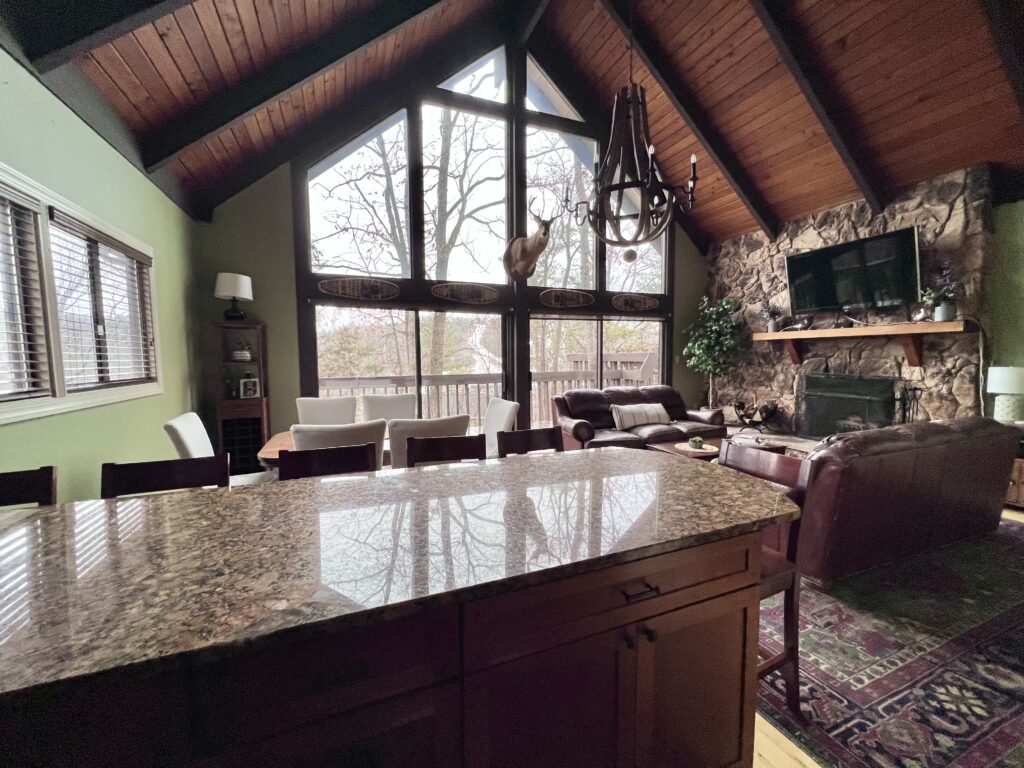 Looking for more fun places to visit in the area?
Check out Shenandoah Caverns, American Celebration on Parade, Route 11 Chips, W.O. Riley Park and Mount Jackson Lion's Park.
Sponsored Post – Visit Shenandoah County hosted our visit. All opinions are my own.