Wheaton Regional Park in Maryland is nestled in the woods north of Washington, D.C. It is just a bit north of Silver Spring. The entire park is quite large and includes walking / hiking trails, picnic areas, a train, carousel, and nature center. It's a great destination for a summer day.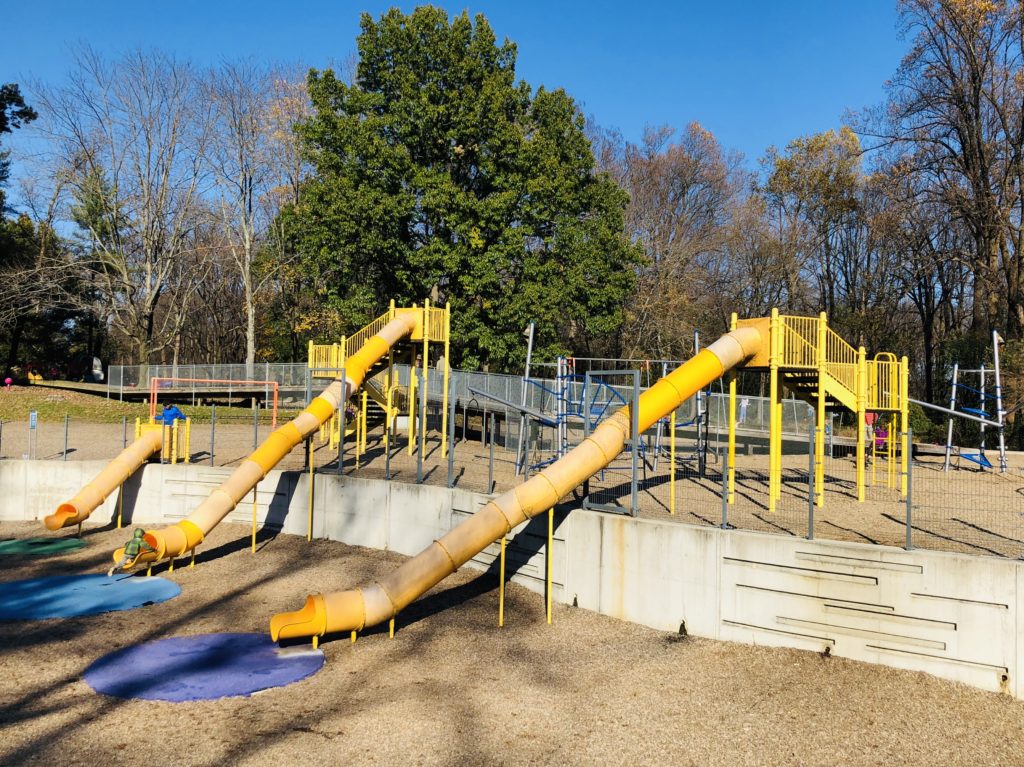 Since we visited in the late fall, most of the summer attractions were closed. However, train and carousel schedules can be found at the bottom of this post. Even though the temperature outside was a bit cooler, there was still plenty of families taking advantage of the huge playground.
Large Yellow Slides
The center piece of Adventure Playground in Wheaton Regional Park are the three very long yellow slides. These slides are so long that they exit at a different level of the playground. In order to get back to the top, where the ladders are for the slides, there are slits in the concert wall that kids can climb.
It's also possible to walk around the perimeter of the playground to go back around to the top. The three slides are of varying height and length. This height variance allows smaller kids to work their way up to the larger slides.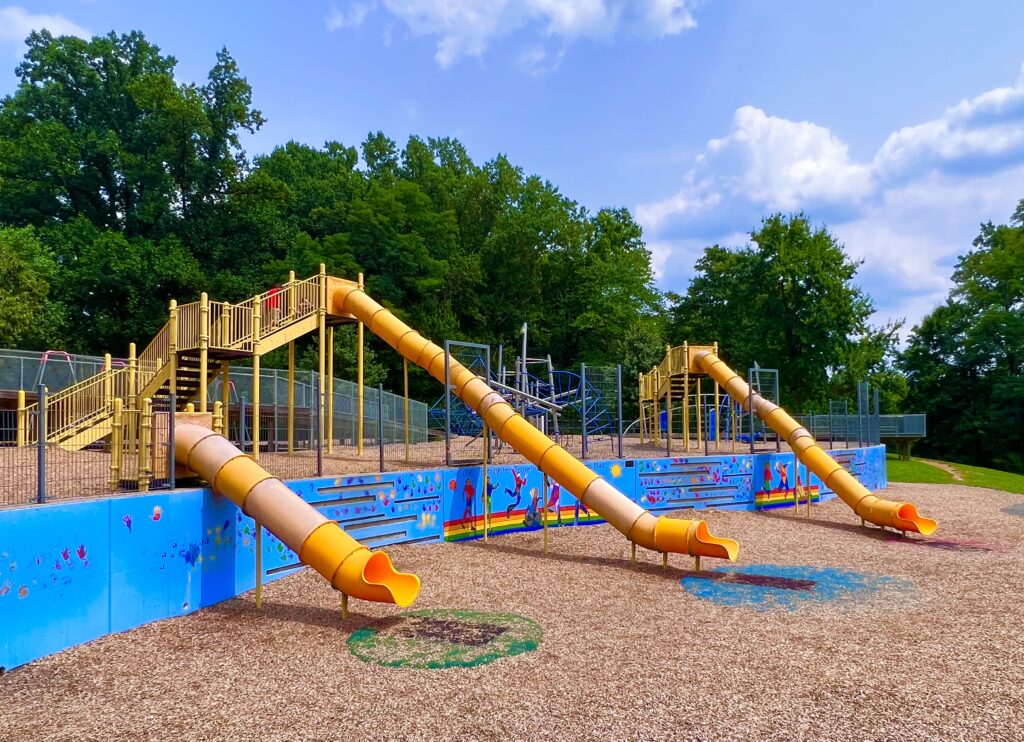 Big Blue Hill
Another fun element of Wheaton Regional Park is the large blue hill. This is a very different element of a playground, that I don't think I've ever seen before. It just a large hill made of blue, slightly soft, material. The kids love to walk to the top of it, and then sit there and admire the view. After a while, they'll slide back down and climb it all over again.
Adventure Playground for Toddlers
If these slides are too large for your toddler, there is a smaller playground at the back. The toddler playground is closer to the woods. Made for younger children, it has tiny slides and climbing elements.
However, if you have one younger child at the toddler playground, and an older child that wants to use the large playground, it's somewhat difficult to keep track of kids playing at both playgrounds at the same time.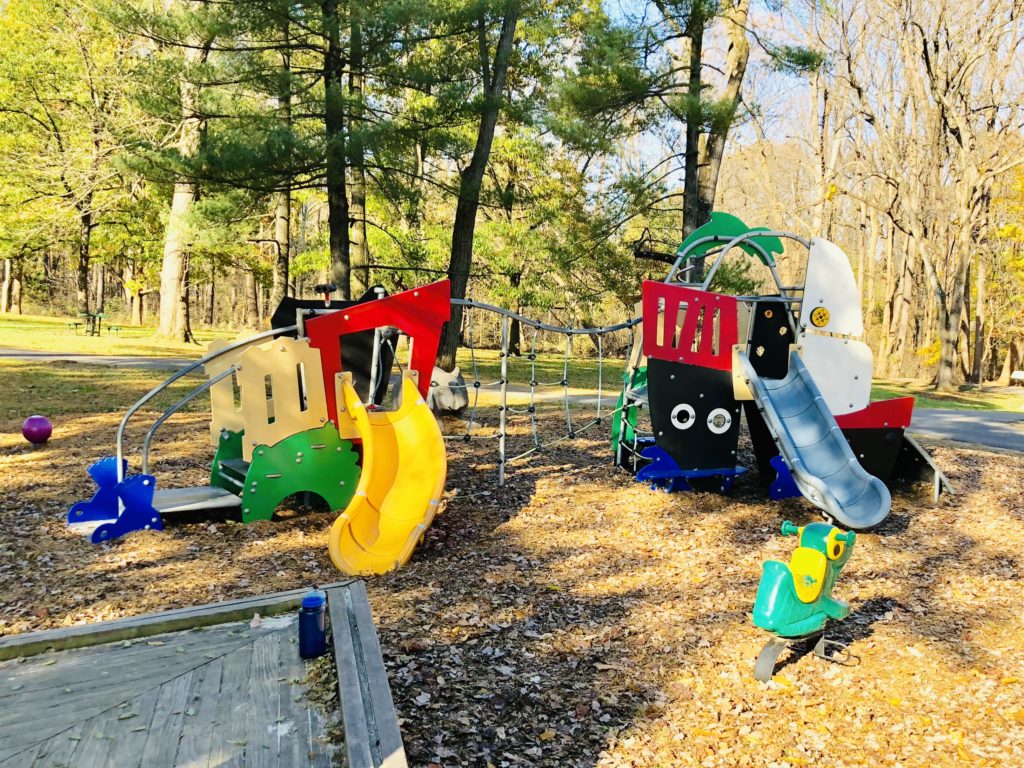 Wheaton Regional Park Train
Be sure to double check the train schedule before visiting the park to ride the train. The schedule can be found at the link below.
Wheaton Regional Park train and carousel schedule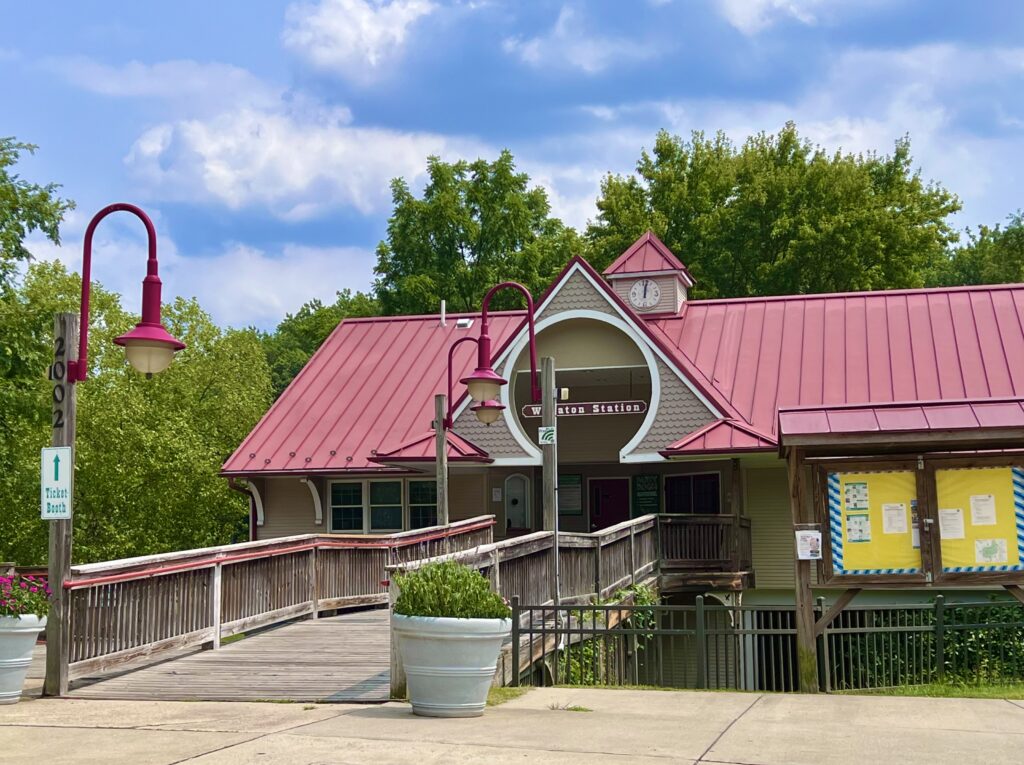 More amazing playgrounds:
Watkins Regional Park
Walker Mill Regional Park