Sponsored post – Been There Done That with Kids is hosted at the park and a Dutch Wonderland Royal Ambassador.
Arrival
Dutch Wonderland is an amusement park that caters to young children. It is known as the "Kingdom for Kids", making it a great amusement park for toddlers and preschoolers, as well as older children.
The park is located along Route 30 in Lancaster, Pennsylvania. It's a busy road, but there is a stop light at the entrance of Dutch Wonderland. There are many hotels in the immediate area, including a couple that are right across the street.
If you're planning to stay overnight, you may want the convenience of a close-by hotel. It makes it easy to leave Dutch Wonderland for a mid-day nap, and then return in the evening for more family fun!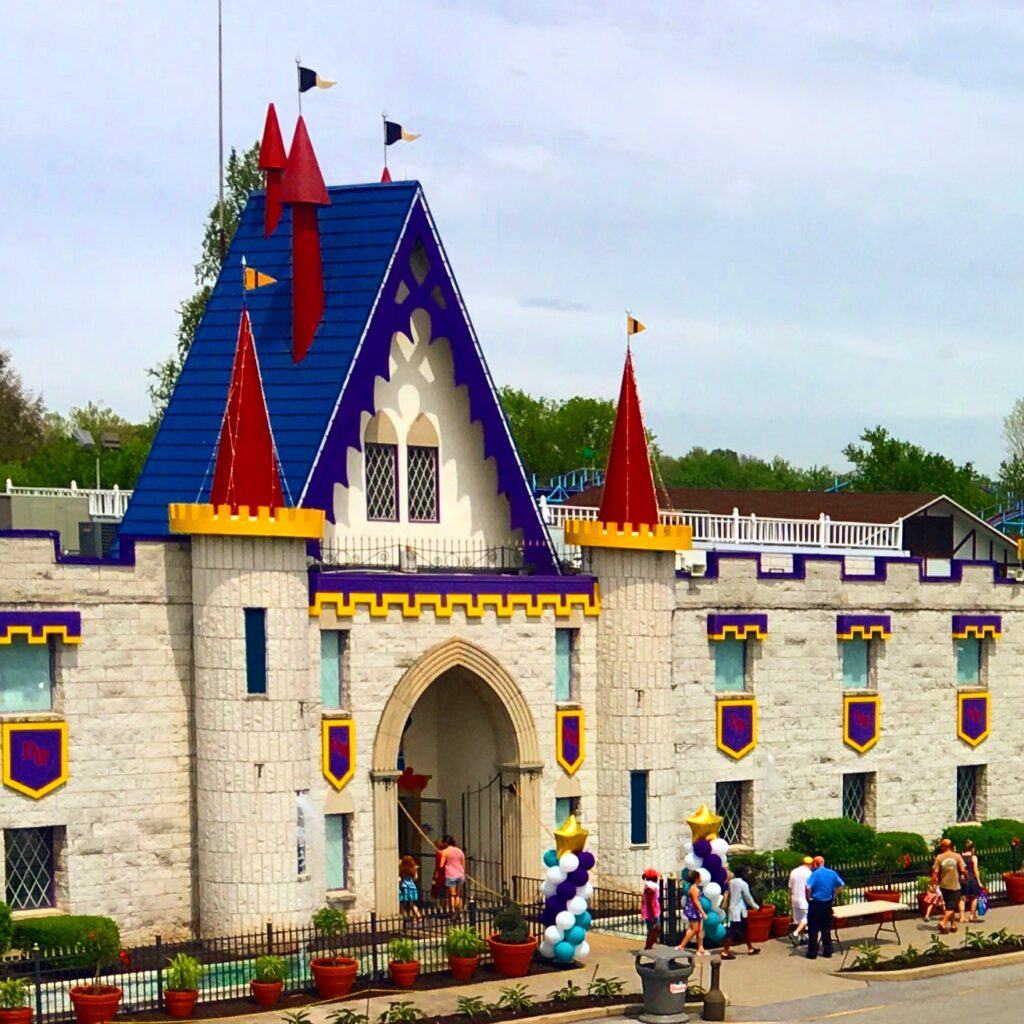 Parking at Dutch Wonderland is $10 for general parking and $20 for preferred parking. The parking lot is not extremely large, so general parking is only a short walk to the entrance. Preferred parking is right outside the entrance.
Toddler Rides
One of the most common questions for a child's first time at Dutch Wonderland is whether they are tall enough to ride many rides. I'd suggest waiting to visit this park until your child is walking very steadily. Even before a child has reached 30″ tall, there are 11 rides at Dutch Wonderland they can enjoy if they are walkers.
Most of the eleven rides that small children can ride are very gentle and slow moving. This makes them a great introduction to amusement park rides. Great starter rides are: Gondola Cruise (boats), Wonderland Special (train), Sky Fighter (jets), Duke's Dozers (bulldozers), and Off-Road Rally (trucks).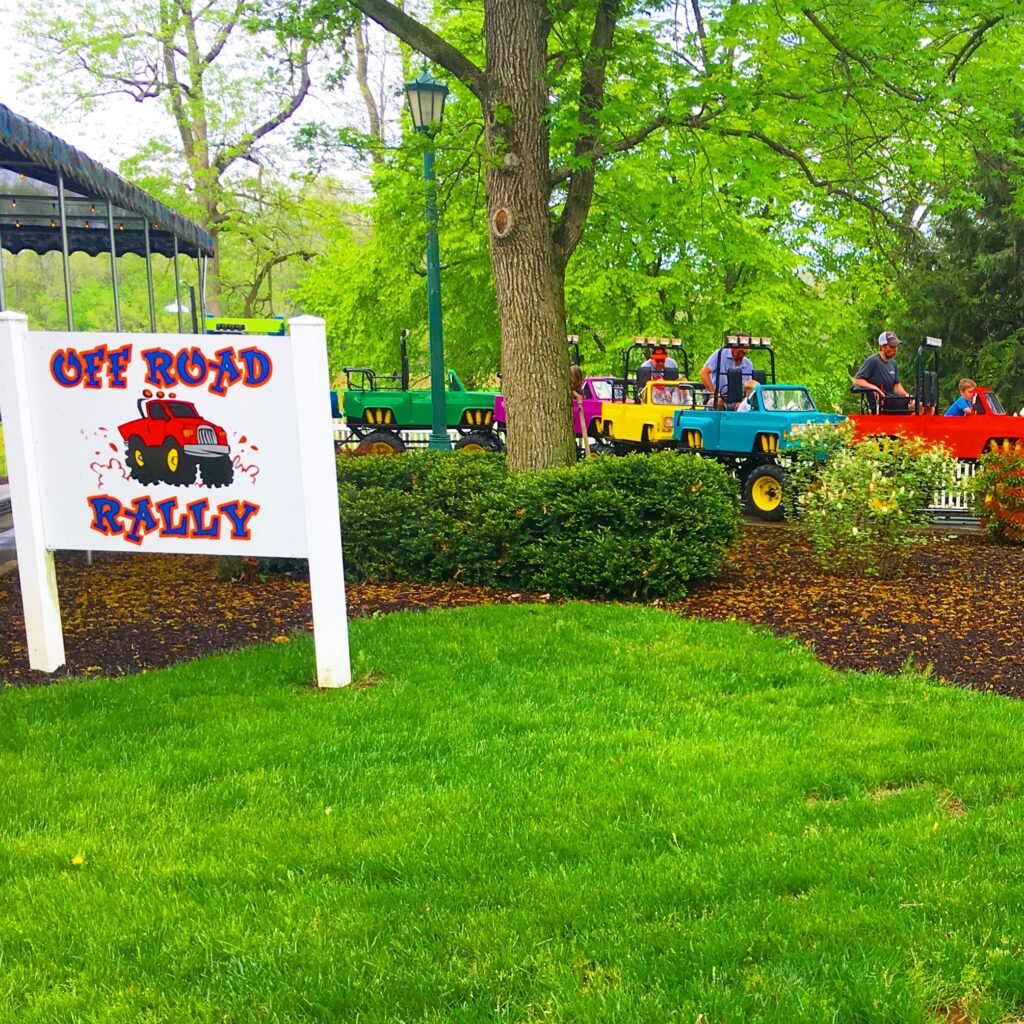 If your child enjoys these rides and is ready for a bit more of a thrill, the Wonder Whip is a great next step. I've seen many children love the Whip, while some are still not ready for the fast turn at the end of each side of the track.
Once your child has reached 30″ tall, then the number of rides they can enjoy climbs to 17! In addition to rides, there are also water slides at Duke's Lagoon (the water park), a spray ground, and water table that any height walker can experience.
The Prehistoric Path with moving dinos and Dino Dig (sand play) is also an area for everyone to enjoy. This area is located at the back of the park, on Exploration Island. Don't miss it!
Big Kid Rides
Over the years, I've realized the sweet spot for kids to visit Dutch Wonderland is between 42″ and 52″ tall. It's great to take kids to Dutch when they are shorter than this, so they can start enjoying the rides.
However, once they reach 42″ tall, they can ride the majority of the rides in the park. The exception is the Kingdom Coaster, which is a wooden roller coaster. Kids must be 48″ tall to ride this coaster.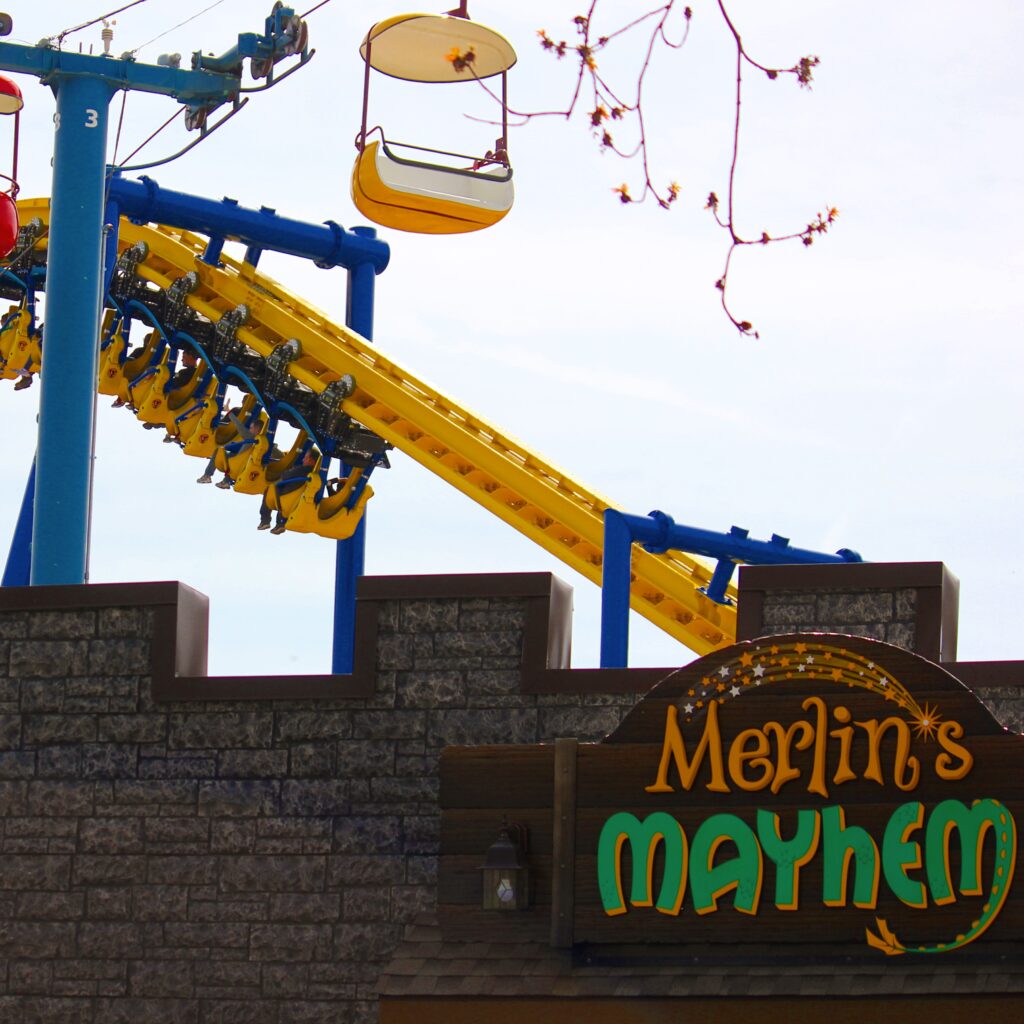 Luckily, Merlin's Mayhem, one of the few family inverted coasters on the east coast, has a height requirement of only 39″ tall (children must be accompanied by a responsible rider until 48″ tall). Even though this coaster may look a bit intimidating, it's a smooth ride.
Family Rides
In addition to rides just for kids, there are quite a few family rides at Dutch Wonderland. These are the rides that the whole family can ride together. There's two boat rides, one at the front of the park and one at the back. There's also the Wonderland Special (the train), the Monorail, Turnpike Cars, and the Merry-Go-Round.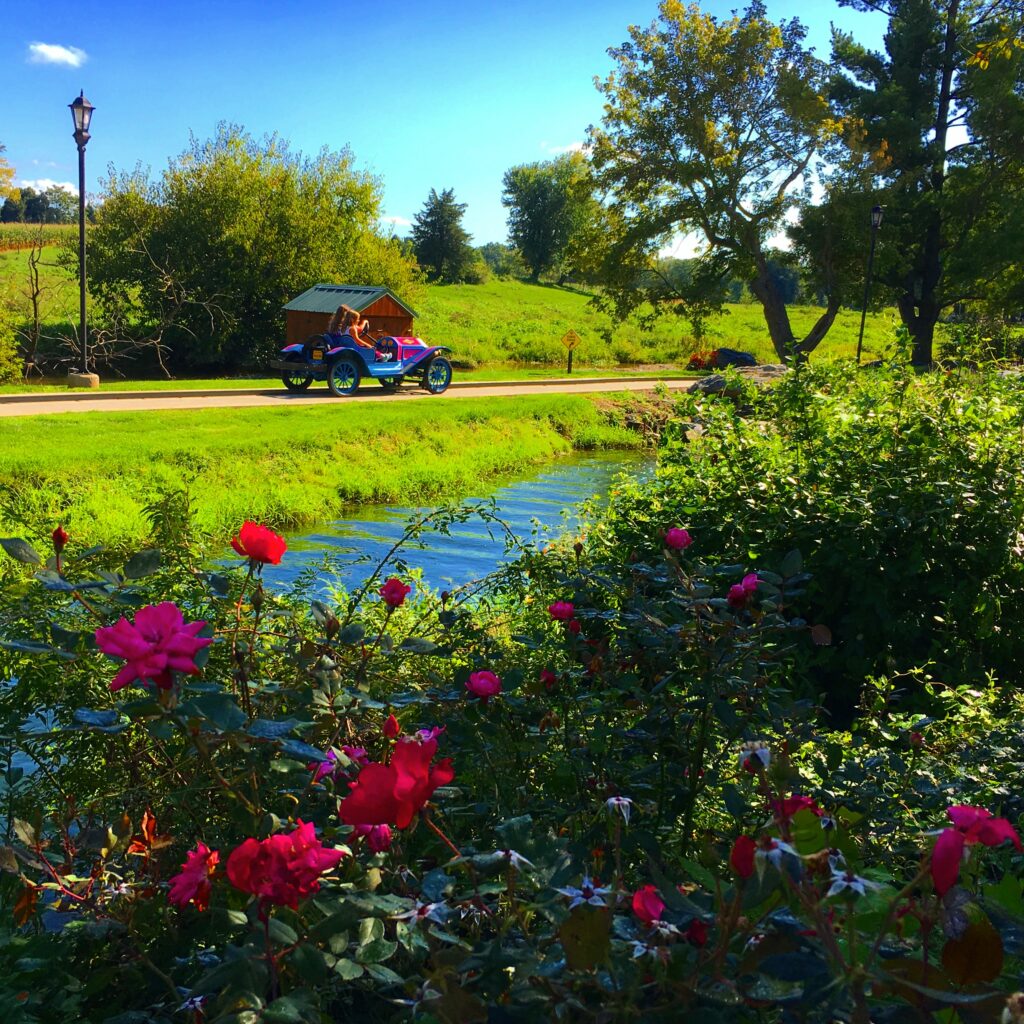 If your child is nervous about going on the kiddie rides by themselves, then the family rides may be a good place to start. They can get used to the movements with you right beside them.
Ride height requirements are subject to change. Please check Dutch Wonderland's website for up-to-date requirements and ride availability.
Water Park
Dutch Wonderland's water park is called Duke's Lagoon. It is attached to the park and easy to get to from the front entrance. If you'd rather not go to the water park during your visit, it's tucked away in a place where it's pretty easy to avoid.
However, if it's a hot day, the water park is the place to be! There is not a pool or any sizable amount of standing water. The main water play structure has four slides attached to it. Each slide is small and fairly easy to navigate even for small children.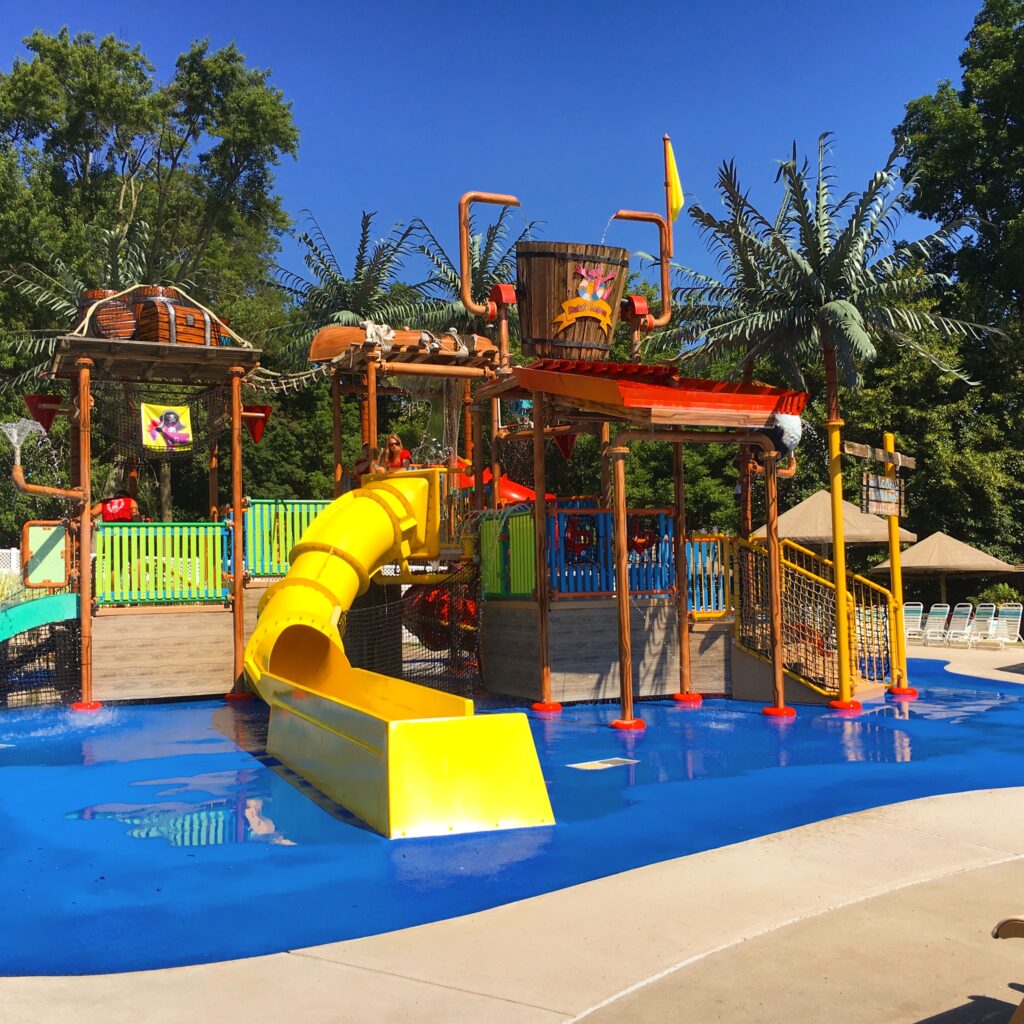 Even though there is a large dump bucket on this structure, it does not unleash a ton of water. If you have small children, you may want to keep an eye on it though!
There's also two spray grounds, one meant for toddlers with a water table and a small slide. The other spray ground has more water splashing around, a boat to play on, and two "forts" with water aim-able water squirters.
The water park is rounded out by two large water slides. One tube slide is blue and one is black. While riding the black slide, you can't see where you're going! If it's your child's first time on a large water slide, you may want to stick to the blue one.
Food
There are several eateries inside the park that sell kid-friendly foods. Options like chicken tenders, pizza, hamburgers, and hot dogs are available. For healthy options, check out Bean Sprouts located inside Mill Stream Eatery.
Dutch Wonderland does not allow meals to be brought into the park with exceptions for situations where it is medically necessary (e.g., for diabetics, baby formula for infants, gluten-free foods, or allergy-safe foods for allergies). If you'd like to provide your own meals, there are picnic tables outside the park.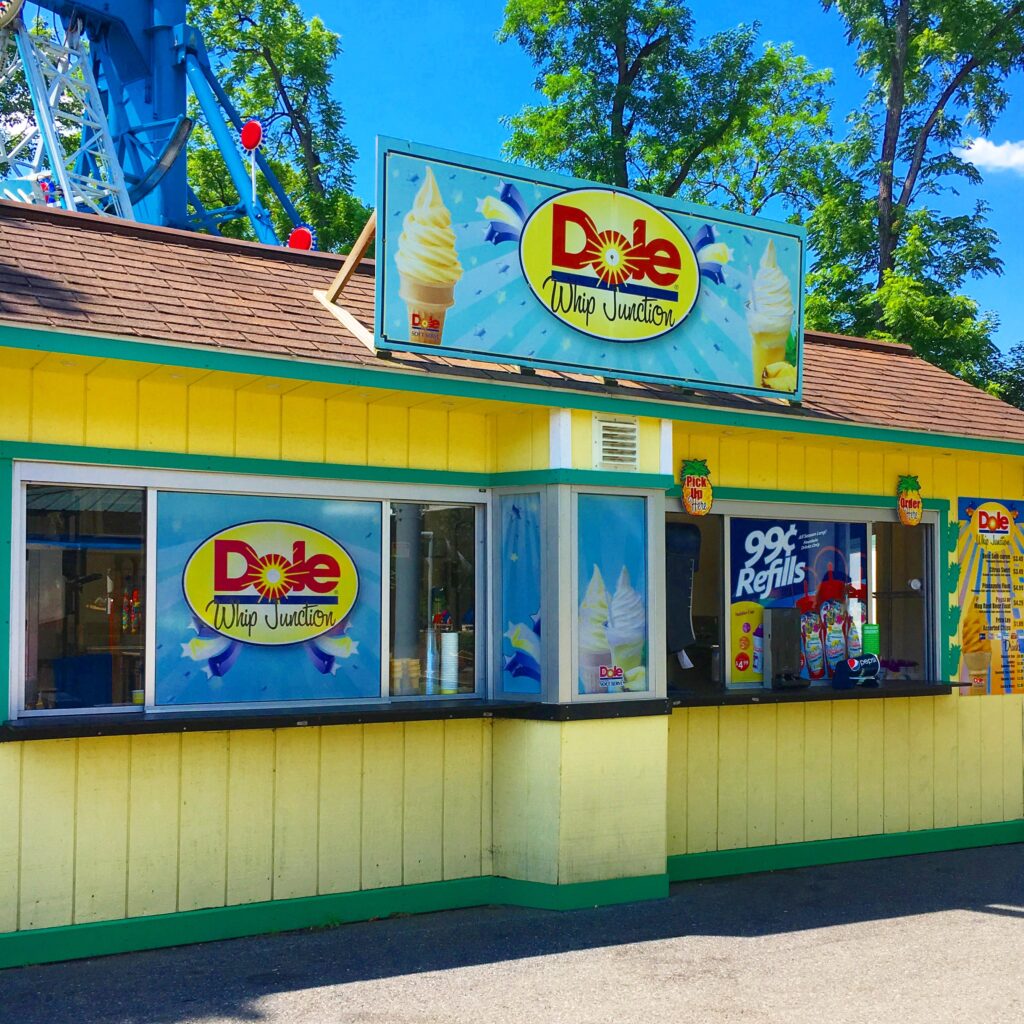 If you're a fan of Dole Whips from Disney World, you've come to the right place! Dutch Wonderland is one of the few places where you can get a Dole Whip outside of Disney. They are very refreshing on a hot summer day!
Shows
We always see at least one diving show in the Aqua Stadium when we visit Dutch Wonderland. I think I like these shows just as much as my kids. There are two version so of the diving show. Both shows follow a fairy tale-like story line.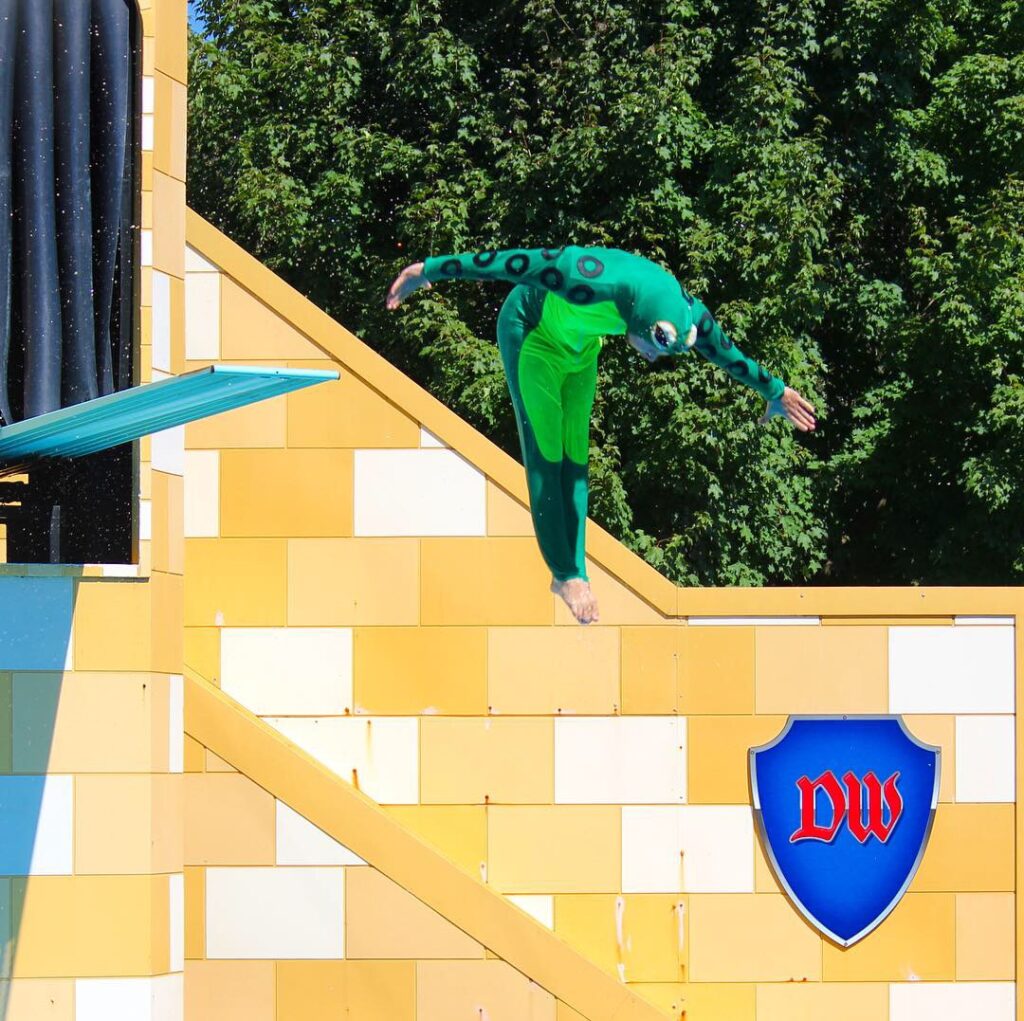 The diving shows have moments of comedy in them and plenty of diving. Make sure you take note of which benches you are sitting on, as the front rows are splash zones.
In addition to the diving shows, there's also story time with the princess, a comedy show, and a singing and dancing show. These shows are located in the Amphitheater and the Celebration Theatre.
Seasons at Dutch Wonderland
Dutch Wonderland opens for the season each year around the end of April. The summer season continues through September, and then Happy Hauntings starts for the fall season. During Happy Hauntings, there's a cute trick-or-treat trail and non-scary Halloween decorations. During the winter season, Dutch Winter Wonderland has beautiful holiday lights and visits with Santa!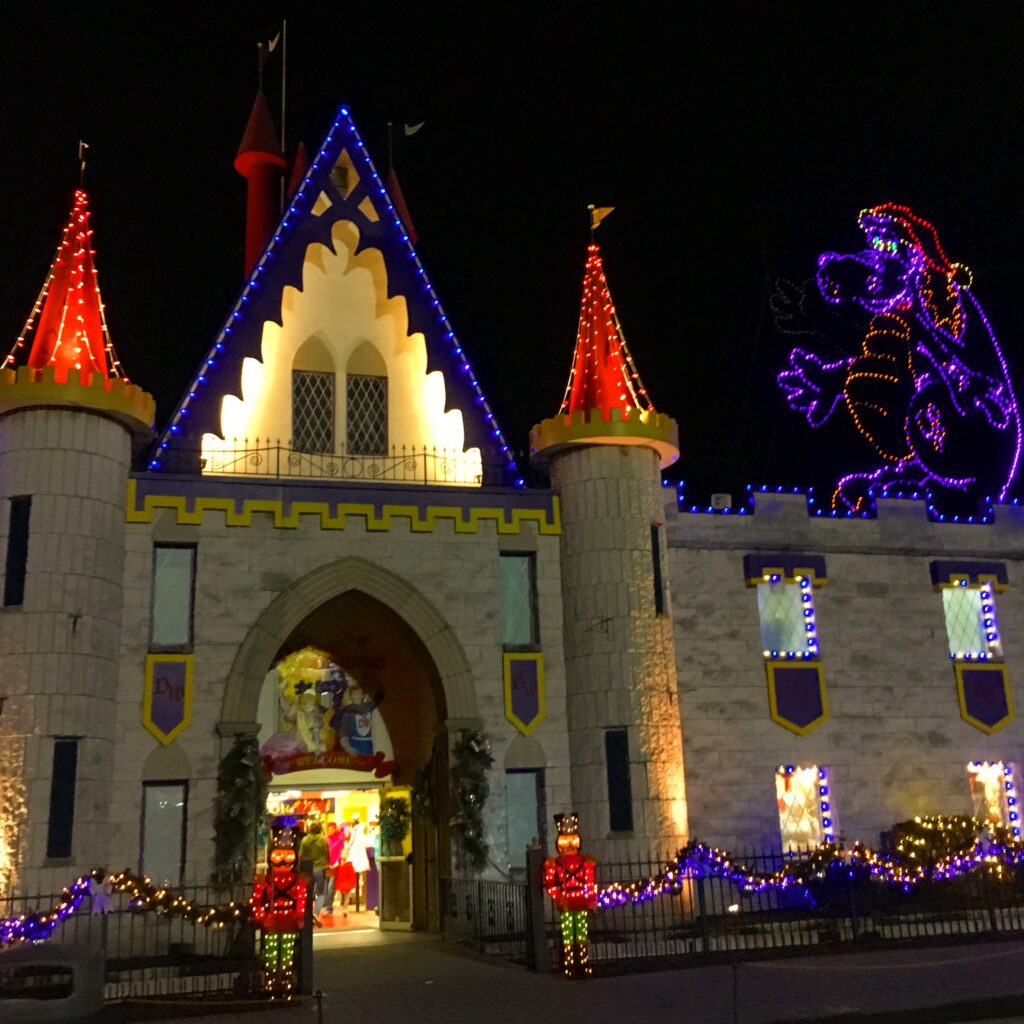 For a list of tips for visiting Dutch Wonderland – go here.
Every time of year is special at Dutch Wonderland! A visit to the Lancaster area also boasts tons of fun places to take kids. Plan a weekend getaway or even a week-long vacation. There's plenty to do and see in Lancaster.
Dutch Wonderland Discount Code
As a Dutch Wonderland Royal Ambassador, Been There Done That With Kids readers are offered discount tickets by Dutch Wonderland at this link with the code: DWInfluencer21.