Disclaimer: Caution must be used at all times as natural hazards exist at Cunningham Falls State Park. Please play wisely and follow the applicable safety guidelines.
Cunningham Falls State Park is located in the Catoctin Mountains in Thurmont, Maryland. Thurmont is about 20 miles north of Frederick, Maryland and approximately 60 miles north of Washington, D.C.
The park actually consists of two separate areas. The William Houck area has a lake beach, waterfall, and camping area. The Manor area, which is a bit further south along Route 15, has an aviary and camping. This post will focus on the William Houck area of Cunningham Falls State Park.
Cunningham Falls State Park Entrance Fees
Admission costs for Cunningham Falls is per person. On weekdays, it's $3 per person for residents of Maryland and $5 per person for out-of-state residents. On holidays and weekends, the fee goes up to $5 per person for Maryland residents and $7 for out-of-state residents (fees subject to change). This admission fee includes entrance to the waterfall trail head and the sandy beaches.
Please keep in mind that there is a capacity limit to this area. On warm summer days this area can close due to reaching capacity. Plan ahead and go early.
Cunningham Falls Beach Area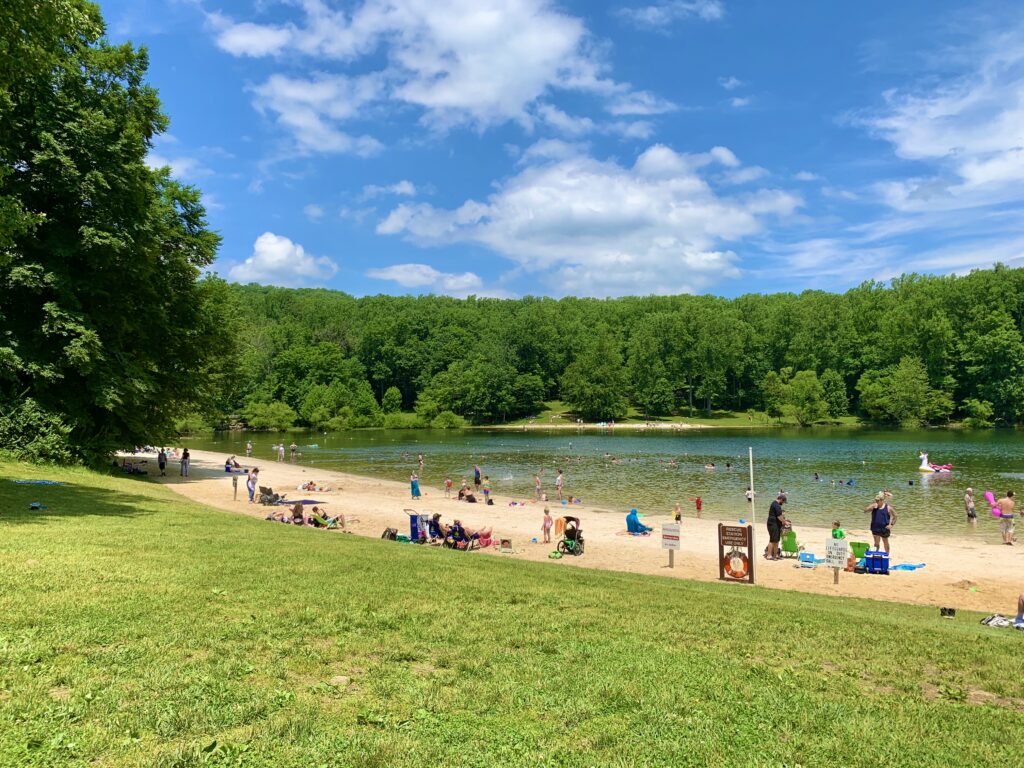 There are designated swimming areas in Hunting Creek lake. The two large beaches are sandy with gradual entry into the deeper water. After paying the admission fee, there is parking available for the larger beach area. There are also restrooms in this area.
Many people had beach umbrellas and rafts on the lake. Cunningham Falls State Park's website indicates that lifeguards are on duty during the summer from 11 AM to 6 PM (subject to change). From the larger sandy beach, you can see across the lake to another sandy beach area.
Cunningham Falls Trails
Above the large beach lot is a smaller parking lot at the trail head for Cunningham Falls. If you'd like an easy walk to the falls, be sure to enter the trail head for the Lower Trail. There's two trail heads in the parking area, and the other trail head is the Cliff Trail. I'm assuming because of it's name, it's a bit more difficult hike. Both trails are out and back and lead to the falls.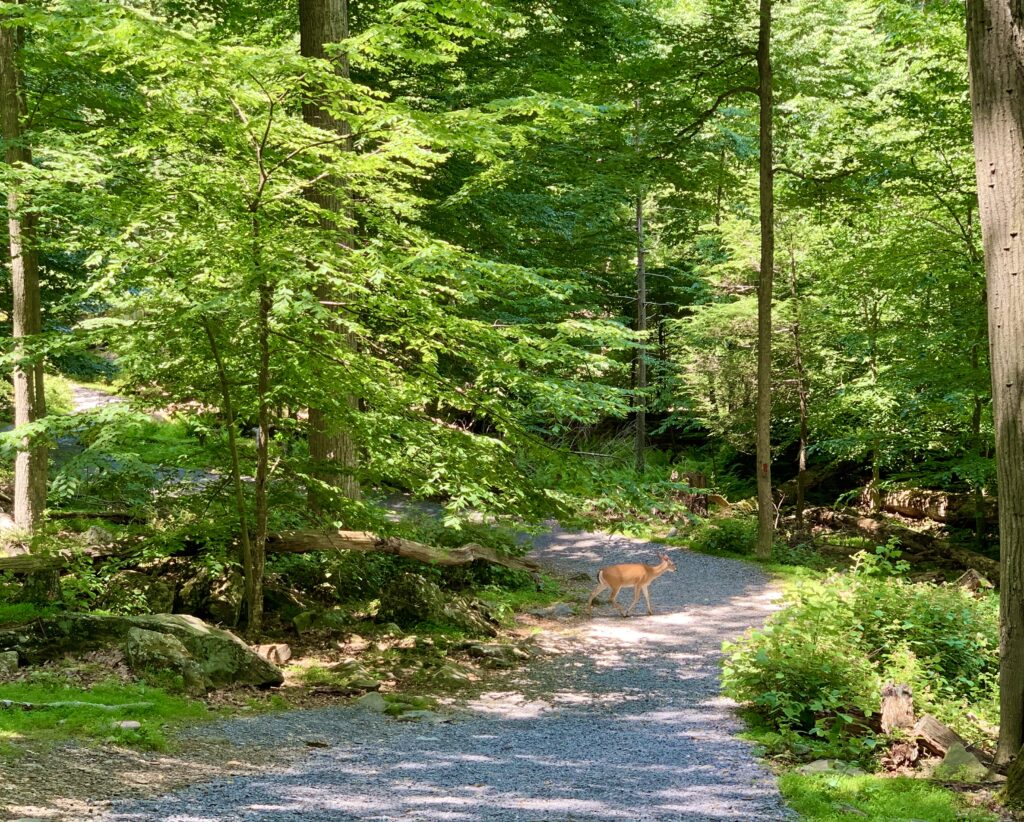 The Lower Trail to the falls has some hills, but is a fairly wide path and easy hike of about 3/4 of a mile. The trail ends in a viewing platform for the falls. There is also a handicap parking area near the falls.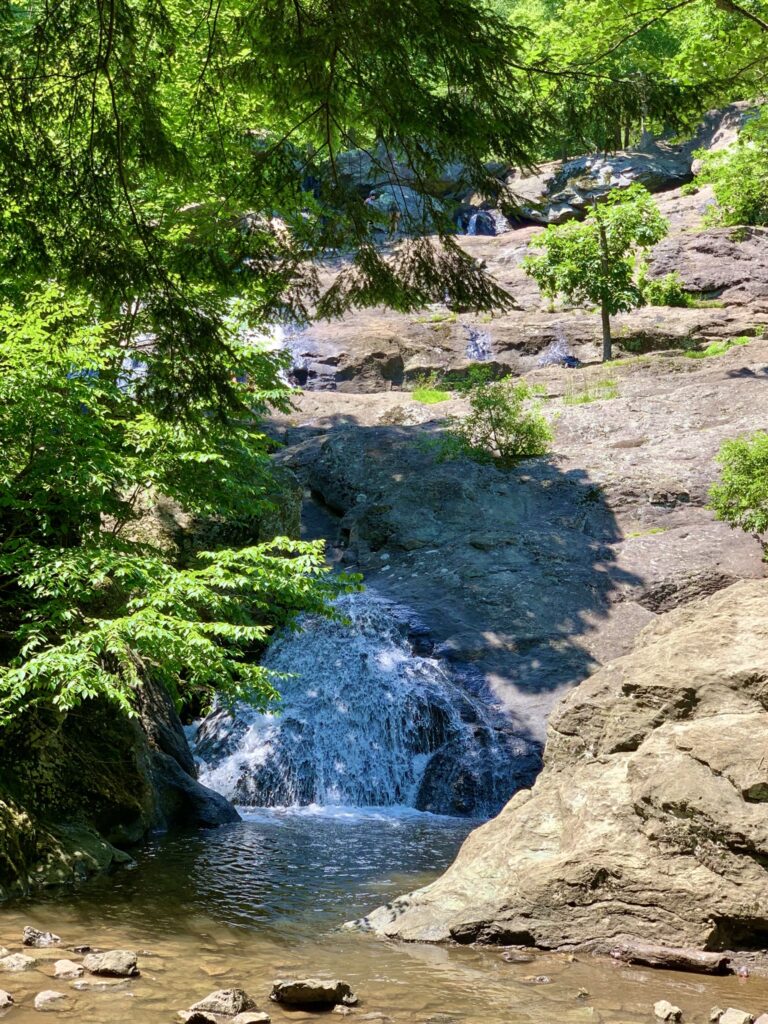 For more hiking trail options at Cunningham State Park, check out the state park map.
Looking for more amazing State Parks?
Check out – Swatara State Park, Ohiopyle State Park, Ricketts Glen State Park, Trough Creek State Park, Gifford Pinchot State Park and Rocks State Park