Nickelodeon Universe is an indoor amusement park in American Dream, a mega mall. The mall is located in the meadowlands in East Rutherford, NJ. It's beside the MetLife Stadium, where the New York Jets and Giants play.
The amusement park includes kiddie rides for young children, as well as more thrilling rides for older children, teens, and adults. As always, check the park's ride list and ride height requirements before deciding whether to go.
Nickelodeon Universe Tickets
The ticket counter is located across from the "It's Sugar" store. Tickets may be purchased in advance, which is recommended because of capacity limits.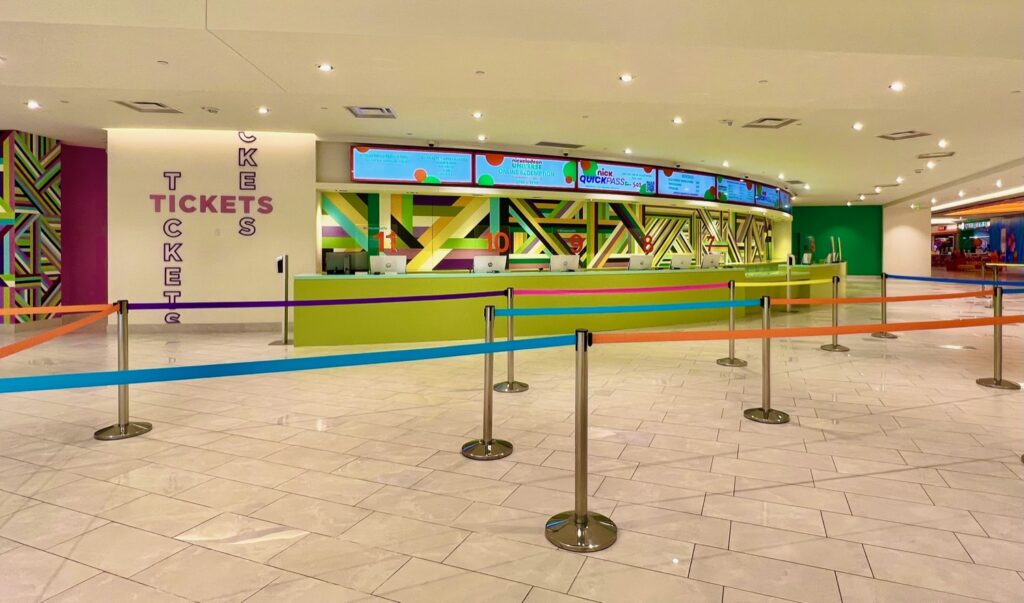 When purchasing a ticket, you will choose a timeframe for access to the park. At some times, twilight tickets are also available. To enter the park, there is an escalator and an elevator, as it's a level below the ticket counter.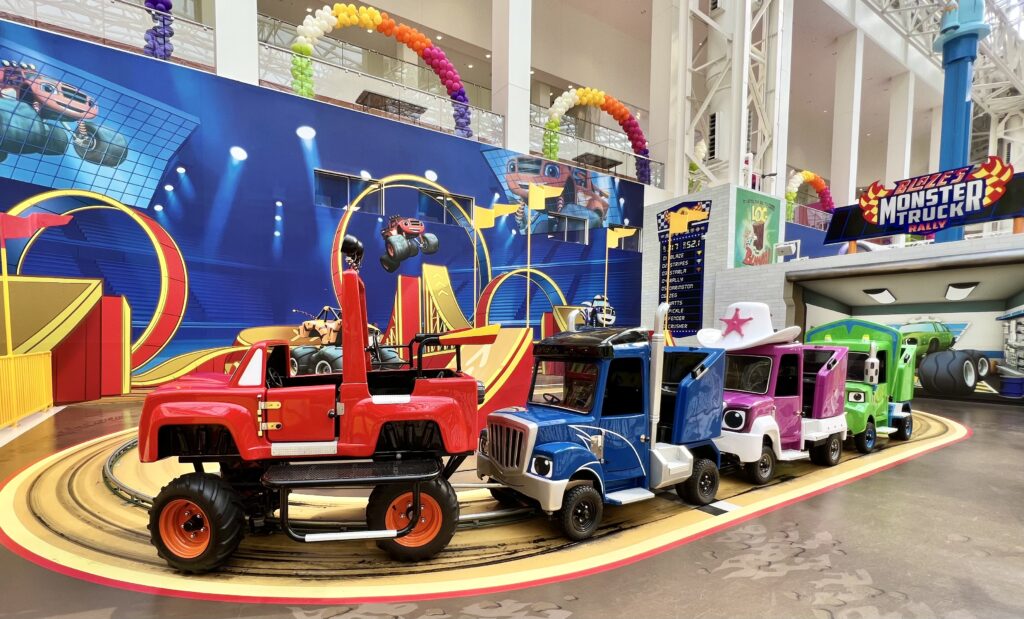 Nickelodeon Universe Rides
The front of the park is where most of the kiddie rides are located. The kiddie rides include a Shimmer and Shine magic carpet ride, a Blaze monster truck ride, a Blue's Clues ride, a small, Paw Patrol Ferris wheel called Pup, Pup, and Away, and a Zuma's Zoomers whip ride.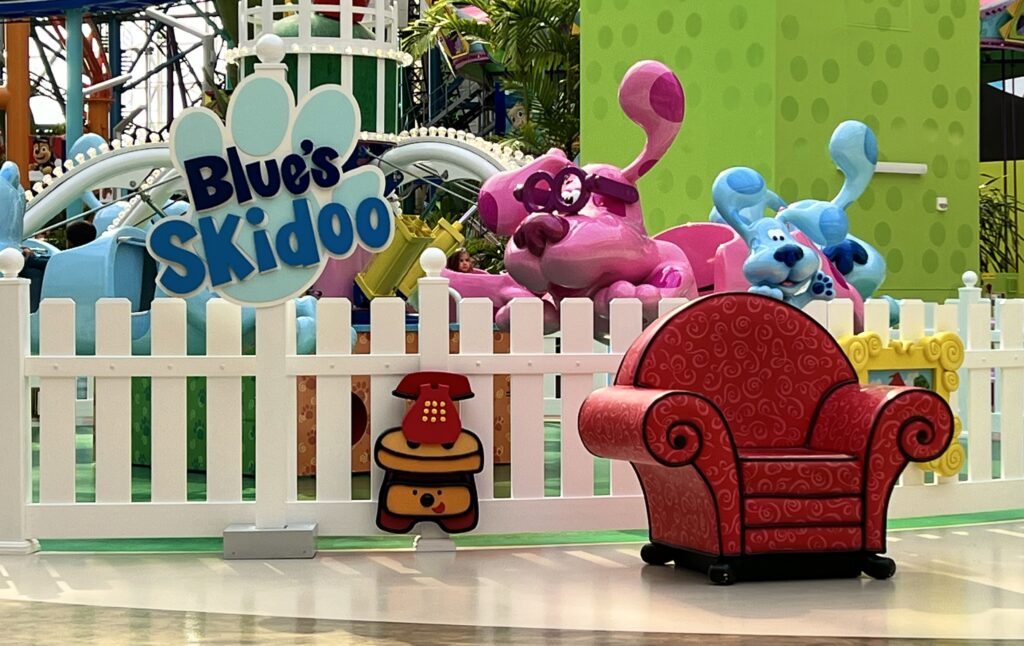 The middle of the park features Adventure Bay, the Paw Patrol play area. There is a gate to enter, which has an attendant. Stroller parking is located to the left of the gate.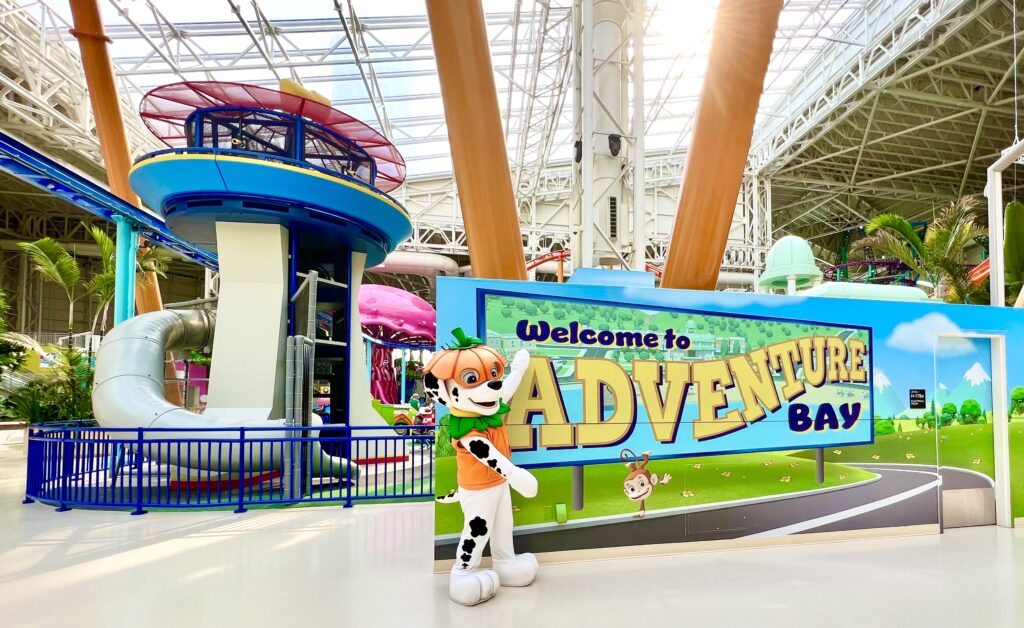 There is "City Hall", which has a climbing area inside and a small slide to exit. Kids can also climb to the top of "The Lookout" and slide to the bottom.
Throughout Adventure Bay, kids can sit in the pups cars and climb and slide around other featured structures.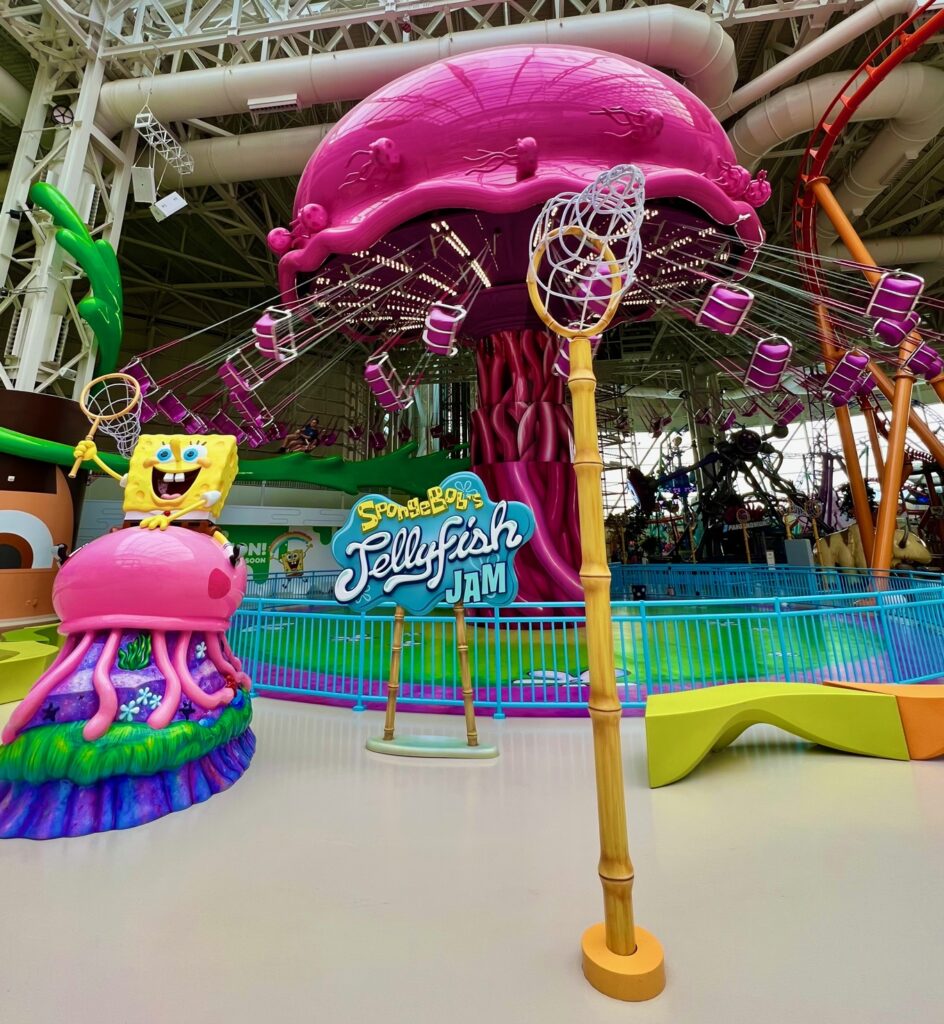 Sponge Bob rides include Jellyfish swings and a Bikini Bottom ride. The swings feature double seats, so that riders over 42″ tall can ride with an adult.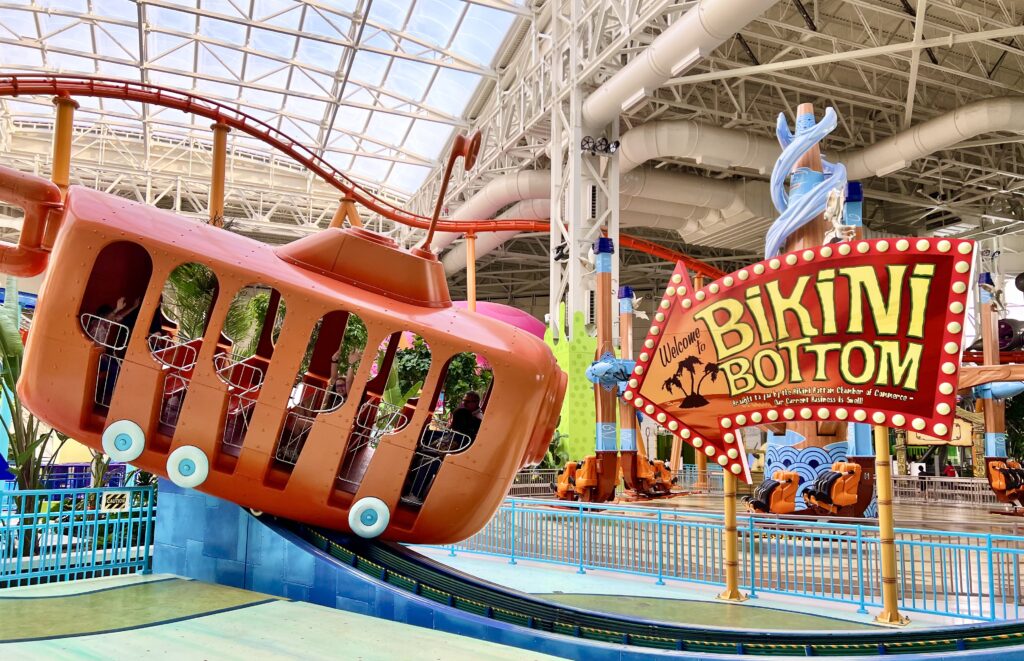 Nickelodeon Universe Roller Coasters
This park features four roller coasters and a halfpipe skateboard ride. The orange roller coaster is called Slime Streak, and it's the orange track that circles the park. This coaster does not go upside down, and it is fairly tame.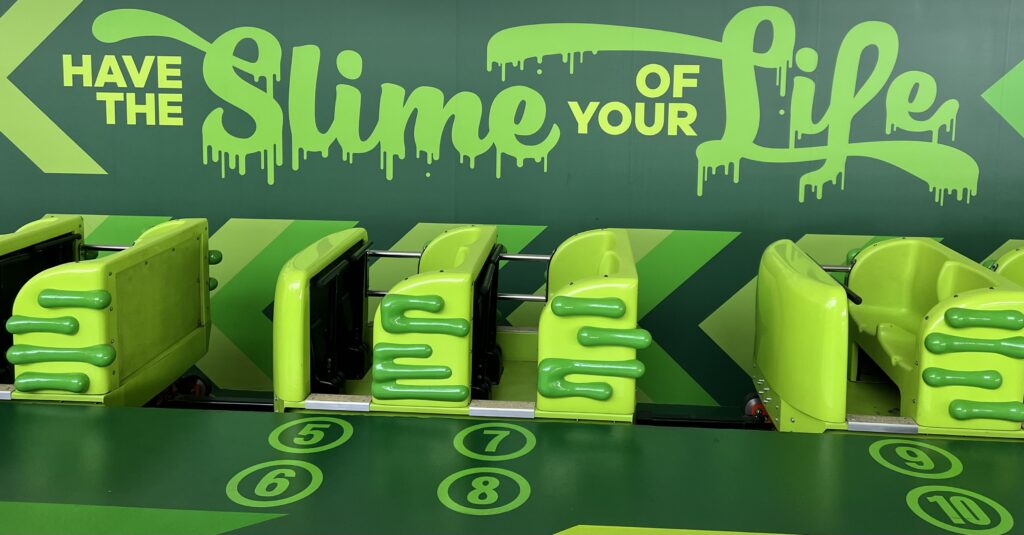 The next coaster is close to the entrance of the park. It is called Shellraiser, and it's themed for Teenage Mutant Ninja Turtles. This coaster is a high-thrills coaster. There is an intense launch at the beginning of the ride.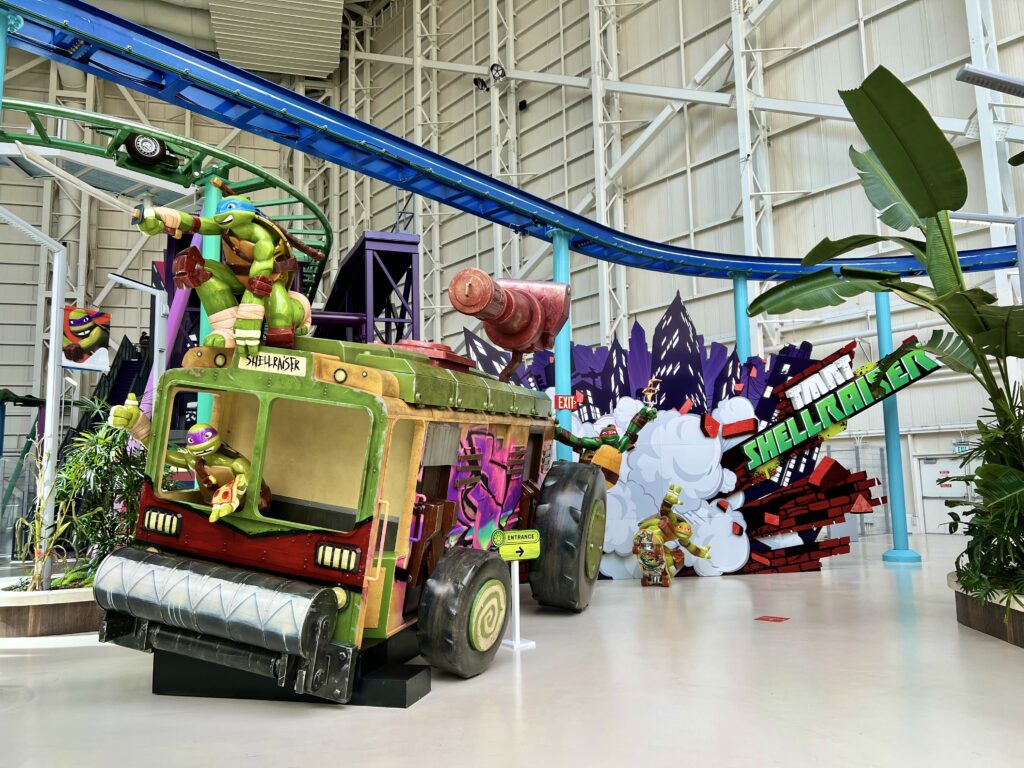 Then, there is a vertical ascent that results in a practically inverted drop. The coaster pauses at the top of the hill for a quick view of New York City skyline before dropping.
A coaster close to the back of the park is a spinning coaster. It's called The Shredder, and also themed for the TNMT. It's the world's longest and tallest free-spinning coaster. It spins quite a bit, and is thrilling, but not as crazy as Shellraiser.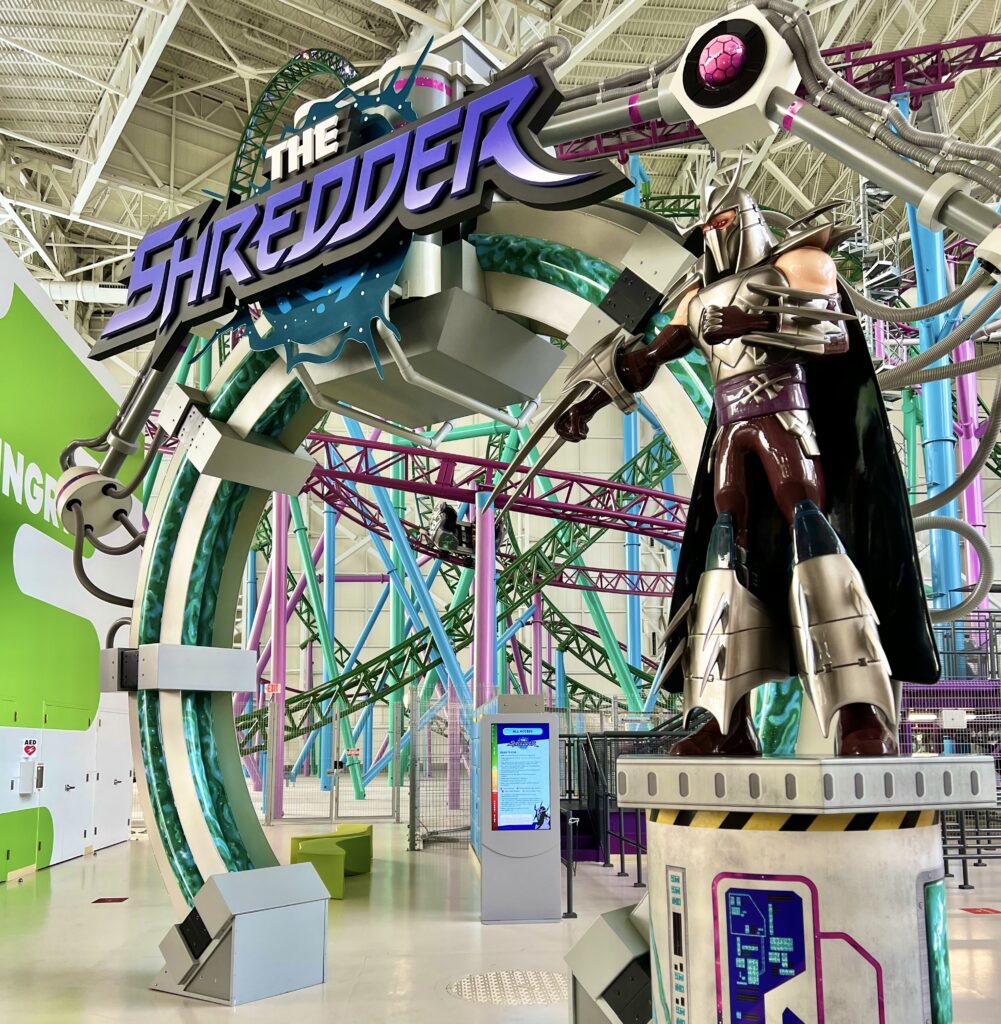 The last coaster was closed on the day we visited. This coaster is Sandy's Blasting Bronco. It is a launch coaster that launches both forward and backward.
The back of the park also features some other thrilling rides, such as a drop tower, spinning pendulum ride (that goes upside down!), and an airplane ride called Aang's Air Gliders.
Nickelodeon Universe lists their closed rides for the day on their ticketing website, so you can be prepared for what will not be available.
Tips for Visiting Nickelodeon Universe at American Dream
Handstamps are available to exit and re-enter the park during your access timeframe. We exited to eat dinner in the food court.
The mall is enormous. Bring a stroller for children who can't walk long distances.
There is a small fee for parking. Bring the parking ticket into the mall with you to pay at a kiosk before returning to your car.
If you plan to do more than one attraction, there are bundling discounts.
Watch the stage area for characters to appear. There's a list of daily character appearances at the ticket counter. However, we could not find a schedule. Characters seemed to appear for long periods of time, and even reappear after breaks.
The park can get busy, so try to time your visit during non-peak times. It's also less expensive to visit on non-peak days.
Other Attractions at American Dream
American Dream has many other attractions inside the mega-mall. Of course, there is shopping and a food court. There's also SEA Life Aquarium, Legoland Discovery Center, Tilt Museum, Angry Birds miniature golf, ice skating, Big Snow (indoor skiing and snowboarding), and DreamWorks Waterpark.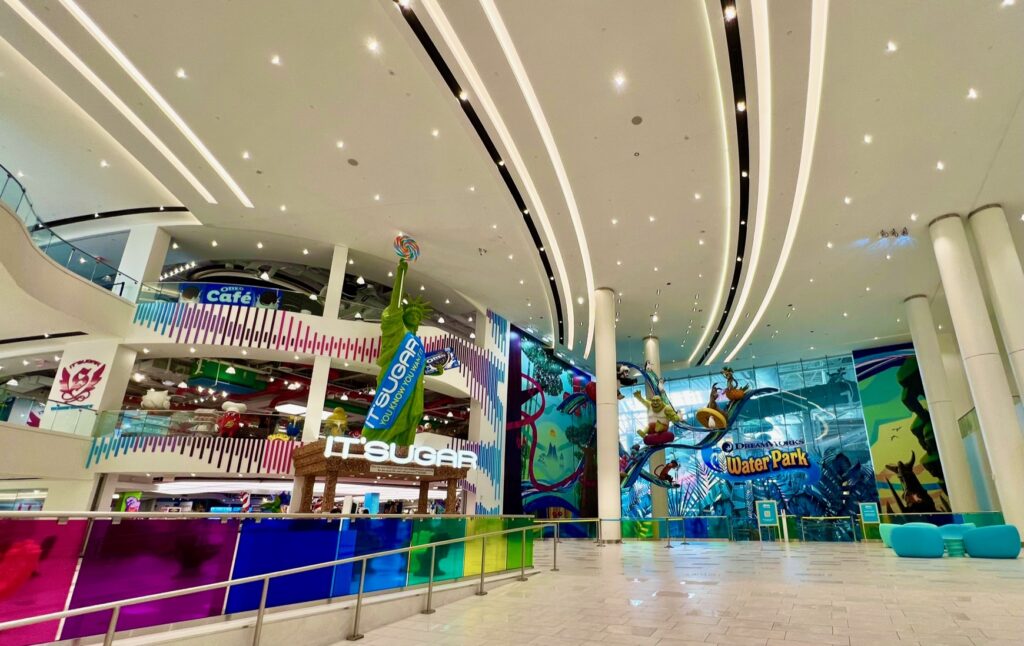 Find more information about American Dream on their website.