Big Snow is an indoor ski and snowboarding park located in American Dream. American Dream is a very large retail and entertainment center. It's located in East Rutherford, New Jersey beside the Meadowlands Sports Complex.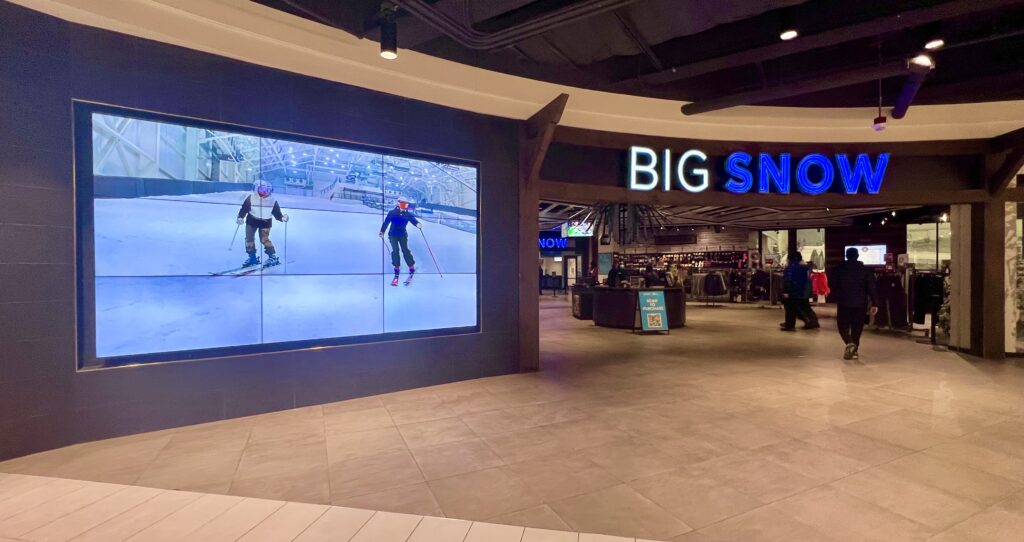 The most convenient parking location for Big Snow is the A parking deck. When arriving at Big Snow, it's on the second floor. Tickets need to be purchased online. Since they limit capacity, it's best to purchase tickets in advance of your visit.
There are several ticket options. There's a package available for two hours of skiing or snowboarding, and there's also packages available for just playing in the snow and sledding, which is for one and a half hours. There are also specific packages that include outerwear rentals. Check Big Snow's website for pricing and to purchase tickets in advance.
Big Snow Orientation
After checking in at the entrance of Big Snow using the QR code on your phone after purchasing tickets, there's a short orientation video to watch in one of three "gondola"-like rooms. You'll also receive a wristband.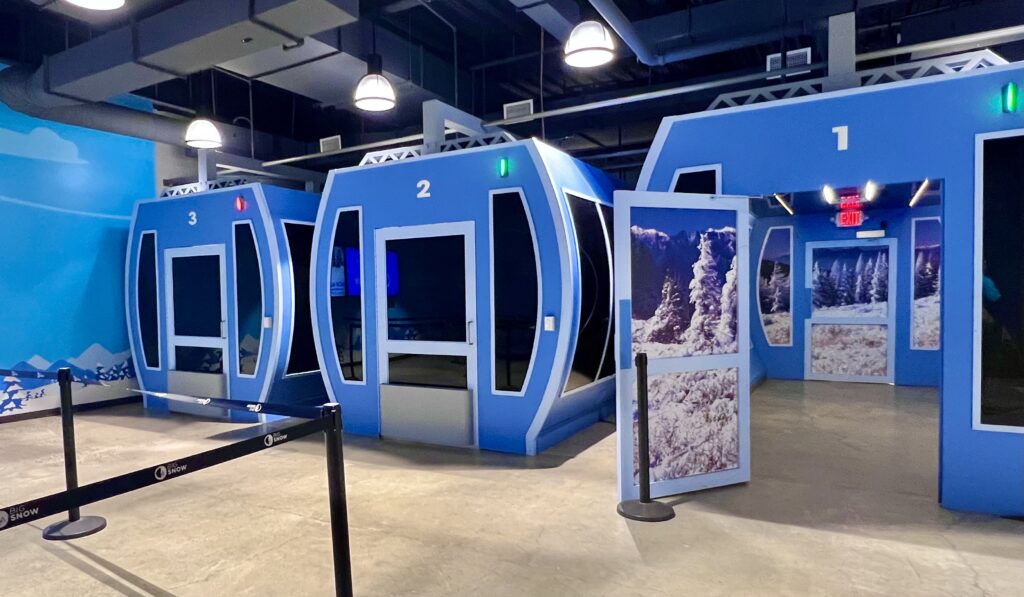 The video will explain the process of getting to the hill and the layout of the snow area.
After watching the video, the first step is to get your outerwear. Note that not all packages include outerwear, and gloves need to be added to the packages separately. You can also bring your own gloves and/or outerwear.
Prepare for Snow Experience
If your package doesn't include outerwear and you brought your own, you can skip this step.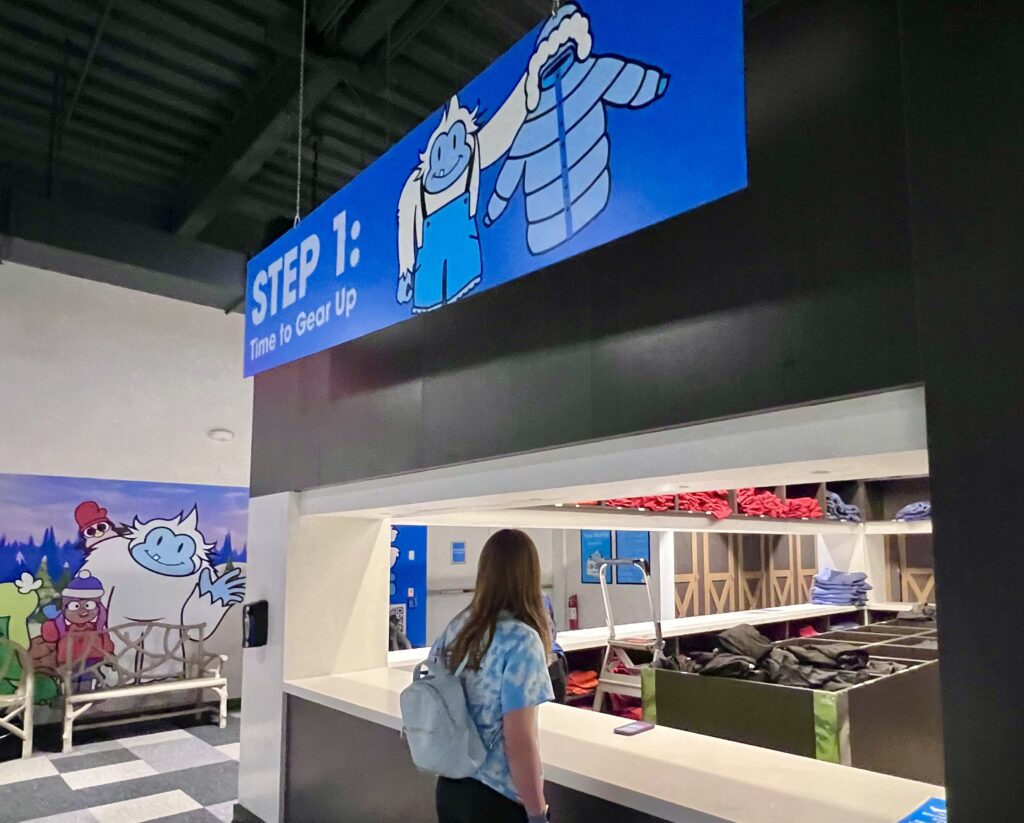 Next, around the corner is the locker area and the changing area. There are private changing stalls, as well as restrooms in this area. If you're skiing or playing in the snow with children, this is a great time to use the restroom before putting on your gear.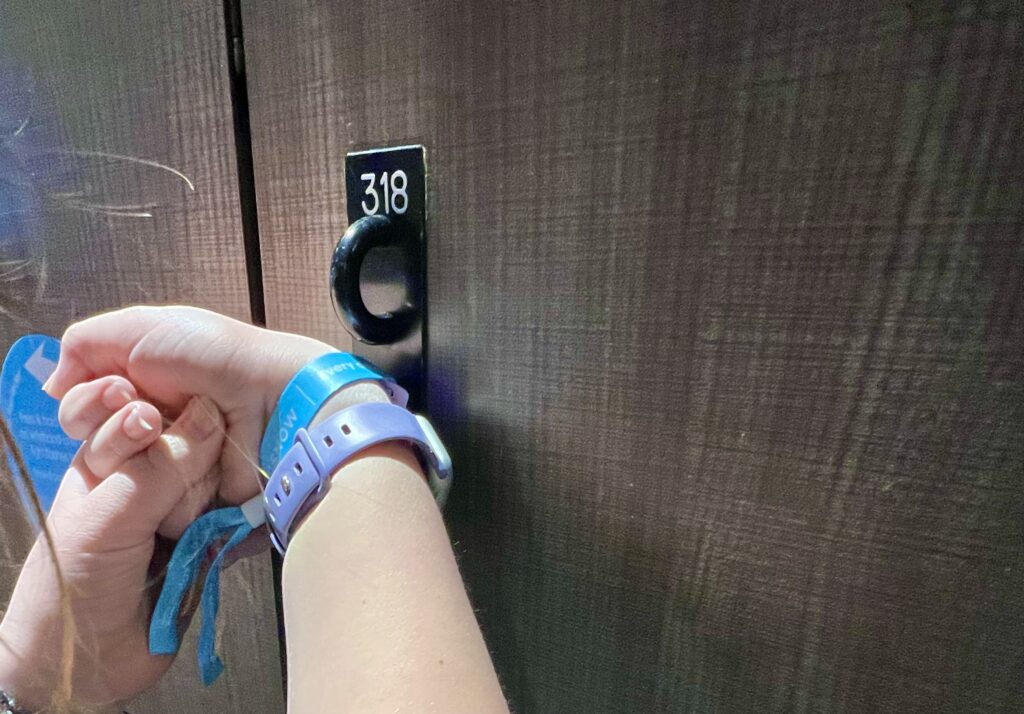 At the entrance to Big Snow, you should have received a wristband. This wristband is your ticket to the snow area, as well as your locker key. Lockers are included in the packages, so choose a locker and use your wristband to lock it.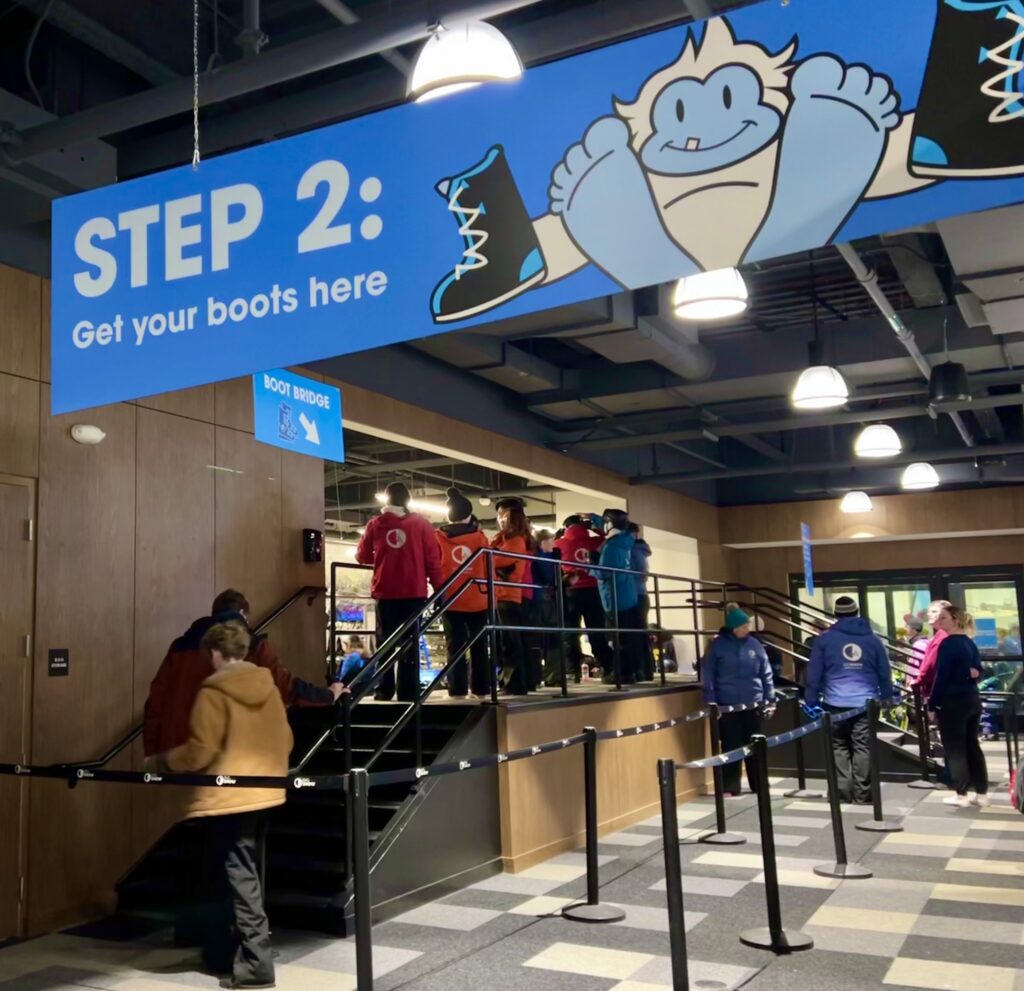 If you purchased a package with rentals, head to the boot bridge beside the locker area. This will be where you get fitted for your boots. If you're just playing in the snow and sledding and not purchasing an outerwear package, bring snow boots with you.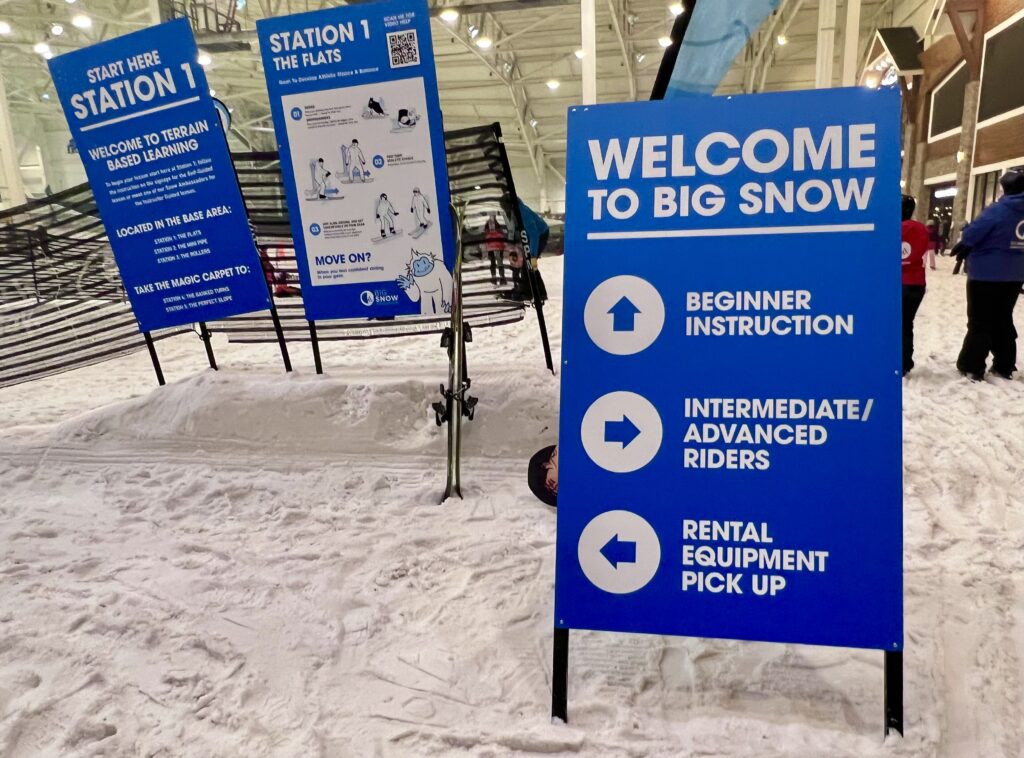 After putting on your outerwear and boots, head out the sliding doors to the snow park area. Your wristband will be scanned to be able to access this area. If you need skis or a snowboard, let the staff members know at the area immediately to your left. They will have your rental skis or boards sorted by name, and they need to head into their shop to get them.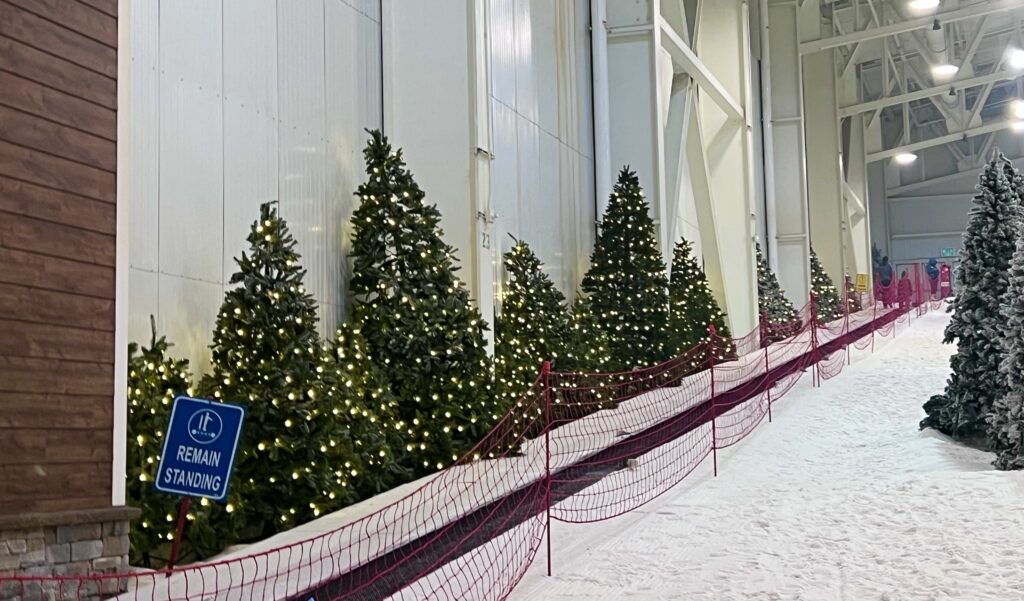 After putting on your skis or snowboard you can head to one of the magic carpets or head further into the snow park to get to the chair lift. If you're just playing in the snow and sledding, you can head straight to the closest magic carpet to get to the snow play area with sledding hill.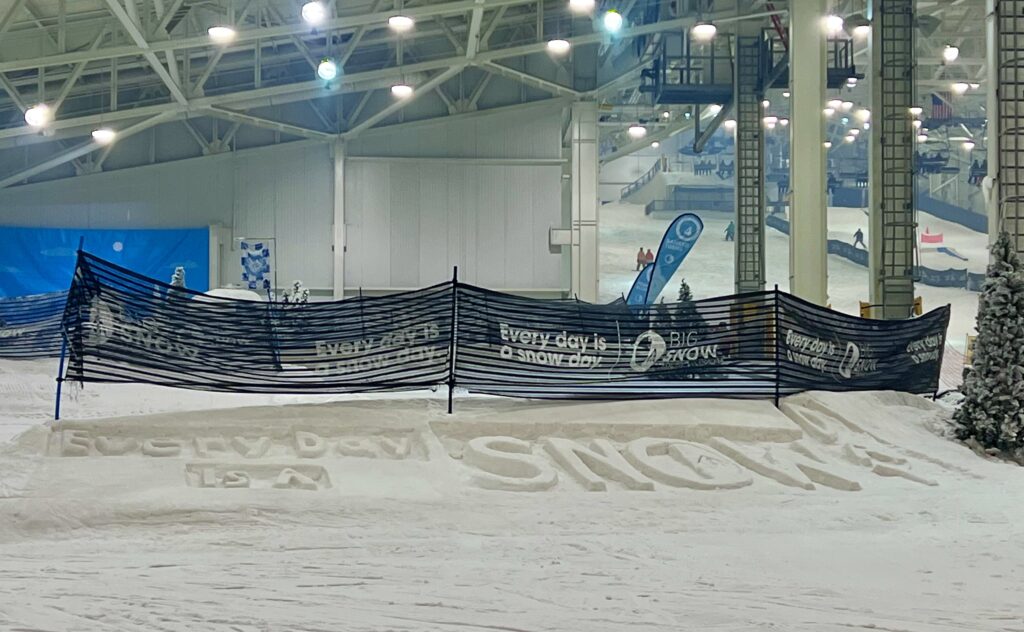 Snow Play and Sledding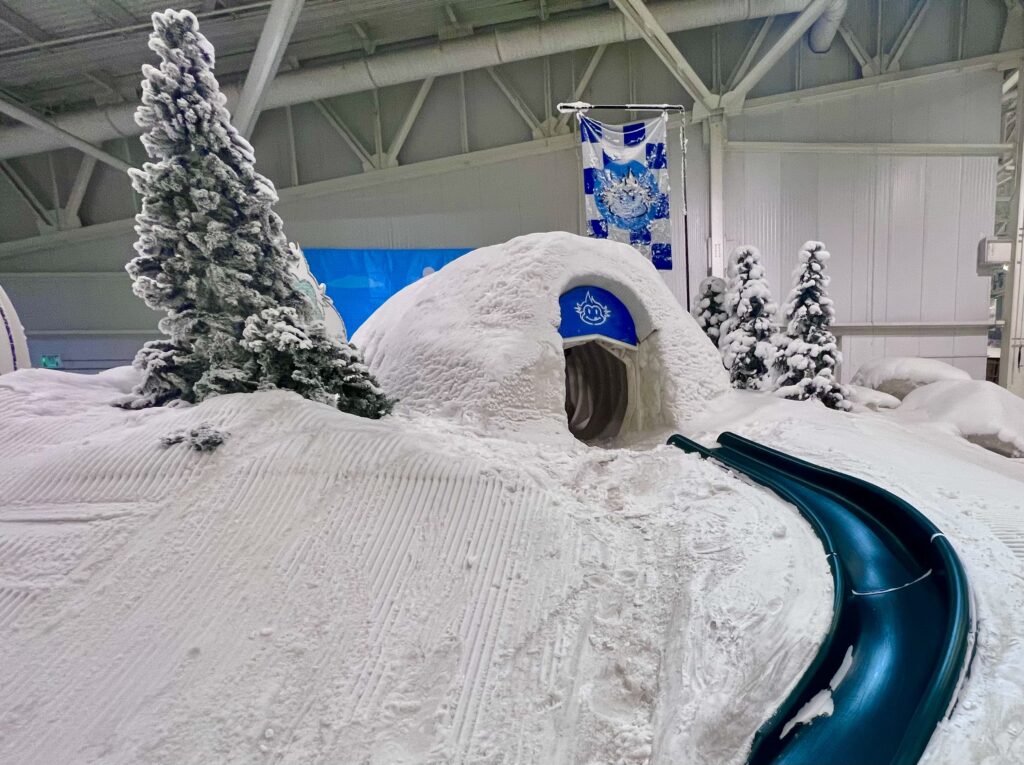 In the snow play zone, there are two slides, an igloo, and a couple of tubes to play in. Down a bit from this area is the sledding hill. There will be sleds there waiting for you. There are saucer sleds and mini luge sleds. Both seemed to work well on the hill. As an adult, I only used the saucer sleds.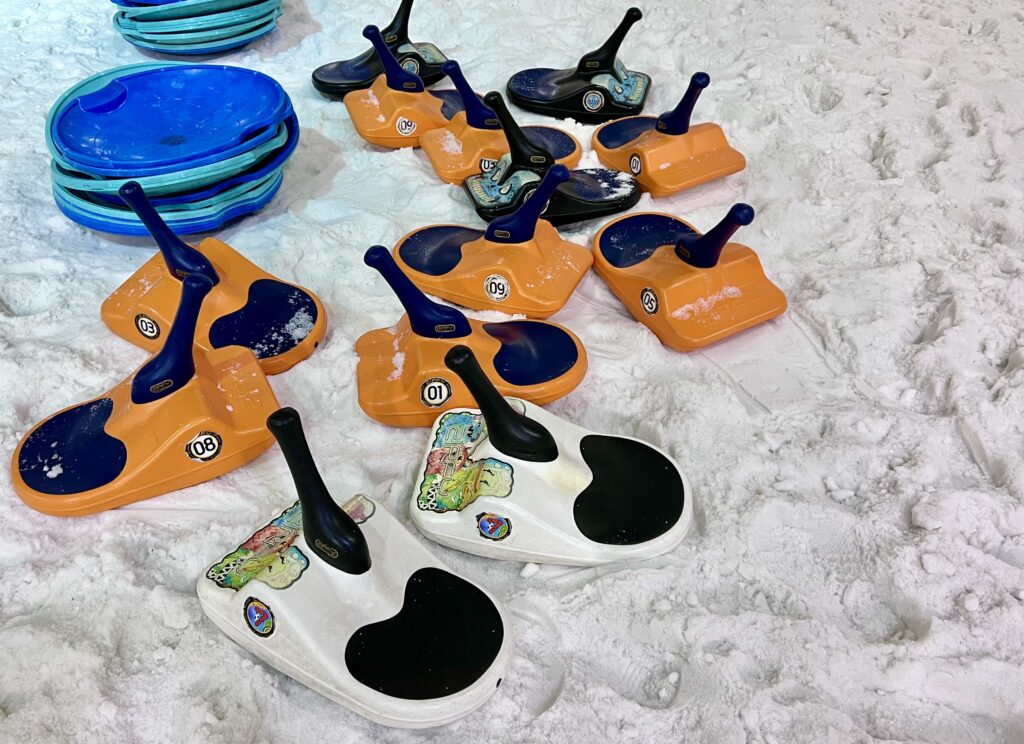 The sledding hill has two runs, and it can be pretty fast. The hill isn't very large, making it great for younger children. In the morning, it may take a bit to build up speed as the snow needs to get packed down sufficiently for sledding.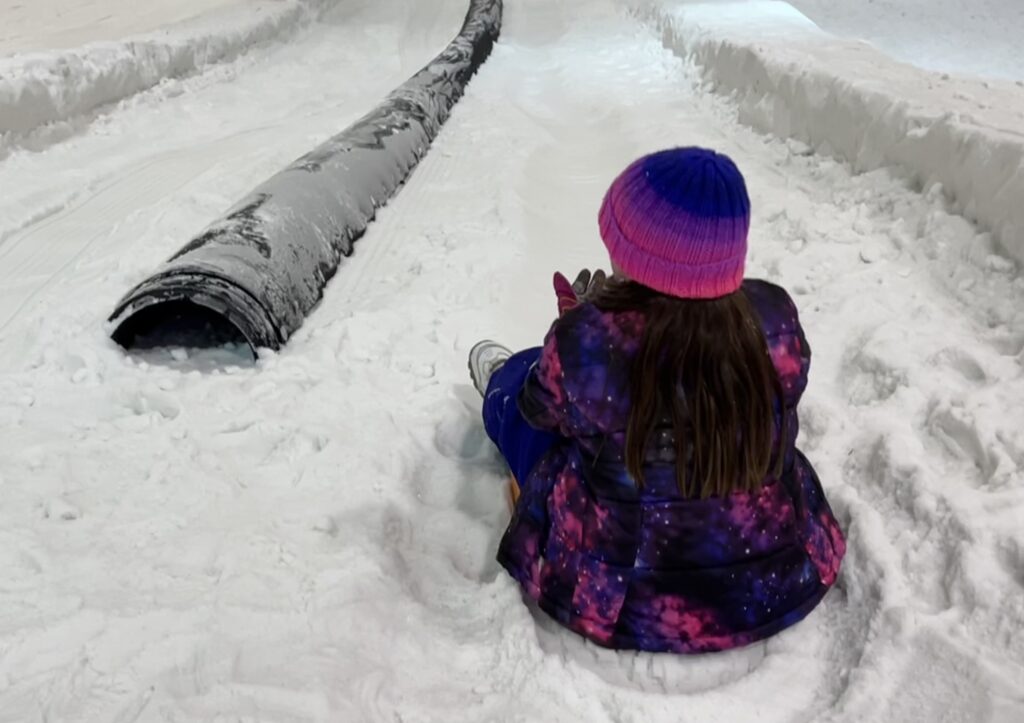 Skiing and Snowboarding
If you're skiing or snowboarding, there are several options for going down the hill. There's a bunny slope area that can be reached from either of the magic carpets. If you're a more adventurous, seasoned skier, you can head for the chair lift which goes to the top of the hill.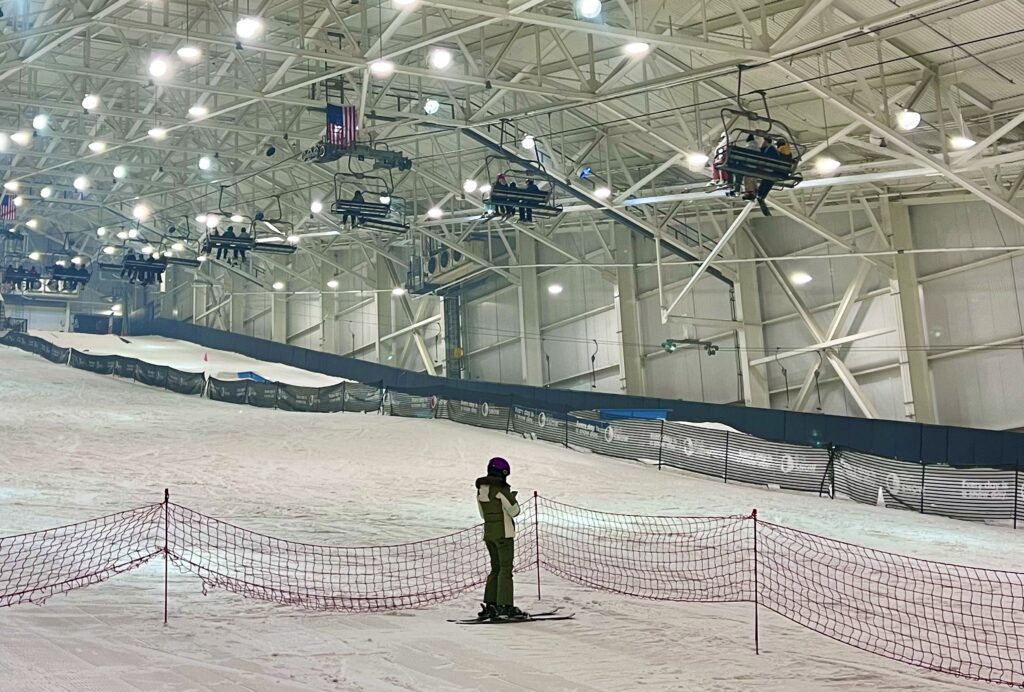 Once at the top of the slope, you'll have the choice of going down the regular hill or heading down the hill with jumps and obstacles.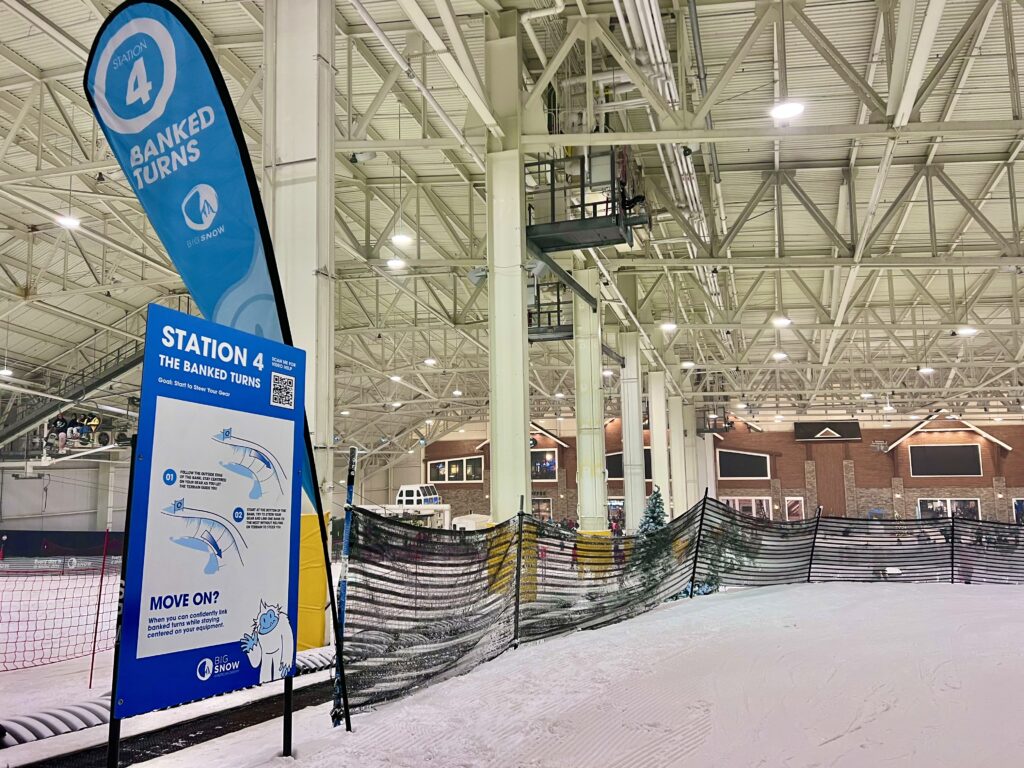 There's also another skiing or snowboarding area with banked turns. This area is between the large ski hill and the snow play area. It can be reached by either of the magic carpets.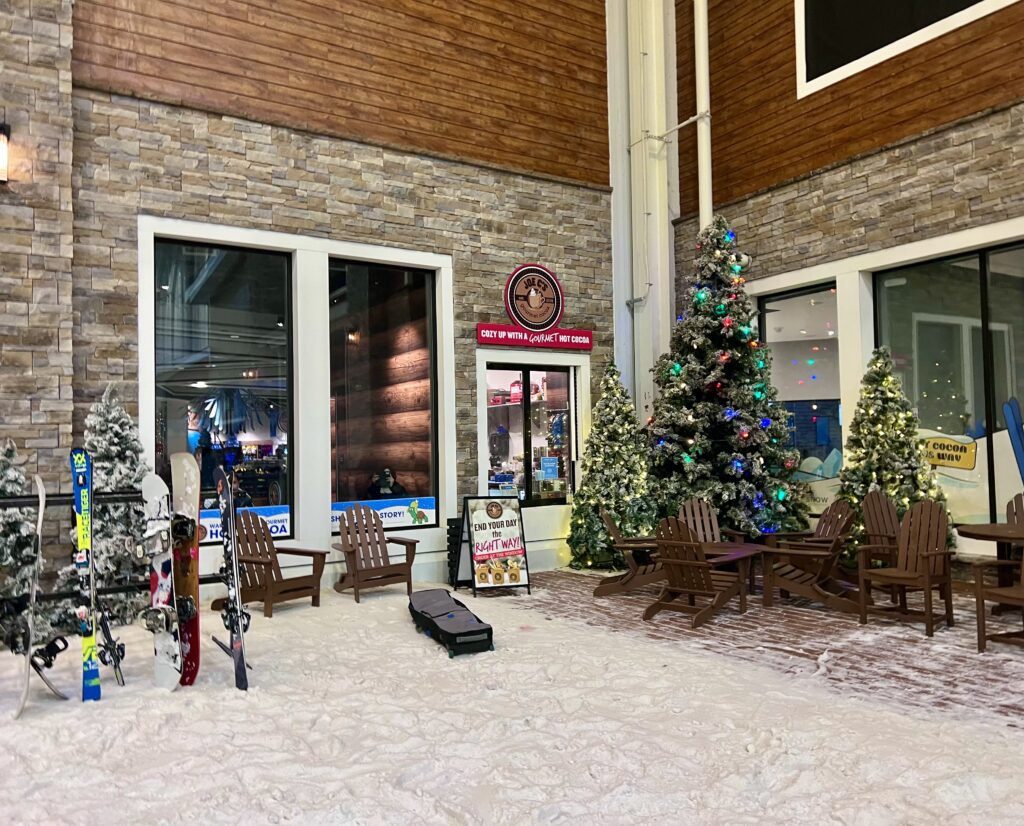 To rest in between playing, skiing or snowboarding, there are several lounge chairs lining the front of the snow park area. Also, if you have people with your party who aren't interested in playing in the snow, they can watch from the viewing windows available in in the entrance area of Big Snow.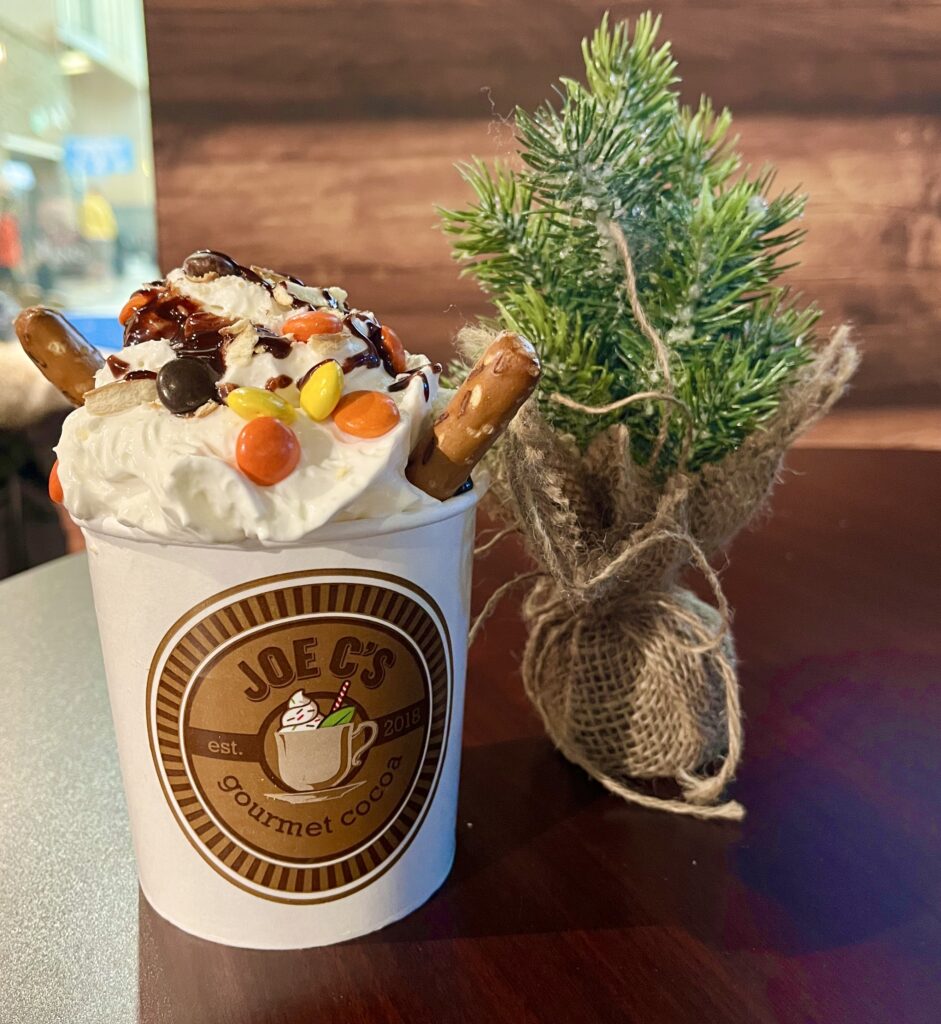 There's also a coffee shop close to the snow park that offers viewing windows while enjoying their hot beverages.
American Dream
There are many, many more entertainment opportunities in the American Dream complex. Check out these posts about American Dream, Nickelodeon Universe, and DreamWorks Water Park.