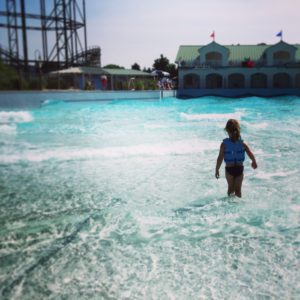 I've written a blog post about Candylane, Hersheypark's winter season, but after many, many trips to the park since then, I thought I'd focus a post on some of the tips and tricks I've acquired over the past few years.  Don't worry, I'm going to try my best to stay away from the worn out tips like "start at the back of the park" and "get there early".  Wait, I lied.  I'm going to start out with "get there early".  It's the most important one.  Here goes:
 Get there early.  This goes for all amusement parks and a lot of other popular places that get crowded.  I read somewhere that on a busy day, for every minute that you get there after opening, you'll spend an additional five minutes in line during your day.  Using that theory, arriving 30 minutes after opening would equal an extra two and a half hours in line.  Whether you believe that or not, get there early, before the gates open.
 There's a secret short cut. (edited 7/8/2020 – shortcut currently closed for Chocolatetown construction.  It's still on the park map, so hopefully it will reopen!)  Well, kinda.  I guess it's not really secret, but it seems very infrequently used, and I love it.  As you enter the park after the gate, to your right is a stroller rental stand.  Turn right there.  It's a beautiful path that leads around Spring Creek, a fountain, and it has awesome views of Skyrush.  The Skyrush train goes right over your head.  After a short (and flat!) walk, you'll come out between the lockers and the Skyrush queue.  You've just made it to the Hollow by skipping the Founder's Way and avoiding the hill by the Comet.  This path is essential at opening, as you quickly part from other people walking in and end up further into the park, faster.
 Beat the rush.  While sometimes the main gates may open a few minutes before the official opening time, security will stop you further into the park where you'll wait until it is official opening time.  Most folks usually gather at the gate headed into Music Box Way.  Instead, go into the Hollow and wait with a smaller group to cross the first bridge.  Once the park opens, cross the bridge, hang a left and go through Pioneer Frontier.  You'll eventually meet up with the people who came from Music Box Way as they race to the Boardwalk / Laff Trak / Fahrenheit, but you'll have walked a good portion of the way in an empty part of the park.
 Avoid the lines.  Some rides very rarely have wait times, so ride them only when the park is busy.  First and foremost, Lightning Racer.  A great roller coaster, but high capacity and at the back of the park.  Ride this coaster when the queues for the other ones are long.  Other rides that don't have a line unless the park is crazy busy: Coal Cracker (log flume), Kissing Tower, pretty much any kiddie ride, and monorail.  These rides seem to always have a line: Fahrenheit, LaffTrak, Comet, The Claw, and Great Bear, so if you see the queues empty (or the app has a short wait listed) go there!
 Save time by using their app.  Not only are the ride wait times listed and updated frequently, but you can also set alerts on your phone for when wait times go under a certain threshold.  The app also has a list of rides sorted by height category, park and Chocolate World hours, and a list of any closed rides.
Water is free.  On hot days, water is your best bet to stay hydrated.  Take your souvenir cup; it's the easiest to carry because of the handle.  I often attach it to a stroller or back pack strap, so I don't have to carry it at all.  Pretty much any stand with access to ice and water will fill it for you, free.
 Purchase a dining or drink plan to save money on food.  Enjoy a meal at 14 locations throughout the park including Moe's Southwest Grill.  Yum!
 Rain policy.  I'm not going to pretend to know what Hersheypark's rain policy is.  Though, if it rains for more than an hour while you're there and rides close, check when you leave at guest services to see if you are eligible for a return voucher.  This, of course, doesn't work for those with season passes.
 Go to the Boardwalk first.  If you're planning to go to the Boardwalk (water park) on a hot day, go there first.  Most people will get on rides as they make their way to the water park.  This leaves the lines for the water slides short at the beginning of the day.  Tip inside a tip: There are large lockers to store your stuff at the Boardwalk, but there are also smaller, less expensive lockers to just hold your phone and car key.  I've had success with a water proof pouch for my car key and iPhone, and storing my other items in a free cubby.
 Stay cool. We enjoy cooling off during a hot day at the park in the arcade or Overlook Foodcourt in Kissing Tower Hill.  For parents with infants, there is an air conditioned nursing / changing room in Pioneer Frontier.  Use it to relax and nurse, especially if it's a hot day.
 Bonus tip: Best Days to Go.  As far as I know, crowd prediction calendars, like there are for Disney, do not exist for Hersheypark.  So, with no official data to support this, here are your best bets for lower crowds: choose cloudy days over sunny days, watch the Hershey stadium and Giant Center concert schedule for events which can increase attendance, Sundays are better than Saturdays especially Sunday mornings, middle of the week is the best time in the week to go.  In Spring, the park can get a lot of school field trips, even in the middle of the week.  If you're not tied to a school schedule, the best bet is the last week or so in August, after schools start for the year.
Want to know the best way to tour the park?  Go here for even more tips and tricks.