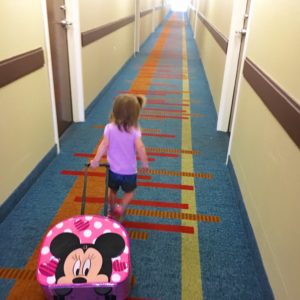 Cranky babies and toddlers on a plane are never fun. Here are some ways to avoid a disastrous flight with young children:
Bring an inflatable pillow. In one of the "new mom" gift bags I received, there was an inflatable nursing pillow. "What am I going to do with that?", I thought. I already have a Boppy pillow. As soon as we scheduled our first plane ride with an infant, it dawned on me that it would be the perfect thing to pack in my carry on luggage to make for a comfortable way for the baby to nurse and sleep. It worked really well! I inflated it when we needed it, then deflated it and shoved it in my bag when finished.
Bring an empty sippy cup. While airlines often put lids on drinks for toddlers, it often doesn't stay on very well. Bring an empty sippy cup and quickly pour the toddler's drink into it before giving it to them. It'll help avoid spills.
Check the stroller at the gate. Inquire with your specific airline, but we've had success with bringing our double stroller to the gate. We check it there, then it is pulled off the plane and ready for us as we deplane. It helps for those walks to the gates that are very long, and if my older child walks, we use the extra room in the stroller to store our carry on bags.
Be strategic with diaper changes. Change the baby or toddler right before boarding, and if it's a short flight you may be lucky and make it through without a change. If not, most airplane bathrooms do have a small changing table. It's a tight fit, but I've done it!
Consider baby wearing. If your infant is more comfortable being worn, that may be easiest navigating the airport and getting on the plane.
Fly during naptime. My most relaxing flights with two children have been when they easily fell asleep a few minutes into the flight. We like to fly in the early morning when flight prices tend to be lower, and it usually makes for some sleepy children as the white noise of the plane puts them to sleep.
Ensure you have extra clothes (for everyone). Leaky diapers or liquid spills aren't fun at any time, but they are worse on an airplane. Have a change of clothes for you and your children in your carry on bag, just in cause you have to do a quick change in the bathroom or once your arrive at your destination. It's easier than unpacking your large suitcases.
Ask if the flight is full. When I'm traveling with a lap infant (non-ticketed baby), I ask at the gate if the flight is full. If it isn't, I know there's a good chance that there will be a seat for the infant's car seat. Then, I have the option of having the baby strapped in the familiar / comfortable car seat for the duration of the flight.
Arrive early. It's hard enough traveling with an infant, so you don't want to have to rush. If you arrive and have extra time, see tip #10.
Burn off extra energy in an airport play area. If you're traveling with a walking toddler, see if there's an airport play area to spend some time before boarding the plane. Our favorite play area is at Love Field in Dallas, the home of Southwest. The kids loved playing there for a bit before being buckled in a seat on the flight.
Hope you can use these tips to have a relaxing and enjoyable flight!