Been There Done That with Kids was chosen as a Sweetest Family for Hersheypark 2021. Our trips to Hersheypark are sponsored by Hershey Entertainment and Resorts, but all opinions are our own.
The Hersheypark 2021 season is filled with exciting additions to an already sweet amusement park. Last year, Chocolatetown debuted with a new and thrilling coaster, Candymonium. This tallest, fastest, and longest coaster at Hersheypark is appropriately candy-themed. There's a 210-foot climb up the tallest hill, and then seven camelback hills for delicious airtime!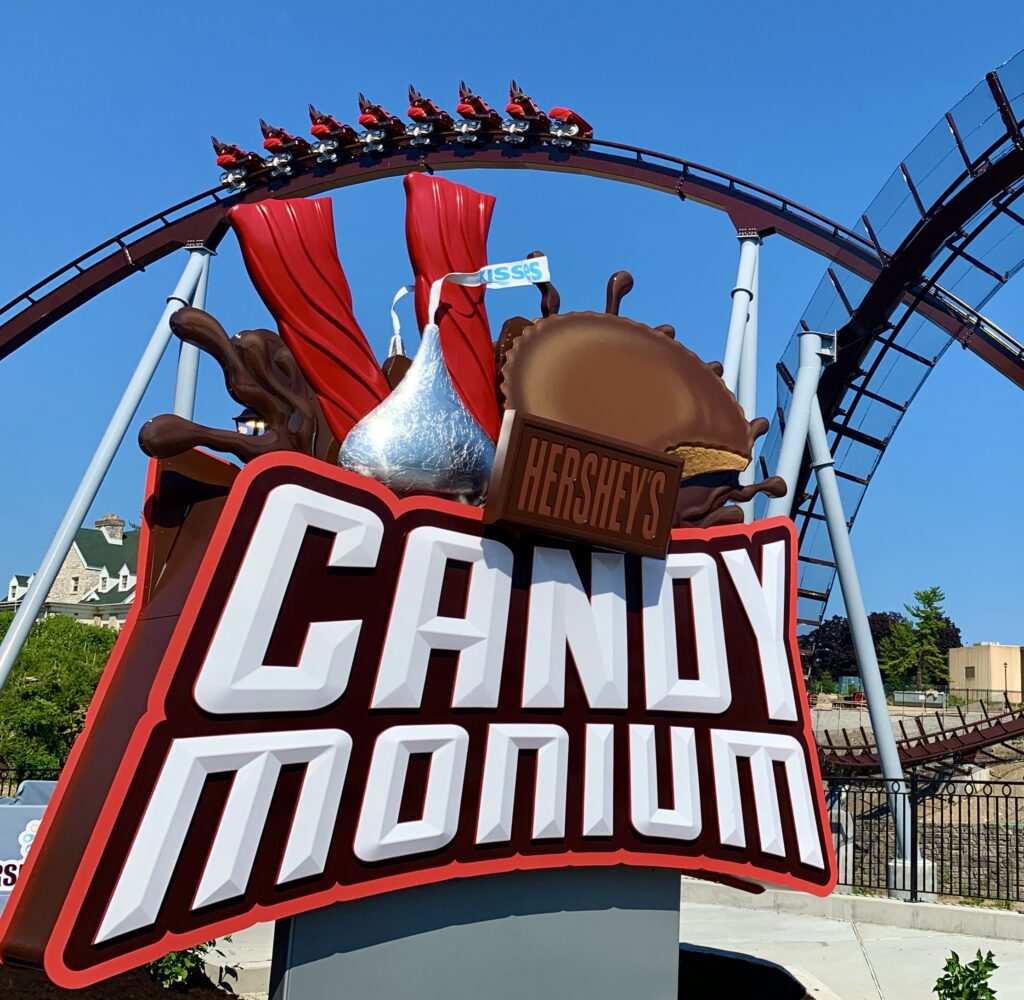 In 2021, Hersheypark compliments the new Chocolatetown area with Milton's Ice Cream Parlor and The Sweeterie Confectionery Kitchen. Both of these new culinary experience's opened on April 2nd for Springtime in the Park. A new restaurant with bar and patio, The Chocolatier, plans to open on Memorial Day weekend. We hope to visit each of these in May, so more details to come!
Milton's Ice Cream Parlor – Hersheypark 2021
This new ice cream parlor will be located in a new building in Chocolatetown. Ice Creamologists will be crafting custom creations from over a dozen flavors, including some flavors inspired by rides in Hersheypark! There's Candymonium Reese's Peanut Butter, Toasted Marshmallow and Malted Memories. In addition to these unique flavors, there are king size sundaes with five scoops of ice cream, lots of topping choices, warm ice cream sandwiches, milkshakes and ice cream floats.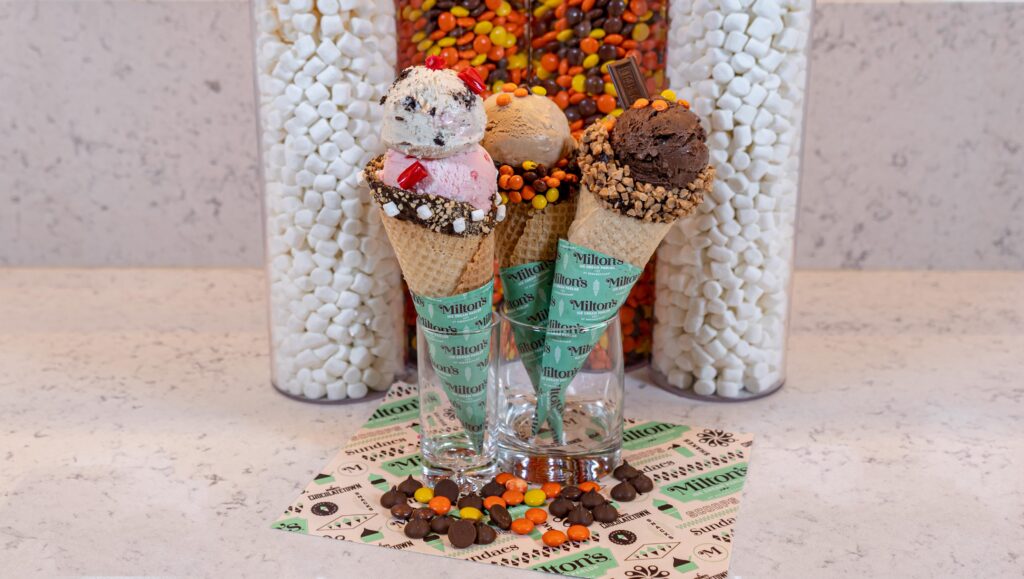 The Ice Cream Parlor also has some salty snacks, such as house-made potato chips, buckets of fries, and chicken bites in a souvenir bucket. If you're really hungry, there's artisan grilled cheese with sourdough bread, Chicken N Waffles, cheeseburgers, kid's meals and more! Check out the full menu for the Ice Cream Parlor.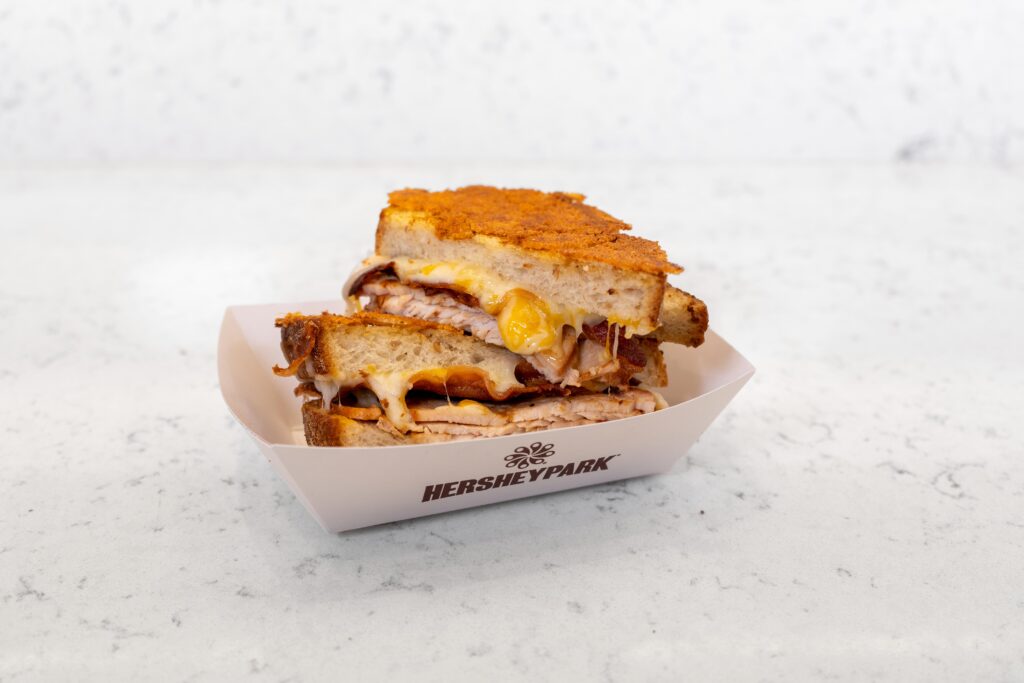 The Sweeterie – Hersheypark 2021
The Sweeterie is a confectionery kitchen also located in the new Chocolatetown area. The menu in this new eatery includes chocolate-dipped treats, beautifully-crafted desserts, fudge, and much more. Just like Milton's Ice Cream Parlor, there are Hersheypark-themed treats such as the Comet coaster bar, Kissing Tower mousse cake, and cheesecake. Here's the full menu for the Sweeterie.
Hersheypark 2021 – Important Things to Know
Hersheypark's 115th season includes a Springtime in the Park with a bonus weekend. Check out Hersheypark's operating calendar. If you're a ticket holder, in addition to your ticket purchase you'll need reservations in order to enter the park. Don't forget that your Hersheypark ticket also includes access to ZooAmerica.
Ideas for your Spring Trip to Hersheypark
The Official Resorts of Hersheypark include The Hotel Hershey, Hershey Lodge, and Hersheypark Camping Resort. During your stay in Hershey, be sure to check out the other adventures in town: MeltSpa, Hershey Gardens, Hershey's Chocolate World, and The Hershey Story museum. The gardens will soon be in bloom, and the beautiful space overlooks the park.
Looking for more tips for your visit? Check out this post full of Hersheypark tips for visiting with kids.