Westminster City Park is located behind 11 Longwell Ave in Westminster, Maryland. The park includes a newer playground with restrooms, tennis courts, pavilions, ball fields, and more.
Westminster City Park Parking
Since the park is in the middle of the city, there isn't a traditional large parking lot. On-street parking is available, just be sure to look for parking signs. There's also a small parking lot between Long Alley and Willis Street.
Westminster City Park Playground
The playground is located at the corner of Long Alley and 16th Street. The large, mulched playground area includes two main play structures, as well as several smaller spinning pods and a long zip line.
The zipline starts with a long ramp, so it can be fairly fast if a running start is used. This is usually one of the most popular places on the playground.
The next most popular location seems to be the large ropes climber on the play structure for older children. This ropes climber is in the middle of two more traditional play structures. There is a bit of shade on the ropes from the canopies.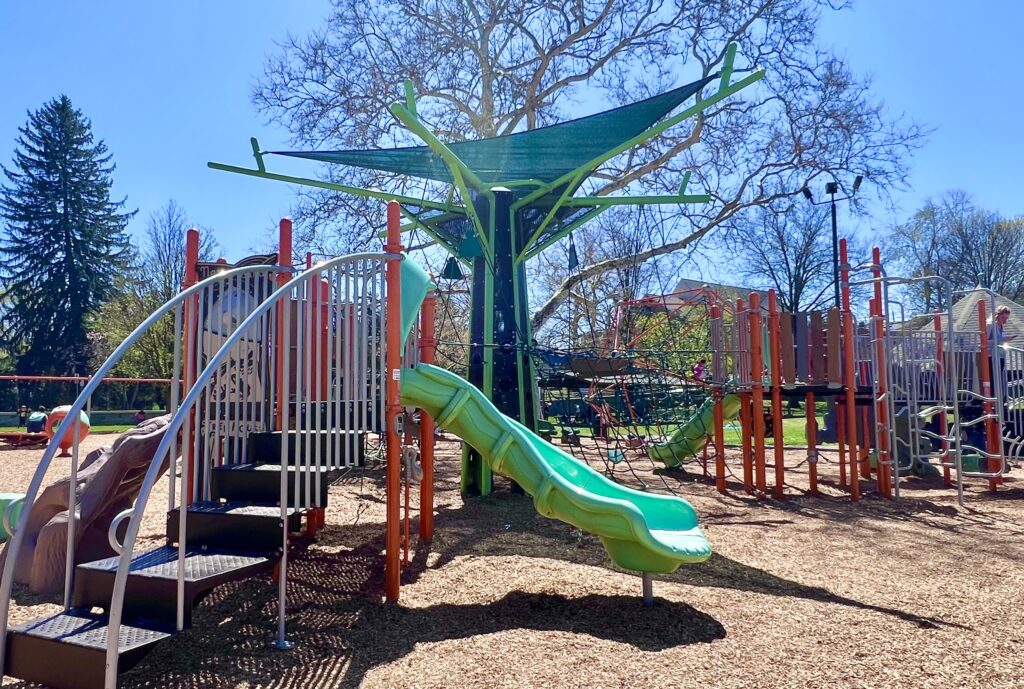 There's also a line of swings along the border of the playground. While there isn't a ton of shade on the actual playground, there are a few large trees throughout the park.
Benches are available under one of the large trees. There's also a small pavilion by the playground, as well as a much larger one in the grassy area close to the playground.
Looking for more fun playgrounds in Maryland?
There are many amazing playgrounds in Maryland for exploration and play. If you're willing to travel a bit farther, check out this list of amazing playgrounds in Maryland.