Anytime is a good time to visit indoor water parks in PA (Pennsylvania). Maybe it's winter and not outdoor water park season, or it's just too hot to be at an outdoor water park. Maybe it's rainy and you want to utilize the indoor water park at Hersheypark. Luckily, Pennsylvania has plenty of indoor water parks to choose from.
Indoor water parks in PA
There are a total of three great water parks in the Pocono Mountains area. Plus a pool, which we'll add to the list because it includes a water slide and some splash park elements. Here's your list of indoor water parks in PA:
Great Wolf Lodge
Great Wolf Lodge is located in the Pocono Mountains in Pennsylvania, specifically it's in the town of Scotrun. This indoor water park is geared toward younger children. There is a good size kid's pool with three water slides, a basketball hoop, and other spray features.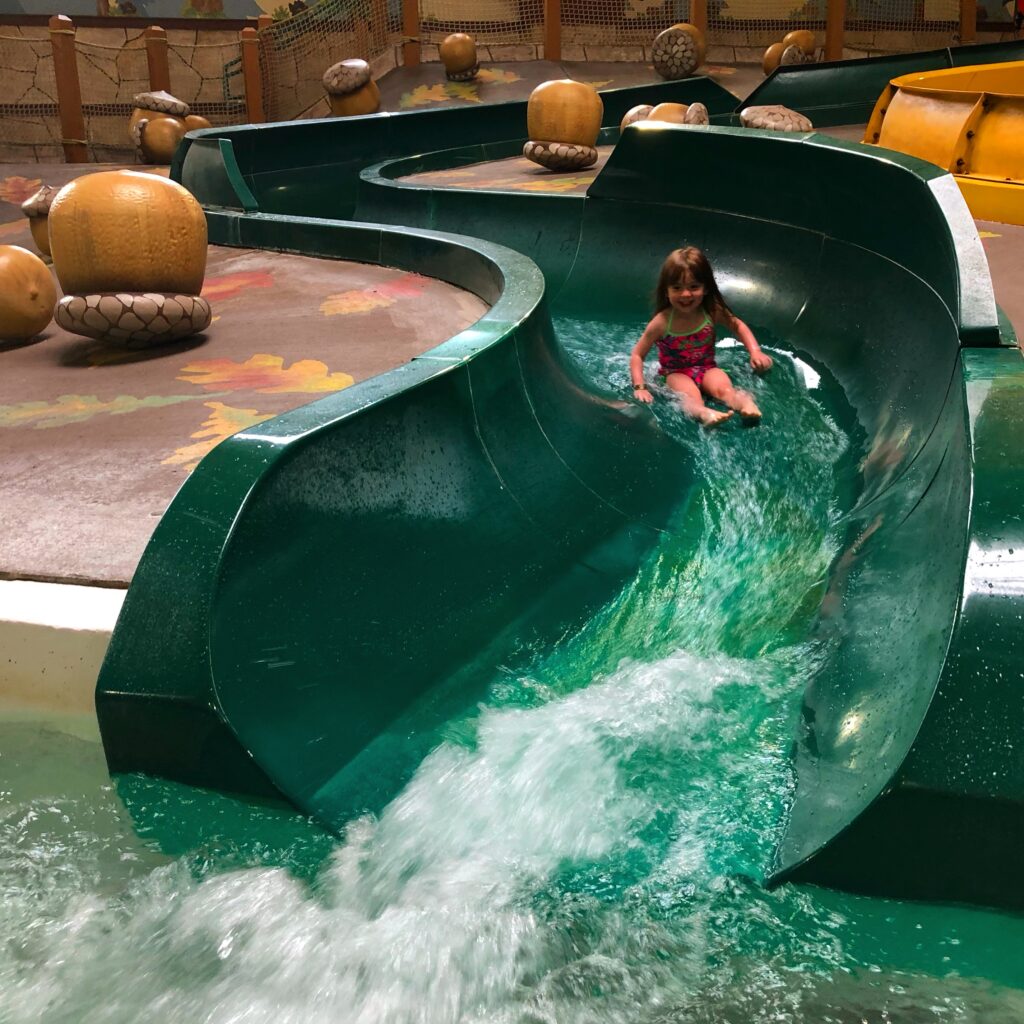 Even though small kids are the focus, there are large water slides and a multi-level slide complex in the middle of the water park. In addition to the water park, there's also kid-friendly activities each day.
Great Wolf Lodge is a resort, so overnight lodging is available. Most people stay at the resort to gain access to the water park, but they do offer day passes. Read more about visiting Great Wolf Lodge here.
Aquatopia Indoor Water Park
Aquatopia is an indoor water park that is also located in the Poconos. It features a wave pool, a very nicely themed lazy river, and big slides including the Venus Slydetrap.
Aquatopia is located in Camelback Mountain Resort, which also features restaurants and many other attractions for kids. Read more about Aquatopia here.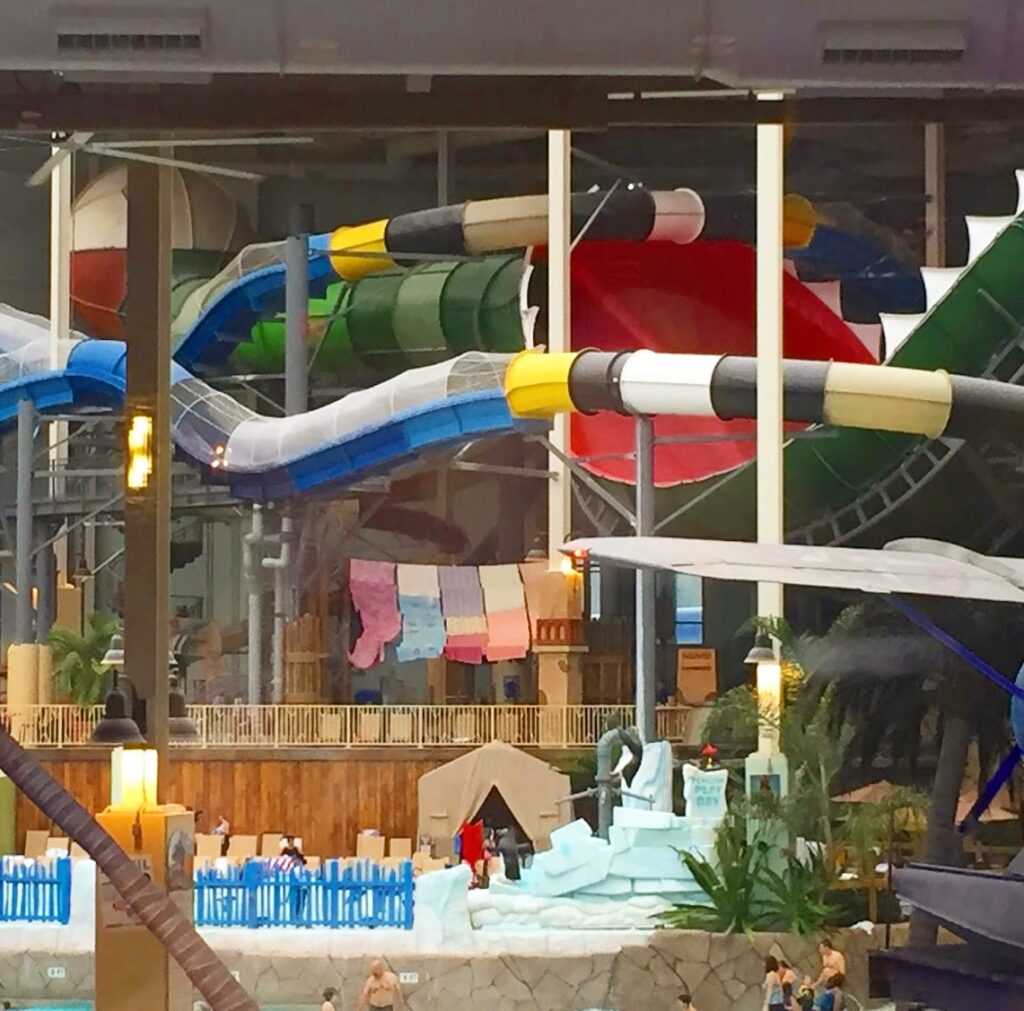 Kalahari Resort
Kalahari Resort is not only the biggest indoor water park in PA, but it's also the largest indoor water park in North America. There's a very large toddler water play area with multiple slides, swings, water table and even a mini lazy river. Of course, there are plenty of giant slides too, including a water coaster.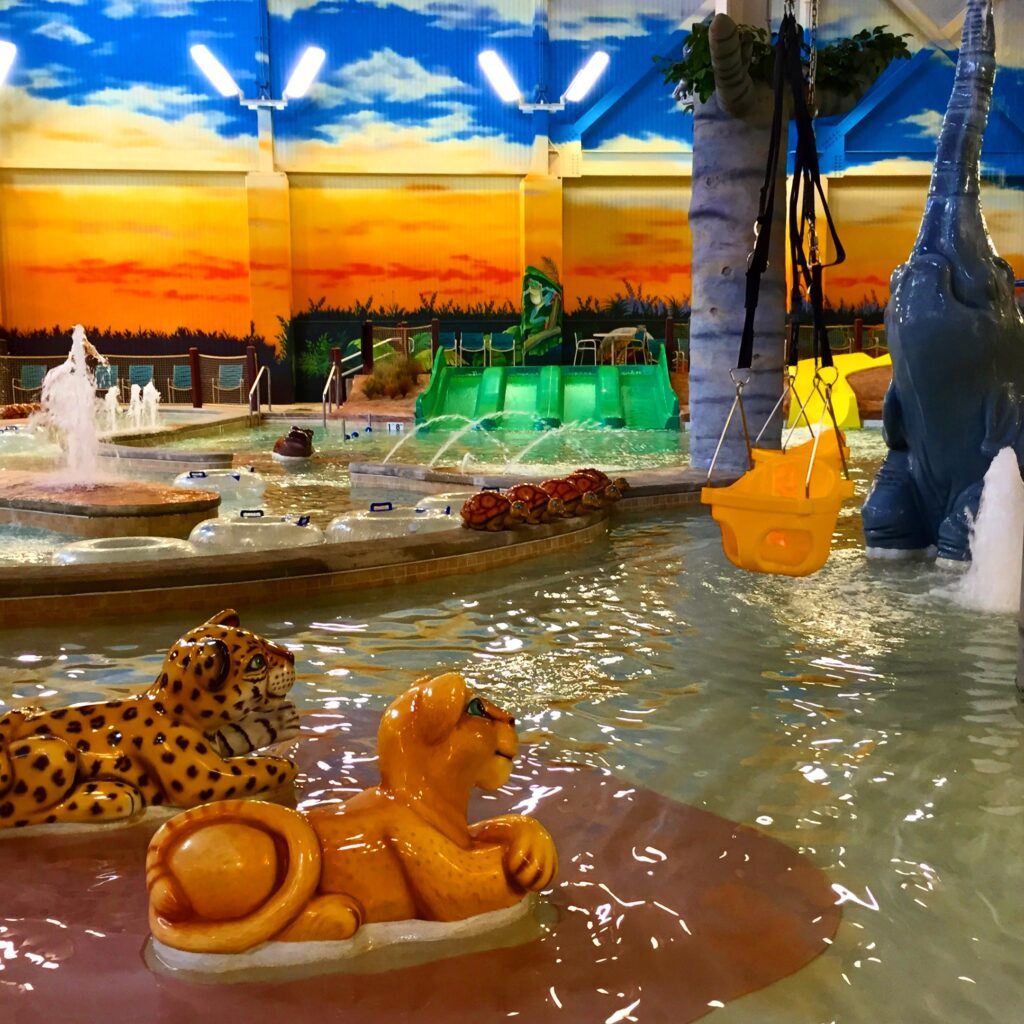 The Kalahari Resort is also a gigantic convention center and resort. There are several options for hotel rooms, including multi-bedroom suites.
Plenty of activities are available throughout the resort if you're looking for additional things to do. Learn more about Kalahari here.
Hershey Lodge Indoor Water Park
Hershey's Water Works at Hershey Lodge is a bit smaller when compared to the water parks already mentioned. However, this indoor water park in PA is an added plus when visiting the many family-friendly attractions in the Hershey area. This indoor pool option in Hershey is one of the best in the area!
Hersheypark, Hershey Gardens, ZooAmerica and even more attractions are available to visit when you stay at Hershey Lodge.
The Hotel Hershey, another one of Hersheypark's Official Resorts has an indoor pool and small splash pad. Hershey Lodge's indoor pool contains these water-ful slides, splash zones, and the Reese's walk.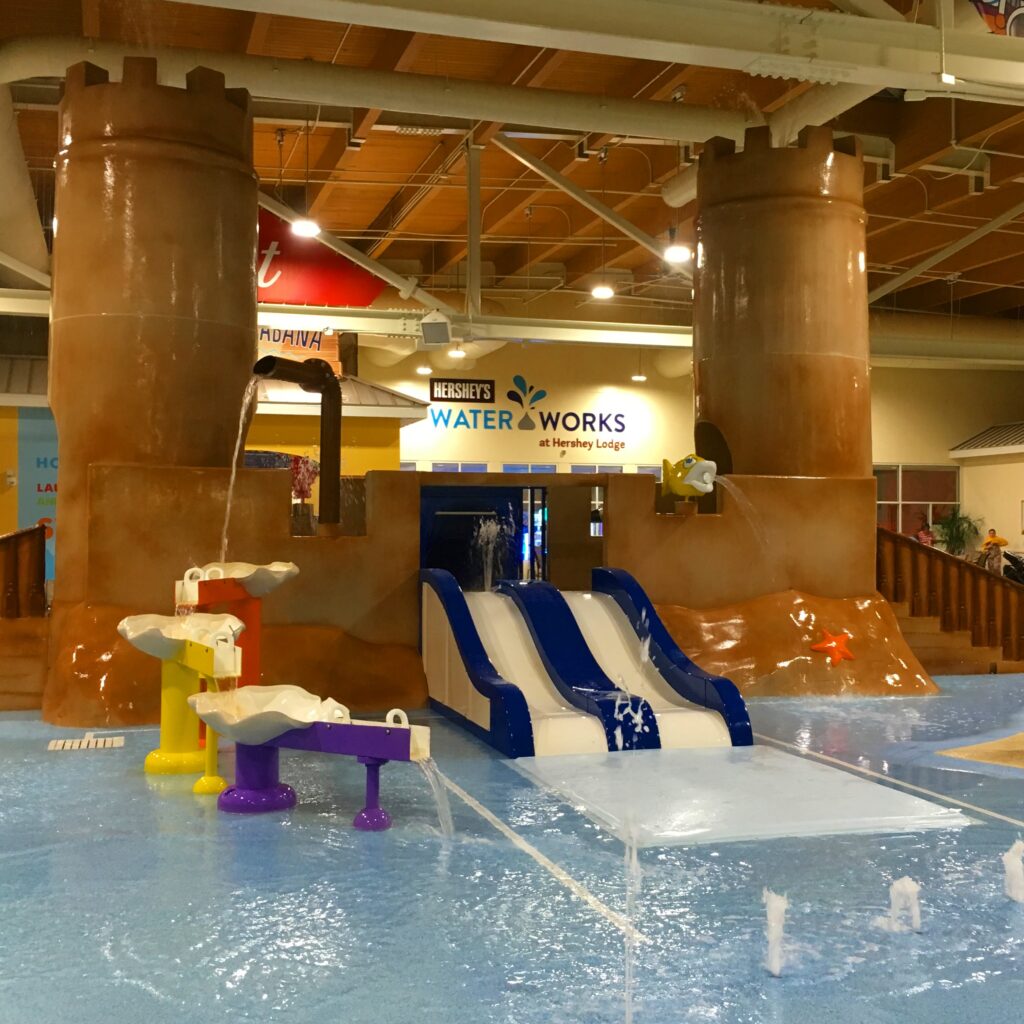 Hershey Lodge's indoor water park is a great place to escape from a rainy day outside. Or, it's a way to relax after a long day at Hersheypark.
Whichever your situation, the water park boasts a toddler area with several slides, a lily pad walk made of Reese's Cups instead of lily pads, and two Twizzlers twist slides.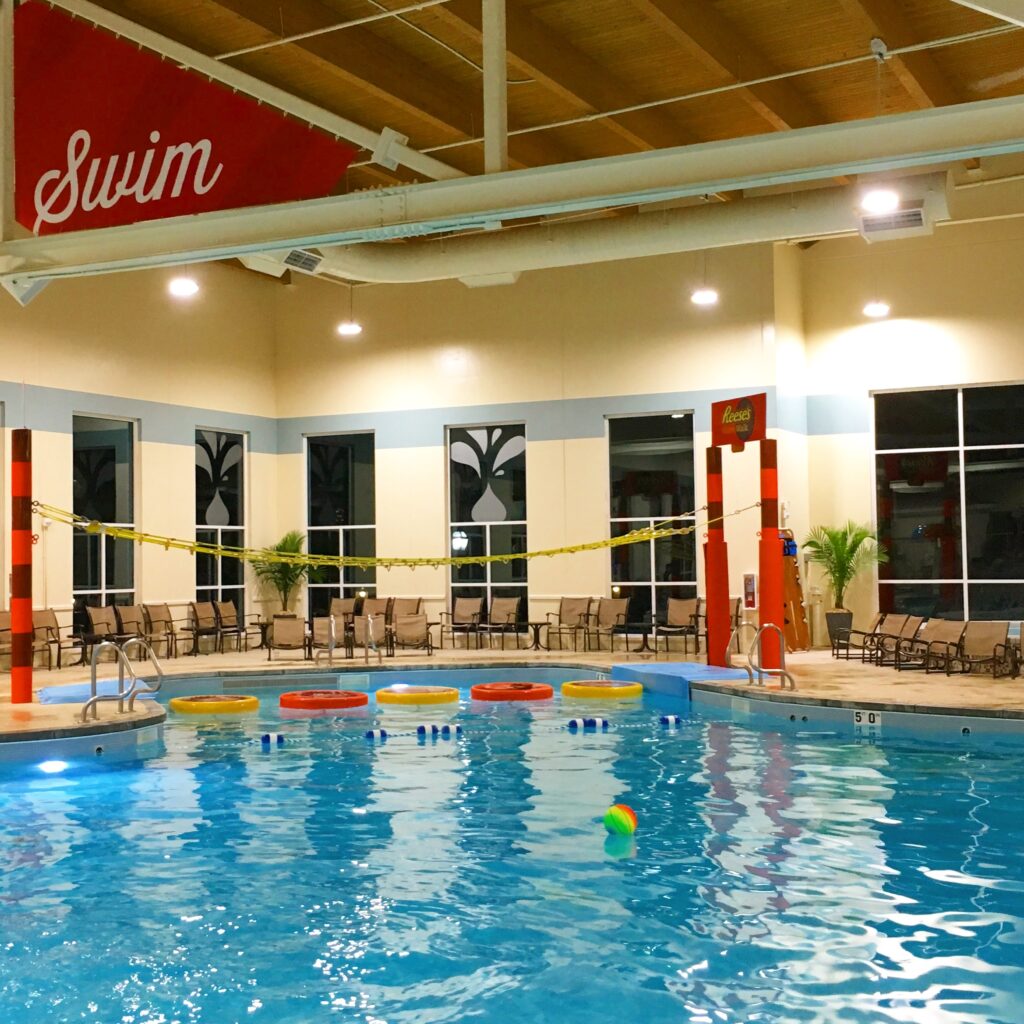 You will need to be an overnight guest of Hershey Lodge in order to use the indoor water park. The Lodge does not sell day passes to Hershey's Water Works.
You'll find the best deals for staying at the Lodge during the winter months when Hersheypark is closed. Read more about Hershey Lodge here.
Friendship Center Indoor Pool
Harrisburg has a family recreation center called Friendship Center. Membership rates are available, but they also allow day passes for guests who only plan to visit sporadically.
The Friendship Center indoor water park has a small twist slide, zero-depth entry, and a giant frog to climb on.
Read more about the Friendship Center here.
Whichever indoor water park you choose, we hope you have a ton of fun!